The high dive at the University Park public pool is 3 meters high, but at the age of 8 or 10, I would have told you it stretched to the stars. I can still remember my hands shaking as I scaled that ladder for the first time, the panic that lodged in my chest when I realized I could not turn back—I could not chicken out—because a line of unfamiliar children stretched out behind me, a human blockade of embarrassment. I had to walk the plank.
WASP children do not have much in the way of coming-of-age rituals. No bar mitzvahs or quinceañeras for us. But I would submit that in 1984, jumping off the high dive at the UP pool was as meaningful a passage into adulthood as a kid like me could get. I did not dive gracefully, by the way. I did not cannonball. I approached the high dive the way I have greeted many of life's challenges since then: I plugged my nose and stepped into the void.
Nobody knows exactly when the UP pool was built (aka the Holmes Aquatic Center). Assistant UP park director Brent Jones guesstimates the dates somewhere between 1913 and 1931. But for the three-plus decades I've been in Dallas, it has reigned as one of the area's greatest swimming holes. While other Dallas pools languish with neglect, the crown jewel at Lovers and Dickens keeps getting more amazing. There is a splash pad. There is a saltwater kiddie pool. There is a freaking water slide, people. Although the pool is open only to Park Cities residents, attendance has recently climbed nearly 35 percent thanks to all this fancification. And there's no reason to expect a dip this summer.
I grew up down the street, in a modest home near Preston Road, and I spent many a summer traipsing the grounds in a blue Speedo, shoulders freckled and hair dried into twirls of chlorine-crusted blond, mouth slushy with cherry Sno-Kone. I celebrated my eighth birthday at the UP pool because I adored it in the way I adored a McDonald's Happy Meal or a trip to Six Flags. That's what community pools and beaches are when you're young and ageless and free: places of total happiness.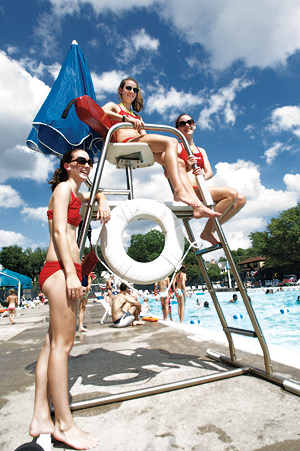 But as I got older, the UP pool became something different to me. A place of judgment, a place of fear. There was the walk off that high dive, which haunted me. Even scarier was the walk out of the girls' dressing room after my body had sprouted curves at the age of 9, as unwelcome as a horn on my head. Such precocious puberty was an unlucky draw of the genetic lottery, I suppose, but it darkened the years that followed. Where I once frolicked about at the UP pool, splashing in the shallows, I began to cower and flinch. I don't know if this was because I was a girl, or because I was sensitive, or because I was simply a human being, but I spent a lot of energy in those days trying to compensate for the mistakes of my body. My legs were too short. My arms were too fat. My back was speckled with dark moles, ornate as constellations, and I grew my hair long just to cover them up. I remember the agonizing dilemma of whether or not to wear a t-shirt into the pool. The older girls sometimes did it, but to do so at my tender age was to call attention to the very condition I wanted everyone to ignore. In school, I wore bulky sweaters. I perfected the hunch of the self-consciously busty girl. But there was no way to disguise those suckers in a bathing suit. The skin reveal was far too intense.
And so I hid the best way I knew how. I stopped going altogether. No high dives for me, no Sno-Kones, no shrieking games of Marco Polo in the twilight days of August. I stayed home in the air conditioning and watched TV. I lay out in our backyard driveway and slathered myself in Bain de Soleil, hoping for the glory of the Saint-Tropez tan but more often ending up with a color I now associate with a steak cooked medium rare. The only pools I waded into were in friends' backyards.
I didn't stay away from the UP pool forever, though. In high school, I tested the limits of my rebellion at the surrounding Curtis Park, where, under cover of night, I would smoke Marlboro Lights and sip Big Gulps embellished with booze. Or I would engage in other kinds of skin reveals, ones that took place in the back seat of a parked car. I wasn't a "bad kid," whatever that means. I was a good kid with natural urges.
And I don't think I'm giving away any secrets to say that every park in that neighborhood has a shadow side that changes with each generation. I promise the cops know this, since they make the rounds in those spots, and just as I learned to halt at the shriek of a lifeguard's whistle, or stop a boyfriend's meandering hand, I learned to freeze and casually smile at the advancing headlights of a police cruiser. Because whatever complaints you can make about growing up in the Park Cities—and believe me, I've made my share—it's nothing if not well-patrolled.
It has been nearly 20 years since I went to Highland Park High School. I'm a Lakewood girl now. I rarely go back to that part of town except to eat chicken-fried steak at Bubba's. These days, kids from my class take their own children to the UP pool, which is nicer than ever—though, like any place, it has its drawbacks. ("It's very homogenous," a friend told me, although the upscale whiteness of my home turf is a story for another time.) Last summer, the pool made the pages of the UK's Daily Mail for a giggle-inducing item about a naked doll floating in the water. According to the story, the doll was so realistic that it creeped out a lifeguard, who told the parent to put clothes on it next time. (A source at the pool says this incident was misreported and also claims that lifeguards had actually tried to rescue the doll.) The piece was meant to be small-town satire, but whatever really happened, I think it's a sweet tale, because it illustrates just how low-stakes the dangers are at that place. So much has changed since 1984, but the UP pool is as safe as ever.
Not long ago, I dropped by for old times' sake. The high dive is still there, but I cannot tell you how short it looks to me now, even though it's exactly the same height. Funny how time distorts our memory, turns it waterlogged and blurry, even as those memories remain so alive. I could have sworn that ladder reached up to a distant planet. And for some other girl out there, wet hands trembling as she ascends, I bet it still does.
Write to [email protected].
Get our weekly recap
Brings new meaning to the phrase Sunday Funday. No spam, ever.