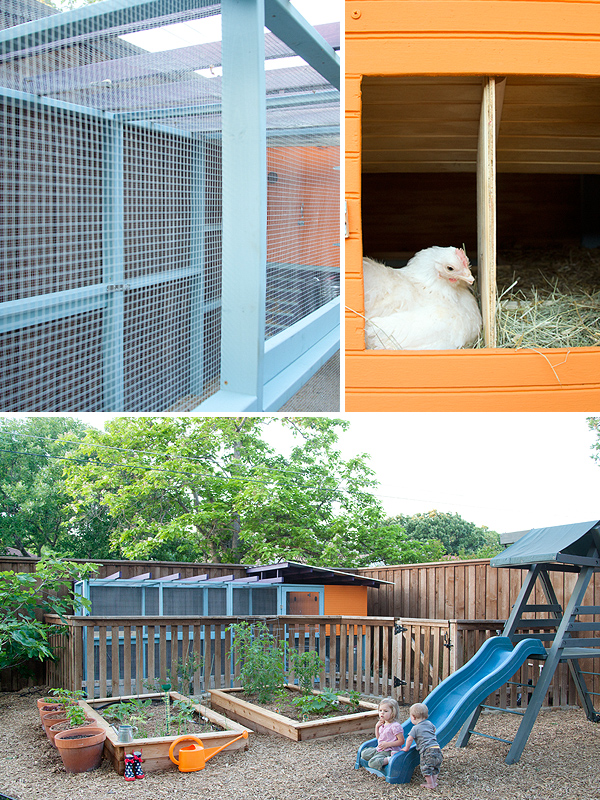 Crystalyn and Christopher Robin Roberts
Richardson Heights
Crystalyn Roberts, a community organizer and stay-at-home mom of two young children, wanted to educate her kids about the important role animals play in leading a healthy, natural lifestyle. So she and husband Christopher, an industrial designer, recently built a coop and bought six hens. Christopher altered basic plans he received from a friend to customize their colorful coop, elongating the run and changing the roof. Because the chickens don't have free rein of their backyard (the Robertses have a vegetable garden that the birds would devour), Christopher built a long run (painted blue) as well as a fenced-in yard to ensure that the hens would have enough space. A door and bird-size ladder connect the run to the henhouse, the orange box where the chickens nest and roost. "I know you can buy local, free-range eggs, but I feel like if we raise our own, it's somehow more humane," Crystalyn says.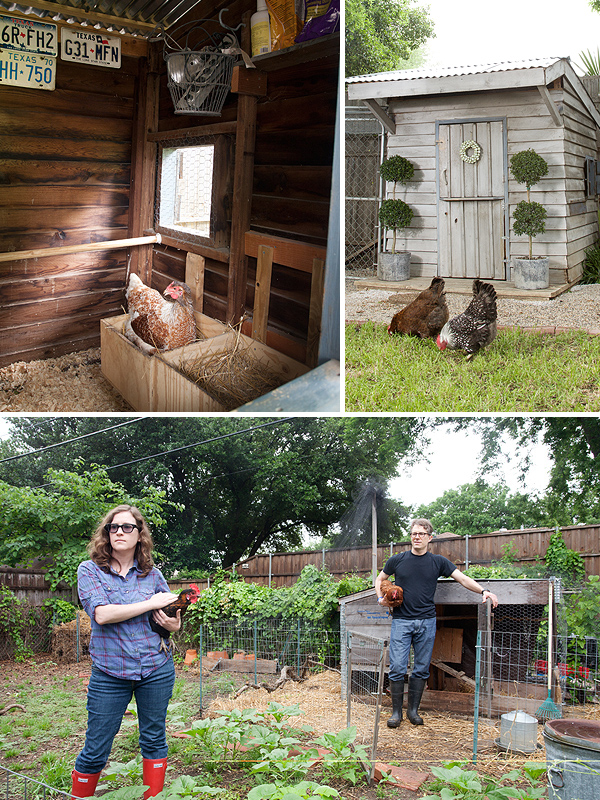 Nicole and Jeff Whittington
East Dallas
The Whittingtons had wanted chickens for years but were always too busy to follow through. "We finally got the house, got settled, and realized it was doable," recalls Nicole, a judicial support specialist of the bankruptcy court of the Northern District of Texas. When a friend had several extra chickens she was looking to find homes for, Nicole and husband Jeff, a producer for KERA, realized that was the final push they needed. They built their coop with donated shipping crates and lumber scraps abandoned at construction sites. The Whittingtons' coop features a slanted, corrugated tin roof that can be opened to easily clean the nesting boxes, while another door at the front can be opened to get the eggs. Most unique, however, is the transom window above the door separating the run from the nesting area. The chickens like to hop up on the windowsill and perch there. While Nicole admits that some of the coops available today are pretty impressive, she believes they are more for the owner's benefit than the chickens'. "I've seen beautiful coops that look like little gingerbread houses, and that's wonderful," Nicole says. "But the chickens just don't care."
Lisa and Jason Druebert
Casa Linda
When a friend of a friend was moving and had a playhouse he needed to get rid of, Jason Druebert, an IT consultant, realized it would be perfect for the chicken coop his wife, Lisa, a middle school teacher, had always wanted. The only problem was that the playhouse was completely taken apart and the instructions had long since gone missing. Reassembling without any blueprint was a process that took all weekend, Jason says, but the repurposed playhouse-coop turned out just fine. Some of the stained-cedar playhouse's features seem to be made for a coop, such as the Dutch door that makes collecting eggs easy and the side windows and flap that allow ventilation during the summer. Inside are two nesting boxes and a roost made from a closet rod. While the Drueberts eat some of their eggs and give some away, they also barter with them, trading eggs for wine with a local wine broker. Although Jason originally had misgivings about raising chickens, he has since changed his mind, saying, "It's just like having a pet bird, but you get eggs from them and they live outside, so there's less mess."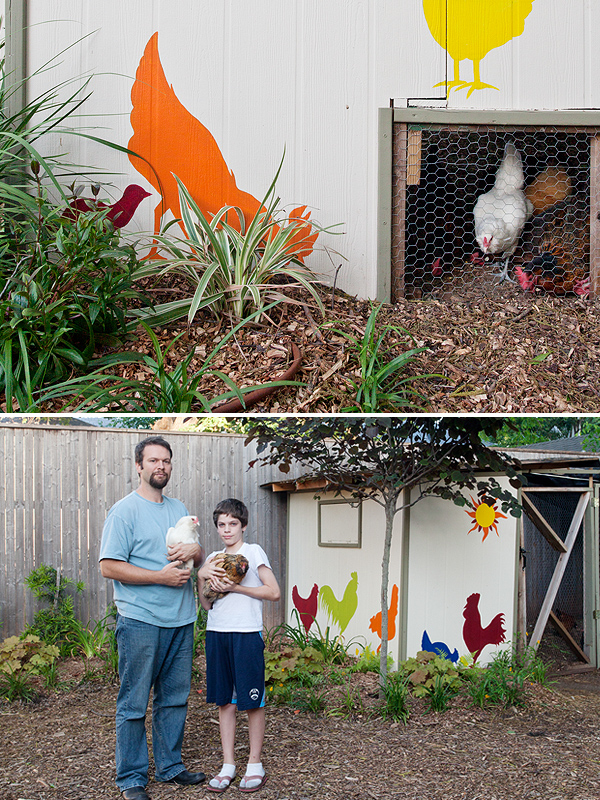 Carrie and Jason Lackey
Oak Cliff
One year ago, Carrie Lackey, a nursing student, finally convinced her husband, Jason, a landscape designer, that they needed to raise chickens. "She kept telling me how good it was for the environment, but I procrastinated for a while," Jason says. They spent $6 on their first coop, dubbed The Clampett Coop after the backward Beverly Hillbillies clan. The family soon realized, however, that taking care of chickens was easy and rewarding, so they have since upgraded to two new coops, built by Jason and painted by Carrie. Each coop was constructed with new and repurposed materials, including leftover shingles donated from a local roofing company. In the past two years, the Lackeys have had more than 100 chickens pass through their property (they buy them as chicks, raise them, then sell them).
Get our weekly recap
Brings new meaning to the phrase Sunday Funday. No spam, ever.