Richard Rogers and Dennis Stark
Little Forest Hills
To hear Richard Rogers, a nurse, describe in detail the personality of each of the dozen hens he shares with Dennis Stark, you would never guess that only two years ago he couldn't imagine owning even one. "At first I thought they were kind of gross," Rogers says. "I don't even like birds. They kind of scare me!" But after observing a friend's coop up close, he was transported back to childhood trips to his grandmother's house in Tyler, where she kept huge chicken coops. Those fond memories led him to an online search. He found a coop that he liked, and, after modifying the design, close friend Tommy Renner got to work building the 1,000-square-foot coop that houses 11 of their 12 chickens. After completing the large coop, they collaborated on a smaller one (pictured) that they use to isolate a chicken that is having problems with the rest of the flock. Stark charts egg production with detailed records that Rogers says are not as complicated as they sound. "It's bizarre to have them in Dallas, but there's something very grounding about them," he says. "It takes me back to my roots."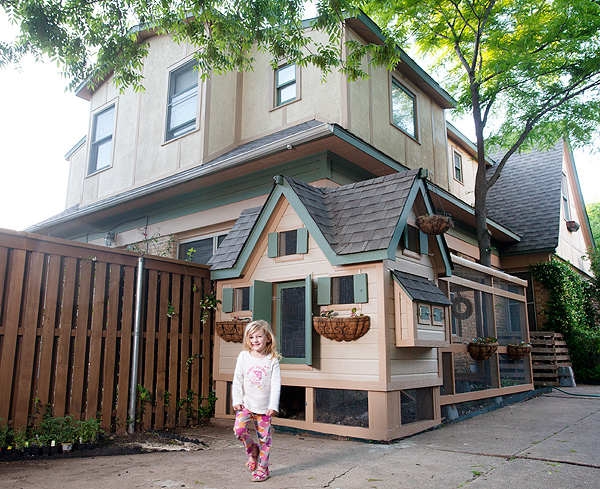 Michelle Nichols and Greg DePrisco
M Streets
Late last fall, Michelle Nichols, an assistant professor of psychiatry at UT Southwestern, and husband Greg dePrisco, director of ER radiology at Baylor, began building their coop. They were interested in teaching their 3-year-old daughter, Trinity, about animal husbandry, and they wanted to incorporate more organic eggs into their diet. They already had a garden and three hives of bees, so they figured that chickens were the next logical step. Their coop, which has a run attached to it, is a joint effort between their family and a friend who works in construction. It was primarily built from salvaged lumber. The coop is just as elaborate on the inside as it is on the outside, featuring cedar paneling and a floor made of three removable mesh wire frames that allow the droppings to fall directly to the ground below, which is covered in compost. Because dePrisco was once a roofer, the henhouse also features roof vents that allow hot air to escape.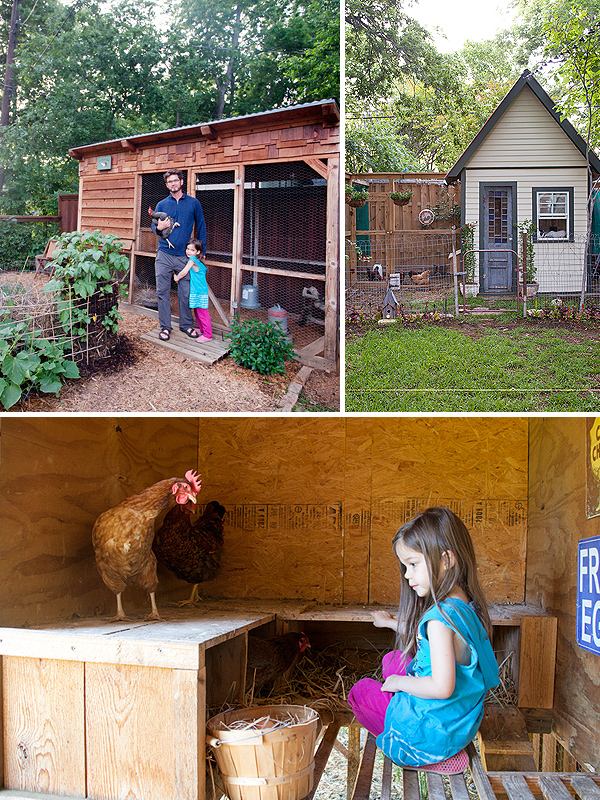 Tommy Renner and Jim Cooper
Little Forest Hills
Nurse Tommy Renner grew up with chickens, so 11 years ago, he decided to revisit his childhood and raise his own. A skilled carpenter, he designed and built a multilevel joint chicken coop and rabbit hutch that was modeled after an 1890 Victorian house he restored in Waxahachie. The five-level house is home to 10 chickens and two bunnies. The house is built of pine siding with a red tin roof, and the front door is an antique door from Pennsylvania, complete with the original stained-glass windows. Because it gets so hot in the summer, the rabbits' section is air-conditioned, and a window provides extra ventilation. Inside, the chickens have four nesting boxes and a roost, and a covered run outside protects them from predators. Renner and partner Jim Cooper, an international travel host, get approximately three dozen eggs a week from the birds, many of which they give away. Despite the coop's elaborate facade, Renner insists that he still has much more to do before it is completed. He plans to add molding on the door and either stained glass or wood carving in the eaves.
Damon Petr
Lower Greenville
Damon Petr, owner of the courier service Allied Delivery, always envisioned that his garden would include chickens. So in 2009, after six years of gardening, he went on a chicken coop tour in Dallas and realized that he was ready to take his garden to the next level. He built a small coop, but after only six months, he was ready to upgrade to a bigger one that could be accessed from the inside for easier cleanup. He sketched out a spacious design and built it over three weeks with a high school buddy, using rough cedar from a fencing company and donated cedar shingles for the roof. The coop features four nesting boxes and two trap doors for easy egg collection. But the most unique feature is the run. A 22-foot-long tunnel connects the coop to the 50-foot run, which goes the entire length of his house, ensuring that his and daughter Zoë's 12 hens have plenty of room to roam.
Get our weekly recap
Brings new meaning to the phrase Sunday Funday. No spam, ever.