When I lived in Rome, I was often faced with a choice when leaving my office each day: take an old streetcar that winds out of the way, up around the city, and lands me near my destination, or take a bus that chug-a-lugs in a straight line to where I am heading? I made the same decision every single time. I took the streetcar. It felt better.
Initially I was enthused when I heard that Dallas was getting a new streetcar line, a route that would connect downtown's Union Station to Oak Cliff via the Houston Street Viaduct. The Oak Cliff streetcar tries to address two of Dallas' most urgent urban needs. The first is denser development in the city's core. Low density in an urban setting is inefficient, costly, and environmentally unfriendly. It also doesn't allow for the kinds of spaces that make cities buoyant with life. The second problem streetcars address is Dallas' lack of a reliable, quick, and predictable pedestrian-level urban transportation network. DART's light rail system is good at moving people to and from business centers and park-and-ride stations. But its localized service, the bus system, forces riders to spend too many hours making transfers, sitting in traffic, and waiting on infrequent buses. A pedestrian-level transportation network that operates efficiently would reduce our reliance on automobiles, slashing Dallas' cost of living (especially for low-income individuals), while also creating a more fluid and available workforce and cutting down on the number of uninsured motorists on the road.
These social benefits were precisely what the United States Department of Transportation sought to create with its TIGER grant program in 2009. And the people who had been working to bring back Oak Cliff's streetcar line since 2005 thought their project would qualify for some of that money. They were right.
Here's the problem: the Oak Cliff streetcar is simply too limited in its reach to have any real impact on how Dallas uses public transportation. Construction on the line will begin in the middle of 2013, and when it is completed, there will be a streetcar that runs only during weekdays, connecting Union Station to Methodist Hospital, a distance of about 2 miles. To put that in perspective, that stretch is currently being served by just four bus stops. And how much will it cost?
"It's a moving target," says Keith Manoy, senior program manager for transportation planning with the city of Dallas, who is heading up the streetcar project. "But we are generally in the $50 million range."
Fifty million dollars for the equivalent of four bus stops.
Those estimates are too high, according to streetcar advocate Jason Roberts, who founded the Oak Cliff Transit Authority, an organization that began as a website and helped rally local support for the Oak Cliff streetcar project. Regardless, Roberts says what is important about the first phase of the streetcar is that "it gets a stake in the ground." Roberts sees the line eventually extending down Zang to Jefferson Boulevard and looping back up Tyler Street, rumbling by many of Oak Cliff's favorite spots, like the Bishop Arts District and the Texas Theatre.
The city also has hopes for expansion on the other side of the river. If a downtown loop is created, you could ride from Bishop Arts to the West Village and make one transfer, near the Arts District, to jump from the modern to historic streetcar line. The complete build-out of the extended line, however, is a huge, whopping "if." Streetcar lines cost $22 million to $25 million per mile to build, plus another $1 million per mile per year for operations and maintenance, according to Manoy. So the city's hopes might cost another $50 million or so. And no one is lining up to fund the thing.
Manoy says the city is looking at a number of financial options, from future federal grants to the North Texas Council of Governments' Regional Toll Revenue funding initiative, which is already contributing to the initial phase. Then there is the chance that streetcar money could come from future city bond packages, or that DART may sign up as a funding partner, though Manoy admits "they haven't planned for it."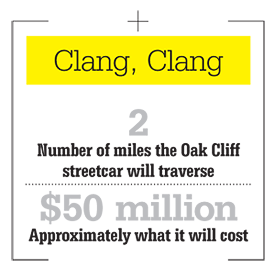 Roberts believes a good portion of the funding will come from new taxing jurisdictions, such as Tax Increment Financing Districts (TIFs) or Public Improvement Districts (PIDs). One of the benefits of streetcars is that they tend to promote real estate development, Roberts says, and TIFs and PIDs can harness the increased tax dollars created by new real estate projects to fund streetcar expansion. It's a model that has been used in other cities.
But here is where Dallas' streetcar project stops making sense. If the real purpose of the Oak Cliff streetcar is to foster a string of new developments down Zang Boulevard, doesn't that create the kind of economic transition in a neighborhood that would push out the very people who rely most on public transportation? And, even so, why are we trying so desperately to dream up ways to afford a streetcar line that will be useful only to people living in a thin stretch of neighborhoods in Oak Cliff? Dallas needs better public transportation, but we are throwing mountains of civic willpower behind a project that even its most ardent boosters admit isn't likely to expand to other parts of the city.
The problem is that Dallas sprawls too much to make rail-based streetcars a feasible solution. To solve our public transportation problem, Dallas ought to stop looking at models like Portland, Oregon, and look at cities that more closely resemble Dallas, places like Bogota, Colombia. Bogota has become a darling of the new urbanism crowd in the last decade thanks to its development of a Bus Rapid Transit (BRT) system.
Don't be thrown by the B-word. Rather than a snaking web of indecipherable bus lines, like Dallas currently has, BRT systems use designated lanes, timed traffic lights, and painted ground areas to give pedestrians visual understanding of where routes go. BRT vehicles are faster, more comfortable, and more reliable than buses. And here's the best part: for the cost of the Oak Cliff streetcar, Dallas could build a complete BRT system covering the entire city.
Roberts likes the idea of a BRT system in Dallas, but he says it has to be perfect or it won't work, pointing to Los Angeles' BRT attempt,
which hasn't had the same impact as systems in Bogota and Ottawa, Ontario.
"I am very pessimistic in our city's willingness to adopt a good BRT system," Roberts says. "What I see them doing is adopting a hybrid, a bastardized version, and it would fail."
The city, though, is beginning to think BRTs, because even when the Oak Cliff streetcar line is completed, the city still needs to improve public transportation in areas outside Oak Cliff. In fact, Manoy admits that if some of the conversations that have happened in the wake of the TIGER grant had happened earlier, transportation planners may not have decided to go all-in on the streetcar in the first place.
"We learned from that," Manoy says. "And that is why we are working on a system plan, if the opportunity comes up again—and it will—to make sure that we have done something that makes sense."
Like that Rome streetcar I used to ride, the city is taking a winding route to its destination. Let's hope it eventually gets there.
Write to [email protected].
Get the D Brief Newsletter
Dallas' most important news stories of the week, delivered to your inbox each Sunday.