On a hilltop in southeast Oak Cliff, a small but powerful group of men and women walked into a quiet classroom one night a few months ago and took their seats at a rectangular table, facing each other, prepared for debate.
The group was gathered to help create a blueprint for the first public university in Dallas, the largest city in the country without its own. Among the people at that table was Mark Cuban, who has credited undergraduate business classes with helping him become a billionaire. Another, Al Silva, believed a college education of Faulkner and Tolstoy transformed him from a boy on welfare to the head of a billion-dollar corporation, Labatt Food Service. It seemed distinctly Dallas that mostly doers, rather than teachers, had been tapped for the task of deciding where the University of North Texas at Dallas goes from here.
More than a decade in the making, the school currently has 2,032 students, and is growing at a rate of about 12.5 percent a year. But as leaders work toward securing independent accreditation this year, they are preparing for massive growth.
If the vision is fully realized, dozens of brick buildings will rise on 264 acres off Camp Wisdom Road. Within the next 25 years, the university hopes to enroll as many as 30,000 students—more than double that of SMU. The university could reshape the city so significantly that its impact might eventually be compared to that of the DFW Airport, its boosters say. UNT Dallas aspires to educate those who are not being educated, at potentially enormous economic gain to the city. Leaders also hope the university will be the long-awaited catalyst for revitalizing the city's struggling southern sector.
Not lost on those involved is the rare opportunity before them, a virtual educational blank slate. The school's brain trust is attempting to create a new type of university in an experiment that already has gained the attention of national education experts.
"How many times in the lifetime of a community do you get to create a public university?" asks Dallas businessman and educational philanthropist Eric Reeves. "It's so rare; it just doesn't happen. It's not even generational. It's once in a lifetime."
Led by a former accountant, UNT Dallas is moving into the future with a mix of idealism and practicality, trying to educate more people more efficiently. The school is also attempting to carve out its own identity, both as a separate entity from its Denton parent and, more grandly, as the face of higher education in Dallas. It's a tall order, especially since UNT Dallas is making a go of it in a city that is already so closely associated with a well-endowed school that sits on a much tonier hilltop to the north.
"We're building a university in the middle of an area that many people have written off," UNT System Chancellor Lee Jackson says.
The story of UNT Dallas spans more than a decade and was driven, in large measure, by one fact: only 28 percent of Dallas adults have college degrees, according to the U.S. Census Bureau. For comparison, Austin boasts 44 percent and Atlanta hits nearly 46 percent. There are universities nearby—UTD in Richardson, UNT Denton, the University of Dallas in Irving, UT Arlington. But that was no longer good enough. Area leaders, long troubled that Dallas did not have its own public university, asked three universities to submit proposals, and chose UNT to finally fill that void. They liked that UNT, a large research university in Denton with 36,000 students, did not want to establish a satellite campus or simply replicate itself within the city's limits. Instead, UNT was prepared to launch an independent university with its own president, programs, and Dallas-driven prerogatives.
The main goal would be to expand access to higher education to some of the 72 percent of adults who do not have college degrees. If the city could shift that percentage even slightly, the economic benefits would be significant, city leaders believe. A study by the group CEOs for Cities claims that if Dallas could raise its college graduation rate by 1 percent, the net impact could be $4.6 billion in personal income. Leaders also wanted UNT to establish a public law school downtown and other professional graduate programs.
Politicians decided that the new university should rise south of the Trinity River, to target potential students there and to serve as a possible game changer for the city's long-struggling south. Senator Royce West and others helped secure legislative approval in 2001, and the city paid $3 million for 202 acres off Camp Wisdom Road, near Interstate 20. Gifts and purchases added another 62 acres to the campus. The large, undeveloped tract was considered a rare gem by city planners. It had enviable natural features—rolling hills, a creek system, scores of mountain cedar and hackberry trees—and an elevation that gave it a view of the city's glimmering skyline.
As UNT moved forward, one man began to emerge as the clear leader for the Dallas experiment, an accountant from rural Mississippi named Dr. John Ellis Price. Price was a CPA turned academic who had spent 14 years at UNT Denton, rising from professor to department chair. Before he became president of UNT Dallas, he had gotten a close look at the machine of academia.
As an accountant, he was constantly concerned with efficiency and economy. He came to see academia as operating largely at the pleasure of professors, who taught courses when they wanted to, on subjects they wanted to, rather than focusing on students' needs. Though they do many things exceptionally well, universities could use a healthy dose of supply and demand, Price figured. He did not view students as customers, per se, but thought their schedules and needs should be better taken into account. Then, perhaps more students would attend and finish college.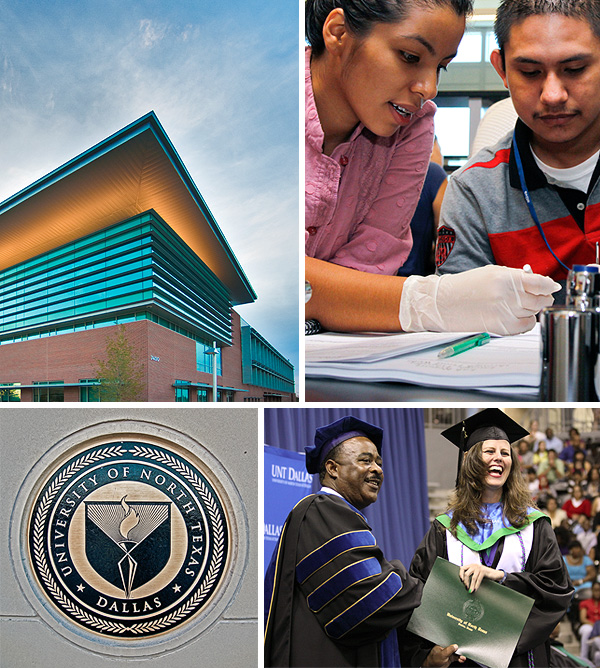 Weighing in on an enduring debate about the best approach to higher education, Price believed some traditional tenets of college—such as an emphasis on research over teaching—had contributed to the skyrocketing cost of a degree. While higher education should include an Aristotelian pursuit of knowledge—knowledge for knowledge's sake—it also should be practical, affordable, and lead to a paycheck.
In Price's own life, higher education was life changing. He grew up in a house with nine siblings and no indoor plumbing. Neither of his parents finished grade school. He remembers being embarrassed at having to chop and deliver firewood at night with his father, and ashamed at having only two pairs of pants in high school—one to wear, and one to wash.
"I vowed early on that I wasn't going to have that kind of life," Price says. "It didn't take me long to realize that education was my way out."
Educators, he believes, have done a poor job of teaching students the vital link between school and prosperity. On his campus in southeast Oak Cliff, he aimed to change that.
It was a slow start. Before the hilltop in Oak Cliff came the office park on South Hampton Road, where the university first opened its doors to students in 2000 as a branch campus. By law, the school needed 1,000 full-time equivalent students before it could declare independence from the flagship in Denton. As the enrollment slowly climbed, construction began on the first of the university's two brick buildings, at a cost of $25.4 million. Looking ahead, City Council members drafted a hopeful land use plan for miles around the university, envisioning walkable, mixed-use developments similar to Mockingbird Station and West Village.
After the 1,000th full-time student enrolled in 2009, UNT Dallas declared its independence on September 1, 2010, officially becoming the city's first publicly supported, four-year university. The City Council changed the name of the adjacent road to University Hills Boulevard. Price turned to the next significant hurdle: separate accreditation from the Southern Association of Colleges and Schools.
A thorough process that can stretch on for years, accreditation was the next step toward true independence. If Price wanted to experiment with a new model, he needed his own accreditation. Until then, he had to operate under that of the flagship in Denton, teaching the courses it taught, in the ways it taught them.
But that day was soon coming. And Price wanted to be prepared. So he did something unconventional in academia. Instead of turning inward to professors and administrators, he sent out a request for proposal to top business management firms. Within a week, he received a letter from Bain & Company, a consulting firm that typically worked with Fortune 1000 and midmarket companies.
"You know," one of the partners told Price, "this RFP you put out is really cutting-edge stuff."
Bain & Company had done some work in academia but focused more on business efficiency rather than academic policy. Partners knew the project could be lucrative for the firm. Dallas is the perfect testing ground for new approaches in higher education, because it has all the problems of other cities, on a much larger scale: struggling K-12 schools, dwindling financial resources, and a growing Hispanic population with low college attendance rates. Bain partners told Price they would offer $1 million in consulting fees for the project, pro bono.
"The gods were smiling on me," Price says, leaning back in a blue leather chair in his campus office. As a fledgling state university, created in one of the worst economic downturns since the Depression, he had only $75,000 in his budget to draft a plan.
The project was of personal interest to Bain partner Mark Gottfredson, a Harvard business graduate. "Almost everyone agrees that we have an educational crisis in this country," Gottfredson says. "So many people come out with degrees that don't get them jobs, with high levels of debt that they can never pay off. The next big financial crisis in this country could be the whole student debt overhang. It's an enormous problem."
One of Bain's first jobs was to help Price assemble a group of high-profile business leaders and politicians to brainstorm what the university of the future needed to be. They would call themselves The Commission on Building the University of the 21st Century. Quickly, the school secured A-list support, including Cuban, Dallas Mayor Mike Rawlings, and Texas Higher Education Commissioner Raymund Paredes. The group's members began meeting in November to discuss every aspect of the university. One committee member attended virtually, his face beamed onto a video screen in the classroom.
They talked about what they thought higher education needed to be. Businessmen urged an international component, as Silva, the head of Labatt Food Service, talked about how his industry has become largely driven by snack sales in India and China. The committee also examined what was happening in the marketplace, outside of taxpayer-funded education.
Get the D Brief Newsletter
Dallas' most important news stories of the week, delivered to your inbox each Sunday.