In the spring of 2005, I took a press trip to a hotel on the island of Sardinia, about 120 miles west of Italy. Forty-five seconds after the tour bus entered the walled community, I realized the property was a horrid Disneyland version of an Italian resort. It could have been in Frisco. Brand-new buildings were painted to look like ruins, and the hotel workers were dressed in various historic Italian costumes. So I planned an escape.
From my room, I called Lori Farris back in Dallas. Her husband, Efisio Farris, and his brother, Francesco Farris, then co-chefs and co-owners of Arcodoro & Pomodoro, were born and raised in Sardinia. For more than 20 years, the Farris brothers have fought to get Sardinian food the respect it deserves in Dallas. When Lori answered the phone, I asked her to help me get to Orosei, the hometown of the Farris brothers.
She contacted an aunt of the Farrises in Sardinia, Maria Loi, and arranged for me to stay at Su Barchile, the family-owned restaurant-hotel where Aunt Maria taught the young Farris brothers to cook. Lori told me to catch "the blue bus" at noon in downtown Cagliari. I snuck out of the resort, grabbed a cab to the center square, and stood beneath swaying eucalyptus trees, feeling pretty smug about my getaway.
Until, that is, I realized all the buses in Cagliari were blue. Noon came and went, and I got a bit hysterical. I walked around shouting, "Orosei? Autobus Orosei?"
Eventually, I hitchhiked my way up the rugged coast of eastern Sardinia to the medieval village of Orosei, where I embedded myself with the Farris family. There was little verbal communication. They spoke to me with food, and I answered with smiles and a distended stomach. I sat in the kitchen where Efisio and Francesco had learned to cook and "listened" to Aunt Maria tell me with her eyes and hands that sourcing local ingredients in Sardinia has never been a trend. It is, and always has been, a way of life. Everything at Su Barchile—cheese, olive oil, jams, pastas—comes from the family's land. Seafood is caught in the Mediterranean, which laps the shore at Orosei just a half-mile down a cobblestone road from Aunt Maria's kitchen. I learned to love it all—bottarga, ravioli blackened with cuttlefish ink, myrtle-scented pork, bitter honey-sweetened ricotta, and plum jelly. And wine. Especially the earthy, fruit-forward reds. It was one of the best adventures of my life.
So I watched with more than a little interest when, two years ago, Francesco left Arcodoro & Pomodoro with the dream of opening his own place. Finally, in October, he opened his Zio Cecio Cucina Italiana in the former Cafe Italia space on West Lovers Lane. The first time I perused the menu, I was excited. There, listed between the must-have-in-Dallas Italian dishes, were Sardinian specialties: rustic bread spread with Parmigiano-Reggiano-infused butter and topped with bottarga, a cured fish roe; a bowl of octopus covered with spicy tomato sauce; and pecorino! I was giddy with anticipation.
On my first visit, our server popped the cork on a bottle of Sella & Mosca, Cannonau di Sardegna, Riserva, a bright, purply red wine brimming with jammy fruit. The aroma flooded my olfactory senses. My taste memory flashed back to the feasts I experienced at Su Barchile. But what started as wild exhilaration ended, sadly, in disappointment. My three dining experiences at Zio Cecio were as bumpy as the ride from Cagliari to Orosei.
There is a lot to love at Zio Cecio, but the service I experienced was deplorable. One server—and he knows who he is—should consider another career. We sent him to the kitchen three times to find out what cheeses and cured meats were on the Tagliere del Pastore. Each time, he returned more confused and with a different answer. "I think that one is prosciutto," he said as he pointed to a dark red piece of what was obviously bresaola. When my Italian chef friend informed him it was, in fact, bresaola, the waiter said, "I think the Italian guys in the kitchen are messing with me on purpose." I nicknamed him Goofus.
Luckily, we didn't need Goofus to pick a wine. Chef Francesco Farris has nearly 20 Sardinian wines on his small, price-friendly list composed mostly of Italian wines. I urge you to resist the obligatory California Belle Glos Pinot Noir and sample the good-value wines from Sardinia.
If you insist, as did some of my less-adventurous friends, you can start a meal at Zio Cecio with a familiar buffalo mozzarella caprese. If Farris has managed to
source tomatoes in the dead of winter, you won't be disappointed. However, I suggest that you instead sample one of four types of carpaccio offered. I asked Goofus to outline the differences, and he recited the menu descriptions. When my Italian friend asked him which one he recommended, he said, "I've never eaten them, so I can't say."
We picked the oh-so-thinly sliced scallop, which is seared for seconds with a torch ("Like crème brûlée!" Goofus said) before olive oil is drizzled atop the ethereal mollusk. Some at the table didn't care for it, I think because the texture put them off. But their palates are uneducated. I thought it was divine.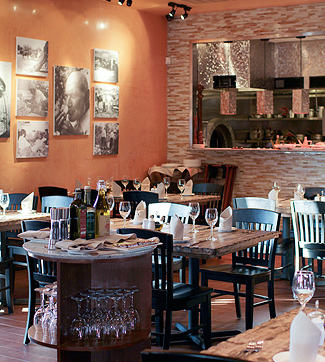 Same for the grilled octopus, which is served in a shallow bowl filled with spicy tomato sauce. I love the gentle tug against my teeth that comes from a properly sautéed octopus. My tablemates prefer it fried like calamari. Goody for them: Farris offers fried calamari. But his version is gussied up as Fritto di Paranza, a platter of battered and fried rings and tentacles of squid combined with bites of snapper, shrimp, and sea bass (or other seasonal fish), served with a glistening red sauce that could have used a kick of heat. Otherwise,
perfectomundo
.
We passed the appetizers and the wine bottle around the table like one big, happy Italian family—until the bottle went dry. I looked around and noticed the restaurant was packed. The indoor space seats 75. A dark wood wine room anchors one wall, and an amber-, brown-, and ochre-tiled bar sits across the room. The place was loud, and the lighting was low, but the open dining room and kitchen do not offer many good hiding places, much less one for a waiter. Goofus was MIA. We hailed another server and switched to a bottle of Masi, Campofiorin, Ripasso, a dry, spicy wine produced in the Veneto area of Italy.
Twenty minutes later, Goofus reappeared with our entrées. What sounded like a lovely risotto composition of porcini mushrooms, walnuts, and apples was somehow bland. Lamb crusted with thyme could have been crusted with glass and we would never have known, because at least a cup of thick, brownish-red sauce drowned the chops. The tip-tops of the bones protruded from the deep sea of sauce like hands waving for rescue. At a glance, and in the pictures exchanged the next day, the dish appeared to be covered in an Asian hoisin sauce instead of the advertised Cannonau wine reduction.
My squid ink spaghetti was overcooked and resembled a bowl of tangled black hair. I added a touch of olive oil to smooth out the knots and found contentment by adding a pinch of sea salt to the pasta and the plump, fresh clams. But especially at $20, overcooked pasta is hard to stomach. Thankfully, that was the only miss I experienced with the pastas. All, including the complicated "bow tie," are made on-site. Ravioli is stuffed with seafood and house-made ricotta, and bathed with a soft pistachio cream sauce. Fettuccine is tossed in a beef and pork ragu and billed as a classic Bolognese. Wimpy diners can enjoy spaghetti tossed with tomato sauce, albeit one made with organic tomatoes and basil picked from Farris' garden, which is planted in tubs beside the restaurant.
The biggest hit on all three visits was the Berkshire pork chop topped with thin slivers of garlic, cooked on a flat grill (hence no markings), and surrounded by an aromatic honey reduction. Farris is smart to serve this Dallas-friendly dish with a touch of Sardinia. And Farris' groupies will be happy to find a version of Arcodoro & Pomodoro's signature whole red snapper baked in a thick crust of sea salt.
Cocktail lovers will appreciate the bar's perfect peach and Prosecco Bellini. Dessert lovers may be underwhelmed by the lack of sugar in the tiramisu, but I loved Farris' version, smothered in freshly whipped mascarpone, delightfully bitter, with espresso and chocolate from Piedmont.
Lovers of great service will have to go elsewhere. On each of my three visits, I encountered problems that ranged from minor to unforgiveable, such as the night when, 45 minutes before closing time, kitchen staff began breaking down the restaurant. As they carried bags of trash through a side door near our table, they repeatedly bumped my chef friend, who was still finishing her entrée. And, of course, there was Goofus. As I handed him the signed bill, I said, "I want you to know I tipped you 20 percent because I know you need to pay your bills. But you really deserve nothing." He was so clueless that he laughed like I'd just told him a dumb blonde joke. 
I'm sure Farris won't think this is funny. He doesn't just have a landlord and a reputation to protect. He'd better get his floor staff together before they drive loyal customers away. If he doesn't, he's going to have to call Aunt Maria and give her the news. And, believe me, that is one call Farris does not want to make.
For more information about Zio Cecio Cucina Italiana, visit our restaurant guide.
Get the SideDish Newsletter
Dallas' hottest dining news, recipes, and reviews served up fresh to your inbox each week.