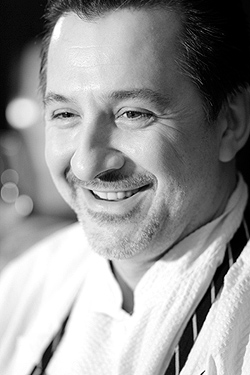 I've spent the better part of the past 12 months eating pizza, gourmet burgers, and tacos. So it was quite glorious to sit in a glamorous dining room among a rich and well-coifed crowd, with the bright lights of the Dallas skyline twinkling in the distance. Women were dressed in fancy chiffon gowns and beaded black dresses. Men removed their Stetsons and handed them to the hostess. It wasn't a trip back in time; it just happened to be the same night as the Cattle Baron's Ball. For one Cinderella-style evening, our threesome basked in their finery. We were also thrilled with the edgy fine-dining experience presented by Anthony Bombaci, one of Dallas' more underpromoted chefs. He amazed us with combinations of flavors, textures, and presentations. First up was a stunning starter of supple gnocchi, crunchy barley, and earthy mushrooms. Entrées included a lovely and filleted turbot served with Bombaci's tip to Texas: delicate "chicken wings," which were more like chicken pops. Balls of chicken confit were lightly fried and sat at the base of a naked bone. Bombaci's Spanish background is still evident. Two thick strips of pink duck are crisscrossed on a plate and served with foamed Mahon cheese. The meat is surrounded by whole roasted beets, cashews, and oranges. But the filet is not for everyone. It's topped with Roquefort butter and chips of Jivara Lait (Valrhona's second-mildest chocolate) and circled by a caramel mustard vinaigrette. Initially the intense flavors of mesquite and sharp cheese clash before the chocolate softens the essence to a savory sensation. There has been talk of Nana morphing into a more traditional steakhouse. Let's hope this remains a rumor. We already have more than enough chop houses, but we have only one Anthony Bombaci.
For more information about Nana, visit our restaurant guide.
Get the SideDish Newsletter
Dallas' hottest dining news, recipes, and reviews served up fresh to your inbox each week.