I have always loved a vineyard in winter, the gnarled grapevines stark against sharp January light, so different from the lush, brazen fall. I love buying cheese and fresh bread and sitting at a picnic table with a new bottle of wine. Peeling back the foil with awkward, pink fingers. And then drinking wine and warming to my toes.
I have been looking for a day to get back to Grapevine and catch it in winter. My husband and I slipped out there one Monday last fall, a quick trip covering three vineyards and wineries before we headed back to Dallas to pick up the kids from school. We started at Homestead Winery, a small, old-timey place set inside an 1890s Victorian house off Grapevine's Main Street that happily opened at 11. A woman with the hair and perfect makeup outsiders expect all Texas women to have chatted knowledgeably with us and poured. It cost $5 for four tastes—a little more for the port and sherry. We left with a quirky red that tasted of bell peppers, planning to open it with friends over a meaty dinner.
La Buena Vida Vineyards ($9 for a flight of three 2-ounce pours) had the Blonde Bombshell, a fun white with a good finish and a silly name. The enormous Spanish-style patio was comfortable, echoes from the fountain moving across blue tiles. Women in their late 40s or early 50s sat in the sun and laughed and laughed and laughed and ate some lunch. The three-day food and wine celebration called GrapeFest had wrapped up the night before, and they were still clearly festive.
The Delaney Vineyards & Winery ($10 for tour and tasting, which we split between us) felt the most like what I was looking for—a cavernous warehouse with giant casks and the musty scent of wine being made. Delaney's main vineyard is in Lamesa, Texas, out by Lubbock. But there are vines in Grapevine, too, and Delaney actually has some production on-site. We finished our tasting and moved to the patio outside. The even rows of Cynthiana grapes soothed me, as did the first full, non-tasting-size glass of wine in my hand.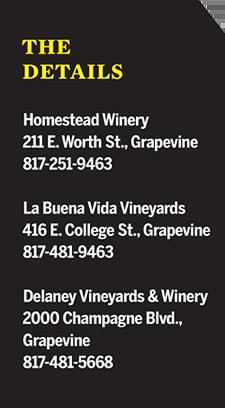 It is a romantic thing, to have a glass of wine and muse. Growth and grapes and terroir are terms ripe for metaphor. But the more I talked to people about Grapevine's wines, the more I was reminded of how practical the actual business is. Bobby G. Smith, who first started making wine in Springtown, Texas, in the '70s and who started La Buena Vida, chatted with me by phone for about 10 minutes; in that time I heard about grapes, but also about legislation, wet and dry laws, mayors, and PR people. All the things I don't think about when I look at a glass of wine but that surely are as important as terroir to making that glass.
I once pestered a friend who knows more about food and wine than any human ought to, about what makes a wine good. I was living in
San Francisco and making regular trips to Napa and Sonoma and feeling woefully out of my depth. "A good wine is one you like," he said. It took a number of years of living and getting more comfortable with myself before I could recognize the truth in that. 
Of course, the wine I've liked best was a prized 1955 La Tache I sipped at that friend's house. And perhaps I liked that wine best not just because it was incredible, but also because I was 23 and had never tasted anything like it, and because I had it at my friend's house the night he said the funniest thing I've ever heard him say, the first fun night after my father died. We bring so much to the literal table, so much expectation and memory and emotion. 
I liked the Blonde Bombshell, but didn't find a bottle I loved in Grapevine. That was okay. I'd gone to the wineries and vineyards mostly in search of a feeling. I wanted a cask's rough nap and to be in the presence of something being made. I wanted the smell of dirt and the curl of grape wood. I wanted the thin stem of a glass, to drink something I'd never tasted before. People sometimes give Texas wines a hard time, but we enjoyed a lot of what we tasted. Which, according to my expert friend, means we found a few good wines.
Write to [email protected].
Get the FrontRow Newsletter
Get a front row seat to the best shows, arts, and things to do across North Texas. Never miss a beat.