Bret Slater: Paint, Drugs, and Rock 'n' Roll
He wanted to be a rock star. And a rock star he became, but it happened in an art gallery, not behind a mic. The big question for him is: Now what?
Bret Slater might not have become one of the most successful, sought-after young artists in Texas if he hadn't gotten suspended from college during his sophomore year. It was December 2006, and Slater was the lead singer in a punk band, just occupying a spot in the art department at the State University of New York at Purchase. He got caught drinking on campus. He lost his fall semester credits and had to spend that winter at his mom's house in Westchester County.
"I was 19 and grounded, and I couldn't believe I was standing for it," Slater says, still bristling at something that happened more than six years ago.
Here was a kid who'd been playing dingy clubs on the Lower East Side since high school, and now he was in college but stuck at home with his mom. A rock star has an image to uphold, right?
Rather than rebel, though, Slater picked up his brushes and got to work. The result: the painting that made him want to be a painter, as he puts it. He got a job at Borders, where he voraciously consumed art books that he stole from the store. He dated a girl who worked in the magazine department, and she stole art magazines for him. One of those publications was called New American Paintings.
"I decided I needed to be in New American Paintings," he says.
Slater eventually graduated from college, and during his first semester at a master's program at SMU, he entered his work into a juried competition run by New American Paintings and won a profile in the magazine. That's how Chicago art dealer Thomas Robertello learned about him. A show at Robertello's gallery right after Slater finished his MFA led to a mention in Modern Painters magazine, which in 2011 named Slater's Chicago exhibition one of the 100 best shows of the fall. And so it went. The Modern Painters story ignited dealer and collector interest. Within a year of earning his MFA, Slater was represented by galleries in Chicago, Dallas, and Brussels, and his dealers struggled to keep his work in stock as his relatively affordable canvases, at $5,000 and under, were snapped up by everyone from Dallas socialites to Swedish supermodels.
When I asked one Dallas-based artist why he thought Slater had emerged as a darling of the art world, his answer was simple: "The colors, the size, and his youth." The size of Slater's paintings might seem a curious quality to attribute his success to, but an advantage of small work was made clear during my first visit to his studio in the American Beauty Mill Lofts, just south of downtown.
I was one of about a dozen people invited to a small party welcoming Slater's new Belgian dealer, Elaine Levy, to town. We rode a cramped, rattling elevator up to the third floor of the former fl our mill, and when the elevator doors opened, the smell of marijuana greeted us. In Slater's studio loft, a few younger artists, a middle-aged artist couple, and a socially prominent collector couple were sitting around a coffee table that featured a large bong as its centerpiece. What was striking about the scene was the ease with which different generations and social classes flirted. Slater made his way around the room, greeted the new arrivals excitedly, then spun to continue a conversation, bobbing his head like a pepper shaker. Slater's sincere kindness is infectious, and the relaxed vibe of the room seemed to spring from the affability of the awkward host. Levy, the dealer, had come with a duffel bag to collect Slater's work, a cheap and easy way to whisk the paintings back to Europe. Slater's small paintings fit easily.
Despite his high cheek bones and deepset eyes, Slater still looks boyish at 25. He has been told he looks like Herschel Grynszpan, the Polish-Jewish refugee whose assassination of a Nazi diplomat was used as a pretext for the bloody Kristallnacht. And while Slater no longer identifies with Judaism, he did recite Hebrew at his bar mitzvah. When one of his paintings seemed to resemble the shape of a Hebrew character, he named it Big Dick Herschel.
Tattoos cover his arms. The tail of a large breasted mermaid slinks around the image of a painting. Levy's name is in ink, as well as his mom's. When his Dallas dealer, Marty Walker, scolded him for posting to Facebook a tacky image of a red-dotted list of works from a sold-out show, Slater promised he would tattoo "mom" on his body for her. His enthusiastic commitment is reciprocated by those around him. Levy herself bears a tattoo of one of Slater's paintings on her ribs.
What strikes you first about Slater's monochromatic paintings are the colors—vibrant neons, earth tones. He heaps on the oil paint so that it drifts off the edge of his canvases, which are sometimes stretched so that they have rounded corners. His paintings are abstract, but they bring to mind action figures or psychedelic rock posters or the masks of Mexican wrestlers. They possess something of the personality of Philip Guston's late figurative work. Slater's titles often reference lyrics of his favorite songs. His Used to Give a Fuck, Now I Give a Fuck Less (2010) is a line from the Jay-Z song "Success."
"It hangs on a wall, and you'd like to talk to it," reads a review of Slater's work by Michael Corris, an artist and chair of SMU's art department. "You look at it, and it looks back at you. It is good company; an amulet that natters."
The people who collect Slater's paintings talk about their strange presence, the paintings' personalities. Deedie Rose, a benefactor of the Dallas Museum of Art who has been collecting Slater's work in depth, says she is attracted to the sculptural quality of Slater's canvases and their "weirdness." Collector and art consultant Cindy Schwartz says the paintings are "approachable," and they don't make you "feel stupid."
But Slater's paintings are not unintelligent, and their creator is deftly aware of what he is doing with the work. "He kind of gives you the impression that everything is there, that it's transparent," Corris says. "And it is, and it isn't. I think he's terribly self-conscious. He is constantly adapting to the smallest and most nuanced changes in the environment."
That nuance appeals not only to collectors looking for pretty things for their walls, but also to museums. "My next goal used to be to be part of a major museum collection, but now that is happening with the DMA," Slater says without hint of a boast.
His only fear now seems to be that his rock star persona might undermine him. Local press coverage has emphasized his persona over his art, and he was named Rising Art Star by the fashion industry trade group Fashion Group International.
"Is it me?" he asks toward the end of a long conversation in his studio one night. "Is it because they are seeing that I am not some overdressed, trying-to-battle-you-intellectually prick?"
The young artist's personality and talent certainly driven Slater's career. But success in any field—let alone the fickle world of contemporary art—is rarely a product of talent and personality alone. Luck, too, plays a role.
In the summer of 2006, the painter Otis Jones returned to Dallas from a trip to New Mexico. It was hot and humid, and smog hung in the air. Jones was 60 years old, and he began to have trouble breathing. A few days later, a friend told him he didn't look well, but the artist brushed it off. When symptoms persisted, though, he decided to see a doctor. He didn't have health insurance, so Jones packed a bag with some personal items, a package of crackers, and a jar of peanut butter, preparing for the long wait in the ER at Parkland Hospital.
Before he could leave his studio, Jones collapsed. Lying on the floor, he managed to call his girlfriend. The streets that surround his studio tangle around abandoned factories and warehouses, and they are poorly marked. Jones was afraid the ambulance wouldn't find him. "Call 9-1-1," he gasped.
In the ambulance, his heart rate dropped. At the hospital, the paramedics cut his clothes off and intubated him, but his body became so rigid that the medics had to lean on his chest to force the air out of his lungs. They performed a tracheotomy and, just before his life slipped away, induced a coma.
Telling his story six years later in his comfortable studio loft in South Side on Lamar, Jones wears an oxygen tube strung over his ears and under his nose, part of the daily chore of living with a chronic lung disease. He is surprisingly matter-of-fact about what happened during his three-week coma. While his limp body lay on a bed in the intensive care unit at Parkland, his drugged mind wandered through a vivid fantasy world. Jones rode an elevator as it rattled up through the floors of a skyscraper. At each floor, when the doors opened, he would step off into a faraway land.
"At all the different floors, you were in another country," he says. "You are in Sweden. You're in Stockholm. And another floor, you're in France."
For days, Jones traveled the world in his dreams, sometimes going to places he had visited in his youth, other times tooling around cities he had never seen before. There were other dreams, too, including a sequence in which Jones turned an abandoned, sand-filled trailer sitting in the middle of a desert into a kitschy memorabilia museum dedicated to
Gene Autry.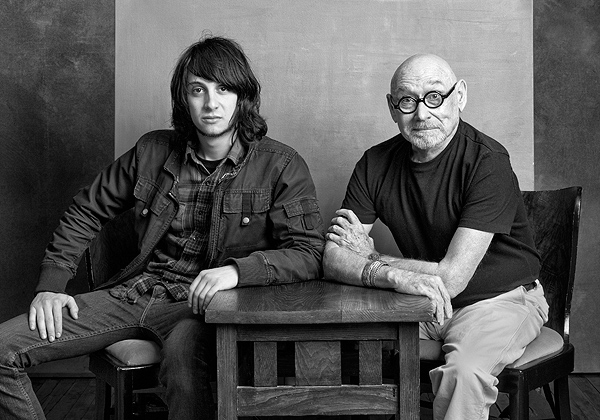 "I figured people would stop and give me a couple of bucks, and I'd be able to paint," he says of his oneiric logic.
Meanwhile, in the hospital, some of Jones' friends visited and talked to him. All Jones remembers are faint murmurs seeping intohis hallucinations. But one day, he found his daughter Zoe standing with him in the elevator.
"Dad, I need to talk to you," she said. "The doctors say you are in deep shit, and you are not going to make it. But I think you can. If you choose to try it, it will be the hardest thing you've ever done. I will be here every day for you. So you won't be by yourself. But if you don't want to go through that, I totally understand. I just need a sign from you."
Then Jones wasn't on the elevator anymore. He was on a playground swing.
"I felt that at that point, when you swing back, if I just took a deep breath and let go, it would be peaceful," Jones remembers. "And that, to me, was death. It was very close. You could choose. And I could have chosen."
Bret Slater says the first time he ever saw Otis Jones' work was the very first day he arrived in Dallas for graduate school. It was actually a few weeks after he arrived, but Slater tells the story his way to emphasize the effect Jones' paintings had on him.
"I saw Otis' work, and it was like a totally mind-blowing moment that made me reconsider everything," Slater says. "What I tell everyone is that that happened the first day I got to Dallas. Basically, in my memory, I blur everything together. I guess, in my mind, I was thinking about it like this destiny."
Seeing Jones' work was like seeing his own ideas about painting advanced 60 years, Slater says. He was seeing his own work in the future. "I wasn't pissed," Slater says. "I wasn't like, 'Dammit, he got there first,' or anything. I was like, 'This is the best painting I've ever seen.' " Jones' paintings are deceivingly simple, largely monochromic but with geometric additions—a small square or circle or line— that play with symmetry, creating a delicate tension between the works' crude textures and formal appearance. The surfaces are sometimes worked-over or sanded to achieve a faded, delicate, almost ephemeral effect, and the canvases are stretched over thick stretcher bars, which lend the pieces a hulking presence on the wall.