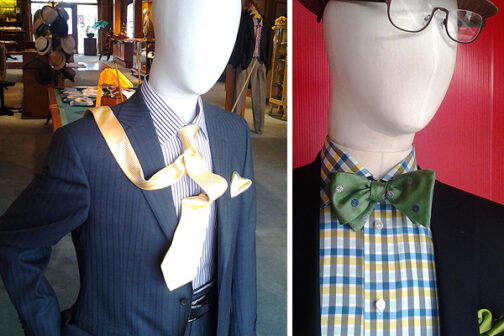 Ken's Man's Shop
Specialty:
Suits, sports coats, slacks, tuxedos, dress and formal shirts, outerwear, leather jackets, neckwear, sportswear, and accessories
Prices:
Suits $895 to $3,500, coats $550 to $2,500, dress shirts $175 to $395.
The story:
Since 1964, Ken's Man's Shop has provided discerning dressers with highly personalized service in an unpretentious environment. Suits are made to measure through the brands Pal Zileri, Jack Victor, Ken's Private Label, and soon Coppley, which can produce a suit in as little as seven days. Shirts are by Eton and Lipson, while Dion and Edward Armah are the store's purveyors of custom neckwear and accessories like pocket squares. For the type of man who wants a leather coat to match his car's interior, Ken's offers leather jackets in a variety of leathers and colors through Remy. One client came to the Preston-Royal shop to purchase corporate gifts for his board of directors: V.K. Nagrani briefs monogrammed with his company's logo (minimum order six). The store's customizable leather wallets, billfolds, and belts are also popular gifts.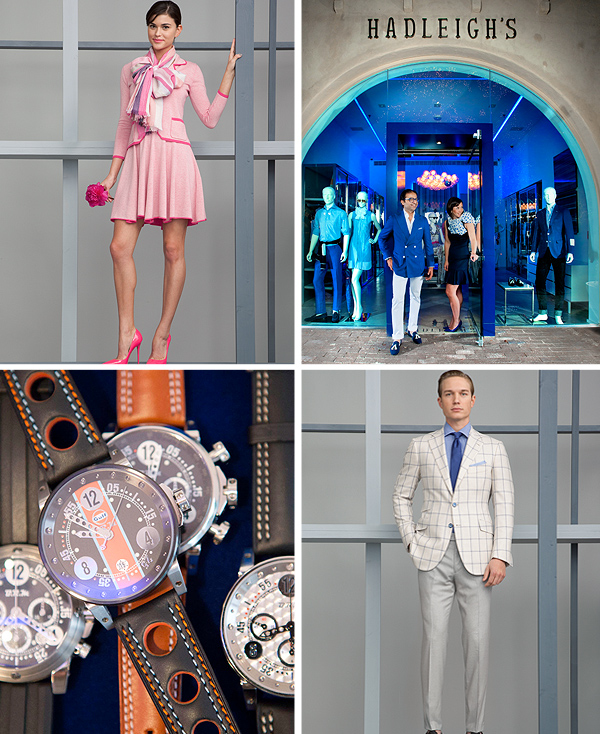 Hadleigh's
Specialty:
Suits, shirts, slippers, ties, scarves, watches, dresses, knitwear, shoes, luggage, baby clothes and blankets, and more
Prices:
Men's custom suits start at $2,200, shirts from $295, women's shirts from $395, timepieces from $2,700.
The story:
If you can dream it (and afford it), Hadleigh's can probably make it yours. The by-appointment upstairs atelier in Highland Park Village is like an exclusive private club where you can indulge all your sartorial desires. Founders (and married couple) Gable and Ed Shaikh have some of the world's best artisans on call, so you can design a custom B.R.M. watch, incorporate your favorite colors into a pair of Hadleigh's famous slippers, or create custom, hand-stitched, monogrammed shirting and neckwear for your entire wedding party. You'll likely enjoy the experience as much as you'll savor the end product. For those not yet ready to take the full bespoke leap, Hadleigh's also has a downstairs retail store that carries off-the-rack versions of some of the atelier's luxury items, like leather iPad covers, and smocked, hand-stitched children's clothing.
Lombardo Custom Apparel
Specialty: Men's and ladies' suits, shirts, trousers, jackets, formal wear, casual wear, outerwear, shoes, accessories, custom dresses, and gowns
Prices: $150 to upwards of $1,495
The story: Jay Lombardo got his start 24 years ago hawking wholesale duds out of the trunk of his car. Back then, his buyers were mostly friends and frat brothers at his alma matter, the University of North Texas. Today, as the hands-on headman at Lombardo Custom Apparel, one of the most esteemed names in Dallas bespoke, his clientele includes many athletes and businessmen. Lombardo's one-of-a-kind suits, which start at $1,495, and shirts, which range from $150 to $295, are made of fabrics sourced from big-name and boutique mills across the globe, and range from the finest two-ply cottons to silky bamboo blends. Clients can stop by Lombardo's store in North Dallas or arrange for a clothier to meet them at their home or office. As part of the bespoke service, alterations are free for life.
D. Jones Tailored Collection
Specialty: Wardrobe consultations
Prices: $38 to $7,500
The story: Drew Jones doesn't refer to his garments as bespoke. The word, he says, is a little too vague for his taste. He prefers "bench-made." But no matter what you call them, the offerings of this up-and-coming Dallas clothier cover just about everything a guy might need to fill out a truly custom wardrobe. Suits start at $595. One of the more popular options, Jones says, is a $2,195 super 160s worsted wool-cashmere blend that's "so soft, it's like butter." Shirts range from $118 to $198, and ties—which come in 70 customizable styles—from $98 to $198. If you've got the cash (and the ego), Jones can even have a personalized fabric milled with your name in the pinstripe. The resulting suit will set you back about $7,500. By appointment only.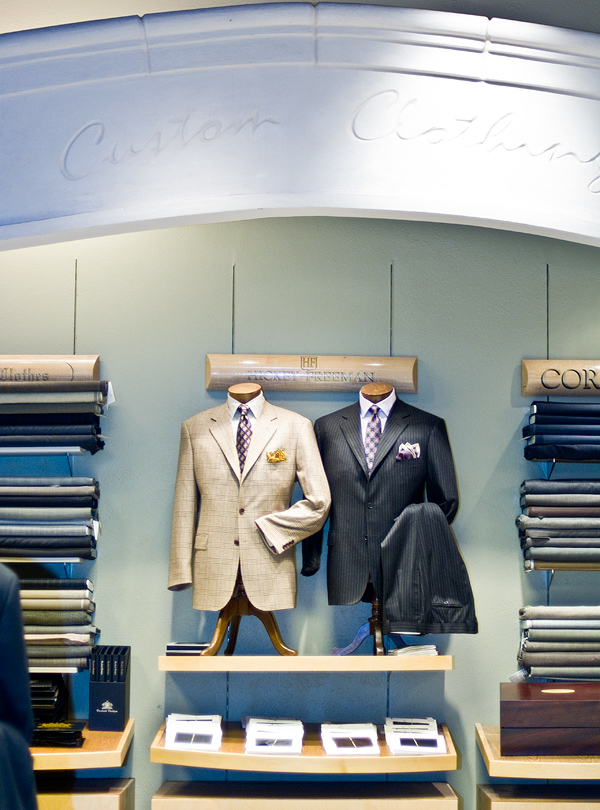 Culwell & Son
Specialty:
Men's apparel, boys' apparel, tuxedo rental and sales
Prices:
$395 to $3,950
The story:
You won't find any of those trendy, GQ-esque short jackets at Mike Culwell's outfit in University Park. Classic but never stodgy, Culwell & Son has been suiting the titans of Dallas business since 1920. "This is their battle dress," he says. "They have to be able to wear it in the boardroom." Culwell's custom shirts come from L. Gambert, and his made-to-measure suits from Oxxford, Hickey Freeman, Southwick, and a select handful of other top designers. Individual ensembles run anywhere from $995 to $4,000, but the best values are the C&S package deals, each of which includes two suits and three shirts. The tailored package comes in at a more-than-reasonable $1,400, the made to measure at $1,900, and the custom at $2,600. Culwell & Son isn't all business, all the time, though. Lucchese custom boots ($800 to "sky's the limit") are another perennial favorite at the unpretentious clothier. "We have some customers," Culwell says, "who just love to dream up crazy boots."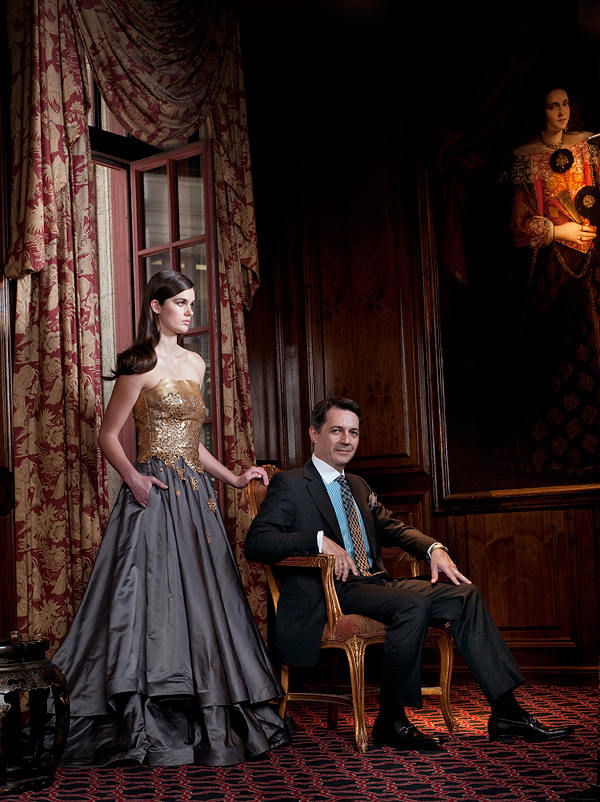 Michael Faircloth
Specialty:
Day dresses, women's suits, evening gowns and bridal
Prices:
Day dresses start at $1,800, suits start at $2,400, evening gowns from $4,500.
The story:
Known for dressing former First Lady Laura Bush, Michael Faircloth is still the designer to ring up when you need a White House-worthy wardrobe. European fabrics and hand-sewn embellishments are used to create ensembles that reflect the client's personality and fit. The results are sophisticated styles perfect for the boardroom or the charity circuit. Faircloth will also lend his talents to special projects. He recently created new wardrobes for the waitstaff at The Place at Perry's, giving a fresh, modern look to the traditional server's shirt.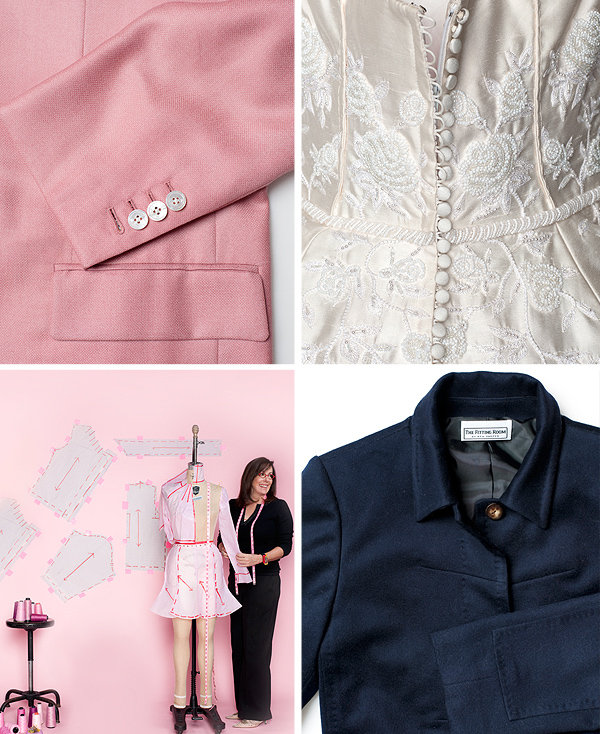 The Fitting Room by Bea Harper
Specialty:
Men's suits, sports coats, tuxedos, women's day wear, bridal, vintage bridal gown restoration, alterations
Prices:
Men's suits start at $2,600, sports coats from $2,000.
The story:
Prior to setting up her own shop 18 years ago, Bea Harper ran the custom department at Ralph Lauren in Highland Park Village. The Fitting Room is a full-service design and alterations shop, so whether a client wants a luxury bespoke suit or has a special need due to size or disability, Harper can accommodate. With many designer fabrics, such as Valentino, available in-store, she'll often re-create a client's favorite garment that perhaps is stained or no longer wearable, or modify a mother's wedding gown so a daughter can wear the family legacy. One client wore a custom sports jacket by Harper to a party where he sat next to actor Stanley Tucci, who asked, "What part of Italy was that made in?" When told the garment was created in Dallas, Tucci replied, "No one in the States knows how to make a jacket that well."
Get our weekly recap
Brings new meaning to the phrase Sunday Funday. No spam, ever.