Mike Satarino, high school principal of the school for talent and gifted in the dallas Independent School District, was diagnosed with colon cancer in 2004, at the age of 63. After three rounds of chemotherapy at a Dallas-area hospital, he was declared cancer-free.
In 2007, his cancer returned with a vengeance and moved to his liver. He was told he had 22 months to live.
Satarino's son, who worked at the University of Texas Southwestern Medical Center at Dallas, urged him to get a second opinion. Dr. James Willson, director of the medical center's cancer unit and associate dean for oncology programs, agreed to review his case. Willson recommended surgery and aggressive chemotherapy. UT Southwestern surgeon Roderich Schwarz removed 70 percent of Satarino's liver and all of the cancer in 2008.
Satarino has been cancer-free ever since. And he's gone on to do great things. The high school he oversees has been named the best in the nation by Newsweek magazine four out of the last five years.
"Imagine being in a room alone after a doctor just told you you had 22 months to live," Satarino says.  Willson "gave me hope I didn't have. My daughter-in-law gave me a Bible quote during that time. It said: 'May you live to see your children's children.' I have had two grandchildren in the last year. When I hold those two, it's quite a feeling knowing I wouldn't be here without UT Southwestern. That's something you can't repay."
Satarino's story illustrates the diagnostic muscle of a major cancer research center. And Dallas is blessed with two of them: UT Southwestern's Harold C. Simmons Comprehensive Cancer Center and Baylor's Charles A. Sammons Cancer Center, which opened the region's largest cancer outpatient facility in late March.
UT Southwestern Medical Center and Baylor University Medical Center, of which the cancer center is a part, were named the top two hospitals in the Dallas-Fort Worth area by U.S. News & World Report in March.
Thanks to medical advances, cancer has become more of a chronic condition than a death sentence. About one in every 20 U.S. adults is a cancer survivor, according to the U.S. Centers for Disease Control. For those over age 65, about one in five has conquered the disease. The number of survivors has increased by 20 percent in just six years. The five-year survival rate for cancers diagnosed between 1999 and 2005 is 68 percent, compared to 50 percent in the mid-1970s, according to the American Cancer Society.
Part of the equation is that earlier detection means people are living longer with the disease. The cancer death rate has been inching
downward, decreasing by 1.6 percent between 2003 and 2007, according to the most recent data available.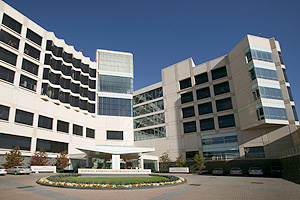 During a lifetime, one out of two men and one out of three women will get cancer. Nearly 1.5 million U.S. cases were diagnosed in 2009, including about 24,800 in North Texas. Cancer costs the state's economy more than $25 billion a year, an increase of more than 15 percent since 2007, according to the Cancer Prevention and Research Institute of Texas. Dallas County's loss was estimated at $1.8 billion.
CPRIT was created when Texas voters in 2007 approved a constitutional amendment to invest $3 billion in cancer care and prevention.

Robust Program
Baylor's new 10-story facility is a testament to the importance of cancer care to an aging population. Last year, Baylor treated more than 35,000 cancer patients—second in Texas only to the world-renowned University of Texas MD Anderson Cancer Center in Houston, which U.S. News & World Report ranks as the top cancer center in the country.
More than $1.1 billion was spent on cancer care in Dallas-Fort Worth in 2009. Baylor's local market share was about 24 percent, compared to 6 percent for UT Southwestern, according to data from the Texas Health Care Information Council.
Baylor's previous 35-year-old center had run out of space. It will reopen in 2013 as an inpatient cancer hospital with more than 120 beds. The new, nearly half-million-square-foot center houses genetic testing, diagnostic tools, and individual clinics devoted to specific types of cancer. Patient amenities include a wellness center, teaching kitchen, a large chapel, a restaurant, and a boutique catering to the appearance needs of cancer patients.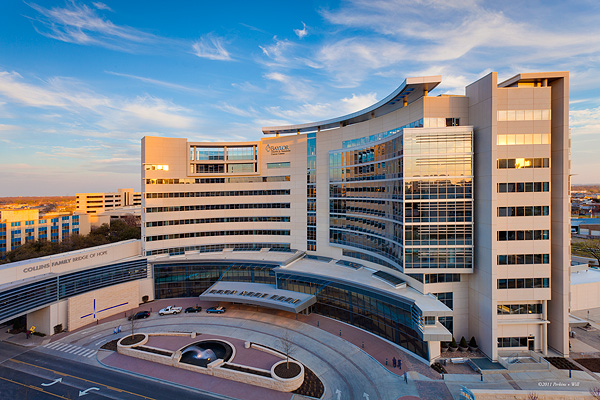 Baylor has a robust clinical trial program, typically conducting about a dozen Phase 1 trials for 75 to 80 patients annually to test experimental treatments and drugs. At any given time, it is running 100 clinical trials for 800 to 1,000 patients. Baylor plans to double its clinical-trial capacity in the new facility after it opens its Innovative Clinical Trials Center this summer.
Baylor scored a recruiting coup by snaring renowned cancer researcher Daniel Von Hoff to help develop the ICTC. Von Hoff, a member of President George W. Bush's National Cancer Advisory Board, has helped develop more than 200 cancer drugs.
Baylor executives say they want to create a "destination cancer center" that draws national and international patients and researchers to North Texas. Because of that broader reach, the system has created its most expensive facility-opening marketing campaign, according to Jennifer Coleman, senior vice president of consumer affairs. The effort includes print and broadcast advertising throughout Texas and the adjacent states, as well as a robust social media strategy.
Allan Miller, Baylor chief of oncology and the cancer center's medical director, says, "Today's educated cancer patient seeks out the best care for their particular cancer at a given time using the Internet. They are looking for the latest and most advanced treatment and clinical trials. They will drive past other cancer centers to go to the best place possible. We are putting that in an environment that is incredibly patient-directed."
Adds Von Hoff: "Patients are always asking, 'So what's next?' They have used three to five therapies and they have stopped working because the tumor has mutated. So we find the tumor's Achilles' heel and attack it. We used to fight cancer with sticks, stones, and fire. Now we have power tools. We can extend life expectancy."
In cancer circles, Baylor has been branded as excelling in clinical research, while UT Southwestern is known for its laboratory research. However, Willson of UT Southwestern begs to differ with those characterizations. He says his cancer center "has made great strides in bringing together the elements that collectively comprise an outstanding cancer center. Our goal is to have our research impact our patients."
Willson says UT Southwestern has hired more than 70 top cancer specialists, linking them with research he calls "our discovery engine," and disseminating information throughout the metropolitan area with cancer-prevention conferences and outreach efforts. UT Southwestern has received CPRIT grants totaling more than $85.8 million, which is the most awarded to any Texas cancer center.
Last year it achieved a National Cancer Institute designation—one of three in Texas and 66 nationwide. Such designations are given to cancer centers that excel in research and patient care.
UT Southwestern has 127 therapeutic and non-therapeutic cancer clinical trials under way, with 877 patients participating in 2010.
Willson says UT Southwestern treats 5,000 new cancer patients a year, a figure that has grown 15 percent to 20 percent annually for the past five years. It has a total of 75,000 cancer patient visits annually.
MD Anderson has improved its North Texas market share as well. It treated more than 3,300 DFW patients in 2010, a 34 percent increase in the last four years, according to spokesperson Julie Penne. The Houston hospital hasn't undertaken any specific effort to increase its North Texas footprint, however. The local increase mirrors MD Anderson's total growth rate during that four-year period, Penne says. Anderson treated 105,000 cancer patients in 2010.
Von Hoff believes health systems need to look beyond the competitive aspects of cancer care. "We need both lab and clinical research," he says. "Too often, we get caught up in us vs. them. It's us against cancer."
                  
Get our weekly recap
Brings new meaning to the phrase Sunday Funday. No spam, ever.