Nick Badovinus had been drinking. It was a Wednesday night in May, and the chef/owner of the group of restaurants sharing the
Neighborhood Services
name had been out with one of his chefs, Jeff Bekavac. The two decided to try
The Commissary
, John Tesar's new burger joint at One Arts Plaza.
Tesar was once the executive chef at
The Rosewood Mansion on Turtle Creek
, so these weren't your typical hamburgers. Badovinus ordered a sous vide lamb burger. The Commissary was busy that night. On TV, the Mavericks were closing out the Oklahoma City Thunder, on their way to the NBA Finals.
Tesar had never met Badovinus, but the restaurateur with the wide smile and the blond mane of 90210 hair is easy to spot. So Tesar swaggered over from his table, where he was drinking with Michael Martensen, co-owner of
The Cedars Social
. Tesar broke the ice by pulling out his iPhone and reading from
the Dallas Morning News
' one-star review of
Dragonfly.
No one at the table had a connection to the restaurant. "They offered me that job," Tesar boasted, before heading to the kitchen. But he wasn't finished. "Hey, Nick," Tesar called out, turning back. "I'm sure your restaurants are great, but I'm not sure about those white sweaters the servers wear. Those things are fucking terrible."
Badovinus looked across the table, open-mouthed. "Come outside," he snapped at Tesar. "I want to talk to you." The two walked out to the plaza's stand of ginkgo trees. "Don't ever talk shit about one of my restaurants in front of my chef again," Badovinus said. "I'll kick your ass right here."
Badovinus stomped inside to pay his bill. Tesar tried to comp it, but Badovinus threw a $100 bill in the air. Martensen and Commissary food runner Jamison Joiner escorted Badovinus and Bekavac out to the valet stand.
Tesar still wasn't done, though. He poked his head out the front door and shouted, "You're a fucking pussy, Nick. Fuck you."
Badovinus and Bekavac turned and charged. Joiner was standing outside the front door, and Bekavac punched him. Waitress Amber Belmore got caught in the tangle.
While manager Jennifer Bigham called 911 (no arrests would be made), Tesar made a different call. Safely inside his kitchen, he texted D Magazine restaurant critic Nancy Nichols, whom he had never met. "Nick from neighborhood just assaulted two of my staff and created a violent scene in my restaurant tonight," he wrote. "Crazy 911 drug drunk stuff. I was calm but he has lost his mind. Sorry for the bad news just wanted you to hear the real story."
When it comes to John Tesar, the real story seems to be a moving target. His sudden departure from The Mansion, in January 2009, after a little more than two years at the helm, spawned rumors about tantrums in the kitchen, pan throwing, sleeping with socialites, and day drinking. Whatever the reason for his exit, his series of subsequent stints—three months and a single star in New York, 11 months with an eponymous steakhouse outside Houston, a successful consulting gig with The Cedars Social, a tumultuous one with Dallas Chop House and Dallas Fish Market that included allegations of popover-related violence—generated no small amount of schadenfreude. Every blog post bringing news of Tesar's comings and goings prompted dozens of comments from people who'd worked with him, the consensus being that he's a talented chef, but he's also a narcissistic sociopath with his calloused index finger always hovering above the self-destruct button.
Anthony Bourdain can relate. The host of the Travel Channel's
No Reservations
has known Tesar for years and first wrote about him in his 2001 book,
Kitchen Confidential
, giving the hard-partying Tesar the pseudonym Jimmy Sears. In this year's
Medium Raw
, Bourdain wrote:
"Tesar was probably the single most talented cook I ever worked with—and the most inspiring. … His food—even the simplest of things—made me care about cooking again. The ease with which he conjured up recipes, remembered old recipes (his dyslexia prevented him from writing much of value), and threw things together was thrilling to me. And, in a very direct way, he was responsible for any success I had as a chef afterward. …
"Looking back at a lot of the people I've known and worked with over the years, I see a common thread starting to reveal itself. Not universal, mind you, but there all too often to be a coincidence: a striking tendency among people I've liked to sabotage themselves. Tesar pretty much wrote the book on this behavior pattern: finding a way to fuck up badly whenever success threatens, accompanied by a countervailing ability to bounce back again and again—or, at the very least, survive."
Bourdain told me that he once hurled a steel pan at Tesar's head in a New York kitchen. "I wanted to kill him," Bourdain says icily. But then his tone changes to one of affection. "I bear him no animosity," he says. "John provided a lot of great drama, a lot of great food, a lot of great stories. He's never going to be Person of the Year, but what chef is?"
Tesar (pronounced tee-zar) slurps up the controversy with the self-awareness of Augustus Gloop. When I called him to request an interview for this story, he said, "What took D so long? I mean, I'm the most provocative chef in Dallas."
Sitting down for a Diet Coke at The Commissary following a late-June lunch rush, Tesar taps his fingers along to John Mayer's "Heartbreak Warfare." After initially claiming that someone had stolen his phone on the night of the dust-up with Badovinus and texted Nichols, he now admits he was the one who sent the text. "I knew there were too many restaurant people here," he says. "I was press savvy enough to—I wanted the truth to be told."
Badovinus scoffs at the notion. He was surprised to learn that Tesar accuses him of choking Belmore, the waitress who waited on him that night. "I really dispute John's version of what went down," he says. "It's fantasy. I don't know how saying all of this advances his cause. You know, I don't know how all of this helps make his burger any hotter." (Tesar will later change his story, admitting he hadn't seen Badovinus choking Belmore.)
Reliving the events of the night in question, Tesar stares across The Commissary's bar until a smile slowly creeps across his face, revealing a crash of cuspids and incisors. He announces, "This is a great example of how shit just happens to me."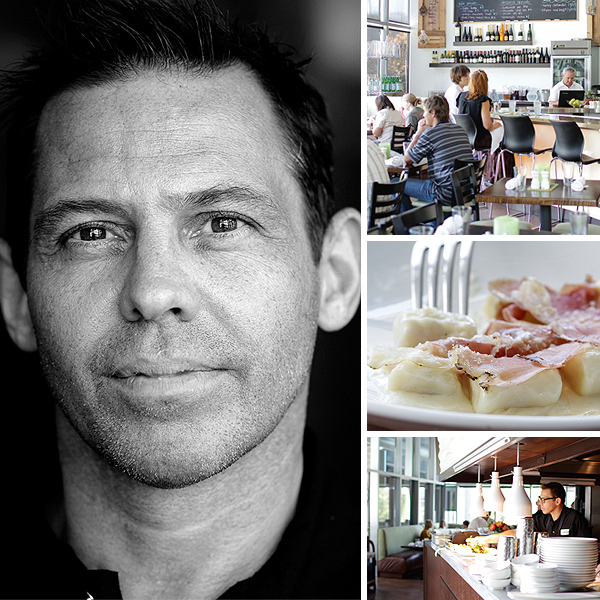 John Tesar is crying. The 53-year-old sits on a bar stool in his rented East Lovers Lane townhouse, his socked feet propped on a glass-top coffee table. As he sobs, his wife, Tracy, and 10-month-old son, Ryder, sit on the brown carpet, staring up at him from the floor. Next to Tesar, an end table holds a hot pink MacBook case and an equally roseate copy of Women of the New Testament. A muted children's TV show flashes the words of the day: wiggle, spin, stop.
"Seriously. I—sorry—I very rarely tell this story," he stammers. "I'm not doing this for you. I'm not trying to give you—" He stops, his voice cracking. What he wants to say is that he's not crying for effect. He looks away, rubbing his kitchen-burned forearms. "I know these profiles are—"
Tesar takes a deep breath and then blurts out in his Long Island accent, "I want you to know the truth 'cause I'm not making up anything to make myself look better 'cause people need to understand how genuine I am and how real I am and what I do is all positive and it's—even the criticism in the kitchen of people, to make them better cooks and have them see realistically what they should be and who they can be. It's not 'I hate you and I'm better than you.' "
Ryder hits his head on a bar stool and unrolls a long wail. Tesar never breaks eye contact with me. He asks, "What the hell happened to John Tesar?"
Let's find out, I say.
He sniffs and presses play on a lushly art-directed montage in his mind. Working title: How I Got to Dallas and Earned Two Five-Star Reviews as the Chef of The Mansion 'Cause I'm the One and Only John Joseph Tesar, Badass.
There's his adoption within weeks of birth by Czechoslovakian parents, second-generation immigrants. Name on birth certificate: Thomas Kenyon. Tesar hears his biological father was an Irish gangster. He grows up dyslexic and middle class in the affluent Hamptons with a distant, alcoholic, former banker father, a saintly teacher and then stay-at-home mom, and a brother he isn't close to (also adopted). His childhood friends have private planes, helicopters. He hands out towels to guests at his first job at the fancy Dune Deck Beach Resort, where he will later give surfing lessons and play tennis with pretty women. He helps out in a dive named Magic's Pub, where he preps plates for the bar's namesake burger, currently on the menu at The Commissary. Without any formal training in the kitchen, he dreams of becoming a New York magazine-reviewed chef.
Tesar later moves to Westhampton's Club Pierre restaurant in the early '80s, which he eventually buys, operating it for 11 years, until he moves to the city. Somewhere along the way, he takes classes at NYU; hangs out in Paris, where he has formative dining experiences; and cooks the rehearsal dinner for the Charles-and-Di-inspired wedding of Tommy Mottola and Mariah Carey.
The screen flickers in Tesar's head. "I blindly fall into the restaurant business with this natural talent," he says, his appetite for his origin story insatiable. "With no mentors, no discipline in the middle of the '80s. The disco era. Drinking. Cocaine. Partying. Wealthy. Prolific. Articulate. All that around me. The opulence around me. And being the star of the show.
"Nobody knows how hot I was in 1985, and nobody cares," Tesar says solemnly. Hyperbole fades as the house lights come up. "It's irrelevant to people. But to me, it was a large part of my success and development."
Tesar exhales. He pushes his tortoise shell glasses up to his forehead. "Ah, I—as a writer, you make what you want of all that. But that's the essence of who I am," he says. "Self-made hooey. I picked up a spatula. I put lettuce and tomato on a plate as my first job." He looks around, seeming to remember where he is. "I just wish it had been different. And wish my time at The Mansion hadn't come to such an abrupt end."
Tesar arrived in Dallas in September 2006
, leaving a 30-month stint at the Mandalay Bay Hotel, in Las Vegas. Tesar got the top kitchen job at The Mansion after an audition process that included grabbing groceries at Whole Foods and cooking dinner for Rosewood chief operating officer Robert Boulogne at his University Park home. Not only did he impress the Rosewood brass that night with a barbecue meal consisting of 12 dishes, but he bonded with Boulogne's young daughter, Lily, playing Neil Young songs for her on Boulogne's guitar.
Boulogne says the elementary schooler did the hiring. "Children have good instincts," Boulogne says, adding that he's happy to "talk about his friend John." But he won't discuss Tesar's time at The Mansion in detail. "Listen, he's a great cook." Don't you mean chef, I ask? "Chef connotes managing people and processes. He's a great cook. He's very talented. He's exceptional in some ways."
After he landed the job, Tesar lived at The Mansion for three months. Once home to cotton moguls and oil barons, the 86-year-old peach-painted Mansion is the fussy Dallas hotel of choice for sitting presidents, Saudi princes, and Elton John. "I came into this town on a golden chariot. But it had no wheels on it," Tesar says. "Trust me, the place was filled with cobwebs. There were people actually falling asleep in the hallways there. The servers had frayed bow ties and the same uniform from 20 years ago. Tables were crooked, the smell of butane was in the dining room from cooking the tortilla soup table-side. This was the fine-dining, five-star, Michelin, Mobil, AAA, James Beard, Julia Child—everybody in the world came through there, ate there. And they were still making a lobster taco. It had all become more tradition than cuisine."
As executive chef, Tesar was given a salary of $165,000 and charged with running the kitchen and revamping the menu. "I was asked to reinvigorate, be the face, that whole 'Dean' thing. Put a big smile on," he says, referring to his predecessor, Dean Fearing, who had worked at The Mansion for more than 20 years. "I had carte blanche to do it. I could drink at work. I could comp anyone. I could do whatever I wanted to do." He did. Tesar says in the kitchen he would drink $40-a-glass Bruno Paillard champagne from paper room service cups.
The big day for Tesar came on February 15, 2008, when Morning News restaurant critic Bill Addison gave The Mansion a five-star review. "[T]he Mansion continues to be the paradigm of fine dining in Dallas," he wrote, going on to say that the restaurant had changed since Fearing's tenure, "wisely in many ways."
There it was, for everyone to read. Tesar had now made the newly renovated Mansion dining room his own. He had the stars to prove it. (The Mansion had received an earlier five-star review, but this one reflected Tesar's menu.) When he read the review, Tesar thought, "I got my five stars. Fuck the haters. Fuck Bourdain. Fuck the Lucchese boots. I got this."
In 343 days, Tesar would no longer be employed by The Rosewood Mansion on Turtle Creek.
During his two-year tenure, he dazzled diners with indulgent dishes such as wild Burgundy snails, Roquefort, and garlic in a terrine topped with a puff pastry. Socialite Carmaleta Whiteley has sat in the restaurant's high-backed chairs a couple of times a week for more than 20 years. "There was a rib dish I loved and a grapefruit and avocado salad that was fabulous," Whiteley says, adding that she continued to order it after Tesar's departure. Of course, Tesar pissed off a few other diners with refusals to prepare certain side dishes and, one time at least, those damn lobster tacos.
It's a tough trick: how to follow a legendary creator who's still creating? Fearing was ensconced a mile away in his own kitchen at the Ritz-Carlton, but his $2,000-booted ghost haunted the 2,700-square-foot kitchen and honey-toned dining room. A Rosewood executive who asked not to be named says Tesar couldn't handle the comparisons and began imploding under the pressure. The executive adds, "John Tesar is the only person in the world who doesn't like Dean Fearing."
"Dean is the hero. John is the replacement," Tesar says. "All of Dallas saw it that way."
Whether the perception was accurate or not, he made some enemies with the waitstaff. The "old-timers," as Tesar refers to the long-serving waiters and dining captains, were Dean loyalists to the end, Tesar maintains. They had Luccheses from Fearing to prove it. "Hey, chef! When are we getting cowboy boots from you?" Tesar says they asked him at Christmas.
Marcus Cascio was general manager of the restaurant while Tesar was chef. The 38-year-old is now director of concepts for restaurateur Alberto Lombardi. He says Tesar walked in with a lot of passion and perfectionism. "But if you didn't put out the same effort he did, he got upset," Cascio says. "When the staff didn't operate at the same level, it came to a head. And he lashed out."
One waiter still working at The Mansion, who did not want to be identified, says, "He would constantly dismiss his staff in the kitchen. He'd throw pans, throw spoons in frustration. He would just start throwing things. I'm not exaggerating. I know it sounds like out of a movie. He would talk down to the staff, call them things like 'stupid' and 'idiots.' "
Tesar maintains he never threw anything in the kitchen. "Look," he says, his hands balling up into fists, then relaxing. "Waiters have a direct responsibility to the kitchen, to the chef, to the style of the food. And I'm very blunt. I'm just very direct during service. 'Stop doing that! Please don't do that.' Or 'That's idiotic.' Words like that sometimes hurt people. But they make a point."
Are you a screamer in the kitchen? "Yeah." What about racist things? "Uh, never. Never, never, never, never, never. This is the satirical aspect [of my sense of humor] and [The Mansion's] inability to understand."
That satirical sense of humor may have cost him his job. Here's how Tesar explains it: "I was called in because some waiter complained about me saying something, put all this together, and filed a complaint. About 20 employees complained about me. I was a target at that point. Look, take it back. I've got the five stars back and we need food runners. Corporate loves me. But the employees are thinking I'm their worst nightmare because I'm going to make them work and I'm going to tell [human resources], like, 'Jose fell asleep.' They hired this guy for $9 an hour. … And every job he's ever had he's had someone fired. He's a 300-pound Colombian and very unhappy. Every job he's had, he's had a chef or a sous chef fired. … This kid had a lawyer, dude."
His name is Diego Trujillo. I tracked him down in Las Vegas, where the 26-year-old, 6-foot-6 Colombian-American works as a youth pastor in a nondenominational church. If you're wondering, he's currently happy and weighs in at 315 pounds. "Why is he saying that I had all these chefs fired?" Trujillo asks. He acknowledges that he had issues with one other chef, when he worked at Five Sixty by Wolfgang Puck. "He says he didn't get fired, right?"
In December 2008 Trujillo wrote a letter to management complaining about Tesar. He emailed me the letter, a response from Rosewood asking for a meeting, photos he snapped at work, and a 20-minute audio file of Trujillo reading his letter to Cathy White, regional director of human resources for The Mansion. "I felt harassment and discrimination on many occasions," Trujillo wrote. "On some levels I feel it is because of my age and nationality. On a regular basis there has been name calling and taunting such as: 'tall, fat, and stupid,' 'retarded,' 'you're the laziest Colombian I have ever seen!' "
"That'll get you fired right there," says the Rosewood executive.
Trujillo's letter also mentions threats by Tesar to use "knives, pens, and forks" to "kick [Trujillo's] ass," calling an epileptic Mansion employee a "freak," and a perceived snub by Tesar in front of Trujillo's wife. Trujillo had been keeping a diary of perceived offenses by Tesar and snapping photos with his phone in the kitchen. There's one of Tesar sitting, legs crossed, in the kitchen with a paper cup while the other guys in white coats work. (Trujillo tells me he had recordings of Tesar berating the staff in the kitchen but his wife erased them.) "I am tired of the fact that this is done," Trujillo wrote at the end of the letter, "and management has knowledge yet does nothing."
Tesar was pulled into Mansion managing director Duncan Graham's office, where White read the letter aloud. "They asked, 'Did you say any of these things?' " Tesar remembers. "I said, 'I said all of them.' That's what—we joke around. But that's the absurdity. It's out of context. That was my defense."
Trujillo's complaint didn't cause his separation from the company, though. Tesar says the reason he is no longer employed by Rosewood is financial. He says that if he hadn't left, The Mansion would have had to lay off many employees, so he's kind of a hero. He says he never saw The Mansion making any money and even claims he invested more than $20,000 of his own money into the restaurant's curtained-off chef's table. Also, he says, Rosewood is lucky he didn't sue the company for $10 million.
In any case, Tesar says Boulogne and Graham told him, "Here's what we're going to do. You're not getting fired. We're going to pay you out over a period of time severance pay—but not severance pay—then we'll tell people you're taking time off to write a book." The old-timers didn't like the plan, Tesar says. "They wanted blood. They wanted the king's head."
Stephanie Hutson, marketing manager at The Mansion, would tell me only three things about the separation: Tesar's title, his last day of employment, and the official reason for his leaving the company, which is "resignation." I asked if Tesar is welcome to work at The Mansion again. No comment.
The Rosewood executive says, "That 'no comment' is a 'no.' "
"The recession destroyed it all. Just like it did half of America," Tesar says at the carved-wood chef's table at The Commissary. The next awkwardly earnest cliche is portioned in spurts. "That's. The way. The cookie crumbles."
Tesar wants to give me the separation agreement on Rosewood letterhead that he and Graham signed on January 27, 2009. Before he slides it over, he uses a ballpoint pen to scratch out the 20 weeks of severance pay he got. He tells me the amount is "six figures."
I take the four-page agreement home and hold it to a window. I count five figures, in the midrange.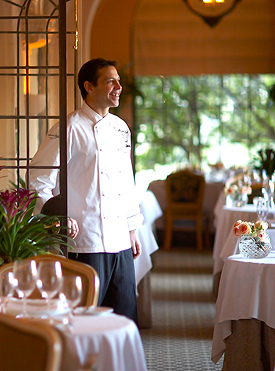 After the Mansion, Tesar headed back to New York. He had a three-month run at an East 62nd Street restaurant called Fishtail, where he says he took the fall for a one-star review that wasn't his fault. Bloggers at Eater New York reported in May 2009 that Tesar was fired from Fishtail. A user identified as #johntesar commented on the post: "fuck y'all at Eater. I am going to Texas." Tesar says he didn't write it, but he did return to Texas—a place Tesar calls "right wing, Republican, it's George Bush, it's fucking swift boat, fucking vast right wing conspiracy"—for a restaurant in the Woodlands called Tesar's Modern Steak & Sustainable Seafood. Tesar calls two of his three business partners in the venture "con men," claiming one did time in a Florida prison for pornography. He gave me their names but then said those weren't their real names. The third partner is now a club owner in Austin who goes by the name Sky Cheung. Cheung says he lost $125,000 on Tesar's Woodlands restaurant. He hung up on me when I mentioned the names Hillary Brauner and Bill O'Rourke.
Former Dallas Chop House chef Kenny Mills almost hung up on me when I mentioned the name John Tesar. Mills worked with Tesar when he left the Woodlands for Dallas and took a consulting job with Dallas Restaurant Group, which owns Dallas Fish Market and Dallas Chop House.
Mills says, "Maybe he's a great talent, but I've worked with all the top chefs in Dallas, and none of them are that whacked out, that insecure about their abilities. If you really know how to cook, you don't act like that. You don't throw things around the kitchen. You don't act like a child. He wants to be Gordon Ramsay."
Mills, who now owns Chop House Burgers in Arlington, says Tesar wanted everyone to know he was a five-star chef. "He got one star in New York," Mills says, "so I told him that really makes him a three-star chef." After telling me a hellish kitchen story about popover pastries, a slammed drawer, and a hurled bread basket, Mills says, "I tell people, if John Tesar was dying in the desert, I wouldn't give him the sweat off my balls."
Dallas Restaurant Group owner Mike Hoque says he would hire Tesar again. Hoque had only "heard about" difficulties between Mills and Tesar. He says, "Kenny had a self-esteem problem, and John had an ego problem."
Anthony Bourdain dismisses the drama that surrounds Tesar by reminding me that we're talking about chefs and not politicians. "Just like me," he says, "he's done a lot of bad things. He always had temptations. But you know what? Life has not exactly sucked for him." Bourdain, who has been open about his past drug use, says he and Tesar "share a dark side and have a lot of the same personal flaws."
It's clear that Bourdain has some empathy for Tesar. "Go easy on the guy," he says. "He's always stumbled toward happiness."
I ask Bourdain about Tesar's accusations that he cribbed experiences from Tesar's life. "Well, yeah," he says matter-of-factly. "I'm sure I have used his stories and put myself there. Maybe not knowingly. I have been inspired by his adventures and misadventures.
"He leaves a lot of people in his wake," Bourdain concludes. "There's no doubt about it. The bottom line is the guy can cook. Just put up with the rest and watch him cook. Or don't."
After my conversation with Bourdain, Tesar tells me that he sees Bourdain like Hunter S. Thompson, a self-destructive creative genius. He says, "Bourdain wishes he could be Hunter Thompson, but he doesn't have the balls to off himself."
It's 11 pm, and tesar is sitting at the bar at Tei-An, the haute Japanese restaurant disguised as a Giorgio Armani boutique located across the driveway from The Commissary at One Arts Plaza. Sade plays in the background. The bartender sets down Tesar's first glass of sake. He says that he comes here to hide, that sometimes he needs to talk to Tei-An's owner, Teiichi Sakurai, whom he calls his spiritual mentor. (Sakurai says he admires Tesars' skills but he doesn't know him that well).
"I can have a few drinks at night," Tesar says, looking up at the wall of Reserved For table plaques with bold-faced names such as Trammell Crow and Henry Miller. "Ever since the Dallas Morning News [gave The Commissary two stars], they pour me twice as much. They know I'm in mourning. They feel bad for me. … All my competitors, they read that review and they said, 'See, I knew he would fuck up.' This whole thing was supposed to be the triumph of my career. It's been a, a race to—it's been a race to frustration."
Tesar's shoulders relax as he sits back in his bar stool. He wants to confess. It's important to note that it doesn't appear to me that he's drunk. He tells me he was sleeping on friends' floors when he was 36, after being a millionaire at 30. He talks about his first wife and 22-year-old daughter who don't speak to him. He doesn't even know where his daughter is. He talks about the Eye Movement Desensitization and Reprocessing (EMDR) therapy he went through to deal with trauma from his adoption, a moment he says he relives every day. He tells me about his battle with cocaine, the more than five years he was clean and sober, attending East Village 12-step meetings. He has now eliminated his addictions, he says, and his self-destructive ways. "I'm not weak like that," he says, his shoulders beginning to rise.
"Like this fight with Nick," Tesar says, referring to Nick Badovinus. "I knew I could kick Nick's ass. But I took the Buddhist approach and said, 'I'll just walk away. God bless you.' "
Tesar orders a half sake and half beer to get "hydrated." He has to go back to work.
"I thought One Arts Plaza was Tei-An and the magic of Teach," he says, using the chef's nickname. Tesar says when he opened The Commissary, he didn't know about the "mall mentality" of the Lucy Billingsley-owned complex. (Tesar says he owns 45 percent of The Commissary, with Billingsley taking the rest. Billingsley refused to comment.) "I didn't know they have worked so hard and so diligently to cultivate the theater crowd. People just want something to eat between 6:30 and 8. It's kind of fucked up my plan. This pretheater thing has fucked up my life." Tesar has a name for the diners who descend on One Arts before shows at the Wyly Theatre or Winspear Opera House. He calls them The Mist and describes the onslaught as being like a horror film.
But even with the challenge of feeding grandmothers who just want a medium-well burger before seeing The Wiz, the two-star review in the News, and the dust-up with Badovinus, Tesar says he's sticking it out. "I'm not a crazy chef," he says. "I'm a badass, though. I'm the bad boy. I could walk away, fuck you." Tesar knows his reputation is to cut and run. "Now the test is, 'Will he stick it out?' Because we're all Lucy's employees. I could walk away, pack my bags, go to another city. No fucking way. I'm committed to this thing. To my family.
"I will not let them down," Tesar says. "At 53 years old, it defines me as a man. If I give up on my family and friends, then I'm the douche bag that everyone writes about. I'm not going to be that douche bag. I'm a man. I've matured."
"Everything i've told you, I believed it when I said it," Tesar says. He's tearing up again, telling me he is concerned that after all the time we've spent talking, I haven't really gotten to know him. "You made me cry again, man. Are you happy?"
This is our 20th phone call. In addition, I've spent more than a dozen hours formally interviewing him. Then there are the many rambling, unsolicited texts from him, some 200 words long, sent at 1 am, employing syntax from a haiku written by Kierkegaard, such as: "Made up words almost seem to have more meaning of the truth it's what creates the drama." In other texts, he asks me to ghostwrite what he says is his forthcoming book, titled either The Life and Times of Jimmy Sears or "so you want to be a famous chef or something like that." Tesar says he's got an agent and a deal. Other texts are humorously threatening, instructing me to "tell the facts now" and that he's "part Irish cop and gangster."
Somewhere in all of the madness lies the truth. And the real John Tesar.
Is the real John Tesar the smiling one-man band cooking behind the line, insisting this was all part of his plan? He's literally flipping burgers, the same English-muffined, apple-wood-smoked bacon and cheddar burger he was making 36 years ago at Magic's Pub. A little over two years ago, he was working in a hotel restaurant that made its own tonic water, for God's sake. But he says he's content. Things couldn't be better. He has given up hard alcohol, hasn't done drugs in 17 years. His karma is clean, and he goes to the same Methodist church as Dean Fearing. He wants to be healthy and present for his son, go home at night to a wife who bakes pies.
Or is the real John Tesar the guy who's always getting screwed over, the guy who begins stories by saying, "This is a great example of how shit just happens to me"? He's a victim. The economy cost him his job at The Mansion, and the old-timers there, the Dean Fearing loyalists, they made him into "this character." Then there's Anthony Bourdain. "He took my stories!" Tesar rants. "He didn't even use my real name. How do you think that made me feel?" Food critics have a vendetta against him. Fishtail, Tesar's Modern Steak & Sustainable Seafood, Dallas Chop House—his failures at these restaurants were the critics' fault.
Or is the real John Tesar just a badass? People want to be him, but they can't match the talent. Don't forget those five stars, he says. He gives props to Smoke's Tim Byres by calling him "the John Tesar of Dallas." Brad Pitt was going to play him in a movie. This Tesar wants to remind you about the socialites he bedded while working at The Mansion, that he partied at Studio 54 with John McEnroe, Halston, and Liza Minnelli. "Find someone who says they've kicked my ass," he says.
Or is John Tesar really just the first guy I met? I ate at the chef's table at The Commissary before he knew I was writing this story. The $85 six-course meal included deconstructed beef Wellington with fois gras, lobster with melted fois gras, fried fois gras balls, and yellowtail sashimi and watermelon. Two of the couples at the table that night in June were splurging on date night. We all wanted to know when we'd get to meet the chef. Finally, at the end of the meal, I asked our waitress where he was. She said Tesar was over at Tei-An, drinking sake, and she went to get him. The John Tesar who shuffled into the room looked like he was tired of it all, like he'd taken too many punches and was a little scared. He had the eyes of a circus elephant. This was not Dallas' most hated chef. This was not a pan-throwing monster. This was just a guy who didn't like where he was. He looked to me like a middle-aged man who was wondering what the hell had happened.
A month later, as I sit down to write this story, my phone rings. It's John Tesar. "I just looked up the word 'provocative,' " he tells me excitedly. "Maybe this story will be so provocative that I'll get paid to go on the road and speak."
Write to f

[email protected]

.
Get the SideDish Newsletter
Dallas' hottest dining news, recipes, and reviews served up fresh to your inbox each week.