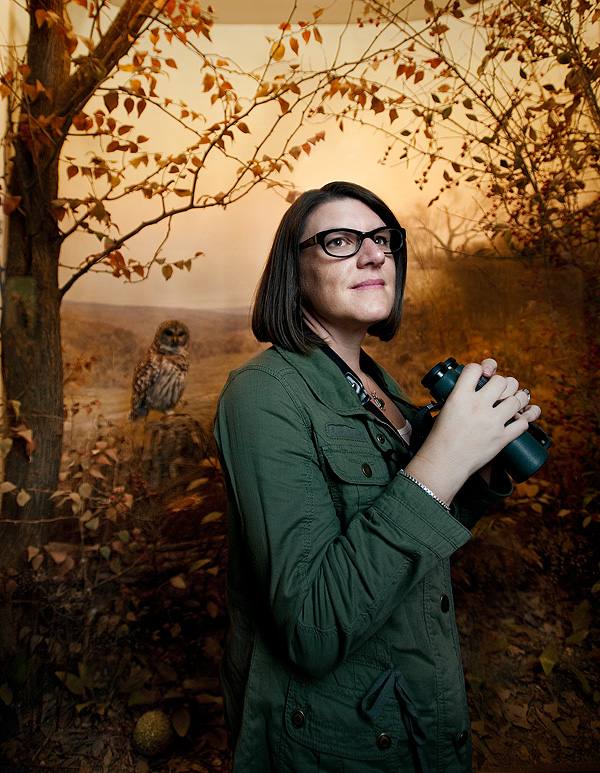 Hunting Orchids in Dallas  | 
Dr. Marcy Brown Marsden
Chair of the biology department at the University of Dallas, past member of the Oxford Round Table, and participant in Al Gore's Climate Project
Marcy Brown Marsden wanted to be a veterinarian. But when a professor pointed her toward ecology, she realized she could combine her love of animals and the outdoors by working in the field. Her first experience came when she was a college junior, studying seabirds in Alaska. "When you enjoy being on an island with three people for three months and doing lab work—every day, all day—you were meant to do that," she says.
She continued her work with seabirds on Alcatraz Island, where people going to visit America's most famous prison stumble into a wildlife lesson. This is where Brown Marsden is at her best, where her introverted science geek meets her social, teacher extrovert. "Some scientists are absolutely great working in a quieter, less interactive environment," she says. "I'm not one of those."
Her day starts with a 3-mile bike ride to the University of Dallas. She's researched the black-capped vireo, an endangered bird that prefers a scrub grass habitat like that found at the Cedar Ridge Preserve in Cedar Hill. Vireos are coming through but not staying. She's researched why.
She also serves as the chairman of the city of Irving's parks board, and she wants to know why Dallas County is home to an unusually high number of endangered orchids in the Hexalectris genus. Dallas, she says, is special from an ecological standpoint. Gems like the painted bunting are right there if we are looking. "People think if you want to see amazing species, really neat birds, and really neat plants, you have to go to Costa Rica or the tropics," she says. "I'm troubled by that, because we emphasize that nature is elsewhere. For me,
nature is here."
Her work with The Climate Project, a grass roots offshoot of Al Gore's climate change work, involves speaking about her favorite subjects. She went through a selection process in 2007. She met Gore, and Cameron Diaz was in her training group.
"I experience nature in the same way people experience a beautiful work of art or amazing piece of architecture or a poem in a book," she says.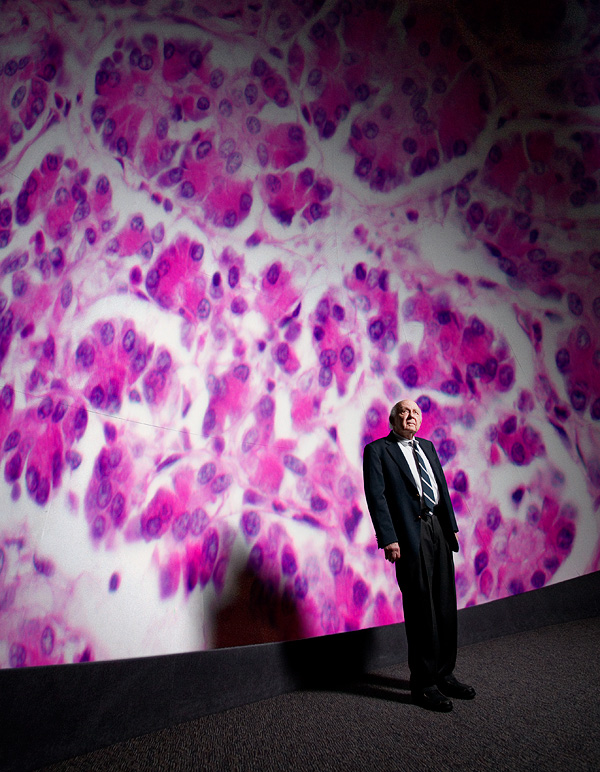 Beating Diabetes  | 
Dr. Roger Unger
Professor of internal medicine at UT Southwestern Medical Center
Everyone in Roger Unger's father's family had been a doctor. It only made sense that he'd go premed when he started at Yale. He can't remember considering any other option.
Unger grew up in Westchester County, outside of New York City. His father, Lester J. Unger, was a well-known doctor who invented the first direct blood transfusion instrument. While in private practice after medical school, the younger Unger had a friend who changed the course of his career—and, potentially, the lives of many living with Type 1 diabetes.
His patient, a star tennis player in the '50s, was having a difficult time managing his diabetes during the latter sets of long matches. Unger traveled with him to a major competition, trying his theory that glucagon injections could keep blood sugar levels stable. "At that time, glucagon was considered a contaminant of the insulin extraction procedure, and I felt that was very unlikely," he says. "I felt it was a true hormone, and I wanted to prove it."
He has been working on, in, and around that concept ever since.
Since Frederick Banting discovered insulin as a treatment for Type 1 and Type 2 diabetes in 1922 (before that, it had a 100 percent fatality rate), not much has changed. It was such a miracle that nobody wanted to mess with it. Consider this: we discovered insulin five years before Charles Lindbergh crossed the Atlantic. And we're still treating diabetes the exact same way.
During his studies, Banting extracted glucagon, which has the opposite effect of insulin. Unger's work in the '60s and '70s showed that a lack of insulin was accompanied by an excess of glucagon. If you suppress the glucagon, you don't need insulin, Unger says.
"The treatment from the time of Banting until today is to replace the insulin and ignore the glucagon," Unger says. "The problem with that strategy is if you give enough insulin to suppress the glucagon, you are giving too much to the rest of the body. Now what we've done is suppress the glucagon and then give low levels of insulin instead of the seesaw, roller-coaster, up-and-down glucose levels that are characteristic of every Type 1 diabetes patient. We get perfectly normal glucose levels, just like a nondiabetic."
He is now in the middle of a two-year study that is translating his work with animals to humans. If successful, there will be a large-scale national study, and, eventually, he'll take what he's learned to Type 2 diabetes research. If it doesn't work, he jokes that he'll join the witness protection program.
"I don't want to jinx it, but all I can say is we are very hopeful," he says. "Otherwise, we wouldn't be wasting our time. I'm hopeful that all of this work is going to make a big difference for diabetes patients. Until I know whether it will, there's sort of a chronic suspense. If it's no damn good, what did I do all of these years?"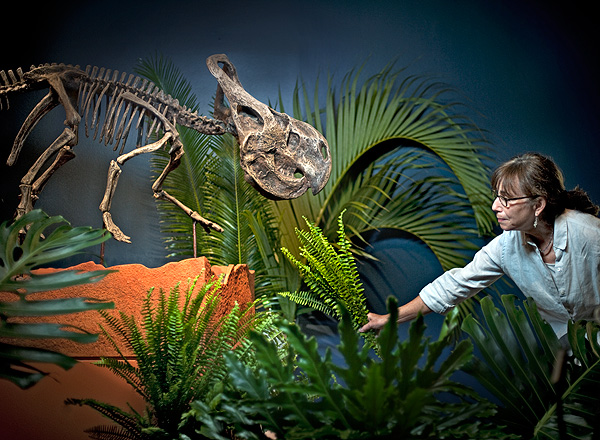 27-Million-Year-Old Pollen  | 
Dr. Bonnie Jacobs
Associate professor in the Roy M. Huffington Department of Earth Sciences at SMU and blogger for the New York Times
Bonnie Jacobs' favorite place to go as a kid was the American Museum of Natural History. She also had a thing for Egyptian artifacts. During visits to the beach, she collected snails and shells, which her mother later discovered, usually by following the smell.
"Growing up, I didn't know the difference between paleontology and archeology," she says. "My parents, as wonderful as they are, didn't know the difference either."
She eventually became a noted paleobotanist. Earlier this year, she wrote for the New York Times' Scientist at Work blog, chronicling her work in Ethiopia, where she studies plant fossils to learn about the history of our changing climate. Her work there began years ago, when her husband, Louis Jacobs, a vertebrate paleontologist at SMU, got a job in Kenya. At the time, Jacobs was near the beginning of her Ph.D. research. This was before email. She worried about how she was going to transport boxes of manuscripts from Arizona to Africa. She worried that she wouldn't finish her Ph.D. She even worried she wouldn't find a good microscope.
When she arrived, though, she connected with a friend who was starting a project to document human evolution 15 million to 16 million years ago. She went on a field trip and later connected with a paleoanthropologist from Tanzania who wanted to find pollens 46 million years old. The goal of the projects is to assemble a climate and ecosystem history of tropical Africa for the Cenozoic Era. Jacobs is working on two sites in Ethiopia, looking at 22-million-year-old pollen at one and 27-million-year-old pollen at another.
"There is a time in that interval, 27 to 22 million years, when some records indicate there was significant warming on the global level," Jacobs says. "Some records estimate ancient CO2 was actually the same as it is in modern times, but other records say it was on the rise. We're living in a world now where changes are happening very rapidly. If we can understand a little bit better what happened in the past regarding ecosystem changes and what caused those ecosystems to change, then we could get some information to use now."
Get our weekly recap
Brings new meaning to the phrase Sunday Funday. No spam, ever.