The Best Steakhouses in Dallas
It's been 10 years since we last rated the city's best bets for beef. After 44 steaks, 20 shrimp cocktails, and 4 gallons of wine, we remember why we do this only once a decade.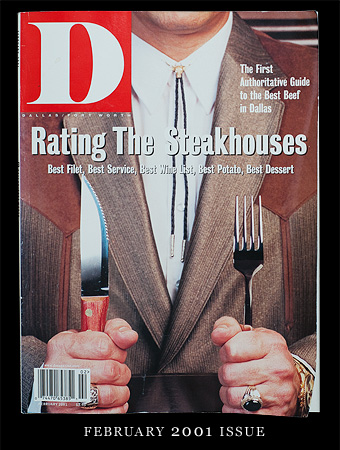 We last rated the best steakhouses in 2001. Al Biernat's had been open only for three years. Nick & Sam's, just two. A decade ago, the average price of a filet in Dallas hovered around $25. This time out, the average was about $43. In all, I spent $5,808.70 eating at the 20 steakhouses we ranked.
As the price of a filet has climbed, so has the number of steakhouses in North Texas. There are now four locations of Bob's Steak & Chop House in the area, each with a different owner. At the same time, upscale steakhouses from around the country—Ocean Prime (Columbus, Ohio), Eddie V's (Austin), Perry's (Houston)—have invaded our beef-crazed city. In 2001, it was a stretch to come up with 16 high-end steakhouses. This time around, the hard part was winnowing the field down to 20. I ranked only the best of the best. Save for one (Sullivan's), they all serve Prime meat.
Over the course of six weeks, my dining companions and I ate two steaks at each restaurant, a filet and the server's top recommendation (almost always a bone-in rib-eye). At each restaurant, I also ordered a vegetable, potato dish, salad, dessert, and shrimp cocktail. The steaks, those five additional items, plus ambiance, service, and the wine sell made up the nine criteria on which each restaurant was evaluated.
Here's how the wine sell went: when the list arrived, I gave each server the same spiel. "I am looking for something other than a bold California Cabernet," I would say. "I would like something full-bodied and not overly oaky. I'm willing to try something funky or off the beaten path. My budget is $75." I'm sorry to report that most restaurants couldn't handle this request.
We have also included the size of shrimp in each listing. Shrimp are sold by count. Common classifications are categorized by the letter "U" (under that many shrimp per pound), followed by the number of shrimp in a pound for any given category. A U-8 is larger than a U-16-20, which would include up to 20 shrimp per pound.
I assigned a score to each of the nine criteria, grading on a 100-point scale as I would with a student's English paper. A perfect filet got 100 (A+); an average steak got 85 (B). Then, on the belief that a steak is more important than a shrimp cocktail, the scores were weighted. Each steak was given a weight of 2 (the two steaks together accounting for 28 percent of a restaurant's final score), service 3 (21 percent), ambiance 2 (14 percent), and wine sell 1.5 (10 percent). Shrimp, salad, vegetable, potato, and dessert each were weighted at .75 (together accounting for 26 percent). If you add up the percentages, you'll see they total only 99 percent. That remaining 1 percent is what distillers call the angel's share. We just call it a rounding error.
How We Did It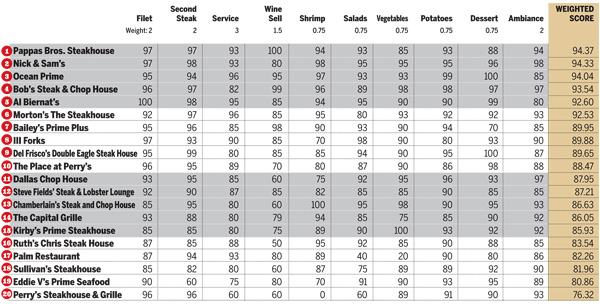 1. Pappas Bros.
Overall Score: 94.37
Steak: All of the steaks, except filets, at Pappas Bros. Steakhouse are dry aged and seasoned with kosher salt, pepper, and butter. Both steaks had crunchy char on top, and there was quite a bit of excess butter on the plate. Scores: filet (12 oz., $43.95) 97, bone-in rib-eye (22 oz., $48.95) 97
Service: The service was impeccable, from the second we sat down until the valet brought our car around at the end of the night. There was a 35-minute gap between the salad and steak course. Not overly friendly, at times fussy, but memorable. 93
Wine sell: Our server asked if we'd be having wine, and as soon as we said yes, he sent for a sommelier. There are four on staff: two certified, one advanced, and Master Sommelier Barbara Werley. Our sommelier Heather Green's eyes lit up when we asked for something funky. "Funky? Do you prefer a Sangiovese-Merlot blend or Grenache, Mourvedre, Syrah style?" We picked the former. "I have something from Arizona, and I think it is just for you." She returned with an Arizona Stronghold Mangus 2009, a really interesting medium-body wine from Southeastern Arizona's Cochise County priced at $50. The owner of the winery is Maynard James Keenan, the singer for the edgy band Tool. She hit the mark. We got a funky, medium-body, unusual wine for $25 under budget. 100
Shrimp: Five shrimp are served on a cold plate with avocado and spring onion. The ends of the shrimp are dipped like pink pens into a not-so-spicy red sauce. Since there were three of us, the waiter added an extra so we'd each have two. We thought it was a nice touch until we got the bill and saw that we had been charged for the extra. (U-16-20, $12.95) 94
Salads: The steakhouse salad is a must-order. The flavors of diced apples and bits of fresh oranges collide with hearty Roquefort and candied almonds. 93
Vegetables: Simply steamed haricots verts tossed in butter. 85
Potatoes: The skillet potatoes were not a match for the macaroni and cheese with giant lumps of fresh crabmeat. Oh, the cheeses—Havarti, white cheddar, Parmesan, and Swiss. 93 
Dessert: I found the gooey pecan pie too gooey and the chocolate toffee turtle pie rimmed with crushed Oreos too sweet, but I was in the minority at my table. 88
Ambiance: I really prefer to sit in the back room by the fireplace. The ceiling is low, and there is a nice vibe. The main dining room is more white-tablecloth formal but attractive. 94
2. Nick & Sam's
Overall Score: 94.33
Steak: If you can't find a particular cut of steak on or off the regular menu at Nick & Sam's, you are one hard-to-please carnivore. Some of the larger steaks appear to have been butchered by Fred Flintstone. Scores: filet (10 oz., $38) 97, Châteaubriand bone-in (22 oz., $140) 98
Service: Focused, friendly, and professional. Even though the dining room was packed, our server did not leave the table until he'd explained the whole menu. He brought out a platter with raw steaks and detailed the qualities of each and the best temperature to order them. He advised us to split the salads. He could have sold sand to the Saudis. One quibble: he sold us the Châteaubriand without mentioning the price. It is $140. 93
Wine sell: Without being asked, he offered us three of his favorite wines, each a California Cabernet over $150. After he listened to our request, he didn't jump to Pinot Noir; he recommended Tignanello, a super-Tuscan at $220. Feeling like a frugal little old lady, I repeated my $75 limit. Flustered, he flipped the page and said, "Here's a Damilano Barolo for $81. Any kind of Barolo is going to be the best Italy has to offer." 80
Shrimp: Sophisticated, stacked presentation of three fresh, sweet shrimp served with pools of orange lobster tartar sauce and Bloody Mary cocktail sauce. (U-6-8, $14) 98
Salads: One huge chopped salad was divided in the kitchen and served as three generous portions. It was full of romaine, eggs, chunks of Maine lobster, and hearts of palm; tossed in buttermilk ranch dressing; and topped with thin, soft, fried onions. 95
Vegetables: Caramelized onions marsala and sautéed mushrooms. 95
Potatoes: The potatoes au gratin were nice, but use your calories wisely and order the miraculous lobster macaroni and cheese. 95
Dessert: Obscene triangular portions of four thick layers of carrot and chocolate cake. A half order is 6 inches thick. Both are excellent and will be in your refrigerator for days. 96
Ambiance: Sexy, dark, and clubby. Love the piano in the open kitchen, and owner Phil Romano's softy lit, bright oil paintings bestow bold contemporary accents. Did we mention the complimentary caviar trolley in the bar? 98
3. Ocean Prime
Overall Score: 94.04
Steak: In the past, I've been seduced by its seafood, but this time around I was impressed with its ability to turn out high-quality steaks. The New York strip was the best strip I sampled, and the filet, thicker than most, was lean, yet juicy. Scores: filet (10 oz., $39) 95, New York strip (14 oz., $41) 94
Service: How refreshing to meet a professional waiter. Our charming fellow professed his love for the service industry, and I can't remember the last time I caught a server headed for the table dart in a different direction when he realized there was a conversation taking place at the table and didn't want to interrupt. 96
Wine sell: Hallelujah! Ocean Prime was the 14th restaurant visited in our survey and the first place where a server listened to our wine requirements and steered us out of the United States, suggesting a nice Rioja from Spain. If not for him, at that point, we would have thought all wine was produced in California. 95
Shrimp: Three colossal shrimp served in a traditional glass shrimp cocktail bowl with a fiery sauce in the center. The dramatic presentation includes wisps of white smoke from a slice of dry ice and a side of freshly chopped horseradish. (U-6-8, $15) 97
Salads: Several selections include seafood. The wedge garnished with red onion and bacon includes a buttermilk dressing and crumbles of blue cheese. The house salad is a fancy assortment of romaine, spinach, Granny Smith apples, goat cheese, walnuts, and sherry mustard vinaigrette. 93
Vegetables: Plump sugar snap peas stir-fried in sesame oil. 93
Potatoes: The potatoes au gratin are sure to satisfy every Texan. The medium-cut potatoes are mixed with slices of fresh jalapeños and baked in a creamy cheese sauce. 99
Dessert: The carrot cake is my favorite dessert in Dallas, but the chocolate peanut butter torte gives it a run for its money. A thick, glossy black disk of peanut butter mousse on an Oreo crust was iced with a slick, seamless ganache. 100
Ambiance: The Rat Pack supper club theme is cheesy, and the overall vibe is contemporary high-end cruise ship, with sexy elevated booths along the walls. Tables in the center of the room are rather close to each other. 85
4. Bob's Steak & Chop House
Overall Score: 93.54
Steak: I planned to review the original Bob's on Lemmon Avenue, but when I showed up, I was recognized. I snuck out to the Grapevine location, where I found a swankier atmosphere. I also discovered a 3-inch, 16-ounce Prime filet, a gem that would have pleased Elizabeth Taylor. The only reason it didn't receive a perfect score is that it was cooked more medium than medium rare. Steaks come with glazed carrot and choice of potato. Scores: filet (16 oz., $50) 96, Kansas City dry-aged strip (18 oz., $48) 97
Service: Our server was slow to approach us, and, when he arrived, he apologized for the delay before darting off to check in with another table first. We weren't in a hurry, but the entire meal service was out of sync. 82
Wine sell: Once we got him to the table and delivered our wine story, he got his game going. He talked about feminine Cabernets from California and wines from all over the globe and why those with big tannins go well with steak. He sold us on a "hot new wine": Viña Cobos Felino 2008, a Malbec from South America produced by noted California winemaker Paul Hobbs. 99
Shrimp: Four luscious, moist shrimp served on a cold plate with a spicy sauce and dollops of fresh horseradish. (U-10, $15) 96
Salads: We knew better than to order tomatoes in February, but they were offering and we bought. Not even the crumbles of aged blue cheese could disguise the mealy 'maters. But the mother of all blue cheese salads is the romaine covered in creamy blue cheese dressing topped with crumbles of aged blue cheese and roasted pecans. Gluttons order bacon strips. 89
Vegetables: I'm a sucker for Bob's signature glazed carrot, creamed spinach covered with crusty Parmesan, and thick onion rings. 98
Potatoes: Nobody does skillet fries like this. They are deep-fried crispy potatoes topped with sautéed onions and brown peppercorn gravy. 98
Dessert: The carrot and chocolate cakes are hearty portions but happily not over the top. The four layers of carrot cake are separated by thick veins of just-so-sweet cream cheese icing. 97
Ambiance: Bob's on Lemmon has a cozy boy's club atmosphere, but the Grapevine location is updated and sophisticated. The bar area has a huge stone fireplace and comfortable seating. 97
5. Al Biernat's
Overall Score: 92.60
Steak: Hands down the best filet I have ever been served. I ordered it medium rare and sliced it down the middle to find both sides the same warm red color from top to bottom. It had the mouth feel of sashimi. Scores: filet (14 oz., $45) 100, cowboy rib-eye (24 oz., $48) 98
Service: Most of the staff in the kitchen and on the floor have been with the restaurant for many years, and they work together like a well-oiled engine. Owner Al Biernat remembers every face and every name and so do most of the servers. Always professional and polished. 95
Wine sell: The staff is well-versed in wine, and sommelier Todd Lincicome has put together a list with plenty of big reds that are not California Cabernets, so we were disappointed when our server steered us to a Nickel & Nickel Kelham Vineyard Cabernet 2006, marked down to $110 from $145. We settled for a glass of Bernardus Pinot Noir for $15. 85
Shrimp: The long list of seafood possibilities on the appetizer menu made it difficult to stay on course. We passed up caviar, crab claws, and smoked salmon, but we were not disappointed by the three soft, pink shrimp that were meaty and had a bouncy texture. (U-10, $20) 94
Salads: The list is not of the average upscale steakhouse variety. The crisp Caesar is decorated with a tasty sesame lavosh. The hearts of palm mixed with avocado, shrimp, and crab should be an entrée. 95
Vegetables: We asked for asparagus sautéed in garlic and olive oil. The garlic was undetectable. 90
Potatoes: The mushroom risotto called to us, but, for comparison's sake, we stuck with skillet fries. Next time we're going for the risotto. 90
Dessert: Best coconut cream pie in Dallas. Chocolate cake? Not so much. 99
Ambiance: Almost all steakhouses are noisy, but when Al's is full, the volume in the dining room makes it hard to hear across the table. Request a booth on the side and enjoy the people-watching from a quieter post. Everybody who's anybody is here. 80
6. Morton's The Steakhouse
Overall Score: 92.53
Steak: Both steaks were about 2 inches thick, which made for a hearty rib-eye but a paltry filet. The latter comes with creamed spinach and salad. Scores: filet (12 oz., $48) 92, bone-in rib-eye (22 oz., $52) 97
Service: Friendly, professional, well-trained—right down to the valet who introduced himself and shook our hand. You can feel the corporate training. The servers perform like synchronized swimmers. 96
Wine sell: Our server was clueless, but he immediately ran for the sommelier. He calculated our scenario rather quickly into a Parallele 45 Côtes du Rhône 2007. "It's a third-run grape and is less expensive than other wines produced in that area," he said. He took our $75 budget and turned it into a $50 bottle of grocery-store wine. 85
Shrimp: Three "colossal Thai shrimp" are normally served, but we, and the other tables we could see, received four. "Kitchen's feeling generous," said the server. (U-6-8, $20.50) 95
Salads: Choices are basic steakhouse standards, but their idea of a wedge is a "center-sliced" cut of iceberg topped with blue cheese crumbles, bacon, diced tomatoes, and hard-boiled egg. Pretty, but not as crunchy as I like. Beefsteak tomatoes in February were not the right choice. 80
Vegetables: Hurray for the creamed spinach. You could actually detect the earthy mineral taste of the greens under the thin cream sauce. We also enjoyed the sautéed small button mushrooms served in a beefy broth. 93
Potatoes: The Lyonnaise potatoes should come with a defibrillator. They are baked and sautéed in bacon grease with thinly sliced onions. 92
Dessert: The souffles might be Morton's signature dessert, but we found the Grand Marnier version bland. We pushed it aside for "Morton's legendary" hot chocolate cake with the hot fudge center and vanilla bean ice cream. 92
Ambiance: Morton's has moved into some fancy digs in Uptown. The new interior is a throwback to the original Morton's in Chicago but slightly more contemporary. Warm woods, exposed brick walls, and an open kitchen create a much sexier place for the power brokers in suits to hang. 93
7. Bailey's Prime Plus
Overall Score: 89.95
Steak: Owner Ed Bailey has spent millions of dollars on extravagant interiors. All steaks come with asparagus and potato. Scores: filet (10 oz., $36) 95, New York strip (10 oz., $42) 96
Service: Friendly, reserved, and slightly distant. Despite the "ladies' steakhouse" theme, she seemed disappointed to get a two-top of middle-aged women. The meal progressed at a swift pace, but the restaurant was almost empty. A busser removed our wine bottle before we'd asked for the label. I asked our server to retrieve the bottle. She was horrified. "You mean you want me to pull it out of the trash so you can take it home?" Yes, lady, we do. 85
Wine sell: Our server admitted she didn't know wine and hailed the female sommelier. She asked a lot of questions but went straight to one wine: Edward Sellers Cuvée Des Cinq 2006 from Paso Robles, California, for $55. I would have enjoyed a more spirited debate, but she declared her love for this wine. I didn't love the wine, but I loved that she picked an interesting wine $20 below our price range. 98
Shrimp: Three huge shrimp in a silver bowl with three sauces: hot and spicy red, a fiery remoulade, and a guacamole with cilantro that didn't quite jibe with the other two. (U-10, $14) 90
Salads: Pungent buttermilk dressing enveloped chopped lettuce, cucumber, corn, red and yellow tomatoes, carrots, and marinated red onions. 93
Vegetables: All steaks are served with two stalks of crispy asparagus crisscrossed on the plate. An a la carte side of cream corn was more creamy than corn. 90
Potatoes: Forget the accompanying mashed potatoes, and order the mammoth baked sweet potato served with maple syrup, walnuts, tiny toasted marshmallows, and butter whipped with fresh orange zest. 94
Dessert: We tried only the three-layer red velvet cake, which was dry and tasted of the walk-in refrigerator. 70
Ambiance: Each of Bailey's locations has a different over-the-top theme-park-chic decor. The location near NorthPark has one large dining room divided by a long canal of water surrounded by fake ficus trees. The decor might work better if the cavernous space was full of chatting customers. Every time we've visited, it has been empty, and you can't help but stare at the opulent surroundings.  85
8. III Forks
Overall Score: 89.88
Steak: Prices include duchess potatoes, sugar snap peas, creamed corn, ripe tomatoes, and spring onions. Both steaks were nicely seasoned and cooked to our specs. The bone-in had a 2-inch section of gnarly gristle. Scores: filet (12 oz., $47.95) 97, bone-in rib-eye (18 oz., $47.95) 93
Service: Friendly, talkative, and informed. Even though our server had been with the restaurant for only a month, he recited the details of the menu like a veteran. He assured us, "The line in the kitchen is strong tonight." It was also slow. 90
Wine sell: Maybe we asked too many questions, but the sales pitch lasted nearly 15 minutes. Despite our request for no California Cabernet, our server took us through five pages of them. Obviously he wanted to show off his knowledge. When I pushed for something funky, he said, "I can offer you a $120 Silverado 2006 for $70. It's smoother than most." It wasn't. 85
Shrimp: We waited 30 minutes for four shrimp splayed across a single leaf of romaine lettuce. The slightly spicy cocktail sauce couldn't disguise the gritty texture, which caused my mother to say, "I'm from West Texas. I know sand when I taste it." (U-10, $16.95) 70
Salads: You don't have to order salad. If you order a steak, they offer complimentary sliced tomatoes and spring onions. But if you want one, the III Forks salad with apples, pecans, and crumbles of blue cheese is one of my favorites. 98
Vegetables: Every steak comes with a thin, runny version of creamed corn and a healthy helping of sugar snap peas and duchess potatoes. 90
Potatoes: Skip the mashed potatoes with chives and garlic, and instead order another loaf of the fabulous, hot bread. 80
Dessert: Bread pudding isn't my favorite postbeef dessert, but the soft and warm version here is spiked with bourbon and topped with pecan sauce. 93
Ambiance: Sophisticated cowpoke decor with saddles on room dividers and giant antler chandeliers. The two-story restaurant seats more than 1,000, but it is divided into separate, carpeted rooms. We ended up in the least attractive space, facing the bar. The nice man at the piano sang "Moon River" as we gazed at a huge water stain on the ceiling. 90
9. Del Frisco's Double Eagle Steak House
Overall Score: 89.65
Steak: The steaks were seasoned well with a nice crust on top. There was a lot of butter on the plate. Scores: filet (12 oz., $41) 95, bone-in rib-eye (22 oz., $48) 99
Service: Pushy, perfunctory, and efficient. Our server tried to up-sell us in every category. He started out friendly but seemed bored after he realized we wouldn't go above $75 on the wine. 80
Wine sell: When told we weren't interested in a big California Cabernet, he went straight to offering an Oregon Pinot Noir for $100. When I didn't bite, he steered me to a Honig Cabernet from Napa for $95, which coincidentally was "going to be served at an upcoming wine dinner" at the restaurant. He mentioned where we could buy tickets to the event. This guy could have sold a box of Franzia to any baron of the Rothschilds. Tired of the pitches, I settled on a glass of Brancott Pinot Noir from New Zealand for $12.75. 85
Shrimp: Five sweet, fresh, and firm shrimp served with three sauces. The red was like ketchup. I asked for extra horseradish. (U-12, $17). 85
Salad: Short list of classics. The wedge is above average, and the creamy blue cheese dressing is loaded with crumbles of sharp blue cheese. 94
Vegetables: Crisp, bright green asparagus rolled in butter. 90
Potatoes: Thin-sliced potatoes and onion are fried to almost chip-like texture. (Found a use for that cocktail sauce.) We spooned some of the grilled onions on the steaks. 95
Dessert: Two words: lemon cake. Three more: best in Dallas. Bow when it passes. 100
Ambiance: If you sit downstairs, you're in the scene. We were seated in the upstairs dining room, which had the charm of an old hotel ballroom. 87
10. The Place at Perry's
Overall Score: 89.47
Steak: This family-owned restaurant serves only steaks from Niman Ranch and its U.S. farmers, who are known for raising their livestock traditionally, humanely, and sustainably. All steaks come with choice of potato. Scores: filet (12 oz., $45) 96, cowboy rib-eye (23 oz., $55) 95
Service: Experienced, hurried, charming. It took about half an hour to get service rolling, but once the orders were placed, the meal was well-paced. 89
Wine sell: "I'm going to bring you a bottle of a special wine," our server said. "We are doing a wine dinner with them later this month, and I think you'll like it better than a Cabernet. It's a Bordeaux-style blend." He returned with the same hardly-lighter-than-a-Cabernet Orin Swift The Prisoner blend we'd sampled at Kirby's for $72. Here, at least, it was only $54. 70
Shrimp: Five assorted-size shrimp with slightly spicy cocktail sauce. (U-10-12, $16) 80
Salads: Short list of usual choices. We loved the house-made croutons on the Caesar, which was oh-so-delicately dressed and garnished with shaved Parmesan. 87
Vegetables: Simply steamed Brussels sprouts. 90
Potatoes: Au gratin potatoes were mashed potatoes covered with a thick layer of—and I thought I would never type this—too much cheddar cheese. We switched to steak fries, which were baked potatoes quartered and fried. 86
Dessert: I say you pass the potatoes and go straight to the outrageous apple pie baked in a bag. Hot spiced tart apples spill across a light, flaky pie crust and are topped with crispy crumble. I can still taste it. 98
Ambiance: The wooden floors are pretty to look at if you are sitting in a booth along the wall, but if you are in the main room, they make it noisy. Especially when the bar is busy. Low lights and white tablecloths. 88
11. Dallas Chop House
Overall Score: 87.95
Steak: The restaurant has invested a lot of time and money into dry aging its regionally sourced beef on-site with Himalayan sea salt. The rib-eye is grass fed and aged for 35 days. Scores: filet (8 oz., $42) 93, bone-in rib-eye (24 oz., $40) 95
Service: Knowledgeable but lazy. Nice job of explaining that the specialty steak is dry aged in-house and recommended we "slap on" some truffle butter, one of the specialty toppings. After a great start, service lagged. The dining room was sparsely populated, and we could see the staff hanging out in the kitchen. 85
Wine sell: Our server didn't know much about the wine list, and the person who "knows about wine" was off the night we visited. We could have picked our own from the familiar names on the list, even though many were misspelled, but chose to abstain. 60
Shrimp: A gorgeous presentation of three large shrimp and innovative tequila cocktail sauce. But the beauty was skin deep. Each shrimp was a day past its prime. (U-6-8, $15) 75
Salads: Small but superb salad selection. The wedge with blue cheese and Roquefort crumbles, bacon, marinated tomatoes, and toasted pecans was inspired and fresh. 92
Vegetables: Unique side of corn sautéed with red and poblano peppers, cream, garlic, butter, and topped with crawfish tails. 95
Potatoes: Generous portion of steak fries sliced, fried, and tossed with roasted garlic and prosciutto. Oh, yes. 96
Dessert: Sun-dried figs with butter, brown sugar, and mascarpone gets points for creativity, but the Italian cream cake was overly sweet and soggy. 93
Ambiance: The whimsical-yet-sleek Western decor does not hit you over the head with a hey-you're-in-cowboy-country sensibility. Lovely use of warm tones, soft lighting, and varied textures. Great patio. 97
12. Steve Fields' Steak & Lobster Lounge
Overall Score: 87.21
Steak: All of the Prime steaks are wet aged a minimum of 28 days and served with a "loaded" baked potato. Our porterhouse was thick and juicy, but the filet was on the dry side for a steak cooked medium rare. Scores: filet (10 oz., $38) 92, porterhouse (22 oz., $48) 90
Service: Friendly and efficient. 87
Wine sell: Another straight to Oregon Pinot Noir sell. However, our server was well-educated on many of the wines on the list and tossed out wine terms such as "jammy" and "fruity components" with authority. My eagle-eyed assistant spotted a Chappellet Mountain Cuvée for $57 and asked about the blend. Our server didn't know, but when she returned with the answer, she'd brought along a taste. (Note: the restaurant also offers flights of wine for $15.) 85
Shrimp: Five "wild caught" shrimp served in a traditional metal bowl with spicy cocktail sauce. (U-8-12, $14) 82
Salads: Short list of usual steakhouse suspects, including a retro spinach with hot bacon vinaigrette. 85
Vegetables: Ho-hum jumbo green asparagus. 85
Potatoes: A potato baked in kosher salt comes with every steak, but we opted to substitute whipped sweet potatoes with a hint of citrus and a thin melted marshmallow topping. 90
Dessert: I would not allow myself to order fried cheesecake, but the chocolate caramel buttercream cake was great for breakfast the next morning. 85
Ambiance: The bustling dining room benefits from the live piano music at the adjacent Lobster Lounge. The bar is packed with fun-loving baby boomers, which is a nice way of saying older clientele. The dining room is a mix of families, couples, and guys on "man-dates." 85
13. Chamberlain's Steak and Chop House
Overall Score: 86.63
Steak: Steaks are beautifully garnished and served with garlic mashed potatoes or stone-ground Parmesan grits. This is a steakhouse with a chef's touch. But the thick filet was tough to chew. Scores: filet (12 oz., $39.99) 85, 40-day, dry-aged rib-eye (16 oz., $35.99) 95
Service: Hurried, confused, apologetic. The restaurant was crowded, and we could see many large parties. We felt like our two-top had been squeezed in to accommodate as many customers as possible. 80
Wine sell: Our server was so swamped that he could hardly stand still. My scenario about finding a funky wine was too much for him to take in with so many people to serve. He suggested we try the Dry Creek Meritage 2006 and offered to give me a taste. Another server showed up 15 minutes later with a full glass of wine, which turned out to be Hahn Pinot Noir 2008 for $10. It's easily found on grocery and liquor store shelves for around $12 a bottle. 60
Shrimp: Oh, chef Chamberlain, what a lovely colossal shrimp cocktail you have. The Mexican brown beauties served with slaw tossed in red wine vinaigrette and cocktail sauce were a sight to behold and a meal on their own. (U-10, $14.99) 100
Salads: A small but superb list. The baby spinach topped with almond-crusted goat cheese is an interesting variation for a steak joint. Ditto for the house salad of lettuce, tomatoes, olives, carrots, and feta cheese. 95
Vegetables: Creamed corn off the cob and Asian-style green beans with toasted almonds served in sensible sizes. 98
Potatoes: We opted for the grits and then wished we'd picked the cheddar fries at the table next to ours. 90
Dessert: Key lime pie. 95
Ambiance: Classic, traditional chophouse with white tablecloths and dark wood and stone accents. The bar area is always hopping. The restaurant has several dining rooms and a large wine room. 93
14. The Capital Grille
Overall Score: 86.05
Steak: I've had better steaks here, but this night my dry-aged porterhouse was tough to cut and contained several gristly spots. The filet, ordered medium rare, was medium. We asked about the seasonings, and our server said they use Lawry's. Scores: filet (10 oz., $40) 93, dry-aged porterhouse (24 oz., $46) 88
Service: Annoying, aggressive, intrusive. Our server was set on up-sell mode and afflicted with conversation interuptus. When we cut into our steaks, she said, "Well, my ladies, is that a magnificent steak or not?" She left before we could answer. 80
Wine sell: She went straight to Pinot Noir and pointed to Patz & Hall 2009 from Sonoma for $69. When asked for something funkier, she said, "I'm afraid to go funky because I haven't tasted any of the funkier wines." I asked about a Rioja, a wine she'd never heard of but "will be interested to try at some point." 79
Shrimp: Five shrimp were fresh, firm, and cold and served with a rich cocktail sauce. (U-12, $15) 94
Salads: A good chopped salad is hard to find. This version sounded tasty: four lettuces, radishes, cucumber, roasted corn, asparagus, artichoke hearts, green beans, onion, and garbanzo beans tossed in a Parmesan vinaigrette. It was a nice composition but barely chopped. Sliced, maybe. 85
Vegetables: Fresh French green beans with roasted tomatoes and fennel would have been perfect if we'd found the fennel. 75
Potatoes: Overly creamed au gratin. 85
Dessert: Why anyone would put 2 inches of whipped cream atop an exquisite round mound of coconut cream filling sitting on a macaroon crust and finished with rum caramel sauce is beyond me. Order it without the whipped cream and with extra crunchy coconut slivers, and you'll have a great dessert. The chocolate hazelnut cake is four thick layers of decadent cake separated by bars of chocolate and topped with macadamia nuts. 90
Ambiance: East Coast clubby, nice lighting, semiprivate booths. Plenty of large groups with name tags and a heavy, older male clientele. 92
15. Kirby's Prime Steakhouse
Overall Score: 85.93
3305 E. State Hwy. 114, Southlake.
Steak: The rib-eye was about an inch thick, and it covered the whole plate. A nice trick to the eye, but it makes hitting medium rare more difficult. Steaks were unseasoned and without char. Yes, we ordered a side of cracked peppercorn sauce. Scores: filet (10 oz., $35.95) 85, bone-in rib-eye (22 oz., $40.95) 85
Service: Casual, professional, honestly-nothing-bad-on-the-menu attitude. The dining room and lounge were packed, and the service was slow from the get-go. 80
Wine sell: I asked for something lighter than a heavily oaked Cabernet, and our server steered around a La Crema Pinot Noir to a Stags Leap Petite Syrah. We protested again. "My favorite is only $72," she said, "and it's a Meritage." She popped the cork on a bottle of Orin Swift The Prisoner 2009 Napa Valley. It almost took the enamel off our teeth. Light? It is 15.2 percent alcohol. 75
Shrimp: Five nice-size shrimp served in a martini glass filled with Absolut and pepper-spiked cocktail sauce. The doily on the plate was a nice old-fashioned touch. I miss doilies. (U-10-15, $13.95) 89
Salads: All entrées come with house salad or soup. On our visit, they offered creamy mushroom soup with thick chunks of steak fighting for space in the bowl. 90
Vegetables: I'm fudging a little here by filing Kirby's fried pickles as a vegetable, but I would walk to Southlake to eat them. 100
Potatoes: The super-thin potatoes in the au gratin remained firm in the creamy, buttery, cheesy sauce. 93
Dessert: The dinner lasted so long that we took dessert home. Our server told us to put the spice cake in "the nuker" for 30 seconds before eating. The Key lime was more like a torte than a slice of pie—tart, sweet, and sitting on a nutty graham cracker crust. 92
Ambiance: Classy Texas-style decor with a ginormous painting of James Dean's famous Jett Rink pose from the movie Giant above the glassed wine room. The dining room is separated from the bar and lounge by frosted, etched-glass dividers. Live music adds energy. 92
16. Ruth's Chris Steak House
Overall Score: 83.54
Steak: This place has a devoted following that comes for the steaks served sizzling in butter on 500-degree plates. The scent greets you at the door. That said, the filet and the rib-eye were cooked as ordered and buttery. Scores: filet (11 oz., $38) 87, cowboy bone-in rib-eye (22 oz., $45) 85
Service: Friendly, flaky, but efficient. Our server couldn't help but voice her opinions when she heard us discussing our picks for the
upcoming Oscars. 88
Wine sell: Our search for an interesting wine turned into a 30-minute fiasco. Our server knew little about wine. After I gave her the scenario, she retreated to the kitchen to "talk to Robert." She returned with a suggestion: "He recommended you go with an Artesa or Ste. Michelle." When I inquired about the varietal, she said they were both Cabernets. She went back to Robert. "Have you ever tried a Pinot Noir?" she asked. "Robert said you would like the Belle Glos from Carneros." I told her we were all too familiar with Pinot Noir and wanted something funkier. Why Robert didn't come to our table at this point is beyond me. He was standing behind a partition just a few feet away, and we could hear him coaching her. He said, "Tell them they have less tannins. The Acacia Pinot Noir is in their price range." Mercy order: one bottle of Acacia Pinot Noir for $76. 50
Shrimp: Four shrimp were fresh and firm. The winner of sauces in a supporting role goes to both the Creole-style remoulade and spicy horseradish cocktail sauces. (U-16-20, $16) 95
Salads: Ruth's chop salad is also a winner. Julienne iceberg, spinach, and radicchio with bacon, eggs, green olives, mushrooms, red onions, hearts of palm, and chunks of blue cheese with lemon basil dressing covered with delicate, crispy fried onions. 92
Vegetables: Butterless asparagus with salty hollandaise. 85
Potatoes: What's not to love about scallop-cut potatoes and onions pan fried in butter? 90
Dessert: Warm chocolate explosion Bundt-style cake with hot ganache center and a round bread pudding topped with a butter sauce spiked with whiskey. 88
Ambiance: All the coziness of a hotel meeting room, with dated window coverings. Jazz Muzak. I was surprised by the number of customers wearing sweat shirts, jeans, and baseball caps. 85
17. Palm Restaurant
Overall Score: 82.26
Steak: The filet was nothing special, but the bone-in rib-eye was almost 2 inches thick and topped with a crunchy char. Scores: filet (9 oz., $40.50) 87, bone-in rib-eye (24 oz., $46) 94
Service: Pleasant, chatty, and knowledgeable, and our server orchestrated a well-paced meal. 93
Wine sell: He took us straight to a wine on sale, a Stags Leap Hands of Time Red 2008, which was marked down to $80 from $120. We asked to speak to the wine director and were informed that the restaurant doesn't have one on staff. "They train us about wine," he said. "The deal is, if you have a wine person on staff, the servers pay for them by tipping out to them." He proceeded to pour the Stags Leap into a decanter like he was filling it with ice water, smiling as he shook out the last drops. Tacky. 80
Shrimp: The four shrimp were firm and sweet but were treated with little respect. They sat atop a browning leaf of iceberg lettuce curled around a ramekin of cocktail sauce with a tin can aftertaste. (U-8, $16.90) 89
Salads: Somebody call a salad doctor. The once-glamorous hearts of palm concoction needs surgery. Nine long stalks of palm were covered with tasteless, mealy chopped tomatoes and garnished with slices of hard-boiled eggs and kalamata olives. Enough said. 40
Vegetables: As long as the doctor is in the house, have him take a look at the soggy, limp asparagus rolled in bread crumbs and sautéed in a vat of butter. Vegetable euthanasia strongly recommended. 20
Potatoes: Thankfully the half-mashed potatoes smothered in three cheeses and topped with tons of thyme were hot and delicious. 90
Dessert: From an assortment of the usual suspects, we chose a six-layer carrot cake that was moist to a fault and overpowered by so much cinnamon that my palate went numb. 80
Ambiance: Same as it ever was—worn wooden floors, bench booths, and caricatures of longtime customers, politicians, and celebrities painted on the walls. Not surprising to find the older tourist crowd surrounding the bar. The main dining room still carries nostalgic charm. 86
18. Sullivan's Steakhouse
Overall Score: 81.96
Steak: Unlike most of the steakhouses in this report, Sullivan's isn't considered a Prime steakhouse. It features hand-cut Choice meat that is wet aged. The menu has expanded and now includes stone crab, and some of the prices put the restaurant in the big league. Both steaks we tried had a nice char. Scores: filet (12 oz., $37) 85, bone-in Kansas City strip (18 oz., $38) 82
Service: Young, energetic, and sometimes forgetful. The man at our table loved the short-skirted servers in lacy stockings. Perhaps it was the kitchen's fault, but ours disappeared between the main course and dessert. 80
Wine sell: It should either do away with a wine list or invest some money to educate its staff about the wines sitting in the cellar. Before we even ordered, we asked for a wine person and were told there was not one on the floor. I asked our server if she was familiar with the list and if she could recommend something other than a Cabernet. "I only know the Pinot Noir. It's the only wine I drink." Really? MacMurray Ranch Pinot Noir for $13 a glass? Step it up. 60
Shrimp: To put it in the words of my male friend: "This shrimp is as fresh and sassy as our waitress." (U-15, $14) 87
Salads: A choice of iceberg wedge with blue cheese dressing or a Caesar salad is included with the price of the steak. Both are a nice size, and both dressings compete with those served in more upscale restaurants. The French onion soup is respectable. 75
Vegetables: Skillet mushrooms and sautéed green beans. 89
Potatoes: I could not make myself eat another bite of outdated horseradish mashed potatoes, so I went with the sliced potatoes baked in cream and sharp white cheddar. My chauvinist friend devoured a whole order of three-cheese macaroni and cheese without blinking an eye. 89
Dessert: Plenty of toasty coconut bits in the coconut cream pie and a rich chocolate mousse. 92
Ambiance: I've always felt comfortable at Sullivan's. I like the high-backed red booths, black tablecloths, and low lights. The prize-fighter theme isn't over the top—just enough to give the space a macho-with-a-strong-feminine-side feel. 90
19. Eddie V's Prime Seafood
Overall Score: 80.86
Steak: Here is what we learned about Eddie V's: the seafood is superior to the steak experience. Both steaks were seasoned and cooked medium rare, but the strip was so tough that I spit it in my napkin. Scores: filet (12 oz., $39) 90, New York strip (16 oz., $42) 60
Service: Arrogant, distracted, but efficient. Our server disappeared for long periods and interrupted our conversation at his convenience. Our steaks appeared 45 minutes after our salad plates were removed. 75
Wine sell: Our server took us immediately to his favorite Oregon Pinot Noirs but made us feel cheap by saying, "I'll point out a few Pinots in the lower range, like this Belle Glos Meiomi Pinot Noir 2008 for $64." 80
Shrimp: Four overcooked, tasteless, and sandy shrimp, which was too bad because they were accompanied by rich horseradish cocktail sauce and spicy mustard. (U-12, $14) 70
Salads: Lovely fresh arugula, Fuji apples, green beans, blue cheese, and candied walnuts tossed in orange- and ginger-spiked vinaigrette. 91
Vegetables: No complaints on the thin, crispy broccolini stalks seasoned with garlic and lemon or the grilled asparagus. 90
Potatoes: Both the truffled macaroni and cheese and au gratin potatoes with hot, crispy topping disappeared. We had to eat something other than steak. 93
Dessert: Creative dessert menu. Forks flew across the table for both the toffee ice cream served with a crispy almond meringue cookie, and the warm butter cake, dense like a cheesecake, covered with sliced bananas and whipped cream. 95
Ambiance: Contemporary, crowded, and loud. Round booths are more private and quite, tables not so much. Happening bar. 89
20. Perry's Steakhouse & Grille
Overall Score: 76.32
Steak: What started out in 1979 as a butcher shop in Houston is now a burgeoning chain of upscale steakhouses with nine locations in Texas. All of the steaks are dry aged, seasoned with kosher salt, pepper, and herb butter. Scores: filet (12 oz., $39.95) 96, cowboy rib-eye (22 oz., $41.95) 96
Service: The restaurant was out of control. I felt like a hockey player juking and jiving my way past rushing waiters and busboys as I attempted to skate to the ladies room. Our server was in the weeds all night. The managers, equipped with Secret Service-style earpieces, made a heroic effort to help, but they lost the battle and the war. The meal took three and a half hours. 60
Wine sell: Exhausting back-and-forth exchange between our server and two managers. Finally one promised an off-the-menu "hidden gem from Oregon." Twenty minutes later, our server showed up with a bottle of on-the-menu Foley Pinot Noir from Santa Rosa, California, for exactly $75. 60
Shrimp: The aroma of ammonia hit us before the behemoth crushed-ice sculpture decorated with wimpy shrimp hit the table. It went back to the kitchen, but the $12.95 charge stayed on our bill. (U-16-20, $12.95) 0
Salads: I'll make this short: the chopped salad was a huge bowl of julienne iceberg, chives, bacon, cherry tomatoes, and cheddar cheese, none of which you could taste for the pool of red wine vinegar at the bottom. 60
Vegetables: Mushrooms sautéed in a lot of butter and a little bit of sherry. 89
Potatoes: Quartered, fried in bacon fat, and sautéed with onion and garlic. 91
Dessert: Soft butterscotch bread pudding studded with chocolate chips, surrounded by caramel, and covered with candied walnuts and toasted homemade marshmallows. 90
Ambiance: The interior dining room is dark, with booths and tables arranged for privacy. The outdoor patio has lounge seating for those spilling out of the piano bar. 93