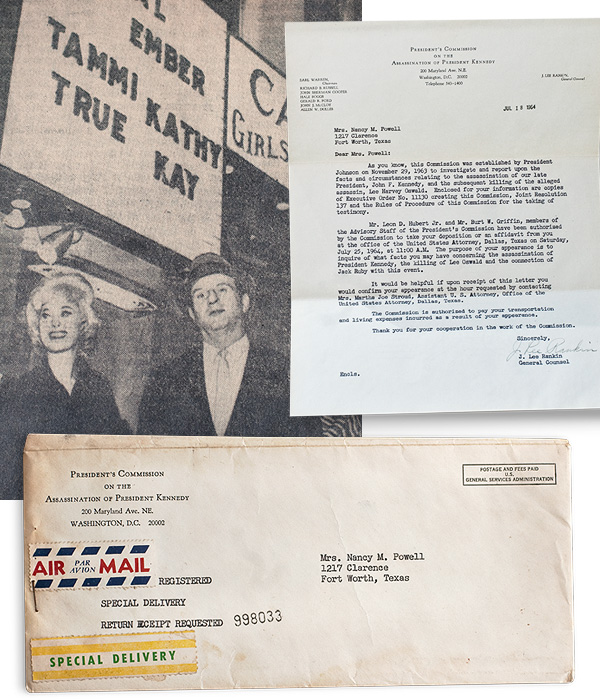 A priest discovered Myers' secret after visiting her mother. Father Fisher was new to the parish, and he came to introduce himself. Myers' mother had put some of Tammi's publicity pictures on the wall. While talking, Father Fisher kept stealing glances at the photographs. Then he had to ask, "What does your daughter do anyway?" Her mother replied, "She's an entertainer." Later, when Myers was home, the priest returned to introduce himself.
"I noticed that you're an entertainer," he said.
"Yes, I am."
"What kind—"
"I'm a striptease dancer," Myers answered directly. "I don't know whether that's a sin or not. Do you think it is, Father?"
"Are you doing it with the intention of making someone go out and do something bad?"
"No, I'm just doing it so I can get paid at the end of the week."
"Then, in that case, it's not a sin." Father Fisher paused for a moment. "But I'd be glad to come over and watch your show and let you know what I think."
Myers declined his offer.
When Jack Ruby shot Lee Harvey Oswald, Tammi True's legacy would forever be tied to his club and his name. Her secret identity was revealed. "Nobody knew what I did until Jack shot Oswald. In the paper, they put my name, my real name, and I was devastated. My neighbors were great. I had lived there long enough that they knew I wasn't a dipshit floozy. I was an ordinary, regular person. My kids took a little flack. One or two of their little friends weren't allowed to play with them. The kids would say, 'Your mom's a striiiiper,' and be ugly to them."
Myers closes her scrapbook. "I never participated after Jack did that. I'd never go see him. I didn't work the club. I had actually closed out to take off for Thanksgiving, and I never went back," she says.
She found work at Weinstein's club, Theater Lounge. She would sometimes fill in at the Colony Club, and would run back and forth between the clubs to perform, changing in between. Myers also found steady work in Oklahoma. But burlesque entertainment waned in the '60s and '70s. By the early '80s, none of these Dallas clubs would survive. The once vibrant downtown Dallas would be reduced to parking garages and office buildings.
Myers noticed the downward trend. The girls started dancing to "canned music," and the band was no longer used. It was more economical for club owners. In exchange, the clubs lost a bit of their glamour and class. The strip clubs lost the variety show aspect as well. No more comedians, magicians, or ventriloquists. New bars opened along Greenville Avenue, near the Granada Theater, featuring smaller stages and catering to a lunchtime crowd. Where once women crafted routines, now they just danced naked. The expedience of these new clubs sidestepped the bawdy fun of burlesque, and it became seedier as a result. Nancy Myers withdrew back into civilian life. She remarried. "At the age of 30, I hung up my G-string."
Recently, burlesque has returned to Dallas. It's a new attempt at restoring theatrics and glamour to the fine art of removing clothing to music. Viva Dallas Burlesque produces sold-out shows at the Lakewood Theater every month. They feature the biggest-name burlesque dancers from all over Texas. In February, Viva Dallas produced a Cirque du Soleil-inspired show with aerial acrobatics, juggling, and a snake charmer. Yes. Midair striptease. Troupes such as the Lollie Bombs introduce new burlesque stars to a new audience. According to Shoshana Portnoy, a photographer and the editor of Pin Curl Magazine, "It's so much more. A lot of people go for the sexuality and they go for the glamour, of course, but there's comedy. It's an entire theatrical production. Once you go, you'll know how different it is."
Dallas is the premier burlesque city in the South. The reputation of Dallas being plastic is actually well-suited for burlesque, where everything is supposed to be glitzy, playful, high-flying, and artificial. Dallas is a city that likes to be entertained. Not that burlesque thrives in Dallas, but Dallas, it seems, thrives in burlesque.
The mystique of Jack Ruby, Tammi True, and the Carousel Club has fueled the imaginations of new performers. I met one burlesque dancer, Pixie O'Kneel, who says, "I really respect the ladies from back in the day. They worked their asses off and were truly artists. Not that burlesque performers today don't work their asses off and are not artists, I just think it was harder for them than it is for us because of the way society of that time perceived women and people who were onstage." Last year, the Ruby Revue Burlesque Show invited Myers to appear at the House of Blues for its show. They sent a limo for her.
Angi B Lovely met Tammi True that night. "She came backstage and told us she'd be watching to see if we were doing it right," Lovely says. "Made me nervous as hell. She went onstage later that night and absolutely blew me away. I love watching the legends. There is so much to learn."
Though Myers enjoyed herself, she criticizes the lack of live music and a comedian. "I told them you need to do it the right way. It wasn't
just girls—boom, boom, boom."
Last year, Teddy's Room, a burlesque-themed nightclub, opened in Dallas. It features a brief show, with a single dancer, twice during the night. I went one evening by myself. I stood in the corner with my rum and Coke. Clusters of woo-girls, each wearing the same uniform black dress, crammed into the bar. I counted five bachelorette parties. It was a stylish place. The room pulsed with pop songs. Then, close to midnight, the music stopped. Everyone dancing looked mildly irritated. A three-piece band on the narrow stage behind the bar broke into a swanky version of Nirvana's "Smells Like Teen Spirit." Then a twiggy woman in a black sequined dress appeared from the edge of the bar. She rocked her hips from side to side, leaned against the back wall, and gave a high kick. In a move that reminded me of Myers, she spread her legs and bent over, looking at the audience from between her thighs. The audience couldn't quite figure out how to respond. A piece of clothing came off and then another. The crowd grew increasingly excited and confused. When the final piece came off, revealing a sheer bra with pasties underneath, the audience applauded. The music resumed and so did they. The days of Tammi True may have returned, but it was for a moment, and it was fleeting.
At Myers' house, after putting away the plastic bin, she stands in front of me, her audience. She holds her arms up, as though waiting for the music to start, turning her head to the side.
"When I walked out, I was a star," she says. "I was going to do a good show and wow them. I took it very seriously." Her arms fall to her sides. She looks at me and shrugs. "And when I was through, I was just plain old me."
Write to [email protected].
Get our weekly recap
Brings new meaning to the phrase Sunday Funday. No spam, ever.