First, I am not a snap-in kind of gal. neither were my kids, thank you, when they were snap-in age. They liked the free-form stuff, the twisty sticks, the clay, the dough. Loved the dough. I loved the dough as much, if not more than my preschoolers, not to mention the press-down machine that made spaghetti and stars, feats of wizardry that my parents denied me in my youth. I had to go to the Kleinmans' to use the machine. They had phones in their rooms, too, and TVs.
Anyway, I have a ranking system for such things. If snap-in toys are dull, shopping malls are hellish, on my personal continuum of pop-cultural offerings. OPTs, Other People's Toddlers (and the accompanying OPSTs, add Screaming), fall in between, pretty close to the latter. So it was with monumental angst that I headed west one glorious Saturday morning to visit a shopping mall filled with snap-in toys and kids who were not my own. Mine weren't coming.
"Mom, we are 13 and 15."
As if that mattered. Fine, then. Onward.
A Legoland Discovery Center had come to Texas, only the second in the country. It had come to Grapevine Mills Mall. It had come with all of its pieces, its red and blue and yellow and green plastic pieces. My stomach curled. My eyes hurt.
Grapevine is far away. I drove 13 miles, and looked for the mills. But I did not see any mills when I got off the highway and turned onto Grapevine Mills Parkway, then Grapevine Mills Boulevard. I saw townhomes. Townhome, townhome, townhome, like beads on a strand.
But then, in the distance, a low-slung structure appeared in my window. Could it be? I looked for Entry Five. Yes, I recognized the Lego logo, just as I remembered it from when I bought my kids the Lego table with the secret compartment that they put grapes in, instead. I parked.
Calmly, I walked through a courtyard, past the movie theater, and found the entrance to the building. The sun shone bright. The day begged for cafes and tennis. Kites. I pulled open the door and stepped inside. Darkness loomed. Air conditioning thrummed. Ahead, in a hallway, a small human being tethered to poles by giant rubber bands was catapulting herself up to the ceiling and down again. A larger human being, a man, stood nearby, raising and lowering his camera in a synchronized fashion. Beyond this kiddie slingshot, a line formed behind a rope. I got in it.
Instantly, a woman in a purple shirt asked me how many children I had with me.
"None," I said. "Just me."
"Oh, I'm sorry. You need a child with you to enter. It's a security thing."
I felt like a weird person, even though I knew I was on assignment. I didn't want to tell her I was on assignment because that could put the kibosh on the assignment. But I didn't want the weird feeling either. I told her.
"Oh," she said.
"Can I just borrow a kid, like that one? I could tag along with him, like a friend of the family."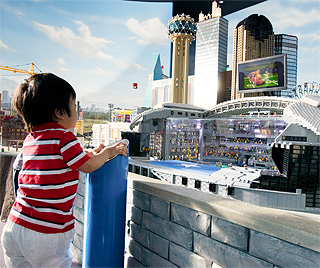 "But if they go off somewhere, you'll be left on your own without a kid, and they'll come escort you out."
I decided that I liked the policy. I liked that they would remove a childless weird person from the premises. I liked the Legoland Discovery Center at the Grapevine Mills Mall. I could eat a pretzel after. My kids were missing out. Silly teenagers.
The purple lady told me that I could see just about everything from a certain spot where the retail store opens onto the fun and games. So I left the line and went to the spot, where I began to feel festive and happy. Truly. I had the carnival feeling, that simple involuntary sense that such days are for hope and promise, that life is swell.
I peered up and saw a soaring ceiling, under which vibrant colors, cleverly designed attractions, and just the right amount of technological trickery buzzed. I talked to another really nice purple lady, who told me that many people had come that first week the place was open, despite the ticket prices ($15 for kids, $19 for adults, $60 per person for a season pass). The lady said that everybody was having a super time, and, you know, I think she was right. I saw kids building tall structures on bases that jiggle. One shouted, "Earthquake!" I saw them laughing and flying on the Merlin's Apprentice, a classic amusement park ride that lifts Lego-shaped seats and their occupants up and down and around in circles. I saw them tote foam animals in a make-believe farm and scamper up a climbing and sliding apparatus. They built cars and tested their speed on a track. They disappeared into a movie theater for some 4-D action—the extra "D" gives you wind, water, and smoke. No one was crying—okay, one kid, but it was only a whimper. And there was even a Princess Palace, with pink Lego blocks instead of the primary-colored ones.
"What happens in there?" I asked.
"Oh, it's very princessy."
Good enough for me. Of course, the two Legoland Discovery Centers in the United States are nothing like the four Legoland Theme Parks, 100-plus-acre outdoor extravaganzas in California, England, Germany, and the toy maker's home country, Denmark. In Carlsbad, California, for instance, more than 35 million pieces (I'm told they are called "bricks") are engineered into 15,000 models, including a 2-million-brick brontosaurus. The abridged spaces are more like play places geared to younger Legoists. The $12 million, 35,000-square-foot Grapevine location, built by Merlin Entertainments Group where a skate park once stood, is roomy and carefully planned (it took nearly seven months to construct). For parents, this means nothing cavernous, hidden, or too far away. Contained, yet open enough for feeling free, and outfitted with hand-sanitizer squirters on every few feet of wall. There is even a cafe with free newspapers.
Though it did not astound with anything groundbreaking, and the repetitive refrains of synthesized, dramatic questish music made me want to stick Lego bricks in my ear canals, the place looked as if it was capturing little kids' imaginations just fine. And it featured some rather impressive replicas of the Fort Worth Stockyards, Dallas City Hall, and the Old Red Courthouse.
I don't know exactly what it is that the children are discovering at the Legoland Discovery Center, but I discovered the following: Other People's Toddlers can be adorable when they are having fun. Purple looks good on ladies. Forever 21 has an expansive jewelry collection, with necklaces organized by chain length. There is no close second to a pretzel off a cart on Madison Avenue, in the air, on the sidewalk, not in a mall. Being perceived as a weird adult in a children-only snap-in toy place can put a different spin on your world. And, perhaps most instructive, teenagers are never right.
Write to [email protected].

Get the ItList Newsletter
Be the first to know about Dallas' best events, contests, giveaways, and happenings each month.