In the last 13 years, I've lived in six states. Both my husband's career and mine require that we relocate as new assignments arise. It suits us, but life without a tether takes its toll. To ease the strain, we developed systems to help us resettle quickly, managing our rootlessness the way others manage a checkbook—through rules and formulas. Rule No. 1: map out essential services. However, unlike most people for whom these would be hardware stores, hair salons, and farmers markets, we dial in on the Ethiopian restaurants.
I fell in love with my first in Boulder, Colorado, in 1990, but sadly, the Colorado foothills offered only one option, as did Jacksonville. Conversely, Princeton had none, making Manhattan feel like a windfall with eight. Los Angeles, to its credit, had 10 and a Little Ethiopia district lined with banners and bunting. For those few years in the City of Angels, I felt as if we had hit the East African jackpot.
That was before Dallas. My first premove internet search turned up a handful of restaurant names. Deeper investigation unearthed a few more. By the time we had been here a year, I'd mapped out 11 Ethiopian restaurants, one Eritrean restaurant, and at least two Ethiopian grocers. (It's important to note that Eritrea and Ethiopia have similar culinary and geographical profiles but distinct identities.)
The region surrounding 635 and Greenville, the area that DFW International identifies as Little Ethiopia, isn't going to win any awards for quaintness. In fact, it's generous to say that the business blocks verge on bleak. In contrast to the charms that make San Francisco's Chinatown and Chicago's Little Poland feel like Epcot pavilions, our Little Ethiopia has no banners, no foot traffic, no signposts, and no defined borders, just a very loose concentration of restaurants and retail that, though not showy, provides an introduction to a North Texas immigration story that, for the last 35 years, has gone largely untold.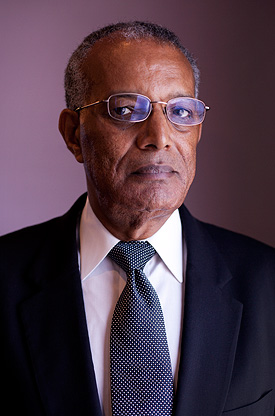 Most of us became aware of Ethiopia for the first time in the late '70s and early '80s, when televised relief campaigns highlighted the country's drought and food shortages. In 1974, Emperor Haile Selassie was ousted in a coup d'etat by the militant Derg, a socialist opposition group led by Major Mengistu Haile Mariam. The bloody genocide that followed was known worldwide as The Red Terror. For Ethiopians with mobility, the options were simple: leave now or forever rest in peace.
Thousands fled by way of Sudan, Djibouti, Kenya, even Somalia, ultimately making their way to the United States as political refugees. Which is where organizations like Catholic Charities of Dallas and the Mutual Assistance Association for the Ethiopian Community came into the picture. Every year, charitable resettlement organizations assess their respective situations—number of staff, operating budget, resettlement resources—and estimate the number of refugees their programs can support. In the '70s, the late Father Kilian Broderick of Catholic Charities began filling our city's slots with recently displaced East Africans. As more were placed here, a core developed, leading to clusters and eventually communities.
Estimates on the number of Ethiopians who ended up in North Texas as students, former asylees, and Diversity Visa holders vary wildly. The U.S. Census places the figure at a paltry 4,600. But Census numbers register low because the Ethiopian population often gets grouped under the African banner, leaving tens of thousands unaccounted for. DFW International estimates the population at 30,000.
Betru Gebregziabher, president of Dallas' Ethiopian American Chamber of Commerce, sets the number even higher, at closer to 35,000.
Getachew Tassew, senior case manager for refugee services at Catholic Charities of Dallas, echoes that figure, pointing out that many have remained adjacent to the community's original footprint near the Ethiopian churches in Garland.

Tassew, who has spent the last 25 years helping fellow refugees acclimate to life in North Texas, recalls his own exodus thusly: "When the [militia] came, I was able to take out my wife and six children. Most others, they could not afford to do that. But I had a tractor. We did not take anything in our house. We left it—a life, our house—with everything. We say, 'If we stay half an hour, one hour, we should be finished.' "
The brain drain that befell Ethiopia as a result of its best and brightest fleeing and resettling has benefited our region immeasurably. Because Ethiopians have a reputation for earnest industriousness (a Texas Monthly article in 1986 told a story of a refugee threatening to sue his case worker for suggesting he apply for welfare), many have rebuilt their careers here in science and technology, while also working to maintain the close-knit nature of the culture. "We are always helping each other," Tassew says. "Even cab drivers, when they meet [new arrivals], they don't even charge them. They will take them, they will drop them, and they will ask them, 'Do you have lunch money?' " He laughs. "And they will give it to them. They will give them their telephone number. They will share with them the information. Then on Sunday they come to church and they will find someone that they know for a long time—30 years ago, 40 years ago—and they become relatives." He clasps his hands together to emphasize. "They become strong together."
Community stability has led to entrepreneurship, which has resulted in a rich density of restaurants clustered near that original settlement neighborhood. The culinary contingent of Dallas' Ethiopian community is the finest I have seen in all of my own resettling. As for how to approach this bounty, what is true for ethnic foods in general goes double for Ethiopian cuisine: instead of limiting yourself to any single menu item, go for the smorgasbord. In this case, that means ordering two combination platters—one meat and one vegetarian, served on injera, Ethiopia's signature thin, spongy bread.
Different restaurant kitchens have reputations for bringing heat and flavor in varying degrees. On Greenville Avenue, newcomer Desta experiments with contemporary preparations and nontraditional platings. Nearby, Lalibela's spare and unassuming frontage masks a savory mother lode, and Ibex attracts loyalists with its traditional messob tables and liberal use of berbere spices (a mixture of chili peppers, garlic, ginger, dried basil, korarima, rue, white and black pepper, and fenugreek). Traditionalists love Kereje's cozy booths and beaded curtains as much as they remain loyal to Elsa Kiflom's Queen of Sheba in Addison, even with its Italianate interiors and milder flavor profiles. In Richardson, newcomer Banatu, many people's No. 1 choice on a Saturday night, takes its name from a special fitfit (cubes of beef in berbere sauce and spices mixed with injera) created in 1979 by co-owner Meron Girma's mother at the original Banatu in Addis Ababa.
Standing at the door to any of these restaurants is like staring into a life-size kaleidoscope depicting the city's shifting demographic landscape. Through the lens you see the region's rich underbelly, the one with a 44 percent ethnic base, shimmering in plain sight while white America resettles around it.
The strip of retail surrounding Lalibela illustrates the point better than any statistic. To the restaurant's right, a trio of middle-aged white males smokes and laughs in front of the infamous dive bar, King's X. To the left, Momo's Italian Specialties courts a steady stream of North Dallas couples in collared shirts and loafers. In between, it's business as usual at Lalibela, where behind tinted glass and very little artifice, Aschalew Teferra banks on Ethiopia's most valuable exports—adaptability, resilience, and the traditional East African hospitality that has won my heart city after city, year after year.
Write to [email protected].
Get our weekly recap
Brings new meaning to the phrase Sunday Funday. No spam, ever.