How lovely is a hat, well worn. Baseball caps have a place in the universe, but hats—felt, tweed, straw—have such flair, such panache. There is little to be gained by longing for the past, when men and women wore hats with the discernment people now apply to sneakers, but there is much to be admired in a person who wears a hat well now, in 2011. And there were about a dozen such admirable people in the predominantly black crowd patronizing Buttons, the hopping soul food supper club and bar in Addison.
By 8 o'clock on a Saturday evening, the valet line was long, and the standing room was scarce. The music was live and full of horns and R&B (blues and jazz on other nights). Every table in the restaurant was full of people and laden with chicken and waffles, pot roast, catfish. Celebrations were in the air as people raised cakes high to carry them through the crowd to tables. A group picked up napkins and twirled them above their heads like party favors. 
Buttons took over the Sambuca space and has much of the same core supper club architecture. The main part of the restaurant is roughly U-shaped, with all tables facing the stage. A short set of steps up from the stage is the 40-seat bar. Colorful circular disks hang one after another on strings dangling from five chandeliers, '70s inspired, perhaps, and brightly colored. The bar was filled with folks talking. A beautiful woman, elegant and slightly awkward, stood beside us looking unsure of what to do. Perhaps she was waiting for someone, literally or existentially. In either case, it wasn't long before she was pulled into the bar's conversations, guided lightly by a hand on her elbow.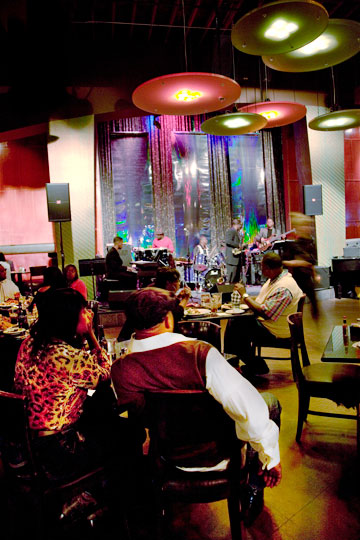 I'd heard that people push back tables on the main floor and dance. My husband, a classically trained musician and salsa aficionado, loves to dance, and I had on my red shoes in anticipation. The place was packed, and we watched for the dancing to start. Sigh. If only I weren't old, ill-accustomed to standing in sexy heels for multiple hours, and a lightweight who would have gotten tipsy if she'd had more than two sips of her second, sturdily poured, drink. If there was table-clearing dancing, it didn't commence until after 11. (A manager assured me, though, that dancing does occur.)
Though we were gussied up, and though there's a dress code, people came in all kinds of styles. In fact, on a Wednesday night visit about 9, more people seemed dressed than on the Saturday. Wednesday was hopping and getting hotter as I left. (Didn't anyone else have to get up at 6 the next day?) I'm pretty sure that, staff excepted, I was the only woman in flats. More cakes, more parties, more people eating dinner at the bar and drinking wine. More live music—jazz. Sure, there were open tables in the restaurant, but every seat at the bar was filled.
Buttons, opened in September, bills itself as the place for food and music for the soul. Fabulously bearded chef Keith Hicks, whose childhood nickname was Buttons, has said that his is a place with "smooth" '70s style and "old-school cool music we love." Drinks are named accordingly: the Stevie Wonder, the Jackson 5, the Hendrix Experience. The Diana Ross, Buttons' take on a cosmo, is the most popular.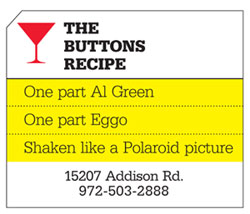 There's something comforting about being connected to both the past and the present, which is part of the appeal of home-cooked restaurant food and twists on classic drinks. I mean, you get the things you loved growing up. For me, in my Irish home, it was mashed potatoes, and I'd gleefully drive from my Oak Cliff house all the way up to Addison just for more of Buttons' buttery, garlicky potatoes. But at each place, a favorite drink or style of potato is slightly different, both familiar and new all at once.
I had a professor in grad school who talked about the ways that opposites combined together could create new meaning, new language. Yes. If there really are only seven plots in the world, if ultimately there is nothing new under the sun, then our creativity comes from the ways we combine what already exists—the particular combinations and details showcasing individual style or thinking. Seventies-inspired supper clubs in 2011. Old-school tunes sung by new-school women. Distinctive comfort food.
 
Write to [email protected]

Get the FrontRow Newsletter
Get a front row seat to the best shows, arts, and things to do across North Texas. Never miss a beat.