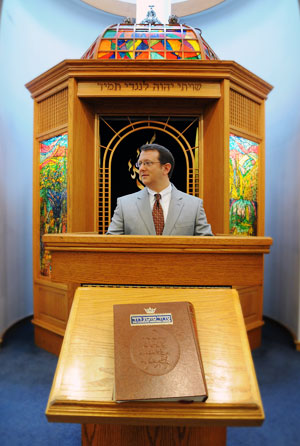 You might not know that you are in it, when you are in it. I have been in it, and have not known. Okay, I have noticed the kosher deli at the Tom Thumb supermarket and the three kosher deli men behind the counter. This is not remarkable, coming from New York. I have noticed the fringe from their prayer shawls peeking out from their white coats. But known that I was in something? Actually within a place, a province, a spiritual arrondissement? God, no.
For people who are not members of the Modern Orthodox Jewish community, the borders of this 4-square-mile North Dallas neighborhood are virtually transparent. But for the 250 families who comprise this teensy segment of the highly observant Orthodox sect (there are those here, too, along with non-Jews), the boundaries are excruciatingly clear. They provide, interestingly, a way to interact with the contemporary world, rather than keep it at bay.
"We have a constant struggle to synthesize two values that do not always mesh well—holding fast to the traditions, practices, and values of Orthodox Judaism, while engaging the modern world in which we live," says Rabbi Ari Perl, leader of the city's one Modern Orthodox synagogue, Congregation Shaare Tefilla. Unlike the ideologies of Ultra Orthodoxy, which claim that many modern scientific, political, and social trends pose a threat to the values of traditional Judaism, followers of Modern Orthodoxy tend to be more open-minded, believing that these realities can coexist with a lifestyle based on ancient Jewish law. The Ultras, as a result, isolate. The Moderns reconcile.
And they buy fishing line. Jewish law, in addition to providing guidelines for marriage, dress, diet, and other customs, says that on the Sabbath, people cannot carry objects outside of bounded private property, regardless of size or purpose, as it is a day for rest. They cannot carry anything from a private domain, which is any enclosed area, into a public one. So keys, water bottles, baby carriages—all are off limits from Friday to Saturday, sundown to nightfall. To abide by the rules, folks would have to spend a lot of time in their living rooms—say, most of it—which would make it difficult to do what you are supposed to do on the Sabbath.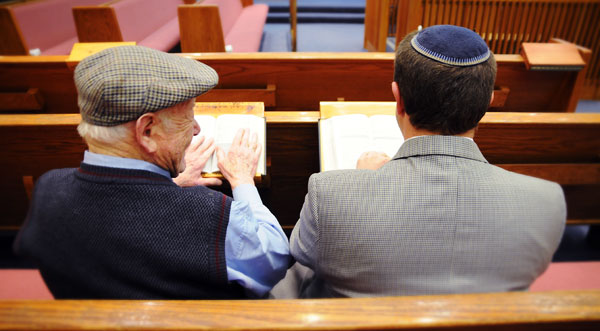 So, the fishing line, yes. To permit the carrying of assorted items, law allows for the creation of enclosures around neighborhoods, bounded private spaces called eruvs within which these objects may be toted or pushed. Most large cities have one or more. (Dallas' second eruv is farther north.) Existing walls, fences, and telephone and utility wires make up most of the boundary, but when there are gaps, they are connected with the clear wire, high above from telephone pole to telephone pole for a continuous perimeter.
Every Friday since the eruv was established 23 years ago, Rabbi Sholey Klein has connected the line in various spots around the odd-shaped parcel north of Northaven Road and south of the LBJ Expressway, bordered by Hillcrest Road and the Dallas North Tollway on the east and west. On a good day, he simply checks to see that the infrastructure is intact, but sometimes someone is building a house and has removed a fence, or a storm has thrown down a high wire. For major fixes, Rabbi Klein calls the utilities, to whom the Eruv of Dallas, Inc. pays fees. Otherwise, he climbs up one of his two ladders.
"I am the crew," says Rabbi Klein, who is also the Kashrus administrator of Dallas Kosher, which provides kosher certification and supervision to companies throughout the Southwest. "We reroute the perimeter to keep it continuous, so it is constantly changing. If there is one breach of the eruv, the whole thing goes down."
If repairs can't be made before the Sabbath begins at sundown, a telephone chain alerts people that carrying won't be possible. Most Fridays, though, and all day Saturday, sidewalks stream with temple-goers, men in suits and skull caps (yarmulkes), women in dresses and with covered heads, kids running alongside. Services go on all day, and teenagers pop out the side door to socialize. Everybody walks, as driving is not permitted.
"Because we are strictly Sabbath-observant, the walking distance becomes very simple. We live less than a mile from temple," says Rachel Berke, an attorney who moved with her husband from New Jersey in 1998, before having their three children. "There are not many options for housing."
Along Churchill Way, blocks from the synagogue, "In the Eruv" announcements run across the bottom of House for Sale signs. Home prices are not cheap; such is supply and demand. But the cost, along with that of private day schools and kosher foods (Tom Thumb must have 19 types of matzos and 42 kinds of pickled herring), is worth it to residents.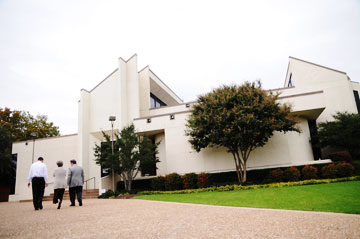 "I've got to say that as a Californian, coming from the Northeast, I arrived kicking and screaming," Berke says. "But this community is tight and warm and respectful. Within the rules, there is room. Some wear long sleeves, long skirts, and high necks, though it is not what we do. I wear pants. I wear short sleeves. But I cover my head. For me, it is the fine balance of observing Jewish law while actively participating in secular society."
Most of the adults who live in the eruv are between 35 and 50 years old, and are transplants from urban areas with entrenched orthodox populations, including New York, Boston, Los Angeles, and Chicago. A very high percentage are professionals working in medicine, law, education, engineering, finance, and real estate.
For native Richard Rohan, who grew up as a Conservative Jew in the geographical area that now houses the eruv, Modern Orthodoxy is giving his kids a look at religion that he didn't get. As a child of Holocaust survivors, in a city with a very modest observant community, Rohan felt that religious continuity was stressed as "a sense of fealty to the past."
"It was more a 'Thou shalt not,' than a 'Thou shall,' " he says. "That's not a way to make it attractive to the next generation by some sense of guilt or obligation. My dad said the kiddush over the wine, mom lit the candles, and I was out of the door. When my kids sit around the Sabbath table with our guests and observe the types of conversations, the wide variety of people we have there, some Jewish, some not, those are things they will remember."
The Bible Belt might seem an odd fit for Modern Orthodoxy. But that's changing, thanks to New York's Yeshiva University.
"We decided to become a growth initiative, a sort of chamber of commerce, for people looking to live outside the New York area," says Rabbi Kenneth Brander, dean of the university's Center for the Jewish Future. "Now, people need job opportunities, and Dallas has job opportunities, as well as a spiritual infrastructure. And everybody says hello to you. In New York, there's a pretty good chance they'll lock you up if you do that."
And they've brought at least a small piece of New York with them, right there in the supermarket for everyone to enjoy, whether
they're Moderns, Ultras, or neither. The mashgiach at Tom Thumb ensures that dietary laws are followed at the store's kosher meat department. He takes phone orders for the upcoming holiday—10 pounds of the nova, sliced. I snatch a jar of garlic dills on the way out. The kind with the red cover, even. Nostalgia in the supermarket aisle. Imagine that.

Write to [email protected].

Get the D Brief Newsletter
Dallas' most important news stories of the week, delivered to your inbox each Sunday.