Brandon Pollard expounds on the sex life of the honeybee while moving his fingers over a glass-paned observation hive. The queen will mate with 10 to 20 drones on her mating flight, says the former Olympic soccer player and onetime left fullback for the Dallas Burn. On weekends, the bearded beekeeper dresses in a bee costume with spring-loaded antennae bobbing above his head and uses the hive to sell honey at the Dallas Farmers Market.
"She'll have enough sperm to last the rest of her life," he says. "They die when they mate with her. Their member gets torn from their body. The life of a boy bee is tough."
"The bubba pool," says his wife, Susan.
Founders of the Texas Honeybee Guild, the Pollards are relentless champions for what appears to be a rapidly diminishing resource. Until a few months ago, they referred to themselves as urban bee wranglers, rescuing urban hives from fatal doses of exterminator poison and placing them all over Dallas in community gardens, parks, and businesses—such as atop the roofs of the Fairmont hotel and chef Marc Cassel's Park restaurant.
"Now we say we're beevangelists because you always have to be re-creating yourselves," Susan says. "We're everywhere. We are a fairy troop, the ruby slipper troop. We move. We waggle dance. We teach." The Pollards manage some 100 hives producing 7,000 pounds of honey annually. They label the jars by ZIP code to indicate the Dallas neighborhood from whence the honey came—the "eat local" movement's version of micro-loaning. Currently they produce honey in more than 20 of Dallas County's 43 ZIP codes, selling it in markets and restaurants such as Bolsa in Oak Cliff.
But all is not well with their honeybees. After years of relatively stable colonies, the Pollards suffered losses of 30 percent this past winter. Hence their beevangelism takes on intensified urgency. Honeybees, Susan reminds, pollinate crops representing more than a third of the nation's food supply. "Bees are an indicator species, the canary in the coal mine. They're telling us it's not all lovely."
The Pollards' recent losses track almost exactly with declines experienced by beekeepers nationwide. According to the U.S. Department of Agriculture, managed bee colony losses hit 33.8 percent for the 2009 to 2010 season—the third straight year of colony declines that have averaged 33 percent. Though the beekeepers in the latest USDA survey peg losses to a variety of causes—from starvation and harsh weather to poor queens—the culprit that's generated intense media focus is Colony Collapse Disorder: the unexplained disappearance of millions of bees from their hives. The phenomenon, which has stumped researchers worldwide, even cropped up at the Dallas International Film Festival last April when the documentary Colony made its Dallas debut.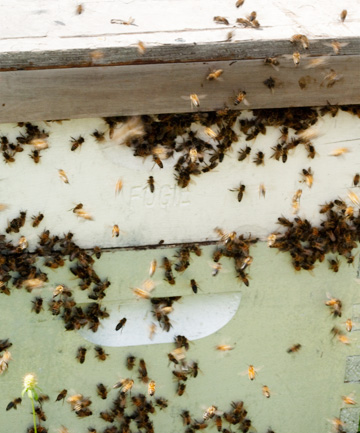 Colony Collapse Disorder has been blamed for snuffing out bee populations across the globe, though it has been most profoundly felt in Europe and North America. "They don't know what the actual critter or cause is," says Paul Jackson, chief apiary inspector at Texas A&M University. "There's no rhyme or reason to it. It can strike neighboring beekeepers. One will have it, another won't. That's what makes it so hard." Jackson believes a combination of pesticides, viruses, and parasites is likely to blame.
"Twenty-five years ago, it was relatively easy to raise bees," says John Talbert, founder of Sabine Creek Honey, who went from hobbyist to commercial producer after retiring from defense contractor Raytheon in Garland a decade ago. "We're seeing fewer and fewer commercial beekeepers out there. You struggle to keep your bees alive, and then prices vary up and down on honey."
On a blistering afternoon in June, Talbert and his partner, Blake Shook, remove frames from hive boxes and slip them into a honey extractor. The machine lowers the frames into oscillating heated blades that cleave wax caps from the honeycombs before they're placed into a large centrifuge, which spins the honey loose from the combs.
Outside Talbert's steel honey building near Royce City, wasps buzz around a rusting tractor and a pair of decrepit 1961 Nash Metropolitans. Together Talbert and Shook produce more than 100,000 pounds of honey annually, though this year revenue from crop pollination will trump that from honey sales. "We'll pick up beehives and move them four places in one year, sometimes across the country," says Shook, president of the Collin County Hobby Beekeepers Association. "That puts a lot of stress on the bees." Shook suspects the pollination demands of commercial agriculture—with hives often shuttled long distances between crop fields—may drive colony collapse, weakening bees and leaving them susceptible to viruses and parasites. "It's a lot more difficult than it used to be," he says.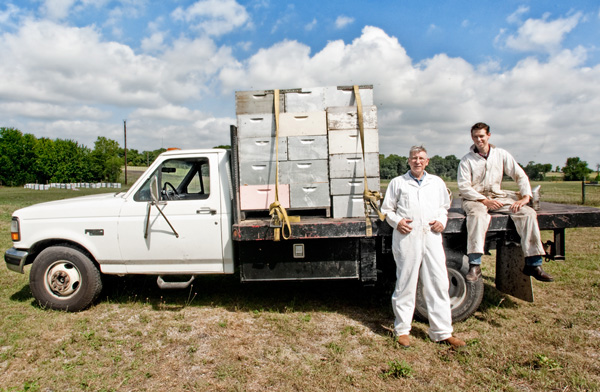 Shook is an oddity among beekeepers. According to
Bee Culture
, a trade magazine, the industry is suffering a collapse of its own. Just 8 percent of beekeepers are under the age of 40, while 66 percent are between the ages of 40 and 60. Shook is 20. He started raising bees at age 13 after winning a Collin County Hobby Beekeepers Association scholarship that provided him with a textbook, hive-building materials, and tutoring. He founded Desert Creek Honey while still in high school.
The irony is that while bee and commercial beekeeper populations are retreating, hobbyist interest is exploding. Shook says CCHBA membership has surged 90 percent over the last decade. Why the sudden interest in beekeeping?
"It's green," Talbert says. "The honeybee is one of the most fascinating organisms out there, not only as a single unit organism, but as a colony. A colony of bees has the same population density as if you had nine adult people in a bedroom. And they don't kill each other."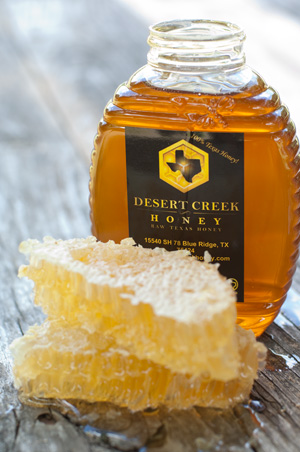 Also driving the explosion is an intensified interest in raw, locally produced honey among chefs and consumers, many of whom believe it curbs allergy symptoms. "It's stronger than I've ever seen it," says Todd Youngblood, president of the Texas Beekeepers Association. Over the last few years, the Texas Beekeepers have been leveraging that hobbyist enthusiasm to push for expanded honeybee research. The group devoted more than $10,000 to an effort to map the honeybee genome, completed in late 2003 at the Human Genome Sequencing Center at the Baylor College of Medicine in Houston, just as Colony Collapse Disorder began rattling the industry. Researchers hope the honeybee sequence will shed light on mysteries surrounding human immunity, allergic reactions, antibiotic resistance, and mental health, while solving the riddle of Colony Collapse.
The Texas Beekeepers also spearheaded a drive to raise $600,000 for a honeybee laboratory at Texas A&M University. The 6,500-square-foot honeybee research and education facility opened last February on the university's Riverside campus.
The growing interest in bees warms the hearts of the Pollards, who eke out a living preaching the honeybee gospel. "We want to get into the culture," Susan says. "It's like a sourdough starter. We want to get into the culture, and we want the culture to know that these guys are fantastic. We're not afraid of them. We're fascinated. They're wondrous. They're the best little livestock in Texas." Write to [email protected] .
Get the AtHome Newsletter
Enjoy Dallas' best trends, hot properties, and tips from local designers to help you nest in style delivered weekly.