Errol McKoy is, quite possibly, the highest paid carny ever. He got a degree in economics from Northeastern State University, but during school breaks he worked as a ride operator at Six Flags Over Texas. At 26, he became the youngest person ever to land the top job at a theme park, and he holds patents in the United States, Germany, and Switzerland on rides he helped develop. In 1988 he was lured away from Six Flags to become president of the nonprofit State Fair of Texas, where, in 2008, his total compensation for overseeing the three-week spree of pig shows, fried food, and midway rides was $758,918.
Later this month, McKoy's operation will once again take over Fair Park. The theme for this year's installment is "Super Sized Fun." The question is, How has McKoy managed to apply that theme to his paycheck?
According to the Economic Research Institute's Linda Lampkin, McKoy is the highest paid manager of a state fair in the country. His peers don't even come close. The president of Virginia's state fair, which brings in about the same revenue, makes $219,037. McKoy's compensation is not just an outlier among his fellow state fair managers. In 2008, the State Fair brought in total revenues of $36,319,776. The average compensation for the highest paid people working for Texas nonprofits with revenues around $40 million is $209,265.
McKoy also paid each of the six supervisors under him—Lee Winton (finance), Robert Hilbun (maintenance operations), Ron Black (food and beverage), Mitchell Glieber (marketing/public relations), Jaime Navarro (VP controller), and Eunice Sloan (VP exhibits)—more than $170,000 in 2008. Four earned more than $200,000. These seven employees made a combined $2,256,486—in a year in which the State Fair reported a net loss of $2,787,911. 
McKoy's explanation: "I report to the executive committee [of the board of directors]. They call the shots completely."
Let's step back and explain how it came about that the head of a midsize nonprofit earns nearly three times more than the city manager of Dallas (Mary Suhm oversees an operating budget of about $2 billion), and why it has escaped any sort of public outcry. A spot on the State Fair board has historically been prized by the old-school business class of Dallas. It comprises primarily the highest-powered players in the city—the good ol' boys, though there are eight women among the board's 51 members. (Yes, 51.) McKoy's job is also one of the plum gigs in the city. He was preceded by Wayne Gallagher, who was president from 1972 to 1987. Former chairmen of the board included R.L. Thornton ('45-'65) and Robert Cullum ('66-'79).
In other words: the past and present of the State Fair are the product of (mostly) men who aren't generally questioned about how they run their affairs. Not out in the open. More than one powerful civic leader refused to talk on background about McKoy and the way he runs the State Fair. The man wields enough power that members of the establishment are afraid to be quoted even without attribution. 
One way, it appears, that McKoy sustains his power is by surrounding himself with an opaque organizational structure. Good luck finding out who those 51 board members are. Even one of their own had trouble. The director, who wishes to remain anonymous, says that after his appointment, it took some doing to figure out who his fellow board members were. Today the State Fair's website doesn't indicate who sits on the board. "A lot of those board members have been on there 10, 20, 30 years," the director says, "but the executive committee is really the operating group of directors, and then, within that, there's five or six of the most active executive committee members that really set the policy and move the organization forward."
Asked about McKoy's salary and the fair's revenue, he says, "The annual meeting of the fair association takes about 15 minutes. There's not a lot of hard data or information that's distributed at the board level. To say we've been studying economic impact at the board level—that just doesn't really happen." Later, he corrected himself regarding the meetings: "I said 15 minutes. That's probably not right. It's probably a half hour."
When asked again about McKoy's salary, he says, "That's a number I haven't heard before."
Tom Dunning should know. He is a 25-year board member, current vice chairman, and part of the executive committee. When told of McKoy's 2008 haul, Dunning says, "That doesn't ring a bell to me. That sounds high to me." Even so, Dunning says, McKoy deserves what he's paid. "The State Fair of Texas is known as the king of the fairs," he says, attributing that status directly to McKoy. "Throughout the years, my biggest concern is that we would lose Errol McKoy."
It's a mutual admiration society. "The board of directors sets compensation for us," McKoy says, "and I have to say I'm humbled and gratified by their confidence in me." Still, he is eager to deflect the attention: "I don't make as much as Bob Watt, who is over at the Fort Worth Rodeo and Stock Show. I think he is No. 1 in compensation, just because of his seniority. And then the manager of the Houston stock show, he's second. And I'm third."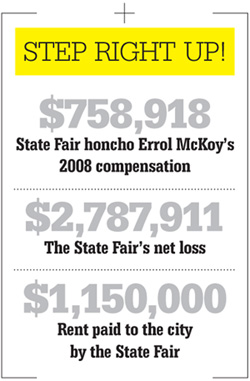 No, actually McKoy is first. W.R. Watt, who retired this year as president of the Southwestern Exposition and Livestock Show, made $449,578 in 2008 in total compensation. Irven E. Wagner from Houston Livestock Show and Rodeo  made $509,284, but his nonprofit brought in about $10 million more than the State Fair of Texas. (Though it should be noted that Wagner's figure is from 2007, before the IRS required reporting certain forms of compensation. McKoy's compensation that year was $568,014.)  
If McKoy deserves his handsome compensation, as Dunning believes, shouldn't the State Fair have more to show for it? Shouldn't it be adding to its cash reserves for a rainy day (or month), instead of operating at a loss on paper—especially since the fair's ability to pay its $1,150,000 annual rent to the city depends on its financial health? Most of the State Fair's profits get "pumped back into Fair Park," as both Dunning and McKoy put it, pointing to the numerous roof renovations. McKoy describes himself as merely a tenant of Fair Park. His fellow Fair Park tenants, as it turns out, are among the few willing to voice any displeasure with McKoy and his managerial style. They have what could best be described as an uneasy relationship.
Michael Jenkins, president and managing director of Dallas Summer Musicals, has known McKoy since 1966, when they worked on the development of the Six Flags theme parks. DSM is a year-round tenant of Fair Park, and the State Fair of Texas occupies it for six weeks at most, yet Jenkins says his theatrical nonprofit has to pay the fair upwards of $100,000 a year. "We're not real sure what it's for," he says. "Well, it's for parking. They believe that they bring people to the Music Hall, and the Music Hall believes we bring people to the Fair."
Despite the fact that they share grounds at Fair Park, and despite the fact that marketing for the State Fair heavily advertises DSM's Shrek the Musical, Jenkins says—rather pointedly, in fact—that he and McKoy have little to do with each other. "It's been a long time since we've worked together," he says. Asked why the parking payment still stands, especially considering that this year tickets for Shrek include admission to the State Fair, Jenkins says only, without further comment, "We've had that arrangement for some time."
 
Write to [email protected].
Get the D CEO Newsletter
Stay up to speed on DFW's fast-moving business community with weekly news reports, interviews, and insights.