We can't take credit for noticing this ourselves. a reader of our food blog, SideDish, pointed it out. The Dallas Morning News' new(ish) dining critic, Leslie Brenner, has an affinity for the word "gestalt." A gestalt, for those who need reminding, is an organized whole that is perceived as more than the sum of its parts. Now, we are not philistines. And in our Weltanschauung, a cool German word every now and again is a good thing. But then there's this from Fräulein Brenner:
"Woof! What a taco! It may have been the best fish taco I've ever had­—a perfect taco-gestalt of delicious fresh fried fish, shredded romaine lettuce, exactly the right amount of cilantro, really ripe tomato, a little onion, and some, I don't know, something like sour cream."
—March 22, 2002, Chowhound blog, of a fish taco at Los Angeles' Grand Central Market
"This is one of the few burgers on earth that doesn't need ketchup or a slice of tomato—it's just got that gorgeous burger gestalt."
—August 3, 2005, Los Angeles Times, of a hamburger at Pie 'n Burger
"Tender chunks of pork long-cooked with green chile and folded into a big soft-flour tortilla with rice and refried beans: this is a burrito with just the right gestalt."
—September 13, 2006, Los Angeles Times, of the chile verde burrito at Tacos Por Favor
"They best manage to achieve a kind of synergy, a taco gestalt: flavorful, juicy meat; the right proportion of meat to cilantro and onion to soft corn tortilla; the right touch of salsa (in this town, that's a do-it-yourself touch)."
    —September 11, 2009, Dallas Morning News, of tacos in general
"The burger, half a pound of choice Angus beef, cooked to order, was satisfyingly juicy, very meaty; it had that indescribable, reassuring burger gestalt."
    —March 3, 2010, Dallas Morning News Eats blog, of the burger at 12 Burgers
"It's well-seasoned, on a nicely toasted bun, with the traditional Texas fixins, resulting in excellent burger gestalt (dill pickle relish and red onions are key)."
    —March 19, 2010, Dallas Morning News, of the burger at Maple and Motor
"The bun, a good Kaiser roll, was just the right softness to get along perfectly with the burger. Altogether, it had that hard-to-pin-down
gestalt that the burger lover always hopes for."
    —April 12, 2010, Dallas Morning News Eats blog, of the burger at Farnatchi Gourmet Oven
"This was juicy, generous, saucy, and meaty, with a nicely toasted bun and a good slice of ripe tomato. It was outstanding. It had that difficult-to-describe gestalt­—let's call it a cascade of umami—that one hopes for just before sinking one's teeth into any burger."
    —May 26, 2010, Dallas Morning News Eats blog, of the burger at In-N-Out Burger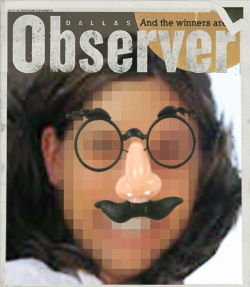 Name That Critic
A few suggestions for the Observer's new dining critic.
Hanna Raskin started as the
Dallas Observer's
dining critic in June. Before that, she was the food editor for the
Mountain Xpress
in Asheville, North Carolina, where Raskin had given up the notion of dining anonymously because the publication ran only positive reviews. She would dine twice at a restaurant to review it, once unannounced and once with the chef. At the
Observer
, though, she is trying to reclaim her anonymity. Problem is, if you google her name, you'll rather quickly find pictures of the bob-haired pixie. You ask us? If Raskin wants to eat under the radar, she needs to change her name. We suggest the following options:
Dr. Mysterious
Candy Tomato
Pepper Pots
Sally Lunn
Hanna Barbera
Frank "Muggy" Jenkins
The Jackal
Steven Pyles
Crystal Chlodnik
Mariah Spaetzle
Kalika Spanakopita
Chew Bacca
Sean Salisbury
T-Bone
Ashley Wingfields
"Eggs" Benedict
Schmanna Schmaskin
Col. R.A. Beating (ret.)
Cockaleekie Haggis
Gewürztraminer Raskin
Julie N. Julia
Leslie Brenner
Get the D CEO Newsletter
Stay up to speed on DFW's fast-moving business community with weekly news reports, interviews, and insights.