The couture crowd went into overdrive when Stanley Korshak and Neiman Marcus recently dueled for their attention and pocketbooks. Korshak's Crawford Brock drew first blood, previewing the store's fall lineup at the KidneyTexas Luncheon/Fashion Show at the Anatole. The 750 guests arrived perfectly coifed and ready to bid on trips to Argentina (two went for $100,000) and designer puppies (Mi-Kis for $5,000).
Less than 48 hours later, Neiman Marcus Downtown's Shelle Sills parried Brock's fashion thrust with the annual Crystal Charity Ball Fashion Show/Luncheon. To please her 500 haute couture groupies seated throughout the first floor of the store, she had Akris designer Albert Kriemler and the presentation of the Ten Best Dressed. The announcement of a $1 million gift from Annette and Harold Simmons to CCB was the icing on the cake. Not only did Sills arrange to have the fashion show televised on sports bar-size screens throughout the first floor, she also had it streamed online for the off-the-rack set.
With equal panache, the well-heeled guests were up to the rigors of such a fashion showdown. Best Dressed honoree Nancy Rogers was front row, center at the Korshak show with her personal shopper, Taff Bakali, standing three rows back. When Nancy saw something she liked, she signaled Bakali with a delicious smile, and he responded with an iPhone shot of the outfit to show his buyers.
Olivia Kearney avoided a fashion faux pas collision by wearing an Akris blouse with mirrored appliqués to the Korshak show. She joked with Rawlins Gilliland and friends about how to clean it: "Perhaps Windex?" Kearney bought the blouse for the CCB show but changed her mind at the last minute. Good thing. Friday she watched Best Dressed honoree Kim Miller escorted on the runway wearing an identical blouse.
On the other hand, CCB luncheon chair Alison Farrow had the most unique fashion accessory of the day. Having broken her shoulder on the Katy Trail, she'd been forced to add a black sling to her wardrobe. Though more stylish than the traditional white sling, it still was missing that special something. Kriemler came up with just the touch. With a silver pen, he autographed Alison's creation, making it his first designer arm pouch.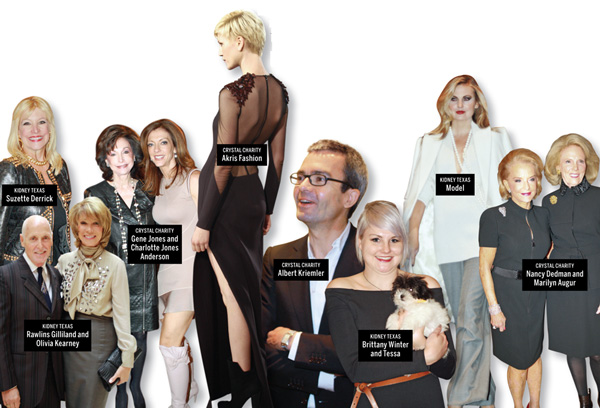 Get the FrontRow Newsletter
Get a front row seat to the best shows, arts, and things to do across North Texas. Never miss a beat.