Dallas formal types were ready to get back into action right after Labor Day. First out of the gate: 700 patrons of the AT&T Dallas Symphony Orchestra Gala at the Meyerson. Less than a month before the party, DSO president Doug Adams had unexpectedly resigned. Though no one was talking about Doug's exit, everyone was getting to know his replacement, Paul Stewart—and his wife, Melissa. The lady lawyer admitted she didn't have a clue who designed her chocolate-brown gown with its skirt of gold florets but quickly added, "I've always been a little funky." More unconventional still was Nicole LeBlanc, who strolled in wearing an outfit of Thai silk with a hat of her own design. But the showstopper of the evening was van Zweden. No, not DSO music director Jaap van Zweden, but rather his curvaceous, now-blonde goddess daughter, Anna-Sophia, in a white silk gown that dipped in all the right places.
Diminutive mother-of-philanthropy Margaret McDermott upstaged all the young 'uns by donating to the symphony a Gagliano cello. Though no one was so crass as to ask, one insider said such an instrument usually tops six figures. Following the concert, DSO celloist Christopher Adkins hauled the Gagliano up to McDermott's box and played an impromptu piece.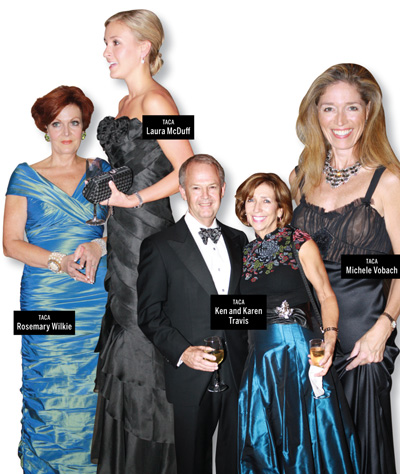 At the other end of the black-tie spectrum were the oh-so-cozy 250 who gathered at the Mansion for the TACA RBC Wealth Management Custom Auction Gala. This crowd regards tuxedoes as second skins, with a couple of exceptions. One gal wore a short black cocktail dress with suede fringed high heels that looked like they previously belonged to Pocahontas.  
But the blue-ribbon crowd had brought their wallets with Black Cards ready for action, and they didn't disappoint. Though the big spenders like Ana and Don Carty and Gwen Echols had reserved seats up front, the folks standing around the room proved their worth as well. TACA chair Lynn McBee and TACA executive director Becky Young were almost as giddy as the winning bidders as they saw their $100,000 goal more than topped thanks to the nine prized items. 
Hal Brierley mixed it up first with philanthropist Faye Briggs for a Kent Rathbun dinner for 30 in Oak Cliff. When the bidding passed $12,000, the TACA mediators resolved the situation by selling similar dinners to both Briggs and Brierley for $12,500 each.
Then Frank Risch took on Nick Even in a bid war for a dinner in the Mansion Wine Cellar with Dallas' art triumvirate: Jaap, Dallas Opera's Keith Cerny, and Dallas Theater Center's Kevin Moriarty. Once again, the TACA satisfied both donors' appetites with two matching dinners for a mere $10,000 apiece.
Get the FrontRow Newsletter
Get a front row seat to the best shows, arts, and things to do across North Texas. Never miss a beat.