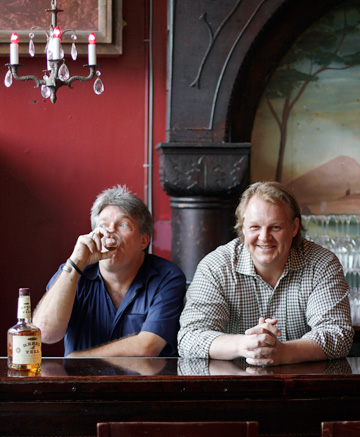 Zenon Oprysk was the bar manager at the original Green Room. His job was to educate customers on the finer points of, say, the obscure French Burgundy they were pouring that night. Oprysk also doubled as a security manager. "There were times I would leave a conversation on
terroir
and walk out the front door to break up a fight on the street," he says. "Then I'd wipe the blood off my hands, walk back into the restaurant, and continue the same conversation on wine."
It was 1994, and many mothers wouldn't let their children near Deep Ellum. The streets were full of drunks and stoned musicians and stoned wannabe musicians. Lines of tattooed, spiky-haired zombies in various stages of consciousness snaked down the sidewalks outside crowded music clubs. And then came the Green Room. The hip, white-tablecloth dining room suddenly gave yuppies a reason to drive to Deep Ellum.
Whit Meyers and brothers Brandt and Brady Wood—owners, partners, friends—weren't the only stars in the restaurant. Counting Crows threw a shindig one night. A Rolling Stone writer interviewed Sheryl Crow over dinner. Eric Clapton dined with his manager. Harrison Ford and Cher made the scene.
And opening chef Chris Pyun performed a spectacular solo act in the kitchen. He tossed aside the menu, grabbed whatever ingredients were at hand, and improvised four-course meals for diners who ordered a prix fixe meal without knowing what they'd get. On the menu, it was called the Feed Me option (or, paired with wine, Feed Me/Wine Me). Pyun and his successor, chef Marc Cassel, became the masters of spontaneous cooking long before television exploited the concept, and the Green Room became famous for its "collision cuisine."
The wine program was just as wild as the kitchen. The Green Room didn't push American Cabernets, Chardonnays, or Merlots by the glass. Whit Meyers, now an established Dallas wine guru, didn't know much about the stuff at the time. He started buying offbeat bottles that distributors couldn't sell. Servers recommended Verdicchio, Vouvray, and Vernacci.
Over its 12-year run, the Green Room changed the course of the Dallas restaurant business and, for a while, Deep Ellum. But the restaurant faded to black in 2006. The partners' company, the Entertainment Collaborative, which also operated Trees, Jeroboam, and Gypsy Tea Room, disbanded after a series of lawsuits, fleeing partners, and the public's perception that Deep Ellum was dangerous.
The Green Room's rebirth was just as messy. In December 2009, two former staffers, Oprysk and Taylor Allday, announced that they were getting the band back together and that they'd be rocking and rolling within three months. They signed up Pyun's former sous chef, Mike Smith, as executive chef. Marc Cassel's old sous chef, James Pitzer, would return to Dallas from Washington State to work with Smith. It wasn't the A-team (Pyun is a private chef on Long Island, and Cassel is executive chef at Park on Henderson), but it was a hell of a B-team. Within months, though, money ran thin, and as the target date for opening approached, Pitzer gave up and drove back to Washington. Smith took a job at a corporate commissary in Dallas. Stories of broken hearts and hot checks swirled.
In late May, though, Allday announced that the money issues had been resolved, and they caught a break when Dali Wine Bar and Cellar closed in early July, leaving veteran chef Joel Harloff (Nana, Mi Piaci, the Landmark at the Warwick Melrose Hotel) unemployed. Allday and Oprysk hired him two days later, and their rendition of the Green Room debuted August 10.
I was skeptical when I heard the Green Room was reopening. For me, the restaurant was a sexy, lovable place that ran on spontaneity and free spirit. Each meal I shared with family and friends was magical. Customers entered the grungy-from-the-outside spot with low expectations and emerged like religious converts. I can't think of another restaurant in Dallas that gripped the souls of Dallas diners like the Green Room did. But I don't care how many times you click your heels together; you can never go home.
So, there I was, sitting in the new Green Room, scrutinizing every inch with a scowl. "Those hand-carved guitars were not there before," I said to my friends. "And the kitchen window is bigger. Those florescent lights are horrible. It's supposed to be dark in here." Yes, the chandeliers made from cymbals hang overhead, but the hundreds of plates and guitars autographed by famous clientele are gone.
One look around revealed I wasn't the only aging Green Room groupie who had returned. Gray-haired fiftysomethings filled the room. I covered my face with my hands when a group of women in their late 20s wearing shorts and high-heeled sandals click-clacked across the cement floor and took 10 minutes to stow their expensive handbags and get settled at their table. In my foul mood, I figured the old people only wanted to relive the past, and the young ones were too young to appreciate how short of my memories this new place would fall. "Serve them the Gag Me," I snarled.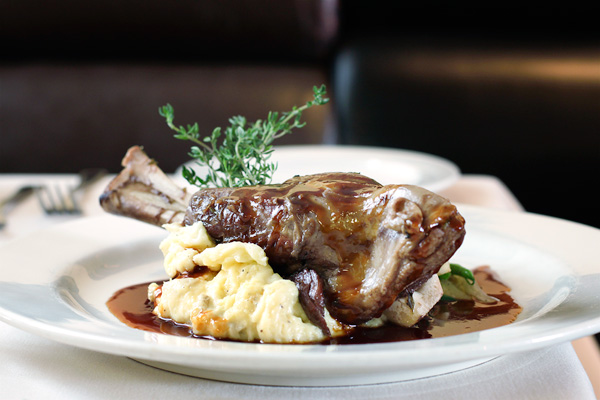 That evening, the Green Room's liquor license was still in limbo. Without the option of the Feed Me/Wine Me, we ordered from the menu. First courses shot out fast. Cassel's famous mussels are now Harloff's—more Spanish than Thai. Two dozen bivalves were picturesque, steamed with Albariño wine and resting in a white wine butter sauce flavored with thin pieces of Serrano ham and roasted garlic. But despite the list of aromatic ingredients, the broth was bland.
Thick, yellow squash soup with a lump of crab in the center was an expensive bowl of cold baby food. Next up was a nifty grilled iceberg lettuce salad with delectable bites of warm avocado, fire-roasted poblano peppers, crunchy pepitas, and tiny pear tomatoes tossed in a creamy cilantro vinaigrette. It was a perfect late summer salad. I could have made a meal out of the whole quail that rested on a mixture of purple hull peas, fava beans, and wild Oregon mushrooms circled by a rich demi-glace.
Our entrées were set before us, and we studied the composition. Here is where Harloff differs from the rock-and-roll style of his predecessors. His techniques and presentations are classical: protein, starch, side, and garnish, surrounded by an intense, complicated sauce. A thick portabella mushroom was submerged in a red wine demi-glace on the plate with a 12-ounce rib-eye. The grilled free-range chicken breast was kept from drowning in a Pinot Noir demi-glace by a layer of soggy quinoa. There were no collisions—just slow saturations taking place on every plate.
We skipped dessert because I couldn't get out of there fast enough. "Why didn't they do something really outrageous with that menu?" I shouted. "It's the Green Room! Deep-fry sushi! Do something! Pan-seared salmon? That is just wrong!"
Of course, the more I ranted, the more I realized I was being unfair to the new Green Room. Despite myself, despite knowing that you can't re-create the past, the past is exactly what I was craving. How could the new Green Room give me the joy of discovering the first place in town where you could wear a pair of ripped jeans and order four-course wine dinners when four-course wine dinners are now the norm?
I returned with a better attitude after the restaurant had secured its liquor license. We told our waiter, "Feed me, wine me," and sat back. The overall experience was much more enjoyable, even if none of dishes was improvised; they were just smaller portions of menu items.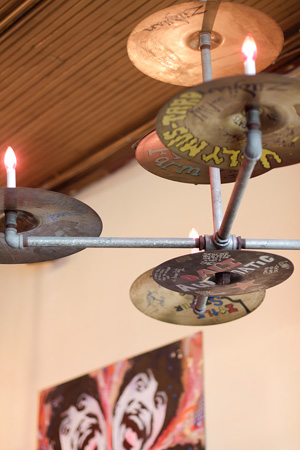 With our starters, we each received a different white wine. Two were from Alsace. A Trimbach Riesling was served with Harloff's mussels. This time around, the buttery sauce carried more fire. A Pinot Blanc, also from Trimbach, paired nicely with two lovely, crispy-edged Georges Bank scallops surrounded by a Bing cherry buerre blanc. I managed to bite my tongue when a glass of Chamisal "Stainless" California Chardonnay was set next to a plate filled with a delicious traditional steak tartare served with slices of hard-boiled quail egg. "Blasphemy," I muttered under my breath once the waiter left us.
Yes, there is inexpensive Chardonnay in place of Vouvray, and wine in general, at the Green Room. "The first Green Room list got so esoteric that some people didn't know the wines," Oprysk says. "This time, I will look for unusual selections, but, at the same time, it is important to have familiar comfort brands." Wine snobs be forewarned: if you order the Wine Me, you will be served wines comparable to those in this review, which in our case averaged around $16 a bottle retail.
Once the salad plates were cleared, there was a long lag before entrées arrived. Pan-seared salmon (paired with a red blend from Jam Cellars in Napa) was inexplicably oily on the outside and dry on the inside. The garnish of peppery mizuma tossed with mixed melon and lychee was inspired. The acrid Arnold Palmer Cabernet served with the New York steak was a double disaster. The enamel on my teeth dissolved as I attempted to cut the steak.
Harloff pulled off two of the four dishes brilliantly. Nova Scotia halibut, pan-seared with chunks of Maine lobster, flaked at the touch of a fork, and a generous side of buttered sugar snap peas and potato succotash benefited from a (finally) light touch of Meyer lemon beurre blanc. And roasted plums peaked out from a pile of Swiss chard that accompanied four lovely slices of grilled pork chop. Even the wine, Sexto, a red blend from Catalonia, satisfied my love of Grenache.
Unfortunately for Allday and Oprysk, former Green Room customers will have very high expectations for this restaurant. Even though some of the old staff has been assembled, there is one grim reality: it is 2010. The owners will have to put the Green Room's romantic past behind them and come up with a new formula for success. Oprysk admits they are moving slowly, and Harloff plans to cook more spontaneously in the future. In this economy, they'd better hurry. The crowds are there, but the buzz is not. Perhaps Harloff should look into frying some sushi, and Oprysk might think about staging a nightly barroom brawl. That would get people's attention.
Get information for the Green Room.
Get the SideDish Newsletter
Dallas' hottest dining news, recipes, and reviews served up fresh to your inbox each week.