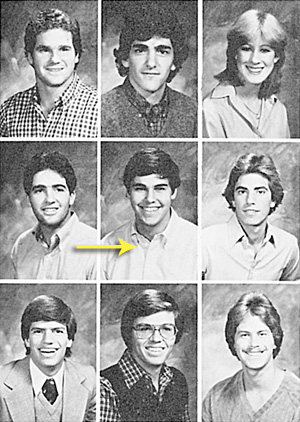 Washburne was 9 when he started his first business, a lawn mowing operation in the Park Cities. He had more than 20 clients and subcontracted with other neighborhood kids to do some of the work. A couple years later, he started delivering newspapers to make money. Then he decided to create his own. He called it the
Aardvark
for reasons he can no longer clearly recall, even though, for the sake of telling a story, he'll try to say something that makes sense. Neighborhood kids wrote the stories. His dad, a banker, made the copies, which Washburne sold for 10 cents apiece before, he says, he sold the
Aardvark
for $500.
His family was well off. Upper-upper middle class. And connected. Washburne's great-great-granddad Elihu was secretary of state under Ulysses S. Grant and helped shape the GOP back when it was neither grand nor old. Elihu was also a pallbearer at Abraham Lincoln's funeral. Great-granddad Hempstead did okay, too. His one term as mayor of Chicago coincided with the 1893 World's Fair there. But Washburne's dad left that Chicago prominence behind, moving in the '50s to University Park. Had six kids. Then the banking money dried up at the worst time.
"I was the fifth kid," Ray Washburne recalls in a quiet moment months after our first meeting, and just weeks from the completion date for the Village Theatre. "My dad had gotten defrauded, and he had financial problems. So he sat me down with my little sister and said, 'We can either pay for her to go to college or you.' I knew I could fend for myself, so I did."
He fended in real estate first. He got his commercial real estate license, enrolled at SMU, and took the $25,000 he had in savings—no small amount, that, in 1979—and bought an old duplex near campus, the first of many. "I'd buy them, fix them up, rent them out, and sell them," Washburne says. "You could get a townhouse then for just 100 grand. So I was able to take my savings and finance the purchases."
When he wasn't hanging drywall, he was selling carpet. "Selling carpet put me through college," Washburne says, now again speaking at breakneck speed, in full throat. The quiet moment is over. We're having drinks at the Common Table in Uptown. The owners here will also run the Marquee Club, which, true to its name, has been built into the Village Theatre's marquee. Washburne has not chosen this meeting place by accident. "I went out with this freshman girl," Washburne continues. "She wanted carpet for her dorm room, which was just covered in linoleum floors. So I went to a carpet warehouse out by Love Field and spent something like $130 for a 6-foot piece of carpet. While I'm putting it down, another girl comes up and asks if I can get her some carpet."
And with that, an entrepreneurial venture was born. Realizing he had a potentially huge market of cold-footed freshmen on his hands, Washburne sought out a huge bolt of carpet, eventually landing him, he says, in front of Lloyd D. Brinkman, whose LDB Corp. raised cattle and sold carpet and moved its headquarters from Dallas to Kerrville in 1975. "Mr. Brinkman had a warehouse out on Grauwyler," Washburne says. "So I went to him and I said, Hey, would you let me just buy pieces off of different rolls of carpet as I need them? That way, I could have different colors. He said he'd sell them to me for $10 apiece. But I had to hack them off myself and get them back to campus."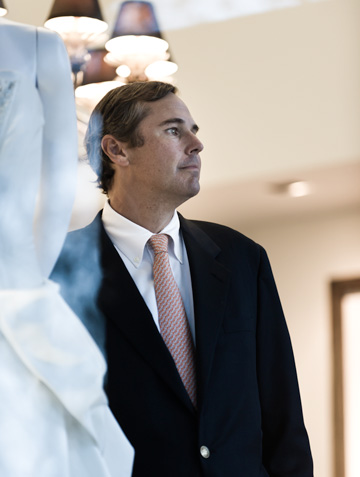 So it came to pass that the next summer, as the new class was arriving at SMU, Ray Washburne and a U-Haul truck and a board with variously colored carpet samples were there to greet them—the girls, especially. "The first thing that would happen is their dad would look at the carpet and say, 'Oh, you don't need that.' Then the girls would go up to their rooms and see that linoleum and come right back down."
He sold the pieces for $125, a huge profit for him, but still cheaper than the carpet warehouse he'd originally bought from.
"I hired guys from my fraternity to install the carpets," Washburne says, grinning. "I'd say, 'You want to meet every freshman girl on campus? I'll pay you $5 a carpet to carry it upstairs and put it down.' It was precut, so all they had to do was go up in the elevator, lay it down with double-sided tape, and that was it. You know how many a guy could do in a day?"
He pauses so I can guess. You should, too. Go ahead. How many?
"They would do about two a day. Because the guys would go up there, they'd lay the carpet down, and they'd start talking to the girls. 'You're from Midland? I'm from Midland!'"
The business was making him something of a campus legend. "Everyone called me Ray the Carpet Man," he says. "Actually, people still do. A few years ago, I was on a plane, flying to Bilbao. It is 5:30 in the morning, and I'm walking down the aisle. This girl screams out, 'Ray the Carpet Man!'" The girl, in this case, was Shannon Minor, an SMU graduate and wife of CNET founder Halsey Minor (a man who, in recent years, has become more famous for his massive debts than his techy accomplishments).
Ray the Carpet Man had his detractors, too. In his second year selling carpets, the dean of student affairs called Washburne to his office and threatened to stop the sales unless, as Washburne tells it, he offered a piece of the proceeds to the university. "I had to come up with something on the spot," Washburne says, grabbing at his bar stool to keep himself from toppling over. "So I offered to create a scholarship." The deal: Washburne would give 20 percent of the proceeds to a worthy student at the Sigma Alpha Epsilon fraternity, his fraternity. And Washburne would choose the student. SMU accepted. "Guess who the beneficiary was?"
Go ahead. We'll wait.
"Me!"
When he finished transferring his own wealth to SMU, Washburne went to work for Austin Industries, a real estate firm that was buying property all over Texas. When the S&L crisis hit, Austin Industries was stuck with a lot of undeveloped land, some of which Washburne began to take off his employer's hands. By 1989, he was out on his own, buying land and properties, developing them, selling some for a profit and holding others for the income stream. "No one had any ability to raise money then," Washburne says. "So I'd go out and get $25,000 from this guy or that guy—anyone I knew—and I'd buy lots. I had subdivisions in Keller and Southlake and all over the area."
Then, in 1993, he hit on the deal that would put millions in his pocket. NCNB wanted to unload a debt it was holding on land in Las Colinas, including land in Williams Square. The debt was worth $60 million, if Washburne could collect. The offering price, though, was just $7 million. Still, that was far more cash than he had personally. So Washburne went to one of his townhouse tenants, Clark Hunt, and said, "I need $7 million and I need to close in a week."
"We got right in the car," Washburne says, "and we went to visit Lamar." That's Lamar as in the late Lamar Hunt, son of Lyda Bunker Hunt and oilionaire H.L. Hunt, brother of Margaret Hunt Hill, and great-uncle to Washburne's future wife.
"I had never done business with the Hunts before," Washburne says. "But Lamar put up some money, I put up some money, and we bought the note. When it came due, I went and collected the $60 million and we split the profits."
From there, Washburne started building a small empire. He constructed new townhouses in Oak Lawn—the first builder to put up multifamily residential dwellings in the city since the S&L crisis hit. He also bought more rental homes and warehouses and office buildings.
Then he married a woman named Mattie Caldwell and bought a house in Highland Park that was valued at nearly $1 million. At 35, Washburne had tens of millions of dollars worth of commercial and residential properties and undeveloped land. He was, in fact, rich. And he was headed for a public fall.
Ray Washburne, you'll remember, had been a mini media mogul when he created the Aardvark. His interest in print had continued in the years since. So when he met a man named John Carroll, who told Washburne he wanted to resurrect the defunct Texas Business magazine, Washburne could hardly resist. "Making magazines," he said at the time, "is just like real estate. It's all about filling space."
What happened next is a long, convoluted story that has been told before on the dirty newsprinted pages of the Dallas Morning News and Dallas Observer. So let's just summarize thusly: in 1995, a rich guy invests in medium he does not understand and trusts people he should not have trusted to manage his investment, causing that investment—which lacked requisite due diligence in the first place—to go off the rails. Rich guy then withdraws, awkwardly, from investment, causing more than a dozen people to lose their livelihoods and to develop a white-hot hatred for rich guy. Put another way, Texas Business was a complete accounting disaster, going from founding to folding in a matter of months, leaving Ray Washburne's bank account at least $500,000 lighter. Making matters worse, Washburne at the same time had also pumped $100,000 into the Met, a now defunct arts-and-entertainment weekly.
"I would wake up in the night in a cold sweat back then, thinking, 'I can't get the train to stop,'" Washburne says. "In a restaurant, you can close the doors. You can regroup. But these magazines had to come out every week and every month. You had to keep going."
(Full disclosure: both I and the editor of this magazine worked for the Met during this period. Washburne's cash infusion to our ragtag little publication, while maddeningly managed, allowed us to continue on—well after Texas Business had failed—earning $21,000 and $19,000 a year, respectively.)
Today, Washburne still gets asked to invest in ventures outside real estate. He has become much more cautious about where he'll put his money and his time. "What Texas Business showed me was that I needed to focus on things that I am passionate and knowledgeable about," he says. "I don't drill oil wells because I don't know anything about that. I do invest in real estate because I understand it. I can play off my relationships. And I can slow this business down whenever I want."
Hidden away among the stylish storefronts of Ralph Lauren, Tory Burch, and Q Custom Clothier is a small plaque noting Highland Park Village's place on the National Park Service's list of National Historical Landmarks. For the most part, such landmarks are places like the Texas State Capitol in Austin or the San Jacinto battlefield outside of Houston, where Sam Houston beat back the forces of Antonio Lopez de Santa Anna in the decisive battle of the Texas Revolution. But a few places devoted to retail commerce are on the list, too. Like the old but still spectacular Marshall Field and Company store in Chicago. Or the Westminster Arcade in Providence, Rhode Island, which, quite literally, is a temple to retail. Built in 1828 in the Greek Revival style, it has massive ionic columns supporting pediments on both ends of the three-level, glass-roofed, rectangular structure. By comparison, Highland Park Village's classical Spanish architecture is a pretty dull gem.
That's appropriate. What makes the shopping center historic is, in fact, boring old concrete. Highland Park Village was the first shopping center in the country to turn in on itself—facing its storefronts toward parking spaces and other storefronts rather than city streets. West Village is just one of tens of thousands of other shopping centers around the country that have repeated this same formula in the 79 years since.
"In here," Washburne explains. "We own the streets, we own the buildings, and we can decide what we want to do." Indeed, as general partner of Highland Park Village, Washburne is the law, the government, and the de facto mayor of a town of salespeople, checkout clerks, baristas, and barbers. This is why Washburne can launch his own capital improvement program without a bond issue. Well, unless you consider the $40 million he borrowed from Trammell Crow Holdings to buy the center, plus the $60 million mortgage the Henry S. Miller family holds on the property to be a bond. Either way, Washburne is busy polishing this dull gem.
"We're going to have a canopy of trees covering the parking lot," Washburne says, spreading both his hands to the heavens while standing outside Ralph Lauren. "I just bought a match set of trees in Orlando. In three or four years, when they mature, it'll be just like Saint Charles Avenue in New Orleans. A nice, shaded canopy."
That's just one of the aesthetic changes he's making. Also gone are the old plastic planters. Incoming are bigger, terra-cotta planters. And bushes. Lots of new bushes. And new lighting will be installed by a company that has worked on the U.S. Capitol. And on and on.
"One of the things you learn in the restaurant business is that all the little things make a difference," Washburne says. "It's the china you have. The sugar holder. The salt and pepper holder. The kind of chair you're sitting in. The lighting. That all adds up to the experience.
"If you go eat somewhere and it has a dirty bathroom, you say, 'I wonder what the kitchen looks like.' It's just like that with the center. I want people to walk out of a restaurant at night and feel like this is a beautiful, comfortable place to be, one where they can take a walk around and, even if the stores are closed, look into a window at Carolina Herrera and say, 'I want to buy that $5,000 dress.' I don't need too many of those dresses to be sold to pay for all the changes we're making."
We walk across the parking lot toward the Starbucks, where a group of three middle-aged women and two men are sitting at an outdoor table. "Hey, Ray!" one shouts.
"Hey, how do you guys like that table?" he replies. "It's new."
"Oh, it's great," says one of the women. "Well, it could be a little shorter," says another. "It's like sitting at a desk."
Washburne presses on, entering Starbucks. It sits on the land where the first building in Highland Park Village stood. The spot was once a grocery store that later became two gas stations that later became a bank that then morphed into office space with ground-floor retail in Highland Park Village. "I have a picture of myself as a kid at the grand opening of the bank," Washburne says.
He's interrupted. "Hey, Brother Ray, how are you doing?" Seated just inside the Starbucks, a notebook opened in front of him, is the Rev. S.M. Wright II, pastor at Peoples Baptist Church in the Fair Park area and son of the Rev. S.M. Wright, who served at Peoples Baptist Church for more than 37 years and now has a freeway that bears his name.
"I know Brother Ray very well," Wright says. "He has been down volunteering for many years and is very passionate about helping the less fortunate in South Dallas." Specifically, Brother Ray has donated the use of a warehouse where the SM Wright Foundation can store the 16,000 toys and hundreds of mattresses it distributes each year at Christmas in the Park, an event that last year drew 30,000.
We leave the Reverend to his notes and move on so that Washburne can gush about the Starbucks—he loves that the place draws so many people—but again, we're interrupted. "How's it going, Ray?" I am now introduced to one of Washburne's Park Cities pals, someone he used to be in Eagle Scouts with. In time, we break free from the "back in the day" stories and head back outside. "Look at that top," Washburne says, pointing to the window of Anthropologie as we head in the direction of Tom Thumb. "It's $29.95. That's a really low price. But we like having them here because they're very appealing to a lot of people. And they sell cutting-edge fashion. We can have tenants who sell at lower price points as long as they're unique."
"Hey, Ray!" This is getting ridiculous. It's one of his neighbors this time, someone who lives not too far from the Washburnes' nearly $6 million, 6,000-square-foot house.
"You want me to help you with your groceries?" he asks.
"Oh, you're sweet. But I'm okay."
The good feelings come to a sudden stop inside the automatic doors of the most confusingly located grocery store in Dallas. Washburne suddenly slows his speech and whispers. "This is going to sound so snobby," he says. "But this is an example of a store that doesn't understand their customer. Look at this table."
Between the doors and the checkout lanes, a folding table has been set up with a jumble of products that are on sale: plastic bags, paper plates, birthday candles. "Birthday candles? For 40 cents off?" Washburne asks, perplexed. "The customer here isn't looking for a discount on this stuff. They don't care that they're going to save 40 cents on candles. They could be selling a $150 bottle of wine here."
"Hey, Ray!" We are interrupted again by a man of Washburne's impressive height. "Hey, are you buying food?" Washburne asks. "I thought you only ate in restaurants." This is a fellow developer and Parkie, William Hutchinson. He runs Dunhill Partners, which has developed more than 30 shopping centers from Shreveport to Lubbock, including several in the Dallas area. Washburne introduces me by name only.
"Ray's a lucky man," Hutchinson says. "He's got the best center in the United States here. But if you want to do business with a real man, you should call me. Are you a Safeway guy?"
I misunderstand him to mean, Do I shop at Safeway? But Washburne jumps in. "No, no, he's just a guy I know from out of town."
"An architect, then?" he asks. "Well, I do business all over. I can buy anything but the most expensive centers. Those I leave to Ray. This man knows what he's doing. He's the envy of the real estate community."
I follow up with Hutchinson later and regretfully explain my true profession. He doesn't change his position on Washburne, though. "Ray is poised for success in a much bigger way than we have seen so far," Hutchinson says, adding that Washburne is politically connected and "has no skeletons in his closet."
Washburne is definitely politically connected. He's the co-founder of the Legacy Fund, a group of 55  business executives that financially backs GOP candidates around the country. On August 10 of this year, five U.S. Senate hopefuls—including Carly Fiorina and Marco Rubio—came to Washburne's home to connect with potential donors. The Washburnes have also had a new Dallas-area neighbor over to dinner: former President George W. Bush. "But, really, Legacy is just a group of people interested in supporting GOP candidates," Washburne says. "We're only active around election season, and then we go back to our families and businesses."
And, for the moment, Washburne has a lot of business to be working on. In addition to Highland Park Village, he owns and has redeveloped Kingsley Square in Lake Highlands and Hampton Village in Oak Cliff, giving him retail space in three Dallas neighborhoods with surprisingly divergent demographics. And, yet, much of what he does is the same.
"You have to know what the neighborhood wants and then you have to go get operators who can give that to them," Washburne says. We're now circling Highland Park Village in his Denali. (Big car for a big man or his way of supporting Hunt Oil?) "Sometimes that's a big operator with a lot of credit and sometimes it is a small operator with a lot of passion. In Lake Highlands, we've got a guy who has long hair and works long hours running Picasso's Pizza and Grill. He's really passionate about what he does, and I'd much rather have him there than Pizza Hut.
"Hey, look at that fountain!" he interrupts himself. "That's the kind of thing we're thinking about putting in the center of Highland Park Village." Suddenly Washburne goes quiet—a rare moment for him. And it becomes clear that the ponytailed pizzaiolo at Picasso's isn't the only one with passion. Except in Washburne's case, the passion isn't for melty mozzarella so much as it is for the art of the deal. Literally. "What I really love about what I do is that I get to be creative. I get to think about how things look and how people look at them, and I can influence all of that."
Which is why, at 50, with a broad portfolio of appreciating properties around Dallas, a continually expanding group of profitable restaurants, and an heiress's hand in marriage, Washburne is more interested in fountains and bushes and trees and Parisian-style light poles than he is with making money. Quite simply, he can afford to be.
Joseph Guinto is a former White House correspondent for Investor's Business Daily. Write to [email protected].
Get the D CEO Newsletter
Stay up to speed on DFW's fast-moving business community with weekly news reports, interviews, and insights.