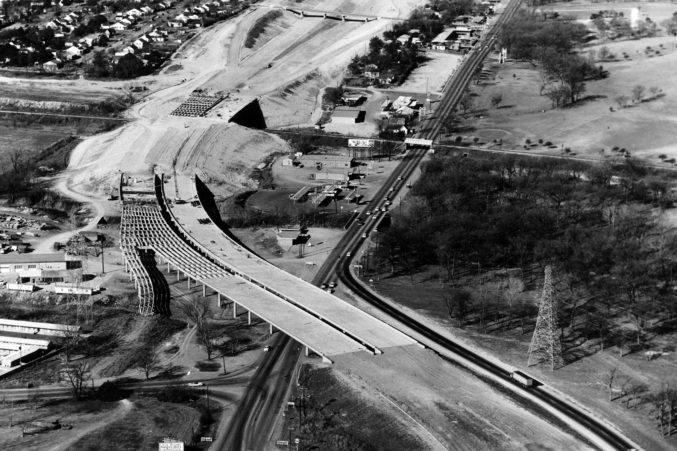 From 2010: Why Interstate 30 Should be Torn Down
Some say it's the Trinity River dividing Dallas. D Magazine's editor in chief insists it's the highway.
Fair Park is commonly referred to as being in South Dallas. It is actually­—as the map shows—in East Dallas. In fact, it was once an integral part of East Dallas. When the park's 277 acres were preserved from development in the 1880s by the concerted efforts of leading citizens such as Alex Sanger, the reason was their proximity to the city's best neighborhoods. Munger Place and Swiss Avenue are only a few blocks from Fair Park, and Second Avenue, which was the home of the city's leading Jewish merchants, runs right into it.
How did Fair Park get separated from its original neighborhood moorings?
In 1964, when traffic engineers were even more ignorant about how cities work than they are today, the state completed I-30 by building the present elevated roadway. By that time, blacks had filled in the streets around Fair Park as Jews had moved to newer neighborhoods in North Dallas. In 1964, no black leaders had the political muscle to stop an elevated freeway from segregating their neighborhood from the rest of the city. So the freeway was built, an act of unthinking institutional racism that rammed a barrier through Dallas' most historic neighborhoods.
The elevated freeway created poverty on both sides of the divide. Mansions on Munger and Second were cut up into apartments and boarding rooms. Only heroic action saved the blocks of Swiss Avenue nearest Lakewood.
I began thinking about the devastating effect of I-30 because of three recent events. The first was a charrette held last year by the construction firm HNTB that envisioned taking the highway down. It had never occurred to me. But then I wrote in our December issue about how Vincent Ponte, the urban consultant, had fought in the 1970s to keep Woodall Rodgers from being elevated as it ran through downtown, arguing that an elevated freeway would forever separate the Arts District from the rest of the city. That and the charrette got me thinking. Then I saw what was happening on Henderson Avenue. Pressure is building to recapture the in-fill neighborhoods that, in the wake of I-30, became a warren of barren lots, shabby apartments, and liquor stores.
As it is, I-30 runs through East Dallas atop an enormous berm. Tearing down that barrier—remember how we fixed Central Expressway in 1999, bringing it below ground—could unleash billions of dollars in property value hidden in Old East Dallas and Fair Park. City leaders have long seen the Trinity River as the divide that separates one part of Dallas from another. Perhaps unconsciously (and once again, one suspects a deep-set, unacknowledged racism), we have been blind to the man-made divide that cuts through the heart of the city, segregating white from black and consigning once-majestic neighborhoods to blight and neglect.
Those neighborhoods—and Fair Park—are too valuable to neglect any longer. The city's next bond election should include the funds necessary to tear down about 3 miles of I-30, from its interchange with Central Expressway to Samuell Boulevard. HNTB estimated the costs at about $200 million. The benefits are incalculable but real. These neighborhoods now contribute a disproportionately low rate to the city's tax rolls. By restoring East Dallas as a middle-class community and by stimulating the return of the black middle class to Fair Park, the city will see a huge return on a relatively small investment of $20 million a year for 10 years. The pressure is there. People want to move into the city, close to downtown. All Dallas needs to do is remove the single biggest impediment to its own urban growth.
Write to [email protected].