Todd Fiscus Came to Party
The event planner started in Wichita Falls with his high school prom. Now his productions carry slightly bigger budgets. (Think Elton John and gold-painted dwarves.)
Imagine an Asian drag queen singing "Be Happy" next to a 97-foot conveyer belt stocked with sushi. Or a circus of stilt walkers, women dressed as tables that move, and live angels hanging from the ceiling. Can we have that, Todd? Please? Can we have a dwarf at our party and paint him gold? "Of course, then they tell me, 'We don't want that anymore,'" says Todd Fiscus, the name behind the party-staging conglomerate called Todd Events. "So, instead, we make a 200-gallon pond that has women who are turned into stone Versailles statues standing in the middle with water coming out of their hands." Fiscus likes to impress himself, as much as he does his clients, many of whom, it should be noted, are not easy to impress. "I feel like Celine Dion. I sing your song better than you do," he says from his Design District headquarters, natty in a chocolate brown velvet sports coat. "Nothing scares me." 
That fearlessness—and the drag queens, the dwarves, the water-shooting statue women—has made Fiscus a star in the party-planning business. Among recent gigs he has produced: the AMFAR Gala with performances by Lady Gaga and Meryl Streep, the NBA All-Star Weekend Two Kings party with Jay-Z and LeBron James, the 2010 Super Bowl Yacht Party Miami, and Abby and Eli Manning's wedding in Cabo San Lucas. His company handles about 600 events a year across the country.
"I feel I've been given a certain responsibility," he says. "We really guard it, and it has our name on it, so it has to be good. And I like to live vicariously through my clients. I'd be panicked if I spent $1 million on a party."
All of which raises a question: how does a guy from Wichita Falls, raised by a bookkeeper and an insurance salesman, wind up throwing fetes for Cartier, Harry Winston, and Christian Louboutin?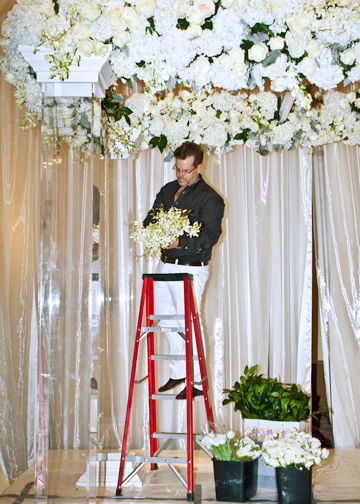 Fiscus showed an aptitude for the party-planning arts early on. "At 11, I learned how to make a multiple-loop extravaganza bow, large scale," says the 43-year-old. "I was the 5-year-old who, when everyone was asked to draw their favorite food, and the other kids drew hamburgers and hot dogs, I sketched a chef's salad."
His mother can't pinpoint a time when she noticed her son's artistic eye. "But I do remember the Play-Doh," Sharon Fiscus says. "He could make fantastic things at age 6, and the other kids were always jealous. He noticed everything, never missed a detail."
It could be, despite the bean-counting occupation, Sharon had her own sort of knack. "My mother constantly redecorated," Fiscus says. "Our kitchen was painted eight different ways in 16 years. A little of that attraction to change must have rubbed off. I do things that last for six hours. Sometimes, I'll change environments every 45 minutes."
"It's true, I moved the furniture around all the time. He helped and watched, and learned by osmosis," says Sharon, who still lives in Wichita Falls with her husband, Todd's father, Keith. "Now, I don't think I'd move a chair without his advice." The two talk at least twice a week.
By high school, Fiscus sang in the choir, played tennis, painted photorealistic paintings, was late to everything, and got terrible grades. He wore Ralph Lauren sweaters with bicycles on them, rolled-up jeans, and loafers. "I was a frustrated gay teen in a small Texas town," he says. "And I was a social monster in giant Sally Jessy eyeglasses. What can I say? it was 1983."
But his creativity anchored him. Each week, he painted the banner that the football team crashed through before their Friday night game. These were not the typical banners. "Let's say they were elaborate, in black and gold. Go, Raiders."
By graduation, Fiscus was the kid to decorate the prom. The theme: "Putting on the Ritz." "Black, red, and white. Top hats, canes, carnations—gorgeous."
"Carnations?" asks Josh Madans, Todd Events' director of marketing and public relations.
"Hey, I had $500 to work with. Everybody's a critic." And, of course, he went to the prom, not one to miss a party. "Her name was Lisa, and we wore peach," he says.
The oldest of three kids, Fiscus did not fit the pattern his parents laid out for him. "It was sometimes hard for us," Sharon says, "and we tried to rein him in. We were so typical. We thought all boys need to be accountants, bankers, play football, sit behind a desk. But I love the path he took."
At Texas Tech, Fiscus was the social chairman of everything, including his fraternity. "For the Christmas party, we only had $800. So I made the pledges borrow 16 trees from Albertsons," he says. "Afterward, they took them all back."
He studied business and hotel management but completed his work quickly and grew bored waiting for what was to come next. In the middle of his senior year, he left without graduating to attend culinary school, got married, and moved to Dallas.
"She was a great girl and my best friend," Fiscus says. "I wanted the ideal life, too, and I wanted to be like everybody else. But I learned that being true to who you are, deep down, is important, and that you cannot be something on the outside for the world to see that is false—even if it's false with the best intentions."
After a stint at Daka Food Systems, which owned the restaurant chain Fuddrucker's, Fiscus took a job at Doubletree Hotels. "I showed up in a seersucker suit, lime green tie, and I went to accounting," he says. "Not for me." So he pestered the catering people until they gave him the lowest position available, booking continental breakfasts for 20. When the two women who handled weddings quit, Fiscus saw an opening. He started taking inquiry calls from brides, and after five months he had booked more than $1 million in business. The company goal was $300,000 in a year.
"I sold them on myself, first. A ballroom is just four damask walls and a chandelier," he says. "If they liked me, they'd pick my four damask walls and chandelier."
After three years and a divorce, Fiscus saw that he could do better. He probably knew that before three years. Between 1994 and 2002, he and a business partner ran the floral decor company Two Design Group, and by 2003, he went out on his own to launch Todd Events. What began with a singular mission is now a profit-sharing corporation with 51 employees and nine entities, including a rental space, floral and accessories business, lighting company, restaurant partnership, public relations firm, and interior design company headed by Fiscus' partner of 15 years, Rob Dailey.
"The goal is to have relentless growth for five more years, build a $55 million national business, a core with individual petals on the flower that can be bought," he says. "Nobody wants to buy the business of a 55-year-old gay decorator with the name 'Todd' on the door."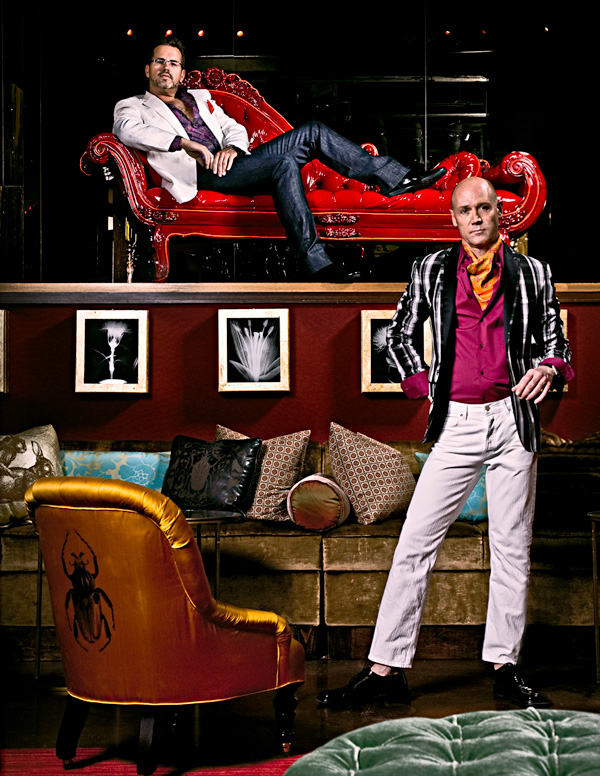 On any given weekend, Fiscus can be found in the middle of a dance floor, standing amid buckets of cut flowers. This particular Saturday afternoon, a bouquet of peonies is slung over his shoulder. Workers clad in tangerine (or as Fiscus calls it "Todd Orange") ready the ballroom at the Ritz-Carlton for an evening wedding, hanging 12-foot Swarovski crystal strands, building a canopy of Casablanca lilies and amaryllis, stringing 400 electric vial candles, following Fiscus' every direction.
"Don't show up in orange, or I'll put you to work," he says, setting the "hero" table, the model layout that the Ritz staff will duplicate after his team leaves. "We start at 7, and that's it."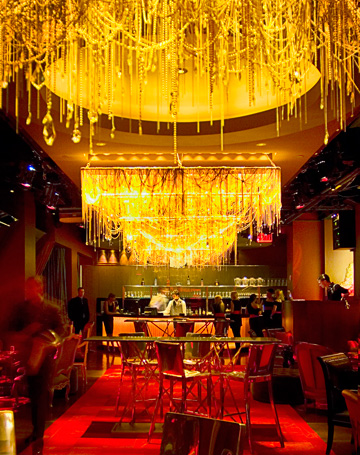 No matter what. Carol Aaron has hired Fiscus more than 15 times for both personal and charitable events, most recently for the 100th anniversary of the Jewish Federation of Dallas. He is also an in-kind donor, she says.  "We were giving a wedding for a neighbor at our home," Aaron says. "The wedding was supposed to be a seated dinner for 400, but then it rained. All of a sudden, heat lamps were out on the front motor court, we were serving hot apple cider, and the party moved from seats in the backyard to a buffet. He gets it done. He gives you the ultimate, some way or other."
For Fiscus, who performed onstage as a child, the charge comes from developing the concept and making it happen. "It's incredibly fun watching him come up with these crazy ideas off the top of his head," says Todd Events' director of weddings, Sara Fay Egan. But he rarely stays to watch them in action, leaving these duties to his capable staff. 
"I am like the puppet master behind the green drape. I walk in at 4 pm and go like this," he says, waving his arms. "I love making everything pretty. Pretty is the easy part. I don't like dealing with drunk 20-year-olds and putting them on a bus."
The fleeting lifespan of the events he creates doesn't bother Fiscus. He's always thinking about the next gig. And the next. He does attach, though, to his clients' happiness, and he seems most appreciative of the route that led him to here and now.
"He thought it would be the end of Wichita Falls when he moved away," Sharon says. "But he's done so many weddings and parties for the people who live here. When I was asked to do a tour of homes, he drove up here in a truck filled with decorations."
"I don't like the term, 'local celebrity,'" Fiscus says. "I'd rather be called 'a regional favorite.' Have flowers, will travel."
Write to [email protected] .