The Scene: March 2010
Meet the Dallas Dozen, our annual list of the people we most admire for their power and grace in all settings social.
For your consideration, we debut the Dallas Dozen (pictures below), an annual list of the people we most admire for their power and grace in all settings social. They're not the headliners known by one name like Boone, Ebby, Leppert, McDermott, or Staubach. They're the folks who work behind the scenes, using private e-mail addresses and cellphone numbers to make the right connections and close deals. They also aren't afraid to roll up their sleeves when duty calls. One of the Dozen recently axed her Christmas vacation to man the phones and meet her nonprofit's million-dollar goal. Mission: surpassed.
They're not all beauties, and most wouldn't even make the richest list. The common denominator is quite simple: they are interesting and genuinely interested in others. They thrive on positive thinking and shun naysayers. The energy and confidence of this exclusive group are contagious, and people want in on the action. We've seen people break the rules to hobnob with the Dozen. One guest recently switched place cards at a dinner just to sit next to one of these stealth boldfacers.
It's little wonder. Consider the recent, very private party announcing TACA's Silver Cup recipients. The crowd consisted of Dallas' most moneyed arts patrons, plus a sprinkling of the Dozen. Almost immediately on arrival, guests queued up to chat with them like eager rushees hoping to pledge.
Let's call one of the Dozen "Mrs. D." We wiggled our way into her orbit and couldn't help but feel charmed and protected by her presence. As Mrs. D drew us in, touching our arm to emphasize a point, nearby guests leaned in to overhear. And when we nearly toppled into the indoor pool, Mrs. D effortlessly put us at ease by confiding, "You know, I nearly did that a few minutes ago myself."
But the pièce de résistance came the next day when a note arrived from Mrs. D thanking us for our input (as meager as it was), saying how it had "sincerely benefited my understanding. I do hope you will help me on my next project."
We were at a loss, but felt empowered. And that is how the Dallas Dozen seduces others to follow its lead.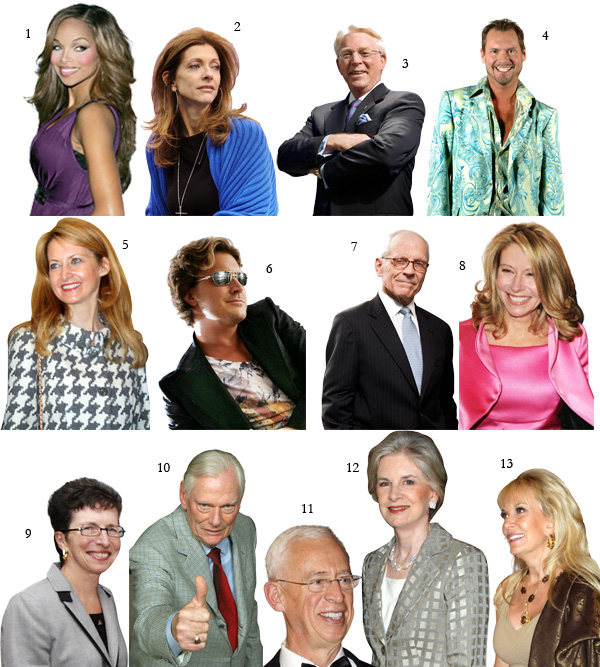 1) Pat Smith: Emmitt Smith's wife is a strong, intelligent knockout—and can talk football like a pro.
2) Charlotte Jones Anderson: The daughter of Gene and Jerry Jones shares her daddy's drive and her mama's graciousness and beauty.
3) John Crawford: The DowntownDallas CEO is rebuilding the center city with Marine-like zeal.
4) Steve Kemble: The sassiest lifestyle guru hereabouts is known for being Dallas' flamboyant ringmaster.
5) Lynn McBee: This Energizer Bunny of fundraising may look fragile, but she can arm-twist the strongest into submission.
6) Christopher Martin: The artist and eponymous gallery owner is talented, gorgeous, swaggering—and attracts similar types for the good of others.
7) Bill Lively: Whether working for the Performing Arts Center or Super Bowl XLV, this mesmerizing cheerleader can scale any fundraising mountain.
8) Cindy Rachofsky: The wife of art collector Howard Rachofsky is Dallas' homecoming queen and Ms. Congeniality, all in one.
9) Diane Brierley: The better half of e-Rewards magnate Hal Brierley is everyone's best friend and the much-beloved heart of Big D.
10) Herb Kelleher: After all these years, the Southwest Airlines co-founder is still the boss with brains and bravado.
11) Don Carty: Fortune 500 CEOs and national charities wait in line for the guidance of this former American Airlines and current Virgin Airlines chieftain.
12) Caren Prothro: The widow flawlessly continues the philanthropic work of her late husband, Vin Prothro.
13) Nancy C. Rogers: Married to Mary Kay scion Richard Rogers, this dazzling beauty has warmth and charm to burn.
For more society news, visit SweetCharity.