The Ewings and tourists have known Parker, Texas, had something special for decades. University Park has held the top spot in our best suburbs survey for most of the past decade. This year, the economy knocked it down a few notches, as it took a hit from housing appreciation (down 15 percent in the past two years) and crime (up a bit, but mostly just compared to other towns that got better). Highland Park held steady as it has in past years, coming in No. 6 this year (same problems as UP). And we have two newcomers to this year's top 10: Prosper (which came in at No. 11 last time) and Allen (which has been inching its way into the top 10 for years and beat Coppell by .038 of a point).
In addition to our top 10, we also feature three suburbs you need to know about: Irving, because we all wonder about its future, now that Texas Stadium is no longer; Addison, because city officials want to keep you there past dinner and drinks; and Sachse, because it's our most improved suburb, jumping from No. 34 to No. 14.
Of note: our methodology (see below) is always a work in progress. And it may not be the best judge of our suburbs in the coming decades, as demographics change and living patterns are altered as resources become more scarce.
"For the last 50 years or so, our region and most regions in the United States have been going along on the notion that most people are in a household with two parents, two kids, a dog, and a station wagon," says Karen Walz, who is heading up a joint effort of public, private, and academic sectors called Vision North Texas. "That demographic is actually a declining part of the region."
Consider that in 2007, that "normal" family made up 37 percent of our region's population. We also have families without children (33 percent), single people (19 percent), and seniors (6 percent). Though our criteria of crime, education, housing, and ambiance may be worthwhile today, who knows what will be more applicable in 30 years? Or 50 years (when North Texas' population of 6 million people is expected to be double)?
Will this new demographic love our top 10 the way we do? Time will tell. But for today, Parker reigns.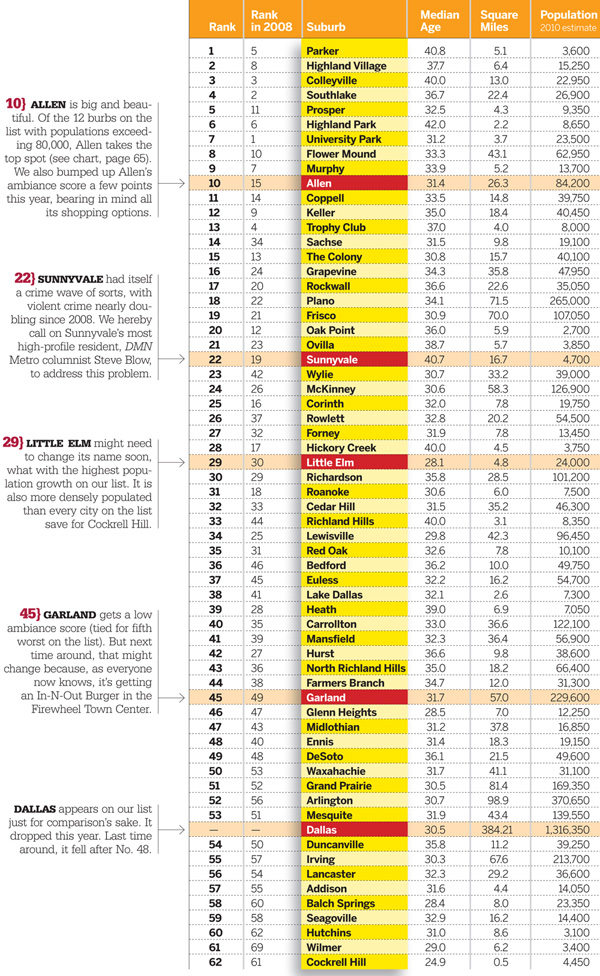 How We Did It

(For a complete table listing statistics for each suburb in the following categories, pick up the July 2010 issue of D Magazine.)

Our ranking is based on four factors: safety, education, housing values, and ambiance. The first three measures involve data and the objective analysis thereof; the fourth entails some subjectivity. The ambiance factor takes into account air quality, but it mostly reflects our good taste.  
Because each factor includes multiple statistics (TAKS scores, SAT scores, etc.), we created a scale from 1 to 5 for each statistic so that their relative values could be added together. For mean SAT scores, for example, the lowest score (Lancaster ISD's 822) was assigned a value of 1, and the highest score (Highland Park ISD's 1201) was given a 5. All other scores fell in between. Doing the same thing for TAKS scores and other measures, we could combine statistics to create an overall education score.
Safety: 25 percent. Based on statistics for seven crimes: murder, rape, robbery, aggravated assault, burglary, larceny, and auto theft. We gave twice as much weight to the first four, on the belief that getting knifed is worse than having your wedding knives stolen. Sources: 2009 statistics from the Texas Department of Public Safety, Dallas Sheriff's Department, Oak Point Police Department.
Education: 25 percent. Calculated from the percent of students passing the TAKS tests in 2009, the mean SAT score of the class of 2008, percent of the class of 2008 taking college admissions exams, and the amount of money each district spent on instructional expenses for the 2007–08 school year. The first three were weighted twice as much as the last criteria, with the thinking that a better school is one that spends less money but gets the same results. Most cities have students who go to more than one district. If a district has a statistically significant percentage in more than one district, we averaged each district's numbers based on percentages. Sources: Texas Education Agency, Highland Park ISD, and Carroll ISD.
Housing: 25 percent. Based on the percent of owner-occupied homes in a suburb (40 percent of overall housing score) and increased average home sales price from 2007 to 2009 (60 percent of overall housing score). Sources: North Texas Real Estate Information Systems (NTREIS), 2000 U.S. Census.
Ambiance & Air: 25 percent. Ambiance is what it is. You may see a certain charm in Duncanville that we're missing, but we did our best as a staff to find common ground as we hashed out ambiance scores for these 62 towns. The air pollution index is an analysis of ozone, carbon monoxide, lead, nitrogen oxide, and particulate matter. Ambiance was 70 percent of this score, while air quality was 30 percent. Sources: Staff of D Magazine on ambiance; air pollution statistics from Local.com, using EPA data.
D Magazine wishes to thank the following, without whom this story would've been statistically improbable: North Texas Real Estate Information Systems; Linda Johnson, Re/Max Abrams; George Elwell, Ambiance Realty; Lois Lyles, Ebby Halliday Realtors; Suzanne Maisto, Prudential Texas Properties; Rene Burchell, Keller Williams Realty; Tessa Mosteller, Briggs Freeman; Lucinda Buford, Briggs Freeman.
Get our weekly recap
Brings new meaning to the phrase Sunday Funday. No spam, ever.