Review: Samar by Stephan Pyles
Stephan Pyles, the returning conqueror, brings the flavors of the Middle East to downtown Dallas. (Hookahs optional.)
Five years ago, Stephan Pyles opened a glamorous, upscale restaurant on Ross Avenue in downtown Dallas. Many people thought he'd lost his mind. Who would ever drive downtown to eat?
Today, Stephan Pyles, the restaurant, sits adjacent to the newly completed Arts District. It's a popular pre- and postperformance destination. And Stephan Pyles, the chef, is busy running back and forth on Ross from his eponymous restaurant to his new exotic eatery down the street called Samar by Stephan Pyles. (One presumes he considered and rejected the name Stephan Pyles by Stephan Pyles.)
At Samar, Pyles has transformed a corner of an office tower into a Middle Eastern oasis. Outside, the tongues of flame from an open fire pit reflect from the faceted surfaces of jewel-colored hookahs. Two tents with gauzy sand-colored fabric billowing in the breeze summon you to sit on the patio. Step through a red awning and sit under beaded lamps that Pyles and co-owner George Majdalani found on one of their journeys to Syria and Majdalani's native Lebanon.
The relaxed, exotic atmosphere, golden lighting, and deep, rich colors reflect the flavors that Pyles has collected from Spain, Morocco, Turkey, Greece, Lebanon, and India. He divides his menu into three sections: Spanish, Indian, and Mediterranean. This is an ambitious project given the breadth of these cuisines, but they are mutually rooted in the flavors once traded along the Silk Road, a commonality that promotes mixing and matching of dishes from different sections of the menu. Samar serves "small plates," allowing diners to sample a number of the almost 40 menu items, almost half vegetarian, spanning the three cuisines. Roughly three dishes, averaging $8 apiece, make for a satisfying and inexpensive meal.
Chef Pyles has sampled broadly from several regions of Spanish cuisine, including many dishes that would be at home in a typical tapas bar. A simple dish of diced fried potatoes and chorizo topped with a locally sourced fried egg and slices of seared foie gras is outstanding for its quality ingredients and skillful preparation. Bites of chorizo provide texture and spicy, unctuous oil that combines with the egg yolk to sauce the underlying potatoes. This dish, like many on the menu, relies heavily on the attentiveness of the kitchen. An overcooked egg, undercooked potatoes, or too much oil from the chorizo could (and occasionally does) render the combination mediocre. But when it's on target, this dish exemplifies the delicious simplicity of Spanish tapas.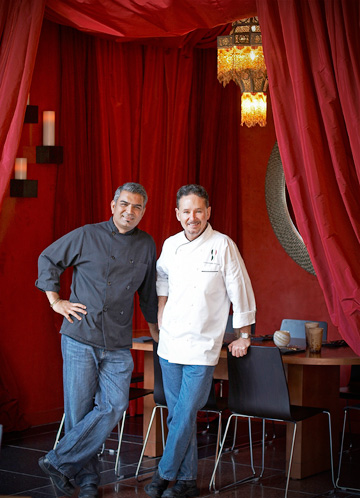 In contrast, the humbly named tres vasos delivers a sophisticated trio of composed sweet/savory parfaits that offers an interesting progression of flavors. The first glass contains ascending layers of guajillo chile-infused foie gras mousse, figs soaked in rich Pedro Ximénez sherry, and lime-tinged crema topped by a few crunchy Serrano ham chips. The chips have a flavor-enhancing saltiness while the figs are a syrupy sweet complement to the richness of the foie gras. The second vaso brings a welcome respite from the richness of the first: tart and silky lemon grass-ginger gelée, mildly bitter and acidic grapefruit, and a feta cheese foam. Unfortunately, the foam fails. Bits of feta create an undesirable granularity to the otherwise airy texture, and its saltiness exaggerates the grapefruit's bitter elements. Nevertheless, the gelée and grapefruit serve as a pleasant palate cleanser. The vibrant orange cardamom foam topping the third glass is more successful, lending sweet and tart bursts of flavor to plump spiced shrimp paired with pumpkin flan.
Modern Spanish cuisine is best known for developing molecular gastronomy, where the kitchen resembles a lab, and chemistry often substitutes for traditional cooking methods. Pyles gives a nod to this approach with his ajo blanco malagueño, which employs a spherification method to generate "liquid grapes," delicate globes of grape juice encapsulated by a thin gel. Ajo blanco, a chilled white gazpacho, is prepared using blanched almonds, garlic, bread, and emulsified olive oil. The soup has a creamy texture with a garlicky bite that risks becoming overwhelming if not for the sweet, tart bursts of liquid grape. The pairing works beautifully. Liquid grapes provide focused relief from the soup's richness, where grape skins and flesh would distract.
The Indian portion of the menu, designed with input from executive chef Vijay Sadhu, formerly of Bukhara Grille and Clay Pit, features the best naan I have eaten. The naan is available with toppings, including an aggressively herbed rosemary and garlic version that was delicious, but the best way to appreciate the superior quality of this flatbread is without adornment. Light and fluffy on top, yet crisp and just barely charred on the bottom, the bread has the slightest chewiness and a subtle smoky flavor. Indian dishes at Samar are atypical in that Sadhu employs spices with restraint, highlighting (rather than masking) the flavors of the underlying ingredients and permitting Indian dishes to coexist on the table with Mediterranean and Spanish dishes. Mild masala plays a supporting role to the sweet flesh of a large tiger prawn, served with perfectly crisp shreds of pan-fried okra and spiced pear chutney. Hopefully, despite customer requests for more heavily spiced dishes, the kitchen will not disrupt the elegant balance of flavors.
The Eastern Mediterranean menu is less impressive than the other two but does include a few outstanding items. Small squash blossoms are stuffed with haloumi (goat and sheep milk cheese) and cream cheese before being breaded and fried to perfection and served alongside a salad of pomegranate seeds and green olives. A veal tagine is deeply flavorful, with meltingly tender braised meat, crunchy Marcona almonds, and soft, fluffy couscous. A trio of hummus, moutabal, and labneh is a great way to begin the meal while deliberating more adventurous options.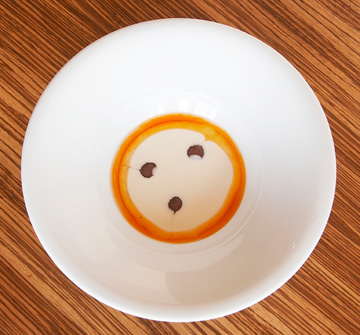 Desserts draw from each of the three regions as well, and are no less intriguing than the main menu. Samar's version of an ice cream cone is filled with a fascinating substance made from pistachio, rose water, and gum mastic, which gives it a luxuriously thick texture. Semolina croquetas stuffed with candied ginger are soft and doughy under a thin, crisp layer and sit bathing in rich, almond-flavored natillas, similar to a crème anglaise.
Most dishes at Samar are well designed and executed, but the menu is peppered with close misses. Sadhu's papadum, although interestingly presented, is too starchy to work well with starch-heavy fillings. The spiced chutneys are overly sweet and mask the flavors they are meant to enhance. "Crunchy" red lentil kofte is actually soft and pasty. Execution is fairly even, although it seems that each meal finds a few details falling short of expectation. A wide array of cuisines, each comprising many exotic ingredients, requires attentive preparation. Occasional slips are not surprising.
Samar's beverage program has many impressive features, although there remains room for improvement. The teas are custom blends made for the restaurant by the Cultured Cup here in Dallas and include hookah cha, a blend intended to be sipped while enjoying the hookah outside, and a wonderfully light-bodied Indian chai. The wine list is affordably priced. Few bottles exceed $100, and there are several choices under $40. While the list of reds is overly populated by heavier-bodied wines (the cuisine seems more suited to lighter-bodied reds), it does include some uncommon varietals that are worth a try (e.g., Mencia from the Bierzo region of Spain, or Verdejo from Rueda).
Just as the menu is divided by geographic regions, the restaurant offers several microenvironments, all well appointed and each with a distinctive feel—impressive in such a small space. It includes an outdoor hookah lounge, a well-lit bar area, a bustling main dining room, and two semiprivate dining areas. For me, the highlight is the chef's counter that faces directly into the tiny open kitchen where the à la minute cooking and plating take place.
The servers are attentive (perhaps overly so) and should be commended for their knowledge of the ingredients and cooking methods used for each dish. Despite occasional inconsistencies, Samar succeeds in delivering creative and exotic flavors in a unique and exciting atmosphere. With the promise of seasonal menu changes and a future lunch service, it's an experience that I am eager to repeat.
Get contact information for Samar.