From the Big Apple to Small-Town Texas
The Green Acres syndrome. Or why a woman would leave New York City for Waxahachie.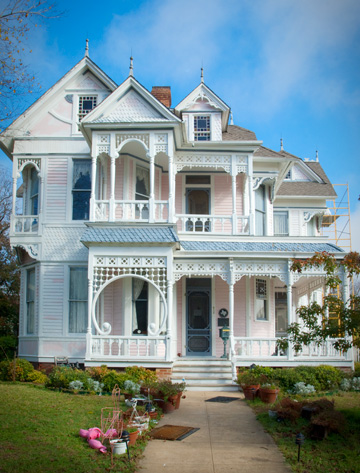 Eight months ago, I fell madly in love with a phonetic masterpiece. Go ahead. Sound it out. Woks-uh-hach-ee. Had Dickens ever stumbled across that name—which translates to the not so phonetically exciting Buffalo Creek—he would surely have written an entire novel about a Miss Waxahachie, a sharp-witted, spunky blonde with a heart of gold and a taste for mead. At the time, I was living in New York, gainfully employed as an editor at Metropolitan Home magazine, comfortably ensconced in an apartment on Manhattan's Upper East Side, and enjoying a full social life built over five years. (I'm from Corsicana originally.) In short, life was good.
But some places in this world have a way of reminding us that it could be so much better. A well-established life tossed casually aside to move to Rome or, say, an ecolodge in the rain forest could be perceived as gutsy—noble even. But imagine telling folks that you're giving it all up to relocate to Waxahachie, Texas (population 30,000), 30 miles southwest of Dallas.
Let me explain—at least as well as an insane person can explain her own insanity. I could say I fell in love with Waxahachie because of its perfectly preserved Victorian-style architecture complete with gingerbread trim, or its massive, otherworldly oak trees in Getzendaner Park, or the sweet-and-savory apricot chicken salad at The Doves Nest Restaurant. But no. What I really fell in love with was a good vibration that I picked up from a real estate agent while looking at a $1.2 million piece of property in Maypearl.
Last year, one lazy day after Christmas while home in Corsicana, my mother, my sister, and I went for a cruise through the countryside. For about a year, I'd been toying with the idea of moving back to Texas. We had stopped at a For Sale sign in front of a beautiful house perched on a ridge overlooking golden fields in Maypearl, a small community 11 miles outside of Waxahachie. Curious, I called the listing agent to see how much a three-bedroom house on 176 acres of designated parkland costs in Texas. The next day, Betty, a real estate agent from Waxahachie, met us out at the property, which none of us intended to buy.
Betty. She was Waxahachie personified: friendly, direct, sensible, and, seemingly anyway, happy! Her daughter came with her. She was the same. And that's when it hit me. I want to live where people like this live. It's really as simple as that.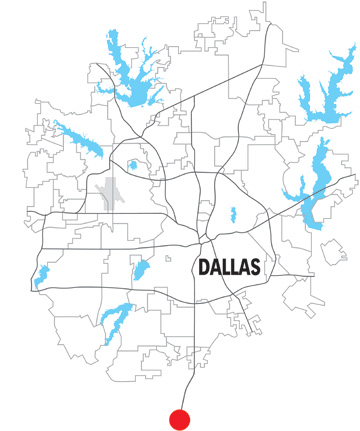 Back in New York, which now seemed unbearably neurotic and loud, I began receiving e-mails from Betty. Mentally I was no longer on the dreary 41st floor of some dreary Midtown office building in dreary New York City, but strolling leisurely through Waxahachie's farmer's market, collecting my week's worth of fresh vegetables with Ellis County's picturesque sandstone courthouse as a backdrop. Later on, I'd do a little browsing through some antique shops. And then—who knows?—maybe I'd end up at a dance hall, two-stepping late into the night with some tall cowboy.
Soon I was on a plane back to Dallas to look at an 1895 farmhouse with a tin roof, gingerbread trim, and original hitching posts in the front yard. It was a short walk from the courthouse square. I made an offer in February, and, after a slew of furtive phone calls conducted in a bathroom stall in said dreary office building, the house was mine.
Smitten, I found ways, no matter how illogical or rude, to insert my beloved's name into conversation. It went something like this: "That's horrible you were mugged last night, but did you know that 22 trains go through Waxahachie every single day? Isn't that amazing!" Blank stare and silence. Or how about: "Your magazine folded and your boss made off with your bonus? Well, hey, look on the bright side. The Rogers Hotel in Waxahachie has reopened on the courthouse square, and it's got a new restaurant, coffee shop, barber shop, and improv theater. Plus, there is talk of a rooftop bar. I know, pretty cool."
Obsessed, I googled Waxahachie's name over and over, gleefully stumbling across new bits of information about its past. The compulsive googling also revealed a bit about Waxahachie's future. Baylor Health Care System has purchased an 83-acre tract of land at the intersection of I-35E and Highway 287 for a massive expansion expected to be completed by 2012. And Waxahachie's population is expected to grow by 14 percent between 2006 and 2011. I had visions of my quaint farmhouse turning into a sweet real estate investment.
One perfect day in early May, a yellow Penske truck rolled to a stop in front of a yellow farmhouse on Oldham Street. The crape myrtles were just coming into bloom, every house seemed freshly painted, and the courthouse bells were chiming. The sky was blue, the grass was green. And that's exactly when the bottom fell out.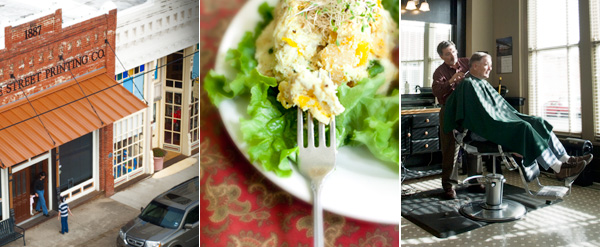 What had seemed an endearing trait just weeks before suddenly became intolerable now that I was in a committed relationship. For example, of those 22 trains that pass through Waxahachie every day, 18 of them, each one driven by a sadistic horn-honking conductor, roll through town between the hours of 1 and 5 am. And my charming Victorian was quickly morphing into a deranged spinster, overgrown with wild honeysuckle and poison ivy. Distraught, I felt the relationship was doomed.
Other events ensued. A thief broke in and made off with my new laptop, my slow-leaking stove transformed my kitchen into a deadly gas chamber, and, worst of all, a snake fell on my head (okay, nearly fell on my head) from my garage's rafters. I became resentful. Waxahachie's allure now seemed like the worst kind of trickery.
And yet, here I sit in my house on Oldham Street seven months later. Here's the deal: during that months-long panic attack following my arrival, I discovered that this town is, as I'd hoped it would be, full of generous, no-nonsense Betty-like spirits. I remember the first Betty who rolled up in front of my house one evening in her big Lexus, honked the horn, and barely waited for me to shut the car door before she hit the gas and hauled me off to a dinner party. The second brought me home that night and has been like a sister ever since. A third showed up on my doorstep one day, bearing cookies and a warm smile, welcoming me to the neighborhood. They're everywhere, really. All of them emitting a sensible cheer I'd love to bottle and drink.
But now that the swirling dust of a whirlwind romance has finally settled, clarity has arrived. It's what I'd like to think is a new Betty-like levelheadedness that I've acquired during my time here. Honestly, there is nothing I'd rather do than settle down and live happily ever after in Waxahachie, Texas. But right now, it's a little too much too soon. So I've decided to rent out my lovely Victorian-style farmhouse and get an apartment in Dallas. I'm working with a real estate agent in Midlothian. Her name is Donna.
Write to [email protected] .