To the casual observer, Dallas would seem perfectly positioned to be a great city for quality Texas barbecue. But here is the ugly truth: Dallas does not do barbecue well. This may seem a curious admission given the topic at hand, but there you have it. Too many local proprietors too often go for the ease of gas-fired smokers instead of investing the time and sweat that wood smokers demand. They've abandoned the fine art of sausage making that is so important in forming the identity of Barbecue Belt joints in Central Texas. In short, they've set their sights on pleasing the masses.
We do, however, have a great history of barbecue in Dallas. It began in 1910 when Elias Bryan opened the first Bryan's Barbecue. His grandson William Jennings "Sonny" Bryan created Sonny Bryan's Smokehouse, turning the family tradition into a legendary business and internationally recognized brand. Sadly, Sonny Bryan's has joined other regional big-name barbecue chains that are designed to cater to corporate 'cue shindigs. These bastions of predictable mediocrity seem to hog all of the press whenever a "best of" list emerges for the area.
But not here. Fear not, intrepid diner. Great barbecue does exist in Dallas, but you really need to search for it. Chances are, you won't find it on a convenient corner or in a neighborhood you frequent. But it's out there, tucked into tiny strip centers and former Dairy Queens. Unlike the boardroom boys, these entrepreneurs are still dedicated to producing a higher level of barbecue by taking the time to cook with hardwood smoke.
I've spent the last year eating barbecue all over the state but especially in North Texas. I became so obsessed with finding the best joints, I began chronicling my experiences on a website called Full Custom Gospel Barbecue. Now I have something other than my frightening cholesterol scores to show for eating at more than 130 barbecue joints in North Texas alone.
In the following pages, for the first time ever, I reveal my list of the 16 best barbecue spots in the Dallas area (which, yes, includes Fort Worth). I evaluated each joint mainly on the essence of Texas barbecue: sliced brisket and pork ribs. I considered sausage only if it was made on-site. Barbecue sauce was taken into consideration, but, for this list, I operated on the philosophy that properly cooked meat needs no adornment. Since specific cuts of meat change from day to day, every place on this list received multiple visits to ensure consistency.
Hungry? I hope so. Just be prepared to drive a little—in some cases a lot—to small towns around Dallas and Fort Worth. Because like love and a 20-win starting pitcher, good barbecue is hard to find.
#1
If you can recognize all the signs of a great barbecue joint, then it's no wonder that Off the Bone BBQ in Forest Hill (on the southeast side of Fort Worth and not connected to the restaurant with the same name in Dallas) has reached the pinnacle of local barbecue establishments. A "Keep Out" sign sits atop a haphazard pile of wood in the corner of the gravel parking lot, the ghost of the previous restaurant's name is still visible behind the bold letters "B.B.Q." on the monument sign out front, and all of it surrounds a rehabbed Dairy Queen that now houses North Texas' finest barbecue joint.
Marilyn and Eddie Brown run this joint, which gets little fanfare from the local press. Eddie has proven to be a consistent and congenial pit master. His chain-link-enclosed, custom cast-iron pit, which he picked up at an auction a few years back, belches pecan and oak smoke out back.
Each meat is given great care. The sausage will soon be house-made, once Eddie gets the recipe right. He had a special recipe produced for the restaurant by a sausage maker in Cleburne, but he recently passed away, taking the recipe with him. In the meantime, Eddie gets hot links from Smokey Denmark Sausage Company in Austin, where they have been producing high-quality peppery beef links for 35 years.
Briskets are slow-smoked for up to 20 hours, which is evidenced by their thick, black crust and deep red smoke ring. The meat isn't falling-apart tender but requires just enough tooth to bite through. He leaves a bit of perfectly rendered fat on each slice. Ribs have a substantial crust, which imparts a robust smokiness to every bite. These thick, meaty ribs aren't the grocery store version with barely any meat on the bones. The meat is rosy, with amazing smoky flavor and well-rendered fat. Other than the usual sides, they offer smoked bologna and chicken wings. No matter what you order, if it has seen the inside of Eddie's pit, you know it's going to be good.
#2
Well-smoked meat needs no sauce, and I don't even know if Randy offers any. Meats are sold by the pound and served on a butcher-paper-lined tray, just like they do in the old meat markets of Central Texas. Randy uses an Oyler pit from J&R Manufacturing in Mesquite. Herbert Oyler perfected this rotisserie-style smoker in the late '60s and started selling them commercially. Today, they're the most popular wood-fired smoker in the area.
Only Select grade Certified Angus Beef briskets find their way into Randy's hickory-fired smoker. Each slice of this brisket is tender, with a moisture content only equaled by the best pot roast. Roast beef this is not, with a hefty, smoky crust and fat rendered so well that brisket snot was witnessed on several occasions. "Brisket snot" is formed when well-marbled meat is cooked slowly, allowing the fat to melt into the crust, creating a tacky, sweet stickiness that forms caramel-like ribbons that cling to each finger as they're pulled away from the surface of the meat. The ribs are slow smoked alongside the briskets, but for about a quarter of the time. These ribs have a rub high in sugar, which mixes with the fat to create a phenomenon I call a "sugar cookie." The cooked fat commingles with the sweet caramelized rub, creating an undeniably satisfying flavor that is reminiscent of a buttery sugar cookie.
#3
Longoria's is well-known in barbecue circles for its famous brisket sausage. Brisket and only brisket is used to fill these hearty sausages. The coarsely ground links are lean but not dry, and are smoky with a robust black pepper flavor. Longoria's steps further outside the traditional barbecue fare with its smoked burger and incredible beef jerky. Bright red spices coat this still-moist version of dried meat, and a hefty dose of smoke is added to the mix for a complex flavor unlike any other jerky I've tasted.
Their St. Louis-style ribs—called "3 and Down" (each slap weighs 3 pounds or less)—are rubbed with a pleasingly salty mixture similar to the one used on the jerky, but this rub doesn't hinder the formation of a nice black crust. The term "St. Louis style" is often confused with a cooking method, but it refers to the cut of rib, which is simply a spare rib rack with the thick cartilage and fat-filled ends hacked off, leaving a slab of uniform-length ribs. You're left with a meatier, juicier rib than the popular baby back, and you can tell them apart by the heavy curvature found in the baby back bones. Longoria's version has a pleasing texture with meat that needs just a tug to come off the bone. The layers of well-rendered fat marry well with the meat and rub to create a moist and vibrantly flavored rib. Brisket slices have a hearty smoke ring with a hefty crust and a good level of smoke.
#4
Smokey's is a newcomer to the local scene. The name's been around for dozens of years, but the place sat vacant until Dallas superstar caterer Eddie Deen decided to branch out and open up a restaurant. The menu is limited, but his son Brent Deen is a capable pit master. Smokey's has two pits. One is gas fired but uses wood to create smoke to cook ribs. The other is wood fired and used for brisket.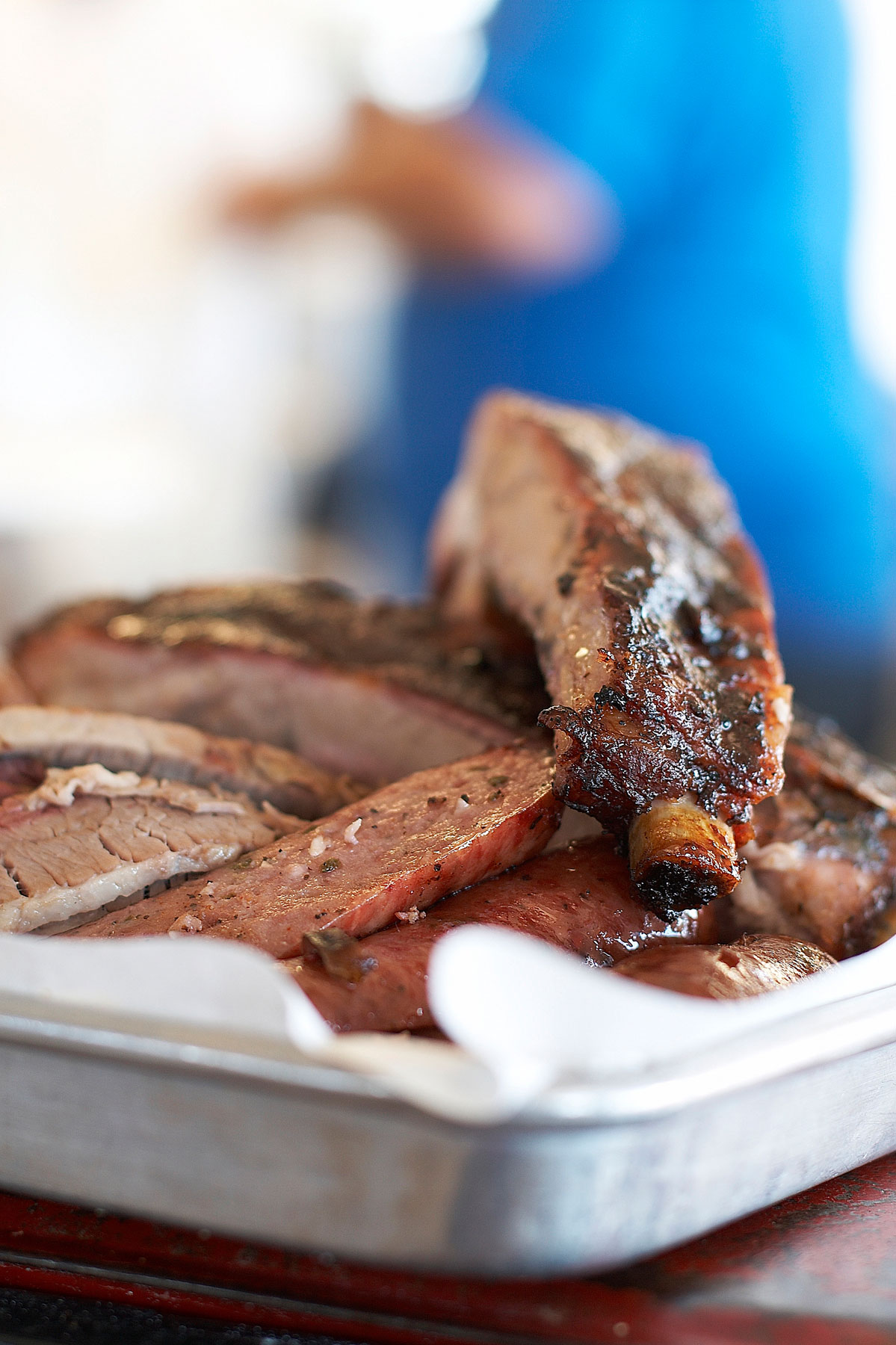 Serving one plate at a time is a new challenge for the Deen family. I sat for 20 minutes one afternoon waiting for an order of ribs to come off the smoker. On another trip, I ordered the Cool Hand Luke, a picture-perfect mixture of sliced brisket, ribs, and hot links, all served in a red basket lined with red and white checkered paper. A sweet glaze gave these ribs—smoked in a gas-fired Southern Pride pit—their finishing touch that played well with the heavy black pepper rub. The contrasting flavors melded with the thick meat to create a complex smoky flavor. The brisket was smokier (not surprising given it's smoked in a wood-fired Oyler pit) with a nice layer of rendered fat on one side and a black crust and good smoke ring on the other. Each slice was moist, tender, and flavorful, with an exemplary toothsome texture.
Hot links were sliced lengthwise in quarters, like pickle spears, making for easy, fork-free handling. Eating barbecue with your hands is more satisfying than allowing a knife and fork to get between you and your hunger. These juicy links with flecks of jalapeño were unfamiliar. Their source? Surprisingly, it's Costco. But they are working on their own recipe.
#5
Hickory is by far the dominant cooking wood for barbecue in this area, but Travis Mayes chose the state tree of Texas, pecan, to fuel his smoker. "The BBQ Man," as he's known in Garland, is no newcomer. Barbecue runs deep in the veins of this family. Travis' wife Donna spent many years perfecting her baked beans and potato salad while working with her father at one of his four joints in Dallas, all of which carried the Meshack name. When her father passed in 1986, she and Travis kept the Garland location running until 1996. They closed, took other jobs, only to reopen again last May.
It's a challenge to find the joint itself, much less a place to park in the haphazard gravel and grass lot. Things can get pretty busy on a Saturday, with cars backed up on the street. Ordering is done by shouting into a small screened portion of a soot-covered window. Then a figure appears in the smoky concrete box to hand over a brown sack full of perfectly smoked meat.
Peeling back layers of foil and cheap white bread revealed lightly sauced ribs with a deep red crust. Seasoned only with smoke, the tender, moist meat was flavorful to the core. A substantial smoke ring lay beneath the black bark surrounding each slice. The meat was juicy and pulled apart into bite-size smoky morsels. The flavor of the pecan smoke was bold, and it really differentiates it from the standard hickory fare more prevalent in town.
#6
Open since 1958, this Fort Worth institution needs no introduction. Locals and celebrities alike flock to this wood-sided building on a workaday stretch of road on the west side of town. A giant stuffed bear greets you just inside the door along with an ATM.
My favorite here is the rib and sliced brisket combination plate. Not only is a pile of meat included on the school cafeteria tray, but it comes with beans, slaw, potato salad, pickles, onion, and bread. All meats here are graced with a hefty dose of Angelo's special recipe rub seasoning and tossed into a hickory smoke bath inside one of the two specially designed brick-and-steel pits just outside of the kitchen. Ribs are always moist, if a bit fatty, but like the brisket, it has enough hickory smoke flavor to keep it honest. Angelo's is almost equally famous for its chilled schooners of draft beer.
#7
Most of the historic barbecue joints of Central Texas choose oak for their smokers, and the pit boss at Bartley's has followed suit, bucking the Dallas trend of using hickory. On my latest visit, beef was sliced from the point (or "fatty" end) of the brisket. Brisket (pectoralis profundus) is made up of two muscles. One makes up the flat cut, which is leaner and has a thin layer of fat on the top side, and it is usually more uniformly sliced. The other cut is the point, which is thicker and has more intramuscular fat. It is a much less forgiving cut and requires long smoking at low temperatures for the fat to melt within the meat. Take it out too soon or cook it too hot, and you'll get chewy meat with globs of unrendered fat in every slice.
Based on the slices on my plate, this pit master had a deft hand with the smoker and the knife. Each slice had a well-formed black crust and good smoke ring surrounding moist meat with well-rendered fat and smoke flavor throughout. The sweet glaze, brushed onto the ribs when they were pulled from the smoker, gave them a punch of flavor.
Next door, the owner's brother has opened up a bakery. There is no "white bread afterthought" at Bartley's; instead you'll find fresh rolls and homemade desserts that are always hot and delicious. The unique pecan cobbler alone was worth the trip. Don't bother asking for the recipe.
#8
Most chain barbecue restaurants are content to serve mediocre 'cue that's been "smoked" in a gas-fired rotisserie pit. This simplifies the cooking process and makes the outcome predictable—and usually bland. However, while Cousin's is a well-established local chain, they believe smoking with wood is the only acceptable method. They outfit every location with a wood-fired Oyler pit.
Cousin's piles on the rub, especially on the ribs. These meaty St. Louis-style ribs require some tooth to get them off the bone, which is always preferable to the mushy texture of boiled "falling off the bone" rib meat. Just a note on rib meat texture: if the meat is not still clinging to the bones when you pick it up, the ribs have been overcooked. For those of us with teeth, it's simply unnecessary, and this texture is rarely achieved if the ribs are smoked. The texture of the hearty brisket slices at Cousin's is also commendable. Chain or not, this place puts out some quality protein.
#9
Operating since 1976, and in its current location for the past 10 years, Smokey John's is a stalwart in the local foodie scene. They're the first joint on this list that achieves greatness with a gas-fired smoker, which is usually the first sign that you're in for some substandard barbecue.
Gas-fired smokers act more like an oven and allow the pit master to get into a "set it and forget it" mentality. I've heard owners brag about how little wood these smokers consume—wood is not a cheap "ingredient." But the consequences of skimping result in a poorly smoked product. Smokey John's does not hold back on wood, so there is plenty of smoke created to bathe the meat. They have found the right balance between ease of use and authentic smoke flavor, and they have a dedicated following to prove it.
Smoke clings to every bite of their "come back ribs." These fine morsels of protein might not have a familiar appearance—each rib is chopped in half and piled on the plate. But the meat is perfectly tender, with a punch of flavor from a simple rub and hickory smoke. Brisket is decent, with the same hint of the smoke evident in the other meats, but they crank up the level in their sausage offerings. In addition to standard hot links, pork, and garlic sausages, they also offer a homemade all-beef sausage that has a spicy kick from black and red pepper and a great snap to the casing. These links have a medium grind to the meat, so it's cohesive in the casing without having the density of a hot dog.
#10
In mid-2008, CT's took over this space in South Dallas, which was previously one location of the now defunct Hardeman's Barbecue chain. They inherited the custom wood-burning pit that takes up nearly an entire wall of the kitchen. In addition to smoked meat items, CT's offers many soul food standards. This not only provides options for non 'cue eaters (gasp), but allows smoked meat fans to break out of "usual side-itis" and sample broccoli rice casserole, greens, and yams. A good chunk of cornbread is also a welcome change from cheap white bread.
I stopped in to grab a sliced beef sandwich to go. The smoky aroma wafted through the foil and out from the white paper bag so aggressively that I had to unwrap the sandwich for an immediate taste. A few bites later, the moist, smoky slices of tender beef had disappeared, and I was holding an empty piece of foil. The employees snickered when I came walking back in just a few minutes later to get some ribs. Back in the car, I just couldn't help myself. I opened the package to find ribs covered with a deep red crust. The moist meat was bursting with flavor from a salty rub and hickory smoke, and the layers of fat were well-rendered.
#11
Okay, city slickers. Type "Saginaw" into your fancy GPS and hit the road. For in the shadow of the long line of silos at ConAgra Foods' flour mills in this small town in northwest Tarrant County sits Texas Pit Bar-B-Q. Stephen Fowler uses an Oyler pit filled with hickory to smoke beautiful plates of meat. This joint has a sports bar feel to it, with televisions on most walls and dark booths in the dining room. Orders are taken either at the drive-thru or at the back of the restaurant, where meats are carved while you watch. Each item is placed precisely on the Styrofoam plate—every ingredient having its place, right down to the pickle spear and red onion slices.
Beyond the meticulous presentation, I was mesmerized by the deep, rich color of the crust on both brisket and ribs. It cracked between my teeth as they sunk into the moist, tender meat. The seasoning in the rub, coupled with the high level of smokiness, as evidenced by the bright red smoke ring, created an excellent barbecue flavor. The red meat beneath that crust on the ribs was moist, with melted fat throughout, but the robust flavor evident in the beef was missing here. The pulled pork had great texture, but I found the accompanying sauce too sweet. My favorite sides were the crispy fried okra and the fresh green beans. I had high hopes for the barbecue stew, but when I returned to try it, I discovered a thin, soupy concoction of tomato, corn, chicken, potatoes, and green beans. Disappointments aside, this place is well worth the drive.
#12
A.N. Bewley Fabricators have been making wood-burning barbecue pits for nearly 50 years. From the plant, just a stone's throw from Fair Park, the owners produce the carbon steel behemoths used by proprietors with distinguished taste in commercial smokers. Like Cousin's, Baker's is a local chain that recognizes the value of using 100 percent hickory smoke, and the restaurant has a Bewley in the kitchen to prove it.
The brisket shows the sign of a good smoke. Each slice has a thick smoke ring and deep black, crispy crust. One big plus here is that an order of either fatty or lean brisket (or a combination of both) doesn't draw a blank stare from the knife man. Like Sonny Bryan, the experienced cutters here understand what experienced 'cue lovers crave.
Baker's namesake ribs aren't quite as smoky as the beef, but a nice rub combines a swift kick of black pepper with a subtle hint of sweet. These ribs are never tough, but if you order in mid-afternoon, you may find them mushy.  Stick with the lunch rush, and you'll always have fresh meat along with better-than-average sides, including a dill-flecked smashed potato salad that finds its way onto my plate every time.
#13
Billy McDonald has been working in and around this joint since he was pouring iced tea for a catering event at the age of 7. His dad opened the place on the edge of Deep Ellum in 1955, then moved over to a storefront on Exposition. After a battle with the landlord, they made their way to the current location on Main Street in 1982. Billy, a self-described hickory smoke addict, took over after his dad's passing, and he's been serving up 'cue with a side of sass to loyal customers ever since. Most of those years were spent with Mama by his side. The duo did it all until she took ill several months back. Now Billy and another relative handle the operations.
Visitors vie for a spot in the small asphalt parking lot and then head up a steep concrete ramp to the front door. The decor is "country sparse," with bovine-inspired comics. After reviewing a menu, orders are given directly to Billy. If you ask him about his meat, he may describe it as dead cow, dead pig, or dead turkey.
I've sampled nearly every meat they offer, and the special recipe jalapeño hot links are the best. These links, from a secret source in West Texas, have little fat filler, meaning they don't cheat by using a ton of fat in the sausage mixture to ensure moisture, and instead refrain from overcooking the sausage to allow the natural moisture in the meat to remain. The natural casing provides a good snap, and the medium grind to the meat creates a pleasing feeling in the mouth that (thankfully) differs from the slimy bologna-like texture of mass-market brands.
Brisket and ribs are also great options. Both meat offerings are moist, with well-rendered fat and a pleasing smoke flavor. Don't miss the barbecue beans and ultra crispy French fries. These fresh-cut potatoes are fried in soybean oil, and are great for dipping in their excellent sauce or, even better, the barbecue bean juice. The perfect meal at Mac's is a sliced beef and hot link sandwich. Buns are buttered and grilled to order, the meat is piled high, and just a few drops of smoky sweet sauce are ladled on top. Warning: this sandwich requires a pile of napkins.
#14
Sam Gibbins has shown his marketing prowess by selling "cold beer, good barbecue, and hot girls" at The Smoke Pit just outside of downtown Fort Worth. Yes the girls are hot, but the barbecue is passable at best. However, Gibbins shows his smoking prowess at The Ranch House, his year-and-a-half-old venture in the far northwest corner of the city. The menu includes smoked steaks and a hearty burger, along with the standard 'cue options.
I sat at the bar while sampling ribs and brisket along with some ice-cold longnecks. A plate piled high with huge, meaty spare ribs and thick slices of brisket arrived along with some tolerable side items. The real stars here are the deep dark ribs and the thick slices of beef. A deep smoke ring under a well-formed black crust is evident on the brisket slices. Both exhibit a terrific texture with pleasing moisture, providing for good mouth integrity. Ribs were smoky with a thick crust and meat that just required a slight tug to release it from the bone. Each bite delivers smokiness that you can't get from a gas-fired smoker. Sam found his Ole Hickory smoker at an auction of a defunct barbecue joint. Their loss is his gain. The wood smolders continuously throughout the cooking process, and the results deserve a trip to north Fort Worth.
#15
North Main BBQ, home of the self-proclaimed "World's Best Ribs," appropriately sits on Main Street in Euless, just north of Highway 183. Since it opened in 1981, it has won countless barbecue competitions. Open Friday through Sunday only, this popular spot can get busy. Orders can be placed a la carte, but most opt for the buffet. On several trips, I've noticed that the quality of the meat at the buffet has outshined what I've been served a la carte.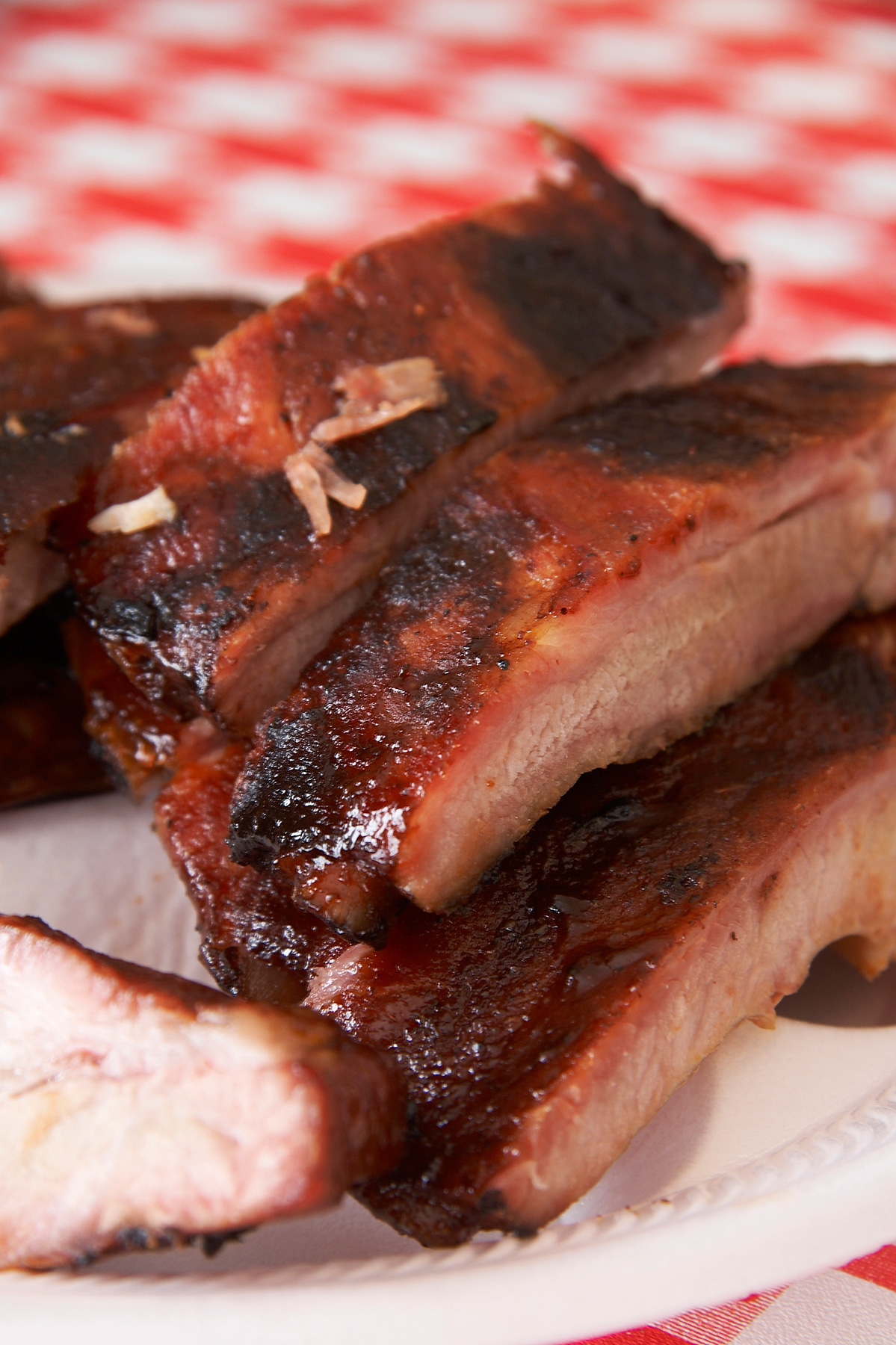 Recently the restaurant was featured on the Food Network's Best Thing I Ever Ate. Host Ted Allen went bonkers for North Main's brisket. I find the brisket flavorful, but a bit dry. Generally, the ribs that it's famous for are what keep me going back for seconds every time.
#16
Congratulations, downtown Dallas. The Baby Back Shak is back. It closed after surviving a fire, but it's up and running and even has its own Facebook fan page. It's the perfect excuse for those of you in North Dallas to come downtown. Just head south on Akard and look for the pink pig smoking a cigar on the side of a black brick building.
Service is curt and efficient, as it must be to accommodate the ever-increasing line at lunch. The Shak bills itself as Memphis-style barbecue, but this place offers a plethora of meat options unequalled in the area. For variety, order the five-meat Shak Platter. The standards of brisket, ribs, and sausage are here, but the options also include smoked bologna, Cornish hen, chicken wing drummies, and an unusual Boudin (a Cajun-style rice- and pork-filled sausage). Most folks swear by the Shak barbecue beans. They are mixed with copious amounts of ground chuck to create a concoction that resembles a hearty bean chili. Ribs are the real meat winner here, with a hefty peppery rub covering perfectly moist and tender meat. Take a trip to the south side, and throw together your own combination.
BBQ Road Trip
Worthy joints within an hour(ish) drive of Dallas
Lillian:
Glen Rose:
Ennis:
Sherman:
Tioga:
Aubrey:
Azle:
Waxahachie:
Get the SideDish Newsletter
Dallas' hottest dining news, recipes, and reviews served up fresh to your inbox each week.