Restaurant Review: Meddlesome Moth
Merry prankster Shannon Wynne brings the Design District its first real restaurant.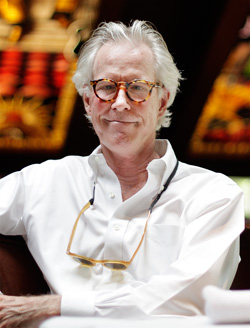 Shannon Wynne could be sitting back in his Preston Center office, counting the money he has made from selling fried fish and beer. His Eight O Management runs a small empire of eateries that includes six Flying Fish restaurants, 14 Flying Saucer draught beer emporiums, and the 8.0 Bar in Fort Worth. But Wynne can't help himself. He's a serial restaurateur. So now we've got his newest venture, Meddlesome Moth.
Wynne has been a force in Dallas dining since he opened a little bar with a jukebox in a then obscure location called the Quadrangle. The original 8.0 lit up the Dallas nightclub scene, and over the next three years, Wynne opened a string of O-clubs and restaurants across Dallas: Nostromo, Rocco Oyster Bar, Mexico, Rio Room, and Tango, where Count Basie played opening night.
"There were drugs and people were attractive and nobody slowed down," Wynne says. (Full disclosure: I've been friends with him since those days.) He admits he didn't know what he was doing. "By the time I got around to asking my partners how the numbers worked, the economy had crashed," he says. It was 1985. He resigned from the company overseeing his business and headed to San Francisco to design the Blue Light Cafe for Boz Scaggs. He came back to Dallas to do the highly successful Fast and Cool. Reignited, he reopened 8.0 in 1989. He followed that in 1995 with Fort Worth's Flying Saucer Draught Emporium after meeting a hop head named Keith Schlabs, who got him interested in craft brewing. Then, two years ago, Wynne got another creative itch.
"I wanted to do something that had not been done in Dallas," he says. "A real gastropub, not one of those joints that serves food and Stella Artois and thinks they are one." Wynne and Schlabs visited upscale pubs in England, Belgium, New York, and L.A. (Wynne just sniffs the beer and leaves the drinking to Schlabs; he's 22 years sober). Once his vision for the place began to form, he again pioneered a new territory, opening Meddlesome Moth on the edge of the Design District. "I feel Dallas has matured," he says. "People have traveled and would appreciate this style of food with high-quality beer."
Count me as one of those people. After many visits to the Moth, I've outgrown my 30-year infatuation with wine. My palate now longs for a hazy golden Weisse with a wheat, banana, clove, and biscuity flavor. Life is short, and the beer list at the Moth is long. There are about 130, including 42 on tap. Many are served in glasses designed to enhance the beer's taste. (A Belgian Chimay comes in a wide-mouthed goblet, the way the brewer intended.) Schlabs bought 20 European casks that he sends to brewers so they can fill them with beers brewed especially for the Moth. Each Wednesday at 5 pm, they tap one.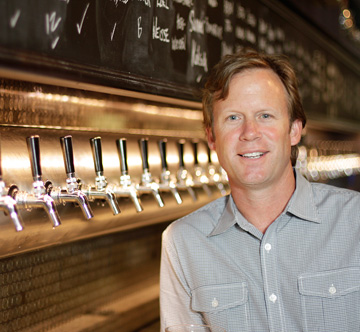 On my first visit, I went with one of the flights of five beers. The 5-ounce pours ($10) are a great way to taste and compare styles. Mine was delivered by Matt Quenette, one of only four level-two Certified Cicerones in the state. (Think of a Cicerone as a master sommelier of beer. Wynne's oldest son, Sam, who works at the Flying Saucer in Austin, is also a Certified Cicerone.)
The interior of the Moth is as unique and well thought-out as the beer list, an amalgam of slick and funk. Wynne incorporated tile samples left by the former tenant, Ann Sacks Tile Showroom. Eclectic Texas art (Wynne is a longtime collector) is scattered throughout. The ceiling space is dominated by three enormous stained-glass windows from Dallas' first Hard Rock Cafe (called The Trinity, they depict Elvis, Chuck Berry, and Jerry Lee Lewis). The bar area is sophisticated and cozy. The walls are dark Brazilian wood; the bar top is pewter. A chalkboard with daily beer offerings hangs above the bar backsplash made with $1,250 worth of quarters embedded in epoxy.
Besides the beer program and the decor, what separates the Moth from other beer-geek hangouts is former Oceanaire chef Chad Kelley's dedication to fine food. The menu isn't quite as exotic as most modern European gastropubs, which might feature items like pig's ears and beef tongue, but it is (thankfully) ambitious for Dallas. There are salads, share plates, stick meats, five preparations of mussels, and meat pies. Instead of sliders, flatbread, and mac and cheese, you'll find shin of beef, beef bone marrow, and rabbit baked in a pie. Yes, Kelley offers fish and chips, but his version is stellar. Thick, almost hot dog-size strips of fresh Pacific cod are battered and bathed in Old Speckled Hen, a malty English ale.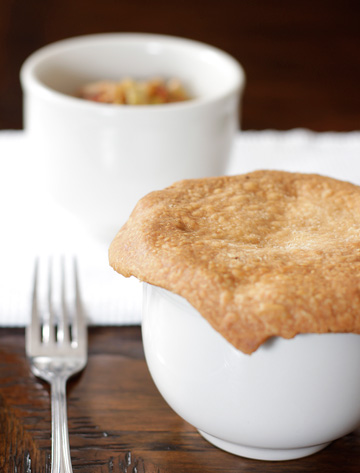 The shin of beef is a thing of beauty. The beef shank from nearby Burgundy Pasture is braised in Breckenridge Vanilla porter for four hours. The meat is picked from the bone, finished off with a touch of balsamic and puréed figs, and placed on a toasted brioche. A thick layer of brie is melted on top. The meat is so tender that it melts in your mouth. Shank bones are boiled, split, roasted, and served open to reveal a thick line of jiggly bone marrow that Kelley brushes lightly with a pungent mixture of parsley, white anchovies, capers, and garlic that cuts the fattiness of the marrow.
The star of the menu is the Moth Balls, a tribute to a dish Kelley sampled at the Spotted Pig in New York. The luscious little pasta-like spheres, sauced with a cream reduction and scented with brown butter and fried sage, are labor intensive. Kelley makes a ball of ricotta and rolls it in semolina flour and ages it for four days. The ricotta binds with the flour and creates a light pasta shell. Don't go to the Moth without trying them.
My least favorite item was the half-pound grass-fed beef burger. It was overcooked and dry, and there was only a scant layer of Thousand Island dressing on the bun (made by Empire). I also did not care for the chicken meat pie. The straight-sided bowl is topped with a sumptuously soft, bread-like crust, but once we punched it open, the strong, sour aroma of boiled cabbage overwhelmed our senses. To make matters worse, the ingredients—chicken, Savoy cabbage, bacon, green apple, and golden raisins—were drowning in soupy liquid. A huge plate of deliciously spicy hummus seasoned with cumin, cayenne, lemon juice, and tahini obliterated the flavor of the pie and created a new taste sensation. The dip is served with a generous scoop of marinated feta cheese and baked pita chips spiked with paprika. Our server suggested we pair a bottle of Schneider Weisse from Germany with our hummus. Smart girl. The clove notes in the wheaty beer contrasted and complemented the spicy spread.
Service at the Moth is, well, not meddlesome. Food comes when it's hot, so expect a staggered pace—it's intended to work that way. On one of my earlier visits, I was deep in conversation with my companions and noticed our server heading for our table. Our glasses were empty and she had a job to do: fill them. Instead, she pulled up, circled the table, and waited until we flagged her. That, my friends, is not typical Dallas service attitude. Which is exactly what you would expect from Shannon Wynne.
Get contact information for Meddlesome Moth.