I cling to my urban roots as if they've always been here. Truth is, though, I grew up in the country outside of Waxahachie. My childhood consisted of entire days spent shoeless, playing in white rock creeks. I moved to Dallas in 1996 and swore I would never live farther than five minutes from fresh mozzarella again (Jimmy's Food Store, my favorite East Dallas source, is about three). I prefer urban life, enjoy the reprise cows at pasture have to offer, but admit to a snobby disdain for suburbs.
That said, I kept hearing chatter about Cedar Hill. Until a recent trip, I knew two things about the city: some of our extended family used to have a house there with an aboveground pool they put in the ground to save money, and it offers some of the best local birding to be found. Oh, and there's that lake somewhere down that way.
So I call my sister, a Cedar Hill devotee who lives in Waxahachie. Lunch and a little shopping on Saturday? "Sure," she says. "Anything to go to Cedar Hill."
Really?
I meet my sister at the IHOP off I-67 and FM 1382, because parking in Uptown Village, the beating-so-loud-you-can-almost-hear-it-from-Dallas heart of Cedar Hill shopping, is difficult enough for one car, much less two. You can take the girl out of Waxahachie, but I still love any adventure that starts with a farm-to-market road. We have lunch at Matt's Rancho Martinez, of Lakewood fame. (Patrizio of Highland Park Village also has an outpost here. Is nothing sacred?) Matt's southern locale is huge, with no waiting, even at lunch on a Saturday. Very clean and very easy—everything I question about suburban life. Bellies full, it is time to hit the shops.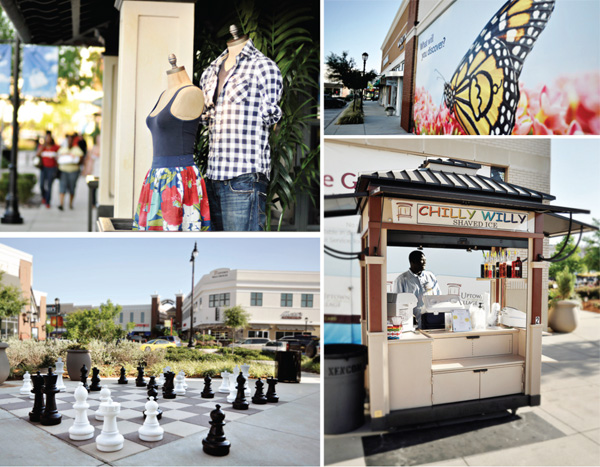 My family talks about shopping in Cedar Hill like I talk about shopping in New York City (I exaggerate slightly for effect but not much). I grew up going to Red Bird Mall, not far from Cedar Hill, but Red Bird developed a bad reputation long before its named changed to Southwest Center Mall. The Parks at Arlington mall opened in the late 1980s, and that became the place to shop if you needed something that Beall's or the Dress Barn couldn't provide.
Then a Greek from Highland Park named Frank Mihalopoulos came along. Mihalopoulos, known as the Godfather of Cedar Hill to some, saw this as an underserved market. The only freestanding restaurant before he came into Cedar Hill was the IHOP where I parked my car. Underserved, indeed. Ten years ago, Mihalopoulos and his Corinth Properties brought in Macaroni Grill and Chili's. Then he "literally kidnapped" tenants to show them the area, bringing in Barnes & Noble, Old Navy, JCPenney, and a Cinemark theater. At one time, he controlled more than 100 acres within the city limits.
"I gave the southern sector what was around in other suburbs," says Mihalopoulos by phone, as he waits to take off on what sounds like a small-engine plane, befitting a Greek real estate mogul. "All these folks used to shop in Arlington. If we bring shopping in the right areas, bring in the right restaurants, it'll increase the amount of residential, we'll have better homes in the area, and more people will be living in this area because we have choices."
Since 2000, Cedar Hill has added almost 3 million square feet of retail space. Mihalopoulos, who also built Eldorado Plaza in McKinney, started with the Plaza at Cedar Hill and continued with Cedar Hill Village. But the retail Mecca is the city's Uptown Village, which opened in March 2008 and keeps expanding. What used to be a field is now a 615,000-square-foot open-air mall, anchored by Dillard's, Barnes & Noble (which relocated to be in the thick of it), and Dick's Sporting Goods. The place offers free family movies, concerts, and "wine walks" (free food and wine pairings at different retailers) throughout the summer. Even the city's historic downtown is feeling the growth; Babe's Chicken House is converting an old city building into a restaurant.
Mihalopoulos calls Uptown Village "the other project." The MGHerring Group, based in Dallas, developed Uptown Village, as well as the Village at Allen and the Village at Fairview. These retailers have put Cedar Hill on the map, but MGHerring might not have given Cedar Hill a second look had it not been for Mihalopoulos' ambitious plans.
"There's a common vision for quality and increased development," says Allison Thompson, the city's economic development director. "This was not an accident."
The city is only 50 percent developed. The fenced-in field adjacent to Uptown Village indicates more to come. But Cedar Hill is more than bar codes and receipts. Or so I'd heard from my friend David Hurt.
He and his wife, Kim, are the founders of Audubon Dallas' Dogwood Canyon, 220 acres along the Cedar Hill Escarpment and the last known nesting habitat in Dallas County for two endangered songbirds, the golden-cheeked warbler and the black-capped vireo. Dogwood Canyon will open next spring with hiking trails and an education center with plans to teach 5,000 North Texas fourth-grade students annually about what the area looked like before skyscrapers and mall parking lots.
I take a break from the mall action to check it out. All you can see of Dogwood Canyon now is a farm-like swing gate between Cedar Hill State Park (with Joe Pool Lake access) and the trail heads of Cedar Mountain Preserve (the only place around for primitive hiking). A sign warns visitors about the presence of rattlesnakes, copperheads, water moccasins, and coral snakes, as well as a few species of nonvenomous snakes, just to mix things up. All are protected under state law, the sign says, and all are beneficial. Right.
Here, the limestone escarpment comes in and out of the prairie like a serpent, as David describes it. The sound of cicadas buzzes through the trees. A turtle the size of my laptop slowly makes his way through a small canal. This part of Cedar Hill, a couple of miles from the Old Navy and Justice, is the best local example of this intact, small ecosystem. "Cedar Hill is not just about shopping," David says. "It looks like a little piece of the Texas Hill Country, a 30-minute drive from downtown Dallas."
Heading back toward 67, less than a mile from the turtle, snakes, and white bluffs of limestone that bank each side of FM 1382, you'll spy Dillard's poking above the horizon. Three men with a JesusChangesThings.com banner transition you from snake to suburb.
Back at Uptown Village, my niece runs through the fountain in the mall's Village Green area. My sister and I watch her, taking our shoes off and sipping iced lattes from the Barnes & Noble Cafe in rocking chairs on the AstroTurf. When my niece tires, the guest services center by the fountain has green towels for her to borrow and then return to green receptacles. Clean and easy. "Man," I think, "the homeless people in my hood could make a nice bed out of these towels." Kids—black, white, brown—squeal with joy until breaking for a gelato from Paciugo or a short walk to the snow cone stand.
My sister and I make plans to meet again in a couple of weekends. My kids will love it. "Really, what's not to like?" I think on the 20-minute drive back to Munger Place. Cedar Hill appeals to my country roots and doesn't stir my disdain for suburbia. Trying on my new Old Navy t-shirt, I realize clean and easy isn't so bad. I will, however, have to talk smack about the AstroTurf.
Write to [email protected].
Get the ItList Newsletter
Be the first to know about Dallas' best events, contests, giveaways, and happenings each month.