Best Dessert

Carrot Cake, Ocean Prime
Truluck's makes fine chocolate and carrot cakes. In the past, it has won this title many times. But then Ocean Prime entered the market. And though we can find a better steak or fillet of halibut elsewhere, we have yet to find a dessert that sated our sweet tooth like the 10-layer carrot cake at Ocean Prime. The success lies in the ratio of icing to cake. Each sheet of moist cake is slathered with a thin layer of cream cheese frosting, a technique that ensures each bite has equal parts of both. 2101 Cedar Springs Rd. 214-965-0440.
Readers' pick: Chocolate Cake, Truluck's Steak & Stone Crab
Best Brunch

La Duni
Pastry chef/co-owner Dunia Borga's pastries make this the sweetest brunch spot in town. Start with a basket of delicate, flaky guava cheese glorias and butter apple brioche, or split the finest cinnamon roll in all of Dallas. Then it's on to the eggs: popovers stuffed with ham and eggs or breakfast tacos with charred tomato salsa. It's all served with Latin American style: slow yet gracious service. That's okay. It just means more time for another cinnamon roll. 4264 Oak Lawn Ave. 214-520-6888. Multiple locations.
Readers' pick: Bread Winners Cafe & Bakery
Best Margarita

Maximo Heat
Sometimes you need a spike of heat to cool down properly. That's the sensation you'll get from sipping a Maximo Heat margarita. The soothing seafoam green cocktail is freshly squeezed lime juice mixed with sweet agave nectar, Sauza Silver (or your choice of tequila from the list), triple sec, and muddled raw jalapeños. Your brow breaks a sweat as tiny bites of pepper jolt your brain, but your body temperature plummets as the cold liquid obliterates the aggravation of another hot Dallas day. 5301 Alpha Rd., Ste. 80. 972-233-5656.
Readers' pick: Mi Cocina

Best Sushi

Yutaka Sushi Bistro
Flashier sushi bars exist. But no one blends artistry, elegance, and adventure better than owner/chef Yutaka Yamato. His weekly specials are exotic and exciting. On our last visit, we feasted on cured Japanese mackerel, bigeye snapper, baby squid in miso vinaigrette, and grilled barracuda. Make sure to stop in to Yutaka's nearby Sharaku Sake Lounge for a lychee saketini nightcap. It's the perfect ending to Dallas' best sushi experience. 2633 McKinney Ave. 214-969-5533.
Video: Chef Yutaka demonstrates how to make a California roll.
Readers' pick: Nobu
Best Wine Bar

Mercy Wine Bar
Mercy is a true wine experience. The menu is extensive—not just wine-friendly nibbles—and they offer 100 wines by-the-glass. And they offer flights. Call us old-fashioned, but we still cling to sampling flights of wine as a great way to taste one of the many wines flooding the market without investing $18 on a glass. The multi-vibe space is designed to fit your mood or need. Business meeting? Yes, on the wi-fi. Romantic?
Pop the question in the Red Room. 5100 Belt Line Rd, Ste. 544, Addison. 972-702-9463.
Readers' pick: Crú
Best Cheese Shop

Molto Formaggio
There's no denying that Central Market's wall of cheese is impressive. It can also be a bit daunting. That's why we love the individual attention at Molto Formaggio. The Highland Park cheese boutique was one of the area's first shops devoted to the fine art of cheese. It also sells artisanal crackers, condiments, and wines. But, honestly, Molto's staff had us at, "Here. Taste this." We're a sucker for free samples. 68 Highland Park Village. 214-526-0700.
Readers' pick: Central Market
Best Italian Restaurant

Nonna
Chef Julian Barsotti's tiny restaurant is a beacon to those in search of modern Italian cuisine. Everything from pasta to pizza dough to pancetta, ciccioli, and mortadella is made in his kitchen. The menu is small, changes daily and seasonally, and ranges from elegant ravioli stuffed with lobster to a simple white pizza topped with littleneck clams. Service is friendly and efficient, and Barsotti is always around to greet his guests. 4115 Lomo Alto Dr. 214-521-1800.
Readers' pick: Taverna
Best Coffeehouse

The Pearl Cup Espresso Bar
A great coffeehouse is more than a strong brew. It's a cafe society. At the Pearl Cup, suit-and-tie commuters and horn-rimmed creatives rub elbows at communal tables, sipping, tweeting, and discussing the subtle differences between the Pearl Cup's three espresso roasts. Grab the Cup's namesake latte—named the city's best latte in our 2009 Best of Big D—and join the conversation. 1900 N. Henderson Ave. 214-824-9500.
Readers' Pick: White Rock Coffee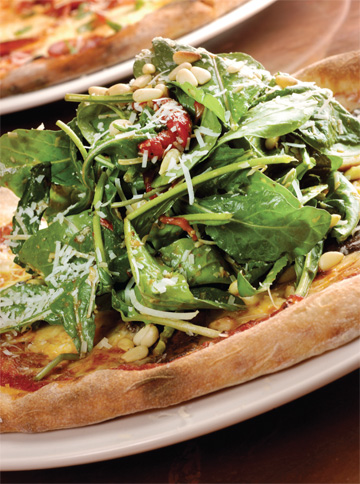 Best Pizza

Fireside Pies
These artisanal pies are neither New York nor Chicago style; they are uniquely Dallas. The not-too-thick-not-too-thin bread-like dough never sags with the weight of innovative, local toppings such as thick slices of Jimmy's sausage or layers of melted fresh mozzarella from Paula Lambert. Each pie is handmade to order and cooked in a pecan-wood-fired oven. 2820 N. Henderson Ave. 214-370-3916; 7709 Inwood Rd. 214-357-3800.
Readers' pick: Fireside Pies
Best Bakery for Bread

Empire Baking Company
Robert and Meaders Ozarow are the emperor and empress of bread in Dallas. The small company they started in 1992 now supplies most of the high-end restaurants in town with European-style natural breads. They've never skimped on quality ingredients. Their repertoire now includes cookies, muffins, and sandwiches along with the ever-popular jalapeño cheese round and raisin pumpernickel. But their basic, crispy crusted baguette is by far the best in the city. 5450 W. Lovers Ln. 214-350-0007.
Readers' pick: Eatzi's
Best Steakhouse

Bob's Steak & Chop House
We love the big, fat, juicy, glazed carrot that comes in the center of every plate holding a steak at Bob's. We also love the atmospheres: the original location on Lemmon with its wooden bar and celebrity clientele; the glammed-up Grapevine outpost with wood-burning fireplaces and private booths. And the no-frill steaks aren't overly seasoned or sauced. Yes, Pappas Bros. cooks a great steak, and its wine list is longer, but we're registered homers. Bob's is a Dallas institution. 4300 Lemmon Ave. 214-528-9446; 1255 S. Main St., Grapevine. 817-481-5555.
Readers' pick: Bob's Steak & Chop House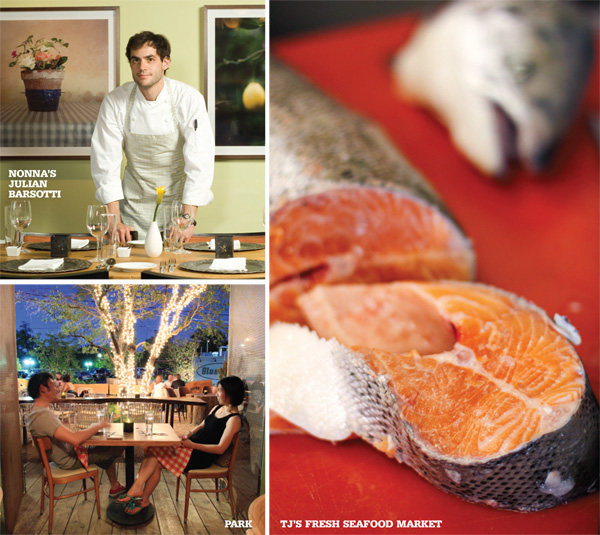 Best Taco Joint

Taco Joint
Dallas is inundated with taco joints, and the topic of who makes the best has caused many a barroom brawl. We don't need to fight because we know we're right. The breakfast tacos at the friendly Taco Joint on the corner of Gaston and Peak can't be beat. Create your own on a flour or whole wheat tortilla from a menu that includes eggs, potatoes, black beans, bacon, chorizo, and refried beans, or gorge on a ginormous burrito. The restaurant is open only for breakfast and lunch but offers The Gaston Grab, a six-pack of tacos to go for only $11.39. 911 N. Peak St. 214-826-8226.
Readers' pick: Taco Diner
Best Fish Market

TJ's Fresh Seafood Market
You've got to hand it to this small, family-run seafood market. It's going strong despite the 52,000-square-foot Whole Foods with an extensive fish market that moved into the shopping center where TJ's has stood since 1989. The key to its success is hands-on service, which includes cooking tips, seafood classes, house-made marinades, and spices. It's also one of the few mom-and-pops that buys most of its
seafood directly from the source. 11661 Preston Rd., Ste. 149. 214-691-2369.
Readers' pick: TJ's Fresh Seafood Market
Best Patio Dining
Park
This once-grungy strip of Henderson is now lined with trendy restaurants with outdoor seating. By happy hour, most are jammed. There is only one patio, however, that feels as if you're sitting in the backyard of your grooviest friend. The sleek interior of Park opens to a covered patio that spills out onto an open, lushly landscaped space where the branches of the leaves sway in the cool evening breeze and the gurgling fountain encourages you to linger. 1921 Henderson Ave. 214-824-3343.
Readers' pick: Patrizio in Highland Park Village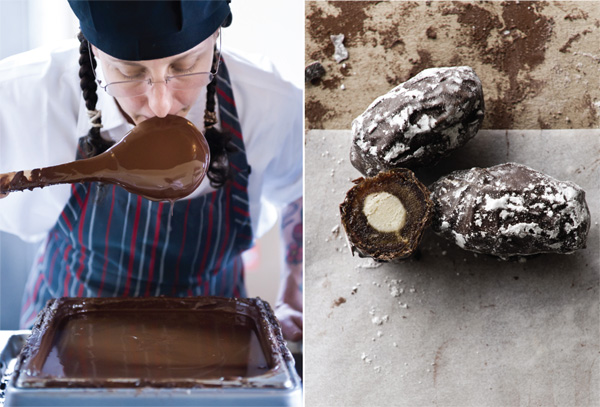 Best Chocolatier

Dude, Sweet Chocolate
Katherine Clapner is the Willy Wonka of Dallas, though you'd never know it from her modest Bishop Arts store. The true magic happens behind the scenes, when she blends the world's finest chocolate with exotic flavors such as beet, curry, and orange Pop Rocks. Her aptly named Crack in a Box—nuts tossed with chocolate and toasted cocoa nibs—will have you squealing, "I want it now!" with Veruca-like gusto. No golden ticket required. 408 W. 8th St., Ste. 102. 214-943-5943.
Video: A Lesson in Making Chocolate
Readers' pick: Dude, Sweet Chocolate
Best Tex-Mex

Mi Cocina
Picking just one Tex-Mex restaurant as the best in Dallas is an ominous task. One day we crave the cheesy, chili-topped enchiladas at El Jordan and another we have to have a No. 10 at Herrera's. But over the course of the year, we spend more time eating at Mi Cocina because the ingredients are higher quality, the ambiance showy enough for our guests from out of town, and the nachos—there are no better nachos in Dallas. 11661 Preston Rd., Ste. 138. 214-265-7704. Multiple locations.
Readers' pick: Mi Cocina
Best Up-and-Coming Chef

Scott Romano, Charlie Palmer at the Joule
The name of the restaurant belongs to über chef and restaurateur Charlie Palmer, but the daily magic in the kitchen is performed by executive chef Scott Romano. The New Jersey native has attracted a loyal following of Dallas food fanatics who respect Romano's attention to detail. Like: the extra hours he puts into producing the artisan salumi of meats cured in-house that hang in a frosted-glass chamber visible in the dining room. 1530 Main St. 214-261-4600.
Readers' pick: Scott Romano, Charlie Palmer at the Joule
Best Butcher Shop

Hirsch's Specialty Meats and Sausages
Large supermarket chains offer convenience, but they don't offer personalized service, especially when it comes to meat. Hirsh's has had real-life butchers behind the counter hand trimming and grinding fresh meat daily since 1992, and it has continued to expand its line of handmade fresh and smoked sausages. Here you can order a custom-cut USDA Prime rib-eye; pick up Vienna Beef hot dogs as well as buns, relish, and sport peppers; and grab a variety of smoking woods to cook it all with. 1301 W. Parker Rd., Ste. 100, Plano. 972-633-5593.
Readers' pick: Hirsch's Specialty Meats and Sausages
Best Barbecue

Meshack's Bar-B-Que Shack
Meshack's Bar-B-Que Shack is just that—a ramshackle building on a grass lot in Garland surrounded by clouds of pecan wood smoke. As with the original Sonny Bryan's location years ago, customers sit in (or on the hoods of) their cars to feast on the lightly sauced ribs with a deep red crust and tender, moist brisket. They might not offer the amenities of the chains, but if you want air conditioning and big screen TVs, all you have to do is grab a bag full of 'cue and head home. 240 E. Ave. B, Garland. 214-227-4748.
Readers' pick: Sonny Bryan's
Best French Restaurant

Lavendou Bistro Provençal
The closest many of us will come to dining in a summer home in the French countryside of Provence is to take a table for the night at Lavendou. Here the decor is accented with the familiar warm blue and yellow tones of a painting by Cézanne or Van Gogh. The atmosphere complements owner Pascal Cayet's specialties such as Coquilles Saint Jacques aux Tomates et Basilic and Entrecôte Grillée des Halles, served alongside seasonal French dishes such as Choucroute Garni à l'Alsacienne and Mirabelle plum tarts. 19009 Preston Rd., Ste. 200. 972-248-1911.
Readers' pick: Lavendou Bistro Provençal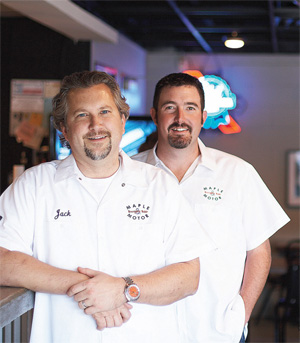 Best Burger

Maple & Motor
Wingfield's has been our go-to burger joint since winning D's Burger Madness tournament in May 2006. But Maple & Motor has inched ahead of the takeout-only spot in South Dallas. Though both burgers are comparable—a half pound of freshly ground beef cooked on a griddle—Maple & Motor has a dining room and beer. (The latter is important in the summer.) Owner Jack Perkins may rule the restaurant with an iron fist that aggravates some of his customers, but he's still no Harvey "Goff's" Gough. 4810 Maple Ave. 214-522-4400.
Readers' pick: Kenny's Burger Joint
Best French Fries

Neighborhood Services
There is a lot to love about owner/chef Nick Badovinus' Neighborhood Services: the noodles Bolognese, pan-roasted halibut, veal schnitzel and späetzle. But no matter what comes with the entrée we order, we always include a side order of fries. Badovinus double fries his hand-cut Idaho Russett Burbanks and doesn't remove them until they are golden brown. The fries, seasoned with just a pop of red clay sea salt, are never
overdone, never undercooked, always just right. 5027 W. Lovers Ln. 214-350-5027.
Readers' pick: Burger House
Best Chinese Restaurant

Yao Fuzi Cuisine
Chris Yao is the owner and gracious host of this elegant Shanghai-style restaurant in Plano. His kitchen is among the few in Dallas that creates delicate xiao long bao (soup dumplings), the "it" noodle of the foodie world. We would drive across town in a blinding rainstorm if only
for the slow-cooked pork belly scented with ginger, herbs, and soy sauce served on lightly sautéed baby bok choy. 4757 W. Park Blvd., Plano. 214-473-9267.
Readers' pick: Royal China
Get the SideDish Newsletter
Dallas' hottest dining news, recipes, and reviews served up fresh to your inbox each week.