Sometime during the holiday season last year, Michael "Mico" Rodriguez—the high-profile founder of the Mi Cocina chain, the godfather of Dallas Tex-Mex—secluded himself in his downtown Republic Tower penthouse and began slowly killing himself. His professional and personal worlds were crumbling around him. He felt like a fraud.
He dealt with his demons by drinking as much as a case of Heineken a day. He withdrew from the world. His cellphone voicemail was full, because he refused to answer it. He passed the days sitting in the dark, watching his favorite movies over and over:
Citizen Kane
,
The Godfather
, and
It's a Wonderful Life
.
As the slow-motion crash stretched into a month, a flower arranger named Ricky McLane was the only person who regularly saw Rodriguez. The friend and former waiter at the Mi Cocina in Highland Park Village brought him groceries and urged him to eat. McLane watched the movies with him, listening as Rodriguez obsessed over the cinematographic elements of each film. Rodriguez drew inspiration from the movies, pointing out detail on wood moldings in one film and saying he'd put that in a restaurant some day.
But Rodriguez knew he wouldn't be designing a new restaurant anytime soon. In fact, his slide into depression and his self-quarantine were due largely to his career implosion. Months earlier, he had stepped down as CEO of the M Crowd Restaurant Group, the company that emerged from the tiny 12-table Tex-Mex restaurant he founded 18 years ago in a foreclosed strip mall.
It was an ignominious end to a spectacular success story. Penniless and fresh out of rehab, Mico Rodriguez had coaxed three partners to back his fledgling restaurant. Bob McNutt, owner of Collin Street Bakery in Corsicana (maker of the original "DeLuxe" fruit cakes); Ray Washburne, CEO of real estate investment firm Charter Holdings; and Ray's brother, retired businessman Dick Washburne, backed Rodriguez with $82,500, a tiny investment that ballooned into a portfolio of 22 restaurants and the chic lounge Twenty2. Last year, M Crowd generated an estimated $78 million.
"He really changed the way people look at Tex-Mex," says Monica Greene, founder of Monica's Aca Y Alla and a friend of Rodriguez's. "He was able to create elegant, expensive environments. He was able to convince people that they could spend $14 on enchiladas. That was pretty bold."
But as his ground-breaking culinary dynasty grew, Rodriguez self-destructed. He whittled away an initial 50 percent stake in the company down to 22 percent by last year, mostly to fuel a high-flying lifestyle that included fine art, designer clothes, luxury cars, and expensive homes. He was in the process of cashing out his remaining shares in M Crowd when he retreated to his penthouse.
And while he watched his three movies, his business partners were gearing up to take legal action against him, alleging he had long been diverting M Crowd revenue into his own pockets. "Mico was really good at hiding things," says M Crowd partner Dick Washburne. [Editor's note: Washburne has for years dated
D Magazine's
dining critic, Nancy Nichols.]
His problems didn't end with business. As his partners were hounding him, Rodriguez and his wife were in the thick of a divorce that would be the final chapter in their nearly 20 years of contentious matrimony. He hit bottom days before Christmas, drinking himself into a stupor, his body shuddering with delirium tremens. "His disease had taken over," says his ex-wife, Carolina Galvan-Rodriguez. "I didn't think he was going to make it. I thought he was going to die."
On December 17, Galvan-Rodriguez finally persuaded her ex-husband to check himself into a locked detox unit at Presbyterian Hospital. Her intervention came just in time, according to one source, as his blood alcohol level was so high that it could have killed him. He was released shortly before New Year's Eve.
McLane says Rodriguez was grateful for his second chance when he returned to his penthouse. He was committed to turning his life around. He vowed to stay sober. "He was humble," he says. "He felt like he had been given another chance." McLane says Rodriguez went back to his old self, brainstorming on legal pads, making long lists of ideas, concepts, and new projects. Several Dallas investors approached him with interest in backing Rodriguez in new restaurant ventures. He drafted plans for a pair of Mexican restaurants in New York City.
Then, as this story was being researched, Rodriguez disappeared again, renewing his friends' concern for his welfare. They wondered, as did the Dallas restaurant community, whether Mico Rodriguez's long fall from grace was finally complete.
===His problems didn't end with business. As his partners were hounding him, Rodriguez and his wife were in the thick of a divorce that would be the final chapter in their nearly 20 years of contentious matrimony. He hit bottom just days before Christmas, drinking himself into a stupor, his body shuddering with delirium tremens.!==
The rise of Mico Rodriguez is a classic story of hard work and ambition overcoming long odds. In published reports—Rodriguez refused to comment for this article—he has said his work ethic and his passion for the restaurant business were instilled in him by his mother and stepfather, Ana and Butch Enriquez, who managed several El Chico restaurants and founded Mia's Tex-Mex Restaurant on Lemmon Avenue in 1981. Rodriguez remembers working as a water boy at an old El Chico on Lovers Lane. He scooped guacamole. He made iced tea. At the age of 9, he graduated to chopping and dicing.
In 1976, he dropped out of Thomas Jefferson High School and plunged headlong into the nightlife on Greenville Avenue, earning money as a doorman, waiter, and bartender. "I would see him, and he always had a lot of girlfriends," says his ex-wife, Galvan-Rodriguez, who has known him since they were both young children. "He always worked hard, and he always had money and a car."
He took the helm of Mia's in 1983 as general manager, logging long hours. He learned to cope with the endless nights and weekends with the rush of drugs and alcohol. "I [was] having a good time," Rodriguez told the
Dallas Morning News
in 2001. "I'm sniffing here and drinking there. But I got to the end of my rope when I figured it's either death or jail."
In an episode that would repeat itself years later, Rodriguez checked himself into a lockdown rehab program in January 1989 after one final drink: a 7 am Bloody Mary served at the Melrose Hotel. Rodriguez stayed sober for 15 years.
But soon after his release, his stint at Mia's ended over a dispute with his mother and other members of his family. According to former M Crowd public relations man Wayne Broadwell, there was friction between Mico and his brother Paul, then co-owner of Mia's and a driving force behind the Greater Dallas Restaurant Association. "He and Paul were estranged," Broadwell says. "I don't know if it was a competitive thing. Probably."
From the beginning of his post-Mia's career, what Mico Rodriguez lacked in formal education or resources, he made up for with chutzpah. Real estate investor Ray Washburne, a regular at Mia's who was served by Rodriguez, recalls the day in late 1990 that he got a call from Rodriguez at his office. "He said, 'Hey, Ray, this is Michael Rodriguez. I'd like to come see you to talk about a restaurant,' " Washburne says. "And my response was, 'Well, who are you?' "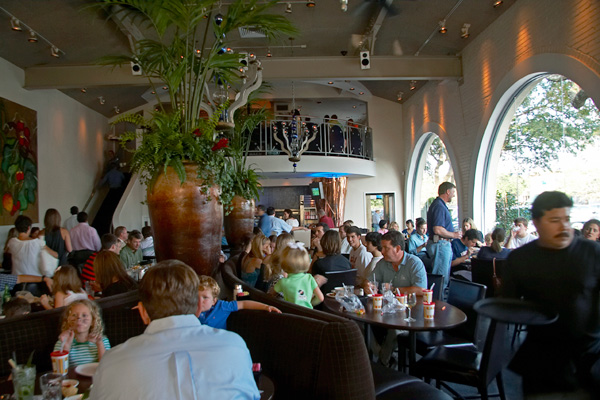 Washburne agreed to meet Rodriguez for lunch at a Chinese restaurant on Motor Street, near Stemmons Freeway. There, Rodriguez showed Washburne a list of celebrities that were regulars at Mia's, including Dallas Cowboys legends Chuck Howley and Roger Staubach. Rodriguez told him that he had planned to call each of them but decided to call Washburne first. Washburne asked him why. "He says, 'Well, because I see your name in the society pages all the time, so you must have a lot of money,' " Washburne says.
Broke and just a year out of rehab, Rodriguez asked Washburne for $25,000. Washburne agreed on the spot. "He was a sincere guy," Washburne says. "I observed him working at Mia's, and he was a very hard-working guy. He was a popular person. People were attracted to him."
Washburne drove around Dallas with his girlfriend, scouting restaurant locations. They eventually settled on a site in Preston Forest Village, on the southwest corner of Preston Road and Forest Lane, a property in foreclosure. Washburne negotiated a lease on a space at an end of the strip that was deserted. It was, he would later discover, a sweet spot. "There was no Mexican restaurant anywhere for miles in any direction," he says. His $25,000 investment quickly became $77,500. "That's when I went to get my brother Dick to come in and Bob McNutt, who was my old college roommate," Washburne says. The total investment crept up to $82,500, which included last-minute expenses on opening night. Carolina Galvan-Rodriguez says they paid their partners back in four and a half months. "Band of brothers, they called themselves," she says.
Rodriguez and his wife worked doggedly in their 12-table restaurant with nine employees, she in the front of the house, he in the kitchen. Their concept received a powerful boost when Juanita Miller, wife of real estate mogul Henry S. Miller, took a liking to Mi Cocina's margaritas. In 1993, she convinced her husband to slip a Mi Cocina into Highland Park Village after Miller let the lease lapse for Los Vaqueros, a restaurant that had been in the shopping center for 20 years. "She's the one who put us on the map," says Galvan-Rodriguez. "That's when developers started looking at us, and a lot of opportunities opened up. We got a lot of 'A' locations. We were blessed." Whole chapters of Dallas restaurant culture would soon be rewritten.
Rodriguez instilled Mi Cocina with contemporary styling that used clear forms, soft curves, and bright colors discharged with precision and understatement. "Whatever the industry's doing, I'm not doing," Rodriguez said in 1993. "I don't do loud tablecloths and neon beer signs. I can't handle colored walls. Good taste is good taste." Rodriguez's chain expanded to locations in Lake Highlands, Bent Tree in North Dallas, and the Dallas Galleria. His ascension to local restaurateur legend was nearly complete.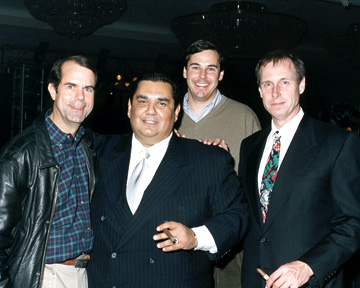 As Rodriguez's empire expanded, his tastes grew more extravagant. In January 1998, the M Crowd opened The Mercury at Preston and Forest with celebrated chef and new partner Chris Ward. Named after the circa-1937 New York City theater company founded by Orson Welles and John Houseman, The Mercury was an innovative, upscale-casual New American restaurant that won a devout following. Ward, who was a frequent customer at Mia's and the first Mi Cocina, knew Rodriguez from his days as a banquet waiter at the Mansion. Rodriguez always pushed the envelope, says Ward. "In some ways, Mico was never satisfied with things," he says.
Later that spring, after partnering with Mainstream Fish House founder Kelly Haden, the M Crowd transformed a florist location in Turtle Creek Village into a Mainstream Fish House. Then they opened another Mainstream location in Fort Worth's Sundance Square. That same year, M Crowd launched Taco Diner in Preston Center, a modern and minimalist Mexico City taqueria with a communal wash basin. Rodriguez described his taqueria as an "ethnic boutique restaurant" serving open-face tacos divided on the menu into "taco groups." Galvan-Rodriguez claims the concept was hers, and she oversaw the evolution of the menu.
But while the M Crowd racked up these successes, it suffered growing pains as well. Mainstream Fish House faltered. "The concept didn't travel well," says Galvan-Rodriquez. In Sundance Square, the restaurant shifted from seafood to Southern cooking and was rebranded Ellington's Southern Table before morphing into Ellington's Chop House.
These stumbles didn't diminish Rodriguez's ambitions. In Turtle Creek Village, he was scripting M Crowd's most ambitious, divergent project yet. In the summer of 1999, the florist-gone-Mainstream Fish House was rebranded Citizen, a "European-Asian sushi bar" with bento box lunches and plates driven by French cooking techniques. Rodriguez called Citizen an "homage to Nobu," the New York restaurant that eventually landed in the Hotel Crescent Court. Citizen, like its sibling Mercury, was in part inspired by Orson Welles' masterpiece,
Citizen Kane
. "M Crowd has always beaten to the sound of a different drummer," Rodriguez said.
Meanwhile,
Food & Wine
and
Travel + Leisure
heaped national praise on The Mercury, and Rodriguez parlayed that success into yet another grand venture. In the summer of 2001, he lifted the veil on a $3.5 million ultra-modern bi-level restaurant in the Shops at Willow Bend. The M Crowd's flagship Mercury featured an expanded menu, designer furnishings that included barstools swathed in zippered white leather slipcovers, and a quiet dining space called the Library modeled after Taillevent, the legendary restaurant in Paris. The original Mercury was down-scaled and rebranded as Mercury Grill.
The new Mercury fell under the Restaurant Life division, which M Crowd formed largely to exploit the culinary gifts of chef Chris Ward. To this fold they added the French brasserie Paris Vendome in the West Village, directly across from M Crowd's Taco Diner. Opening in March 2002, Paris Vendome was loosely modeled after Balthazar in New York City. It featured white cowhide banquettes, high ceilings, columns skinned in mirror tiles, oversized mirrors, a thick burger made of ground tenderloin woven with shreds of braised short rib dripping with foie gras, and a U-shaped bar that was arguably the most powerful nightlife draw in Dallas. Even Robert De Niro stopped by. Rodriguez had come a long way from his humble roots filling water glasses at El Chico.
"Mico was restless, always," says restaurateur Monica Greene. "He has always wanted to make it big. He was in the public eye for more reasons than just selling enchiladas."
By 2002, Rodriguez was on top of the world—or so it seemed. His core stable included a Mi Cocina Bianca Elena (named after his then 5-year-old daughter), two Taco Diners, and roughly a dozen Mi Cocinas after M Crowd gobbled up Stephan Pyles' Taqueria Canonita concepts in Plano and Las Colinas from Carlson Restaurants Worldwide (parent of T.G.I. Friday's). He transformed them into Mi Cocina's Canonita. M Crowd restaurants were generating an estimated $48 million, ranking the company 30th in
Restaurant and Institutions'
listing of the top 75 multiconcept operators in the country. In national publications, Rodriguez was compared to restaurant legends Rich Melman (founder of Chicago-based Lettuce Entertain You Enterprises) and Danny Meyer (founder of New York's Union Square Hospitality Group). His M Crowd profit disbursements ran into the millions. "Sudden success makes you feel like this is too good to be true," Rodriguez said then. "Will this end tomorrow?"
In October, the Mercury in the Shops at Willow Bend, the flagship restaurant in the M Crowd group, closed. "We just weren't able to sustain a following, especially since we opened up September 7, 2001," Rodriguez told me in October 2003. "It really was doomed, I think, from the get-go."
Citizen followed in April 2005. "It was my lack of being able to give it focus," Rodriguez admitted to me in a 2005 interview. "We have not been as successful as we had envisioned as a multiple-concept developer."
The demise of Paris Vendome, the
Dallas Morning News'
2002 restaurant of the year, was more agonizing. "Oh, my God. That was incredible," says former Paris manager and maitre d' Michel Boutemy de Guislain, now a manager at City Cafe. He says the restaurant was generating $90,000 to $100,000 every week, mostly through its hyperactive bar. But little more than two years after its high-profile opening, Paris was bleeding cash. Rodriguez blamed the failure on the menu, saying it was "too French, too sophisticated." De Guislain blames something else. "The bar killed the business," he says today. "That bar was so loud, so violently loud. It was an explosion." When Dallas' fickle bar crowds eventually moved on, Paris was doomed. It was gone by November 2005, supplanted by a Mi Cocina that remains successful.
M Crowd partner Ray Washburne says the massively successful Paris faltered largely because Rodriguez grew bored with the brasserie and moved on, just as its bar connoisseurs had. "He's all about the passion and spirit," says Taco Borga, founder of La Duni and among Rodriguez's closest friends. "He was on top of the world. That's when the biggest storms come."
===In 2001, Rodriguez lifted the veil on the $3.5 million ultra-modern Mercury in the Shops at Willow Bend, the flagship M Crowd venue. In 2002, Rodriguez opened Paris Vendome, loosely modeled after Balthazar in New York City. Vendome's U-shaped bar was arguably the most powerful nightlife draw in Dallas. Even Robert De Niro stopped by. Rodriguez had come a long way from his humble roots filling water glasses at El Chico.!==
People who have worked with Mico Rodriguez describe him as an intense visionary, an overpowering personality with enormous passion and appetites. But that intensity often boiled over. "He's such an unpredictable person," Borga says. "When you are very passionate, you have very strong emotions. And strong emotions go with extremes."
Rodriguez knew how to forge loyalty from those working under him. He meticulously tracked the names and ages of his employees' children, often asking about family details. He hosted large employee holiday parties in hotel ballrooms, posing as Santa Claus, calling children by name to dispense gifts. "They had a really great culture," says Lucian LaBarba, president of American Foodservice, who sells to M Crowd restaurants. "A lot of the people that work for him, they'd go to war for him."
"When a place opened and everything was in order, he would go back into the kitchen and tip every guy, handing them each $100 bills," de Guislain says. "If you worked for him the way he wanted, you were in good shape."
But if you didn't work the way he wanted, he could be intimidating, even abusive. Rodriguez checked his restaurants continuously, scouring every detail. If anything fell short of his expectations, he'd yell and knock pots of food onto the floor. He had little patience for anything less than constant and concerted effort. "Our business is good enough that plenty of people wanted to come work for us," says Dick Washburne. "His famous saying was, 'If you can't find something else to do, go find some dirt and eliminate it.' "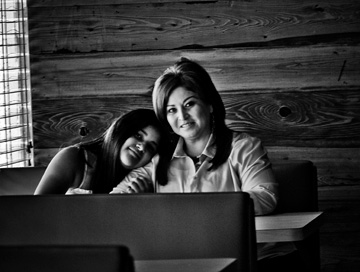 His appetites were legendary. After his first stint in rehab, Rodriguez seemed to replace one vice for another, growing to well over 400 pounds. "He is obsessive-compulsive about everything," Broadwell says. "Food, art, architecture, photography, clothes, jewelry." And women, as court records show. In 1994, Rodriguez was slapped with a $4.375 million sexual harassment and wrongful termination suit. Victoria Howard, a captain at Mi Cocina, alleged that Rodriguez, among other things, grabbed her hand and placed it on a busboy's crotch as he told her the busboy was "hung like a horse." Howard also made reference to Rodriguez's frequent bouts of rage, known among Mi Cocina employees as "Mico fits." The suit was eventually settled for undisclosed terms.
Between 1995 and 2007, Carolina Galvan-Rodriguez filed for divorce four times, citing Rodriguez's long-term pattern of adultery. "It was the only way I could really get his attention," she says. "And when he realized he was going to lose me, he would always come back and try to make things right. He had messed up. Everybody messes up. Mico has had several women over the years, and I've forgiven him and moved on. I even joke about it sometimes."
In September 2007, the two filed for divorce one final time through the collaborative law process, in which a settlement is reached outside the courts. "This last time, he didn't want to patch it up," Galvan-Rodriguez says. "He had moved on. Before, he was real good at convincing and patching things up and making things better."
Rodriguez admitted that he used food as a coping mechanism, and when he realized in 2003 that he couldn't control his eating, he opted for gastric bypass surgery, which reduces the functional volume of the stomach and alters one's responses to food. But the decision had unintended consequences. Without food to console himself, Rodriguez resumed drinking, ending 15 years of sobriety. "As time went along, his drinking took over more and more, and he became less and less of a presence," Dick Washburne says.
Rodriguez repeatedly checked himself into rehab programs, only to relapse soon after release. In fact, his ex-wife says Rodriguez has been in and out of rehab programs at least four times during the past two years. In the summer of 2008, Washburne says he flew Rodriguez to the Hazelden addiction treatment center in Center City, Minnesota. Just a few weeks prior, Rodriguez had been released from Promises Treatment Center in Malibu, California, the rehab center of choice for celebrities such as Britney Spears and Lindsay Lohan. This was Rodriguez's second visit to Promises within a year. "He walked out on Hazelden after about 10 days," Washburne says. Washburne believes Rodriguez failed because he refused to combine rehab with an ongoing treatment program, such as Alcoholics Anonymous. "The real big problem with Mico is that his ego is too big to deign to become an AA person," he says. "Mico's ego is too big to allow him to spend the time in the room with these other people. He thinks he's better than they are."
Yet those closest to him believed his brush with death during last year's holiday season had cured him. He was back to his old self. He was sketching plans for a future in New York.
The plans hit a setback in February when his M Crowd partners filed suit against him and his wife, alleging that they had skipped payments on a personal loan—in excess of $1 million, according to Galvan-Rodriguez—the company made to help them pay back taxes. In addition, the suit charged that Rodriguez had converted money from the company into his personal coffers.
His ex-wife sees a sinister motive behind the timing of the suit. "It's no secret that Mico was an alcoholic and had some problems in the beginning, and was 14, 15 years sober, and then fell off the wagon and kind of had a spin," says Galvan-Rodriguez. "So when he was down and out, that's when they started to attack him."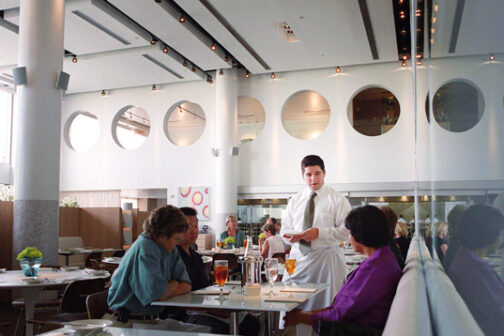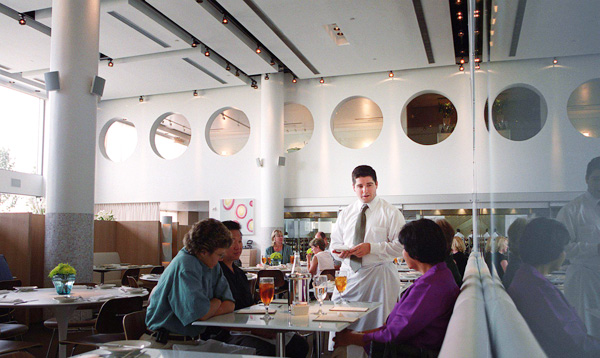 Rodriguez's exit from M Crowd began last summer, when his partners tapped Greg Good, a former chief operating officer of the Cheddar's Casual Cafe chain, to replace him as CEO. "I felt like the luckiest guy on the planet," says Good, who took over in September 2008. He says the decision to relieve Rodriguez was mutual. "In the end, Mico wanted to be bought out," he says.
Before coming onboard, Good met with Rodriguez, Ray Washburne, and Consilient Restaurants founder Tristan Simon, who served as a mediator. Once Good was in place, Rodriguez offered his guidance to ensure Good was up to speed on M Crowd operations. Still, Good says he was apprehensive. He feared internal resistance might stymie the transition. "I was following a legend," he says. Yet, Good says, there has been no turnover, and the company has not lost a single restaurant manager since the transition. "I'd love to take credit for it, but I didn't hire them," he says. "Mico did."
M Crowd partner Ray Washburne disputes Galvan-Rodriguez's claim that Rodriguez was forced out because of his struggles with alcohol. Washburne says he and his brother Dick personally escorted Rodriguez to rehab on more than one occasion. "We got him the best care we could, multiple times," he says. "I could have stayed and worked with someone through that, which we did, for a number of years. When he is focused, he is a brilliant operator. I think money, success, and the celebrity of being a high-profile restaurant owner distracted him from the reality of a life and a work ethic."
It was financial irregularities that ultimately drove a wedge between Rodriguez and his M Crowd partners. Almost since the inception of the company, Washburne says, Rodriguez and his wife would spend their profit disbursements without setting aside money to meet tax obligations, generating a series of IRS tax liens. County records show that in the years between 1997 and 2004, Rodriguez and his wife racked up more than $2.7 million in federal tax liens attached to their Preston Hollow home.
"They'd let the tax obligations pile up for two or three years, and they'd come to us for help," Ray Washburne says. "They received millions of dollars from us over the years to supplement their lifestyle and pay their taxes and penalties. We were always there to bail them out as a partnership."
They bailed them out through loans and stock sales, which through the years reduced Rodriguez's interest from 50 percent to 22 percent. In addition, sources say that in the past several years, Rodriguez had channeled roughly $700,000 of M Crowd funds into his own accounts. That total included diverted vendor payments and payroll checks set up for "ghost" employees.
"Last summer," Ray Washburne says, "a lot of things came to light, and that's when it started unraveling very quickly as things were uncovered."
Galvan-Rodriguez says that's not true. "There was a lot going around that he was a thief or that he embezzled money," she says. "I could say a lot of things about Mico, but he is not a thief. He didn't embezzle any funds out of M Crowd." She says they considered filing a slander suit against M Crowd. She says that the financial settlement they reached to cash out their M Crowd stock was unfair. Both parties refuse to disclose the terms except to say that Rodriguez is under a two-year noncompete clause that bars him from opening a Mexican restaurant in Texas. "This offer is offending to me," she says.
===Sources say that in the past several years, Rodriguez had channeled roughly $700,000 of M Crowd funds into his own accounts. "There was a lot going around that he was a thief or that he embezzled money," says Carolina Galvan-Rodriguez. "I could say a lot of things about Mico, but he is not a thief. He didn't embezzle any funds out of M Crowd."!==
Some wonder whether M Crowd can thrive as the inventive company it once was without the creative force of Mico Rodriguez at its helm. "I don't see where the soul of the company is any longer," says La Duni's Taco Borga.
CEO Greg Good says he is embarking on an aggressive expansion beyond North Texas, redirecting focus on what he calls the company's "beans and rice" group: Mi Cocina and Taco Diner. Immediate plans call for Mi Cocinas to open in Lexington, Kentucky; Tulsa, Oklahoma; and Chicago. He insists his experience in chain expansion and regional sourcing will overcome whatever past difficulties M Crowd confronted expanding outside of North Texas. "Mi Cocina is the P.F. Chang's of Mexican food," Good says.
The company is also reconfiguring its restaurants outside of the "rice and beans" umbrella, those once tucked under its Restaurant Life division. Its Mercury Chophouse in Fort Worth was sold this summer to managing partner Zach Moutaouakil. Plans call for two new restaurants in Highland Park Village, the shopping center purchased in May for $170 million from Henry S. Miller Interests by a partnership headed by Ray Washburne. These new ventures, developed by Chris Ward, will include an Asian restaurant and an American grill.
"The Mi Cocina brand has the potential to be the El Chico or the El Fenix of the 21st century," says Matthew Mabel, president of the hospitality consulting firm Surrender. "How much of Mico's soul was keeping that going and how much will fall away when an executive from Cheddar's takes over? We are about to find out."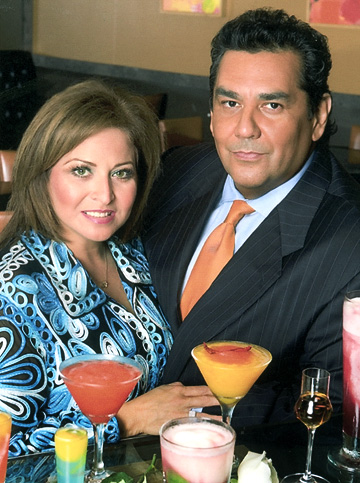 After cutting ties from Mico and M Crowd, Carolina Galvan-Rodriguez founded her own restaurant company. "People don't know too much about me because everything was Mico," she says. "He was the king, the legend. But I was behind the scenes. I was the heart of the company." Galvan-Rodriguez claims she ruled the culinary side of M Crowd, overseeing a crew of some 44 chefs—this despite the fact she had no official M Crowd title and wasn't on the payroll. "Mico always said it wasn't necessary because I was an owner," she says.
She calls her new company After All Restaurant Group, an umbrella that encompasses two Carolina's Mexican Cuisine outposts, which opened in North Dallas and Plano in June and early July; and Taco Mundo, a Taco Diner emulation with a location in Dallas and one in Fort Worth.
To bankroll the company, she is leveraging her share of the divorce settlement swollen with M Crowd buyout proceeds. She'll capitalize the venture further once she sells their ranch-style home on a lush 1.2-acre creek lot in Preston Hollow, less than half a mile from President George W. Bush's estate. Asking price: $1.895 million.
The Dallas restaurant community will watch closely to see how she and how M Crowd will do without Mico Rodriguez. But an even larger question looms: how will Mico Rodriguez fare without them?
He described his New York project as an upscale Mexican restaurant not unlike Javier's in Dallas. But as of this writing, the project is all but scuttled. In mid-June, Rodriguez was scheduled to meet in New York with his business partners. "He didn't show," says Henry S. Miller, who has been offering Rodriguez business support for the project. Sources say Rodriguez had checked himself into an Austin rehab program in June, but Galvan-Rodriguez says that's not true.
"He had everything, and everything going for him," Dick Washburne says. "I mean, it's really pathetic. Here is a guy who has real charisma. Everybody wants to love him. He has genuine talent and ability. And yet practically everything he touches he turns into a stake he's trying to drive through his own heart."
Write to
[email protected]
.
Get the SideDish Newsletter
Dallas' hottest dining news, recipes, and reviews served up fresh to your inbox each week.