In my grandparents' house sat a jade horse enthroned on a dais. Cared for like a best in show, the horse seemed a demigod scorning us with its cold beauty. My siblings and I poked fun at the horse, feigning obeisance to it in family pictures. But for all our tomfoolery, we knew the horse was precious, a hallowed portal to Ming Dynasty China.
Perhaps Trammell Crow's children also played with their family's precious objects, high-fiving a Buddha or making faces at a lokapala. One thing's for sure: their family's jades were of a slightly higher caliber than our horse. For more than 10 years now, the Crow family jades have made their mark at the Crow Collection of Asian Art, constituting what Amy Hofland, the Crow's director, calls the museum's heartbeat.
Trammell Crow's real estate ventures often took him to Asia, and when Nixon made his famous 1972 visit, China opened. "China had a great interest in Trammell's kind of merchandising, approach to urban planning, and advocacy of certain architecture, so the Crows were at the forefront of people first allowed to visit China," says Caron Smith, consulting curator at the Crow. "The Crows' appreciation for jade—very much a traditional Chinese investment—melded the cultures. They began to collect earnestly for their house, buying some extraordinary large sculptures for their hotels and buildings." Thus was born the Crow Collection—the product of business ventures that had local and global ramifications.
As the rest of Flora Street opens this month, it's fitting then that the Crow returns to its origins with "Wild Flowering: the Crow Family and Asia," an exhibition highlighting the Crows' collection. "We looked for an exhibition to meet the stature of what's happening in the Arts District," Hofland says. "We realized that when people come here, they really would like to see the Crows' collection. With Trammell's passing in January, it was an appropriate time to tell his story." Smith chose the title to underscore how the museum's treasures, she says, "have come out of their time and place and taken root in a new context."
The Crow's curator, Shiyuan Yuan, has focused his attention on "Blossom Stone," a smaller collection of jades within the exhibit—from a tiny archer's ring to a large jade mountain carved from a single stone. Many of these objects, commissioned for Emperor Qianlong, bear his ring mark, a reminder that they graced the Forbidden City. That these objects are here tells a complicated story. "Currently," Shiyuan says, "Western museums with major Chinese collections are cautious about sending their collections back to China." Despite a UNESCO regulation that the ownership of anything out of China before 1970 would not be contested, museums are still wary of loaning out their collections. "A lot of people in China can't accept that their treasures are in Western collections." "Wild Flowering" is not just a figurative transplantation.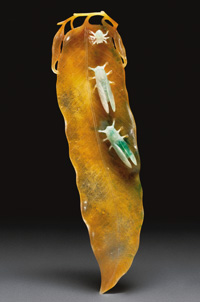 In a way, Trammell Crow's collection and his office tower in which it is housed act as his own imperial signatures. In 1984, both the Trammell Crow Center and the Dallas Museum of Art opened adjacent to each other, and commerce and culture converged. That's the effect Hofland sees. "I'm thrilled we are connected to a huge skyscraper," she says. "I want a museum where people live and work." Is it a fluke that the Nasher and the Crow are side by side? "I think it happens everywhere," Hoflands says. "We're just lucky that the district was designed and built with a vision that cultural institutions would come alongside commercial ones."
Yet Smith, the consulting curator who is based in New York, raises some questions for the Crow Collection. "Part of the way a museum grows is if the collection grows significantly," she says. "Is that still the case? Do we see people giving gifts to the Crow? Current collecting at the Crow does not seem to be at the pace it has sustained to date. But the dimensions of Asia explored through the collection seem very adventurous, and the Crow is remarkably prolific for such a young institution." Hofland says, "A lot of the works the family collects now are what I consider to be pledge gifts, which means they're staying with the family members but then coming to us." Harlan Crow collects ornate snuff bottles, and Lucy Billingsley focuses on contemporary Chinese painting. As it is, the Crow's tight space leaves much in storage.
In 2010, LinkAsia, a new gallery with contemporary Asian works on paper and photography, will open. A courtyard at Harwood and Flora with a Japanese garden and wisteria arbor is also slated to arrive in the near future. A small, free museum, the Crow has an intimate scope. With "Wild Flowering," the Crows' decades of collecting elevate their endeavors to the mark of emperors on stone. Hard objects can traverse centuries and dynasties, gradually softening into individual stories.

Events at the Crow Collection of Asian Art:
"Wild Flowering," through January 2010; "Yeohlee: Design for Now," October 3, 2009 through January 3; "The Mystical Arts of Tibet," Monks from the Drepung Loseling Monastery, October 11-18; Arts District Open House, October 18; "Culture to Culture: Reconciling Asian and European Art," October 22 and 29.
Get contact information for the Crow Collection.
Get the FrontRow Newsletter
Get a front row seat to the best shows, arts, and things to do across North Texas. Never miss a beat.