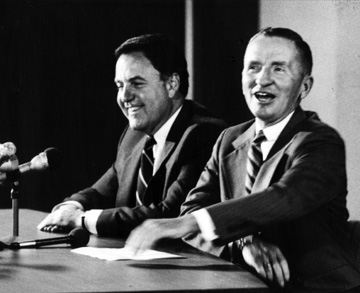 Trammell Crow also offered to help the symphony, Evans says. "I went over to speak with Trammell and Lucy [Billingsley, his daughter], and they were very generous. … They were going to sell their land [at a reduced rate]. But his site didn't fit the symphony as well as Borden's, and I told him, 'If we get this offer from Borden, it's better.' "
While Evans was out beating the bushes for land, the symphony was not sitting idle. (Indeed, it had been speaking with lower-level Borden officials for months about the land, without success. "Sometimes people at top levels move faster, and people at lower levels are more cautious," says a Borden spokesman.) Since November 1979, the symphony association had had a committee headed by EDS president Morton Meyerson investigating what sort of hall should be built, and who should build it. In January 1981, I.M. Pei was notified that he had been selected from among 100 prospective architects. "I knew that I.M. was going to get the commission when he said, 'I've never designed a concert hall in my life, but before I die I must design a great one,'" Stone recalls.
Equally important was the acoustician, the sound expert who is to tell Pei which sizes, dimensions, and building materials make for the best concert sound. The symphony gave that job to New Yorker Russell Johnson in February 1981, Stone says. Not many concert halls are designed in any given year. Johnson has designed them in Manila; Winnipeg; Hamilton, Ontario; Montreal; and Minneapolis-St. Paul.
The symphony site still needs some additional 44,000 square feet of land—which the city is acquiring—but when the mayor and Borden came to an agreement, the biggest threat to the arts district was resolved. It looked like everything was ready to go.
The question was, go where?
Before Borden's donation, there had been no certainty of an arts district ever coming about. Consequently, there had been little unified planning. Even after the Borden gift, it took a month to set up a meeting of all the developers involved in the district. It took another four months to get a coordinator to work with all those developers, plus the symphony, the museum, and the city.
Several landowners had development plans before September, Schoop says, "but they were all just for big buildings and big parking garages. We told them, 'Look, everyone else is building huge buildings, too, and if this keeps up, there won't be an arts district.'"
Nick DiGiuseppe, one of three principals in the Triland partnership, says that the first meeting occurred in October. "Everyone was kind of approaching it skeptically. They would say, 'I'm here to observe, but I'm going to reserve my judgment until I can see what's going on.' Everyone said it was a good idea. It would be good for the city and for us."
At the second meeting, in November, the group began talking about concepts—about making Flora Street, which connects the museum and the symphony on an east-west axis, into a special area with low store and restaurant fronts, parks, and fountains and coordinating building designs. DiGiuseppe and his partners started dreaming up creative ways to use the land in the district—their own and everyone else's. In a way, they had to. Their properties, which they bought last spring, are relatively small. One sits at the crucial corner of Flora and Olive, right between the museum and the proposed concert hall. "Their individual properties were basically worthless without an overall plan," says Michael Young, another developer in the district.
At any rate, by the group's third meeting in January, the Triland staff—alarmed at what seemed to be an aimlessness to some of the two-hour sessions—prepared some overall concepts, including one that Schoop has adopted as a key to the health of the district. Triland proposed a 12,000-car garage for the area, to be buried underground. It would be aesthetically pleasing, it would allow better use of the above-ground land that otherwise would have to be devoted to parking decks, and it would be extremely expensive. About $10,000 a stall, say. Or $120 million. The city and John DeShazo, a private traffic engineer, are studying the matter.
The confusion that worried Triland was probably only natural. Nothing like the Dallas arts district has been done in North America. Among the participants here, the balance of power was feather-sensitive—the city could not pass terribly stringent land-use laws for fear of a lawsuit, and the developers could not ignore the city for fear of terribly stringent land-use laws. The arts groups are run by some of the city's most powerful citizens, but they have direct control over only the land that they own. Everything depended on amicable cooperation, which meant that not much could be accomplished. No one could assert strong leadership, due to a planning phenomenon known as "paranoia."
If an arts group or private firm tried to take charge, it would be accused of conflict of interest. If the city tried, it would be accused of acting dictatorial. "We would have been eaten alive," Schoop says. Instead of calling in an outside moderator, the group tried to run things by committee. "At first, everyone thought that maybe the group could just work with each other," he says. "That would have been ideal. You had some of the greatest architectural minds in the country working on these projects, and if they had been able to work together, you wouldn't have needed someone to mediate."
By the January meeting, however, it was clear that someone had to be in charge. The group agreed that Bryghte Godbold, a private citizen who helped usher Dallas' sign ordinance into law nine years ago, would be a likely prospect. Godbold, says DiGiuseppe, spoke to the group in late January and pretty much scared the heck out of everyone. "He was talking about getting this [district] legislated into place," DiGiuseppe says. "He wasn't given that mandate, and I guess that's why he's not fulfilling that role."
The man who finally took the unpaid mediator's job is Philip Montgomery, a medical doctor, professor of pathology, and associate dean at the University of Texas at Dallas Health Science Center. Montgomery has, sort of as a hobby, supervised the construction of $200 million worth of university facilities on four different campuses. He may be the university system's chief expert on development and construction. And he loves his work. "It's a huge opportunity for the city, and it's a great opportunity for me," he says.
Once Montgomery came on board, things took off. Within a month, the group was approving guidelines for a competition to be held for a "master planner" who would help decide on key features of the arts district—an idea the members earlier had rejected. The competition began on March 26, when 14 of the nation's more prominent architects and urban planners traveled to Dallas to hear the basic rules for the arts district.
The general design concepts on which the eventual final plans are to be based have been agreed to by the public and private developers at work in the district. They include:
• Establishing Flora Street, which bisects the district from Harwood to Routh, as a ceremonial boulevard with special green spaces, building setbacks, and, perhaps, height limitations on nearby structures—especially those within 100 feet of the curb. Pedestrian traffic is to be emphasized more than automobile travel.
• Providing public spaces where artists can display and create works of art.
• Providing enough outdoor space, perhaps through an amphitheater, to allow for outdoor plays, concerts, and dance festivals.
• Assuring that the ground floor space in buildings is devoted to retail stores, restaurants, and bazaars, using designs that tie those facilities directly to the outdoor plazas and street fronts.
• Making the entire district comfortable for pedestrians—physically and psychologically—by using landscaping, water displays, street furniture, and plazas, and by minimizing the troubles caused by sun and wind (no reflective glass buildings, for instance).

Get the FrontRow Newsletter
Get a front row seat to the best shows, arts, and things to do across North Texas. Never miss a beat.