Editor's note: This story was first published in D Magazine in May 1982. The city saw itself at the threshold of greatness. In one fell swoop, with two new buildings, we would remake our image and create an arts district unlike any other in the country. Now, nearly 30 years later, here we are again. The parallels between then and now are striking—and, hopefully, instructive.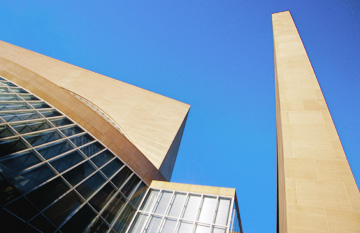 Jack Schoop's head is full of empty space. Of plazas, water fountains, grass, and trees. Of office workers eating their lunches in vest-pocket parks or strolling over to the city museum for half an hour's worth of impressionism. It's a city planner's dream, and Schoop is Dallas' chief city planner.
George Charlton's head is full of the Cézannes, Monets, and Mondrians that will be added to the collection of the Dallas Museum of Fine Arts, whose board he chairs, when it opens its new facility at Harwood and Flora streets in the fall of 1983. And of the crowds of people, perhaps a million a year, who will visit the 200,000-square-foot, $40 million building.
Leonard Stone, meanwhile, is thinking about bonds—the municipal bonds necessary before the Dallas Symphony Orchestra, for which he is executive director, can begin building its new concert hall at Pearl and Flora, two blocks east of the museum. If the bonds are approved this August, he can dream of the 1986 opening when 2,200 patrons will, with luck, be awed by the world-class acoustics of the orchestra's new home.
Just about everyone involved with the city's emerging arts district is mentally balancing dreams and dollar signs nowadays. The 60-acre district could be a unified combination—virtually unique in the world—of cultural facilities, parks, and sensitive commercial development. Without succumbing to institutional sterility, it could include a dazzling museum, I.M. Pei's spectacular concert hall, an arts school, and perhaps a theater. Without being dominated by business behemoths, it could contain up to 15 million square feet of commercial development, valued at more than $1.5 billion.
The museum will almost triple its exhibit space and more than double the value of its collections (currently about $25 million), thanks to donations from three private collectors in recognition of the new facility. The symphony would almost double the number of performances it can give in a year; luck and the talents of acoustician Russell Johnson allowing, it could have one of the few musically satisfying symphony halls to be constructed in the past quarter of a century.
And civic boosters could have a major asset with which to lure corporate relocations, while builders interested in downtown residential construction would have a major incentive to offer potential buyers. Even mass transit could get a boost, since evening riders to and from cultural events would help defray the costs of whatever system eventually is constructed.
"Our city has the chance to build something that will give us character, a world character of fine quality," says Harlan Crow, one of six private developers owning land in the district. "Most major cities have something special that's desirable. Dallas really lacks that, and here's our chance to make something."
Sounds great, doesn't it? It makes you wonder why, almost five years after the idea first came up, we still don't have an arts district. Because, although things are moving right along (finally), there are still plenty of ifs. If the bond issue passes. If the symphony can raise enough private money ($17 million to $19 million) to meet its 40 percent share of a construction tab that could reach $48 million. If the city, the arts groups, and the private land owners continue working together. If the private owners are willing—or able—to bear much of the cost of creating the district. If someone doesn't just get mad as hell and ruin the whole deal.
"I saw Harry Parker, the museum director, over at the museum the other night," Harlan Crow says. "Harry asked me how I felt about Flora Street, and I said, 'Harry, with all the goddamn adverse publicity we've gotten, I'm frankly losing interest.' "
===The arts patrons did not call Trammel Crow shrewd, however. They called him menacing, self-interested. A trespasser upon the arts district. In the name of beauty and culture, they asked him to sell them back the property. In the name of free enterprise and economic health—of the city, not only of Trammell Crow—he refused.!==
A brief history lesson: the museum's board of directors started the arts district in the spring of 1976, though the members didn't know it at the time. The board, aware that the museum was bursting the seams of its 64,000-square-foot exhibit hall in Fair Park—and missing out on many patrons who would visit a more convenient location—considered appointing a study committee for a new museum site. Margaret McDermott, who at the time was chairman of the museum's board of trustees, was "the big force behind the new museum," says current board chairman George Charlton. "She believed in it before anyone else thought it could be done," agrees board president Irvin Levy. She eventually gave the largest single contribution to the museum's construction fund.
Prodded by her enthusiasm, the board established the study committee. Charlton, son-in-law of former Dallas mayor Erik Jonsson, was named chairman. He spent months speaking with civic leaders and "city fathers"—translation: rich civic leaders—to "see if the project was feasible." He figured it would take $12 to $15 million in private contributions to pull the project off (eventually the museum raised about $20 million). "The general consensus was that this was an immense amount of money, the largest amount that had ever been raised before in Dallas, but that the situation was not hopeless," Charlton recalls.
Indeed, Charlton got some very good news. If the new museum was built, it would be given the collections of Dallas' three premier art collectors. Al Meadows' broad-ranging pre-impressionist to contemporary collection; Lillian and Jim Clark's magnificent collection of Mondrian, perhaps the world's best; Margaret McDermott's impressionist collection—all would become the property of the museum. Their total cash value was approximately $25 million, but their significance outweighed their worth. They were a token of trust in the museum, a sign that with its new facility, it would have arrived. They also were a heavy inducement for potential givers. By the fall of 1976, Charlton's group was looking for sites.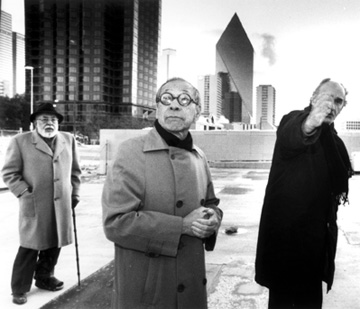 Bob Kilcullen, a real estate broker and museum lover, found one. He called Clark and John Murchison, the chairman of the museum board, and asked them to look at an 8-acre site on Harwood Street between Ross Avenue and the Woodall Rodgers Freeway. One cold, wet October morning, they looked at the site and liked it. It was cheap, at $8 to $25 a foot; it had great access to downtown, North Dallas, and Oak Lawn; it was surrounded by other developable space, on which a symphony hall or park could be built; and nobody else wanted any of it. Kilcullen started asking property owners if they wanted to sell.
By May 1977, he had secured free options to buy 40 percent of the land the museum needed, plus acreage nearby. And the museum's architect selection committee, chaired by Charlton, had picked New York architect Edward L. Barnes to design the new museum. Barnes liked Kilcullen's site, as did the consultants at Carr, Lynch Associates, which the city had hired to make recommendations on how to help local arts groups.
The museum started the arts district concept, but Carr, Lynch fleshed it out. The research team found that the museum's exhibit area needed to be tripled, that the Fair Park fine arts building was "not equipped to protect valuable works of art," and that the park was a poor location for a facility whose patrons came primarily from North Dallas. The symphony and Dallas Opera, meanwhile, lacked rehearsal space and performance time at the Music Hall. Even when they could schedule performances there, they were hindered by the hall's mediocre acoustics.
The museum, the opera, the symphony, and the Dallas Ballet all were site-hunting, and the consultants thought they might as well move into the same neighborhood, surround themselves with parks and plazas—and a bit of commercial development—and become an arts district. Their study, released in October 1977, recommended that the district be in the northeast corner of the Central Business District.
By June 1978, city leaders and the museum backers were ready to go. The new museum building was planned, $12.5 million in private contributions was in hand, and the city had allocated the museum $28.7 million from its upcoming bond issue, set for June 10. Indeed, the city was backing every major arts group in town for bond money. The symphony was to get $18.9 million for construction of a new hall; the Dallas Theater Center was up for $9.2 million in expansion funds; the Majestic Theatre was up for $4 million in renovation money; the opera house was to get $3.6 million for a new site; another $3 million was earmarked for "supporting facilities." It was a gesture in the grand Texas tradition. The city was trying to build the arts district in one fell swoop, at a total cost of $45 million.
"I don't think we'd lost a bond issue in Dallas in the last 10 years," Charlton recalls. So campaign advisors did not heed warnings about offering taxpayers more than they could swallow. Nor did they alter the time-honored tradition of keeping quiet about bond issues, in hopes that only supporters would bother to vote.

Get the FrontRow Newsletter
Get a front row seat to the best shows, arts, and things to do across North Texas. Never miss a beat.