In the mid-'70s, fine dining in dallas was defined by fabulous French food. Haute cuisine menus flaunted French specialties such as escargot, filet de bœuf en croûte, lamb Provençal, and veal normande. Dessert soufflés and profiteroles were as ubiquitous then as crème brûlée and molten chocolate concoctions are today. Even the names of the restaurants reflected Dallas' obsession with all things French: Patry's, Bagatelle, Chablis, Chateaubriand, Enclave, and Marcel's. The rococo French Room at the Adolphus was, well, really French. Even the chefs were French. Men with names such as LaFont, Calluaud, and Jean Claude ran the kitchens.
The settings were lavish, dark, and elegant in a posh European sort of way. Chandeliers were crystal, the lobbies were filled with dramatic ice sculptures surrounded by spectacular floral arrangements, prices were printed on the menus for male customers only, and palate cleansers were de rigueur. Silvano Zanetti, a gaucho-clad singing sommelier at the opulent Pyramid Room, dazzled customers as he whisked around the dining room, climbing ladders high above guests to retrieve bottles of wine. He played to the Dallas crowd like Liberace played to Vegas. And the wine—oh, the wine—from fine chateaux in Petrus, Margaux, and Pomerol flowed freely. To drink any wine from California was déclassé.
But somewhere in the middle of Julia Child's American revolution of French food, the popular Gallic gastronomy fell faster than an undercooked soufflé. Cuisine classic was murdered by another French word: nouvelle. Almost overnight, butter and cream were deemed evil. The whole country went on a diet. Chefs switched to olive oil, lemon juice, and vinegar. Sacre bleu!

Today, finding a fine French restaurant in Dallas is difficult. Yes, L'Ancestral and Lavendou remain bastions of French cuisine. But Cadot, owned by veteran chefs Gaspar Stantic and Jean-Marie Cadot, offers a much-needed nod to the nostalgia of French food.
Monsieur Cadot's family has operated a bakery in Paris since 1758. Cadot himself has been baking since he was 8, and he was executive chef at Lavendou for 11 years. Stantic, a native of Switzerland, made his name in Dallas at Gershwin's and Gaspar's Cafe. Together they are formidable. It's distressing that they decided to market their restaurant as New American with a French influence instead of the other way around. Do they believe that French is still a hard sell?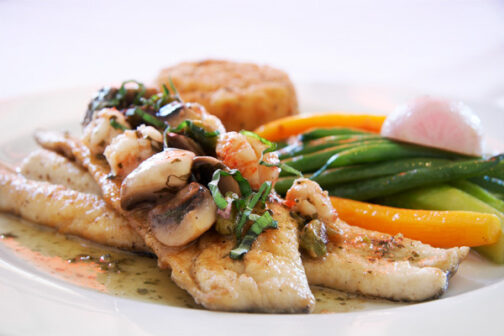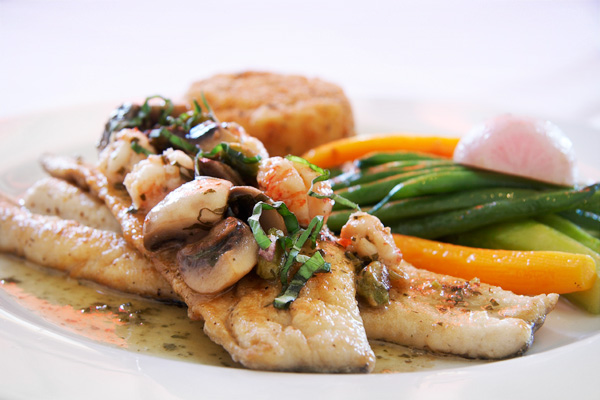 Once inside, though, I was happy to find that French dishes far outweigh the New American selections. Traditional duck terrine, a thick slab of coarsely textured meat studded with pale green pistachios and black truffles, was served with cornichons, mustard, and a spoonful of shallot jam. We added a bit to each bite and closed our eyes as the tart pickles, subtly sweet jam, gamey meat, and mustard collided with the crunchy, creamy nuts—a harmony of flavors that play off each other in gradual succession.
In Cadot's version of escargot, snails arrive free form and hidden in a shallow, oval bowl of Pernod-spiked herb butter thickened with a touch of cream and strands of sautéed spinach. We dredged the bottom with thin slices of toasted baguette to scoop up fat snails, garlicky sauce, and mangled greens. Once the snails vanished, we broke into another hot baguette to soak up the remaining sauce. The soggy bread melted on our tongues like cotton candy.
Conventional salad niçoise also got a modern makeover. A lovely slab of blackened tuna sat atop a bed of mesclun and spinach surrounded by small mounds of couscous and kalamata olives, topped with pungent radish sprouts. If you must order New American, you can get an iceberg wedge with blue cheese (sigh).
Dover sole was the diva of the fish selections. The fish was lightly dusted and sautéed in butter, lemon, and herbs. The waiter brought the whole fish to the table, steaming, and set it down long enough for us to catch a glimpse and a whiff before he took it back to the kitchen, where it was deboned and plated with asparagus, carrots, turnips, and potatoes. "You will pay $48 for this fish at other restaurants," our waiter said. "But here you pay only $38." I would have paid $58.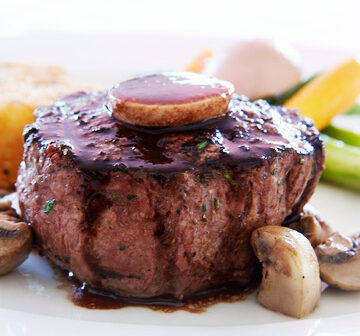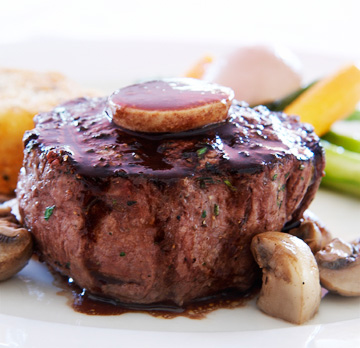 Halibut at Cadot was also a thing of beauty. The fat square of fish was wrapped in a thin layer of pastry and baked. It was presented atop a row of asparagus with two ethereal, pink-fleshed turnips and a decadent, slightly sweet champagne-citrus sauce. The artistic presentation was finished with a cluster of fresh mango and radish sprouts.
If you hate French food, you can still enjoy Cadot, because the restaurant serves steak and chicken breast. French bistro aficionados will be charmed by the flat iron steak cooked bloody rare, covered with freshly sautéed garlic and presented with a small urn of au jus, sugar snap peas, and crispy pommes frites. One well-traveled young bon vivant at our table exclaimed, "The pommes frites were almost as great as those I had in Paris—lightly salted and no friend of ketchup."
With the exception of the profiteroles, desserts were disappointing. A promising opera cake—layers of coffee buttercream, chocolate ganache, and almond cake—was beautiful but stale and tasted of the walk-in refrigerator. Soufflés were equally eye-catching but lacked density. They seemed to have been made only with whipped, sweetened egg whites.
Service is friendly without being overbearing, and both personable chefs make the rounds. The neutral interior hasn't changed much since the sign out front read "Positano," the former restaurant tenant. Swags of chocolate brown fabric hang from the ceiling to absorb the noise that bounces off the blonde wood floors. Too bad it doesn't soak up the insipid music, which consisted of canned versions of "Song Sung Blue," "Old Man River," and "Downtown."
Monsieurs Stantic and Cadot, how about a little Edith Piaf or Jacques Brel, s'il vous plaît? Take us back to the glory days of French food in Dallas, when Mr. Peppe, Marcel's, and Ewald's shared the same block, and their French chefs would gather late at night to unwind in one of the restaurants, as if Lovers Lane were a tiny cobblestone street just off the Champs-Élysées.
Get contact information for Cadot.
Get the SideDish Newsletter
Dallas' hottest dining news, recipes, and reviews served up fresh to your inbox each week.