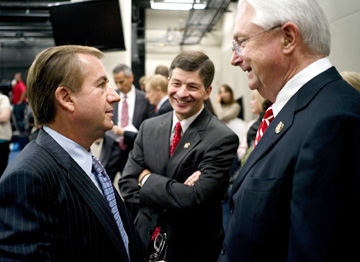 A half hour before the Geithner hearing and the CNBC interview, in the lobby of Rep. Jeb Hensarling's office, two young interns are discussing
Charlie Wilson's War
, the Tom Hanks movie about a foul-mouthed, whiskey-swilling, womanizing Texas congressman. "It would be totally interesting to work for someone like Charlie Wilson," says one of the interns (a guy). "Well, maybe," demurs the other intern (a girl).
The phone rings. Someone is on the line and would like to give his opinion to the congressman. Said opinion takes one of the interns 10 minutes to type into a database. She explains, "No, I'm sorry, the congressman is not available to talk right now." That's true, because Hensarling is about to leave for the hearing, which is titled "Regulatory Perspectives on the Obama Administration's Financial Regulatory Reform Proposals, Part Two."
Totally interesting? Not in the least. Charlie Wilson (or at least Tom Hanks' version of Wilson) had black ops, busty aides, and booze behind every cabinet door in his office. Hensarling has that framed "Rep. Budget Reform" article on his wall.
You play to your strengths. Wilson's expertise was shoulder-launched anti-aircraft missiles. Hensarling's is earmarks, those expensive little additions to legislation that funnel federal money into, say, an HVAC system in Manhattan or maybe bridges in Dallas. "I have people saying to me all the time, 'Why are we debating this earmark?'" Hensarling says. "'It's only a half a million, $2 million, $3 million. We ought to be trying to talk about the real money.' But it is real money, and if you don't have the fiscal discipline to take care of the pennies and the nickels, you'll never have the discipline to take care of the dollars."
It's this zeal for the minutiae (if millions of dollars can be considered as such) that has made Hensarling a good heir to Gramm, who espoused fiscal conservatism. Now, as they say, the student has become the master. "Jeb is probably the strongest spokesman for fiscal restraint in the country today," Gramm says of his protégé. "He has become a national leader, and especially a leader on trying to control spending and reduce the deficit. If there's ever been a time that we need a leader on that, it is now."
Earning that reputation didn't come easy for Hensarling. He cut his congressional teeth pushing his Republican colleagues to okay a cost-containment mechanism in a prescription drug benefit for Medicare. The bill and the cost cap passed by one vote.
In that case, the White House was onboard. But in other cases, Hensarling's distaste for what he considered wasteful spending programs put him at odds with the Republican powers that be. Or, that is, powers that were. From his first year in office, Hensarling was concerned that his party was abandoning its roots by spending more money than the nation could afford. The leadership, of course, didn't always agree. "I have had tussles with my party leadership," says Hensarling, back on his office couch after the hearing with Frank, his legs carefully crossed so as not to disturb the crease on his navy blue suit trousers. "And, frankly, that's about the most unpleasant thing that has happened to me in Congress. It is not nice to be called into the woodshed in the speaker's office. It is not a lot of fun to be called into the woodshed in the White House. Actually, I think I was called over to the White House more often for woodshed purposes than other purposes.
"But I couldn't look myself in the mirror and say I voted against my principles just because my party members told me to do it."
Don't be confused. Jeb Hensarling did not go to the woodshed because he voted in favor of, say, federal funding for embryonic stem cell research or taxpayer funding for partial-birth abortion. Because he most certainly did not. Indeed, The National Journal, in its latest vote rankings, scored Hensarling as tying with two others for the most conservative member of the House.
That voting record was one of the reasons he was elected, in 2006, to head the Republican Study Committee, a 100-member group representing the most conservative Republicans in Congress. Hensarling did not seek re-appointment to that group in this session of Congress. He also backed away this year from a run at Republican Conference chairman, the No. 3 leadership position among House Republicans. That job, instead, went to Rep. Mike Pence of Indiana, whom Hensarling describes as "a dear friend." House Minority Leader John Boehner of Ohio reportedly pushed Pence's conference chairmanship.
Boehner was majority leader when Republicans lost the House to Democrats in 2006, and his hold on power is seen by many Hill watchers as tenuous. Indeed, there are some who expect him to be replaced by Hensarling ally Eric Cantor of Virginia after the 2010 elections. That would clear the way for Hensarling to rise as high as the No. 2 job of minority whip.
Yes, national politics can sound a lot like high school. Either way, Hensarling—who has also been mentioned as a potential 2012 U.S. Senate candidate—looks poised to grab more power in his party.
==="But I couldn't look myself in the mirror and say I voted against my
principles just because my party members told me to do it."!==

"Hensarling is an up-and-comer," says Johnson, the Republican strategist. "He's definitely one of the future leaders. He's got a lot of support among traditional conservatives who feel like no one is speaking for the party right now. And that's helpful, because if he has to run toward the middle at times, he's earned the trust of conservatives, so they'll allow him to do that."
For his part, Hensarling is coy about what title, if any, he'd like to add to his résumé next. He interviews himself thusly: "Am I thinking about what I'm going to do in the next two or three congresses, assuming the people of the 5th District choose to renew my contract? No. I don't spend a lot of time thinking about that. But I am looking for ways to advance the cause, so we'll see what comes." And what if what comes is a shot at a House leadership position or maybe a Senate run? "I just don't precisely know what the future holds for me," he says. "I don't say no right now. I don't say yes."
And so what? Really, so what if he says yes or says no or says "exigent"? So what if USA Today, which called him "the face of the Republican mutiny against the $750 billion federal bailout plan," also mistakenly said he had a "mop of black hair," when clearly he doesn't have a mop head but rather helmet hair that makes him look like a vintage Lego man? What difference does any of it make? Democrats outnumber Republicans in the House 256 to 178. With those numbers, Republicans not only have no hope of getting any major legislation passed, they have virtually no chance of getting a bill introduced. So why even bother sitting in those hearing rooms for hours at a time?
"The Democrats have such great numbers that they set the agenda," Hensarling says. "I understand that. But I also wake up every morning and I look at what the Democrats in Congress are attempting to do to my country, and I find it very, very disconcerting. So you have two choices: wake up, curl up in the fetal position, and cry, or get out of bed, put a smile on your face, and, as Margaret Thatcher used to say, first go out and win the debate and then win the vote. That's what I'm trying to do, and that's what I think we're going to do."
But, are they? Hensarling shakes his head—his hair remaining securely in place—and squints. "Yeah," he says, sounding uncertain. "To some extent, we're having an impact on the national debate. The national energy tax in Senate might not happen. The health care plan slowed." And what about the consumer credit protection agency? Can Hensarling change the shape of it, or will Barney Frank have his way? "Well, I hope and believe that we'll have some impact on that as well."
There's always hope.

Joseph Guinto is a former White House correspondent for Investor's Business Daily. He lives in Washington, D.C. Write to [email protected].
Get the D Brief Newsletter
Dallas' most important news stories of the week, delivered to your inbox each Sunday.