Review: Neighborhood Services
Nick Badovinus opens a charming little restaurant with an odd name and an unpretentious menu—all of it inspired by his roots.
In the bathrooms of his new restaurant, Neighborhood Services, chef Nick Badovinus has a pair of denim jeans hanging next to long, fluffy bath towels. Levi's 501s, to be exact. No, he's not running out of closet space at his house. The jeans are an homage to his father, Wayne "Pops" Badovinus, once a part-time rancher, who hung his dirty Levi's in the bathroom when he left town on business.
"I wanted this restaurant to have a real patina, to feel lived-in, to feel broken-in," Badovinus says. "Like a great pair of comfortable 501 jeans."
These are the sorts of quirky, personal touches you'll find at Neighborhood Services. Black-and-white photos of his grandfather's construction business adorn the walls. There's a drink named after his father, the Pops Martini Salad (Ketel One, house-pickled asparagus and green beans, and olives stuffed with blue cheese). There's a daily Pike Place Market Fish Special, a nod to Badovinus' hometown of Seattle.
But most of all, there's Badovinus himself. He runs around the restaurant every night, shaking hands, kissing cheeks, and making sure everyone is happy. "We're cooking all day," he says. "Then, at night, it's getting on the floor and saying 'hey' and 'thanks' as much as you can. It's great."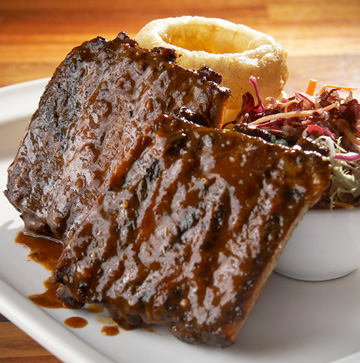 For six years, Badovinus was the corporate chef for Consilient Restaurants, where he helped the group open Hibiscus, Fireside Pies, and The Porch. He left the security of that job to open a small restaurant entirely his own. He did the interior design, gutting the old Rouge space on West Lovers Lane. He chose all the glassware and utensils. And he upped the stakes by not taking money from investors, save for his father. Recession be damned, people have rewarded Badovinus for taking the risk. On recent nights, the wait for a table at the 5-month-old restaurant was two hours.
Badovinus says he's an eater, not a diner. "With each of the menu items, I thought, 'Would my grandpa eat this?' " he says. "If not, it didn't make the cut." Don't look for complicated deconstructions or fancy sous vide cooking here. Expect gussied-up comfort food classics, reminiscent of the menu he created for The Porch. The comparison doesn't bother him. "I always say, 'You expect a Steely Dan record to sound like a Steely Dan record,' " he says.
Favorite starters included the pan-roasted blue mussels, although the absence of a bowl in which to drop the empty shells caused a pile-up on our bread plates. Never mind that. We couldn't stop dipping crusty bread in the rich tomato broth bobbing with chunks of chorizo made by star chef Michael Chiarello, a family friend. Another starter, fried little asparagus, provided thin, tempura-battered stalks draped over a pile of frisee, punched up with a dill aioli. We could have called foul. Mid-January isn't exactly asparagus season. But during his debut, Badovinus was intent on showcasing the ingredients of his culinary stomping grounds in Northern California. However, in our book, brisket meatballs are always in season. They were juicy, the size of golf balls, and seemingly on everyone's table. I realized too late that the kitchen had forgotten to add the Point Reyes blue cheese crumbles, which would have added a tangy kick.
Main courses impressed, for the most part. "I'll get back to you in 30 minutes," said my friend when a two-fisted cheeseburger was placed in front of him. It's an enormous burger: a half pound of Niman Ranch chuck ground with brisket, a thick wedge of tomato, and a salty combo of Tillamook yellow sharp cheddar and Black Diamond white cheddar. Crispy fries with accompanying "secret sauce" had us double-dipping to figure out the flavor (here's the secret: Heinz 57, mayo, and ketchup). Short-rib pot roast was appropriately tender and more refined, with a Shiraz and rosemary sauce.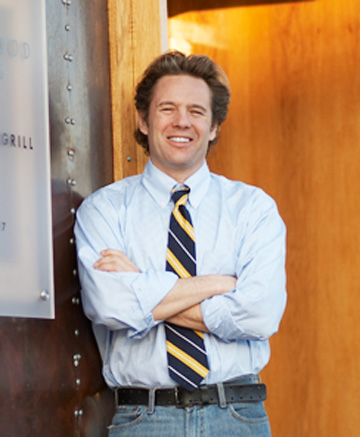 Badovinus offers a rotation of daily plates: one noodle, one fish, and one traditional roast supper. One evening, we tried speck-wrapped prawns on top of a spicy and buttery Voodoo sauce that tasted more NOLA than No-Cal. Another night's noodle special was pappardelle Bolognese: a huge white bowl full of wide, house-made noodles tossed in brown butter and covered with a rich ragout made of veal, pork, rib-eye, tenderloin, chuck, and brisket. The thick sauce clung to the pasta. Pan-seared scallops were tasty and cooked crispy on the outside and cool to the touch inside. But the accompanying white cheddar polenta was bland. Not so the multi-manipulated "smoked-roasted-aged-toasted" flatbread, with thick curls of speck ham and a chewy yet crisp crust—a great snack while you wait for a table at the bar.
When it came to the sweets, Badovinus might want to call the family together for an emergency meeting. Most of the desserts we sampled need all the help they can get. Butterscotch pot de crème was delivered in a glass ball jar with a lid, a dead-ringer for a scented candle. The butterscotch flavor of the custard was so one-note we barely touched it. Three-layer peanut butter and chocolate cheesecake, a sensuous sounding finish, was anything but. It was so dense and dry that we couldn't get a fork through the huge slab. But house-made sorbet was superb, with a bright mélange of white peach, mandarin orange, and raspberry flavors.
For those curious about the name, here is the short version: Badovinus' inspiration for his restaurant is mid-century modern America, a time when "neighborhood services" was coined as a zoning designation for this type of business. (It is still used today.) "I kept hearing 'neighborhood services, neighborhood services,' and I was like, man, that's just got a cool, little offbeat vibe to it," he says.
The Ralph Lauren-esque servers' uniforms—long white cardigan sweaters with the Neighborhood Services logo—are a gentle poke at the preppiness of Dallas and Badovinus' penchant for referring to his staff as members of his "varsity" and "junior varsity" squads. Whatever you think of them, the distinctive outfits seem to be a hit. "People want to buy them. We've sold five or six," he says. "We never sold any server shirts at Hibiscus."
No, Neighborhood Services doesn't take reservations (hence the long waits). And the "What did you say?" noise level can be a first-date killer. But there is no denying the restaurant rocks with energy. You will likely see someone you know, or at least someone you recognize (T. Boone Pickens is a regular). One thing is for sure: you will see Badovinus in the dining room, loving every minute of being out on his own. "That's the cool thing about doing my own place. If you find something you like, you don't have to clear it with anybody," he says. "Dude, I'm doing jeans in the bathroom. It doesn't have to make sense. I get it."
Get contact information for Neighborhood Services.