Chautauqua, New York
A summer of intellectual and spiritual growth awaits in this historic Victorian village.
WHY NOW: For nine weeks during the summer, this picturesque Victorian village on the shore of Chautauqua Lake in Upstate New York comes alive. From June through August, the Chautauqua Institution (www.ciweb.org) presents a splendid series of concerts, lectures, ballet, opera, and theater events (see sidebar for this summer's schedule). Each week has a theme, and the daily lectures draw Nobel Prize-winning speakers, former presidents, and some of the greatest thinkers of our time. In the past, the amphitheater stage has seen Susan B. Anthony's argument for women's suffrage in 1892 and Franklin D. Roosevelt's "I Hate War" speech in 1936, as well as words from Margaret Mead, Amelia Earhart, Thurgood Marshall, Freeman Dyson, Jane Goodall, Sandra Day O'Connor, and Kurt Vonnegut. Because the Chautauqua Institution was founded in 1874 as a training camp for Sunday school teachers, religion and theology also play a major role in the program. The institution features a range of religious speakers, including Jewish and Muslim leaders, and a variety of ecumenical services and events. Historian and author David McCullough has said, "There's no place like it. No resort. No spa. It is at once a summer encampment and a small town, a college campus, an arts colony, a music festival, a religious retreat, and the village square. There's no place—no place—with anything like its history."

PLAY TIME: After you've exercised your brain, there are plenty of activities for your body. The first one is also the most obvious: walking. You can drive a car only in and back out of town. The rest of the time, you must walk, bike, or hitch a ride on a small bus or large golf cart. For those drawn to water, there is the lake for boating, fishing, and swimming. Even the local golf course is enlightened: the Chautauqua Golf Learning Center is a 25-acre facility with a 350-yard driving range with four target greens and separate tees for instruction. Need to work on your short game? There is a chipping green with fairway, rough, and practice bunkers and three practice holes, ranging in length from 100 to 150 yards.

ART AND SEEK: During the summer, art students from the School of Art spread out all over town. On almost every hill or street you'll find a painter, sketcher, sculptor, or ceramics student practicing their craft. It's like walking through an open air art gallery in progress.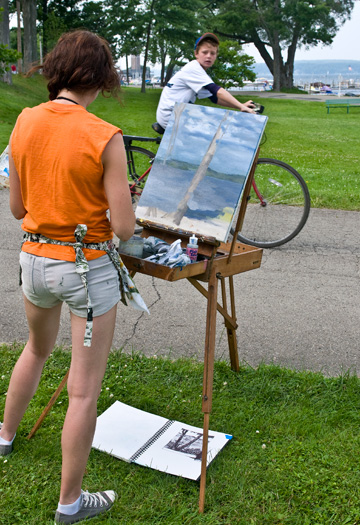 REST EASY: There are many options for lodging during a stay in Chautauqua. If you're going for a couple of weeks, you might want to rent one of the local gingerbread-style cottages that dot the tree-lined streets. Once you settle in, stroll through town, where you'll swear you've stumbled into a Norman Rockwell painting. Stop at various produce stands and buy fresh fruit, vegetables, and homemade pies from local farmers. Buy a newspaper from one of the young boys selling them in the square in the mornings. Or sit on your porch in the evening and chat with your neighbor, a favorite pastime of the locals. If you're a hotel type, the historic Athenaeum Hotel is the place to stay. This full-service Victorian hotel opened in 1881, and the 155 charming guest rooms are filled with some of the property's original furnishings. No matter where you lodge, you must splurge on a basket of buffalo wings at the See Zurh House in Bemus Point. A brain can't function on culture alone.
'TIS THE SEASON: The 2009 season at the Chautaqua Institution starts June 27 and runs through August 30. The theme for each week changes throughout the summer. These include but of course are not limited to: Kids!; Explore Our World With National Geographic; State of Mind; The Ethics of Capitalism; What Makes Us Moral? An Abrahamic Perspective; Imagine a World at Peace through Compassion; Cuba: Enigma and Neighbor; and the History of Liberty.
Among the 45 morning lecturers are Gary Knell, president and CEO of Sesame Workshop; Mattias Klum, National Geographic photographer and filmmaker; John J. Ratey, associate clinical professor of psychiatry at Harvard Medical School; William Niskanen, chairman emeritus and senior economist at Cato Institute; Michael Gazzaniga, director of the SAGE Center for the Study of Mind, UCSB; Richard Brown, NYU film professor famous for his "Movies 101" course; Daniel Pink, author of A Whole New Mind; and journalist Jim Lehrer, in conversation with Colonial Williamsburg actors portraying Jefferson and Lafayette.
FAST FACTS
HOW TO GET THERE:
U.S. Airways flies to Chautauqua County Airport at Jamestown, New York, via Pittsburgh, Pennsylvania. Other nearby airports include Buffalo-Niagara International Airport (70 miles), and Erie, Pennsylvania (40 miles).
WHERE TO STAY:
Athenaeum Hotel
Daily room rate includes three meals—full or continental breakfast, grand buffet lunch, and five-course dinner. Prices from $250.
www.ciweb.org/athenaeum-home
800-821-1881
CHAUTAUQUA INSTITUTION:
2009 Season Series Information
Speakers and performers are subject to change without notice. Check www.ciweb.org for up-to-date information and prices, or call 716-357-6250 for information.
Ticket price: $17 per day, $356 per week, $3,245 full season. Phone orders only. For ticketing questions, e-mail the box office at [email protected].