Dallas was a basketball wasteland in the 1990s, one failed promise after another.  For almost every season that decade, the Mavericks were the worst team in the NBA. As a reward for rescuing a franchise, Dirk Nowitzki, then, should have more entitlement, not less.
But that is how it is, and how it has been. And so Nowitzki—though he is probably the biggest sports icon this city has known for the past 10 years, and certainly the most successful—has been taken for granted. Maybe not as a player, but as a person.
Partly this is because Dirk Nowitzki rarely shares his personal life with those outside of the Dallas Mavericks organization. The public is invited to witness only the quiet, coolly efficient German machine on the court, a Mercedes C-class in shorts. They get to watch the awkward greyhound—sleek yet stumbling—that tugs on the bottom of his No. 41 jersey after knocking down yet another shot from a seemingly impossible angle. They see the sneers, the fist pumps, the hair (a topic of conversation whether shaggy or shaved), the high-arcing, high-release three-pointers, the occasional ridiculous snapshot. Others see only what isn't there: a more typical 7-footer—in the mold of San Antonio Spurs big man Tim Duncan, maybe—and the theoretical championship rings that would result. Everyone sees the face of the franchise for the past decade, but only in profile.
What they don't see is the man (or, in sports parlance, The Man) who—since arriving in Dallas for the lockout-shortened 1998-99 season—has changed everything, except himself. He's not as shy as he once was, and he speaks English better, but the core of the personality he came over with from Germany remains intact, despite all the awards and the millions of dollars he's earned since. He still seems like the Maverick it would be the most fun to have a beer with and the one most likely to take you up on the offer. He still behaves like just one of the guys—which would be enough if that meant the team and not the entire organization.
So it's time to take a moment to reflect, to try to meet the person and the player. What follows is an oral history of the Decade of Dirk.
A Phenom is Discovered
The son of a German national women's basketball team member (Helga) and a competitive-level handball player (Jörg-Werner), Dirk Nowitzki was probably destined for some level of athletic achievement.
But that pedigree might have kept him overseas. His path to the NBA and Dallas began when he was 16 years old, playing for his local club team, DJK Würzburg. After a game in one of the villages around Würzburg, Nowitzki met Holger Geschwindner. A former member of the German national basketball team, Geschwindner was struck by a "tall, skinny kid running around on the court," raw and unpolished, but loaded with potential.
Holger Geschwindner, Nowitzki's longtime coach and mentor:
He did a lot of things right, what a good basketball player is able to do, but he had no technical skills. No shooting. No dribbling. But you could see the guy had a sense for the game. We shared the same locker room, so I said, "Hey, who is teaching you the tools?" And he said, "Nobody." So I said, "If you want, we can do it."
Three weeks later, we played a game in Würzburg. He and his parents and sister were there. After the game, Helga came over and said, "Hey, Dirk told us you offered to practice with him. Can we do that?" So we started the next day.
After about three weeks, I told Dirk, "If you want to be the best player in Germany, we can stop practicing right now. If you want to be with the best guys in the world, we have to practice every day. It's a major decision. But you have to make it." Next day he called and said let's try.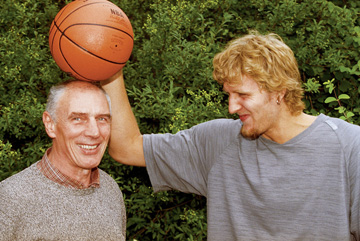 Their program was unorthodox in basketball terms, more like a private school education, with Geschwindner encouraging Nowitzki to learn an instrument (he chose saxophone and later switched to guitar) and read literature. This nontraditional methodology helped them overcome what they lacked in traditional resources.   
Since Nowitzki was playing for a second-division youth team in Germany, no one was paying much attention to the rapidly growing (and improving) teenager. That changed in 1997, when Charles Barkley, then finishing his career with the Houston Rockets, led a team of NBA players through Europe for a series of exhibition games as part of the Nike Hoop Heroes Tour. The team included Chicago Bulls star Scottie Pippen, a poster of whom hung on Nowitzki's bedroom wall.
Charles Barkley, NBA Hall of Fame forward; NBA on TNT studio analyst:
Dirk put up a smooth 50 points. He was too big for Scottie Pippen, and I forget, we had another really good defender—I can't remember who it was at the time—and he just whooped their ass. I walked up to him after the game and I said, "My man, who are you?" And he was telling me he was like 18, 19 years old, and I said, "Well, whatever money it'll cost you to go to Auburn, I'll pay your way for you to go there."
Auburn never followed up on Barkley's offer. But Cal offered Dirk a scholarship, as did Kentucky. Any hope of him accepting one of those disappeared when Nowitzki was chosen to play with the world select team at the Nike Hoop Summit in San Antonio. Playing against future NBA starters Rashard Lewis and Al Harrington, he scored 33 points and grabbed 14 rebounds. 
Geschwindner:
He still has the record, as far as I know. We came home after only one game because his club team was in the playoffs. We got in trouble for that. But the first NBA team showed interest. European club teams made him offers.
After the Hoop Summit performance, Geschwindner encouraged Nowitzki to submit his name for the 1998 NBA draft. On draft night, he went to the Milwaukee Bucks with the No. 9 overall pick. They immediately traded his rights to Dallas for future overweight journeyman Robert "Tractor" Traylor, a deal that will be on roll calls of worst NBA trades as long as there are such lists.
Fans were skeptical, especially since proven college players were available. Meanwhile, the Mavericks' brain trust—coach Don Nelson and his son Donnie—weren't even sure if Nowitzki would come to Dallas.
Donnie Nelson, Mavericks general manager and president of basketball operations:
It would certainly have been a lot easier for him to stay close to home—you know, play there for a couple of years and then decide to come over later. I mean, that would probably have been the kind of logical development steps. But he had a passion to play in the NBA; he wanted to compete against the best. After we drafted him, we kind of set off on a little recruiting trip.
Geschwindner:
Two hours after the draft, the phone rang, and Don Nelson said, "We are coming to Germany." He came and stayed at my house. I lived in an old castle in those days. They stayed for three days and convinced us, at minimum, we have to come to Dallas. That was the year when there was a lockout, so we only had three days. That was pretty much the situation when he had to make the decision: sitting on Don Nelson's pool all night long and saying, "To do or not?"
Dirk Nowitzki:
Nellie had a party, a barbecue at his house. They just said, "Hey, there's really no pressure. Why don't you just come and get better? We're not going to be really a playoff team, and you can develop your first couple of years." After talking to the players and talking to Nellie, I said, "Okay, I'll try it."
But he didn't come over right away.  A labor dispute led NBA owners to declare a lockout of their players while they hashed out a new agreement. The season eventually started, but it was a shortened 50-game schedule instead of the usual 82.
Marc Stein, Mavericks/NBA beat writer, Dallas Morning News, 1997-2002; senior NBA writer, ESPN.com:
The NBA lockout was great for me because I was actually in England on one of my soccer trips, and, if you remember, Dirk decided to keep playing for his German team during the lockout. I actually went to Germany and spent a week down there, watched him play in two games, and really, except for Donnie Nelson, I think I was just about the only person in town who had actually seen him play, besides that game he played in San Antonio in that Hoop Summit.
Nowitzki:
I didn't sign my contract yet, so I was able to go back and play with my home team and stay in shape and live at home for a couple more months. And one day—in January, I remember the day—like CNN or whatever said, "Season saved." And I was like, "Shit. It's actually going to happen." I was a little scared, because it was a big step.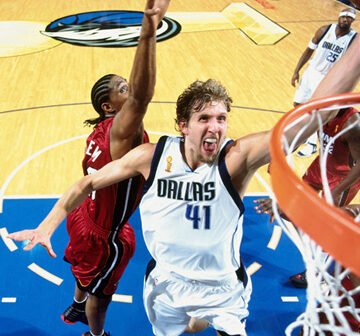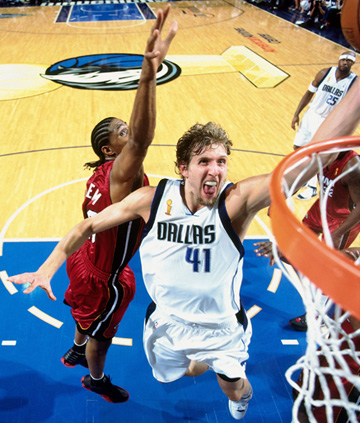 The Typhoon
During the 1998 draft, the Mavericks made another move that, at the time, was unpopular, trading new draftee Pat Garrity to the Phoenix Suns for third-string point guard Steve Nash. For the Mavs, the deals would eventually pay off handsomely on the court. But Nash's arrival paid immediate dividends off the court, providing their new European project with a built-in best friend.
Nelson:
I don't think any of us had any idea that we'd be talking about picking up two MVPs in the same transaction—two league MVPs, I mean. I don't think that's ever been done before.
Nowitzki:
We had the press conference together when I first got here. He had the bleached blond hair, but it was already grown out for a month or so, so it was, like, dark here, bleached there. It was a terrible look. I had the bowl cut with the earring in. I still see that picture. It makes me laugh.
Steve Nash, Mavericks point guard, 1998-2004:
We were both new to town, new to the club. We didn't know anybody in town. I felt like I could help him sort of assimilate to new surroundings.
Stein:
Steve, you know, ran his life in the early days. They lived in the same apartment complex [near where West Village is now]; Nash took him everywhere. I mean he really kind of was his watchdog.
Nowitzki:
On the road, when I was sitting in the hotel room, getting homesick, Steve's like, "Come on, let's go. Let's go eat. Let's go to the movie. Let's go see some of my friends. Let's go out." Which was great for me because I didn't want to sit in the hotel room every road trip or at home all the time. I was, like, four doors down. I'd go over there all the time. I had his garage code.
For many, Nash and Nowitzki's relationship was summed up by a series of beer-soaked photos—taken at Ten Food & Beverage in Snider Plaza, after they were knocked out of the playoffs in 2003—that hit the Internet.
Nash:
It was a regular night. The only thing that made it different is that someone had a camera. Will they ever go away? I hope not. Classic.
Nowitzki:
It was different back then. The Mavericks, in the '90s, had a tough decade. We'd go somewhere all the time, and people were like, "Oh, you're tall," but they had no idea who I was. And Steve, obviously being so small, he could just blend in.
Despite Nash's presence on the team and his life, Nowitzki's first season essentially was a complete wash. He was stuck on a terrible team that didn't appear to be going anywhere, in a country he had been to a handful of times, and he didn't fully understand his teammates, the NBA lifestyle, or his coach's erratic substitution pattern.To make it worse, the
Dallas Morning News
ran a weekly graphic comparing Nowitzki's progress with what rookie sensation Paul Pierce, drafted immediately after Nowitzki, was doing in Boston.
Geschwindner:
When he was 17, at the very beginning, I gave him a book: Joseph Conrad's
Typhoon
. I said, "Hey, Captain MacWhirr, there's a typhoon coming on!"
[laughs]

Jason Kidd, Mavericks point guard 1994-96, 2008-present:
It's hard for a rookie, period. But then to come from Germany or Europe, it just makes it a little bit harder, because everything is new.
LISA Tyner, Mavericks senior accountant and payroll manager:
He never really lived away from home. He'd never had his own checking account or anything like that. He was trying to write things in English instead of German, so he would bring things in to make sure that he wrote the right words for the numbers. We just developed a friendship. A little while later, his mom came over. There was quite a large stack of mail in his apartment that contained some checks and things like that. She said, "I think you need some help." And I said, "All right, we'll help him."
Nelson:
It's a jolt to the system. And it's not just the difference of food, and the difference of language, and all the obvious things. When you're thrown into an industry that you've got veterans, guys with families to feed, that are looking at you like a piece of meat, it can test the best athletes and the best competitors.
Stein:
I remember Nellie gave me a great story—didn't do Dirk any favors—but Nellie said, "Yep, Dirk's gonna be Rookie of the Year." He didn't exactly lower expectations on the way in.
Nash:
It didn't do him any favors. But, in some ways, maybe it made him tougher; put him in the fire right away.
Cedric Ceballos, Mavericks forward 1997-2000:
His rookie year was shaky because Coach Nelson put a target on his back by saying he would be Rookie of the Year. Every team and player was gunning for him. I thought it would be better to let him sneak up on the league. Dirk also had two extra workouts a day, whether we had a game or not. Which later would pay off. So during games he was so tired he would get two fouls quickly just so he could come to the bench and rest.
Stein:
It was just a bad year all around. He didn't really talk about it at the time, but he definitely said years later that he gave real thought to going back to Europe after the first year.
Nowitzki:
I think once I made the big step I thought, Okay, I'll finish at least the first contract. The big decision was to come. Because I had other offers. I could have gone to Milano or I could have gone to FC Barcelona in Europe and obviously been closer to my family. So once I was here, I thought, Now you've made the decision. You have to at least fight through the first contract and see how it goes. I figured, if it doesn't work out, I can always—after three years—go back and play in Europe.
Nash:
I knew he was too determined, too hard a worker, too connected to the challenge of becoming an NBA player that he wouldn't go home. But it was really hard for him. He was 19. He lived with his parents. To come all the way over to a professional league, a different culture, physically he wasn't mature yet, or mentally—that's difficult.
Nowitzki:
My first year, I lived in that place over there with Steve, just on rent. And I knew I was just going to be here for a couple of months, so I didn't want to buy a car right then. So I rented a car for my first full season here. I forget what. It was maybe a Cutlass or a Hyundai. The guys would always kill me: "Get a car!" Gary Trent was always murdering me. I don't think it even had air conditioning.
Stein:
He used to just take unbelievable amounts of abuse for his clothes. You know [Michael] Finley was kind of Jordan-esque, as far as he wore a suit and tie every single game, would never do an interview until he had his suit and tie on, and Dirk was wearing, like, flannel shirts and Topsiders, jeans. In an NBA locker room, that's gonna get you slaughtered.
Nowitzki:
They cracked on me for a lot of things. First of all, I had trouble understanding the language a lot. I looked at them and had to say, "What?" a thousand times. They still make fun of me, because all I would say to them was, "Ya, sure, sure." Cedric used to always kill me for my accent. He said I sounded like Arnold Schwarzenegger when I spoke English.
CEBALLOS:
Off the court, he was always big-eyed about everything. He smiled a lot when learning about American things and ways. Loved to watch something on TV or a movie and repeat it around us like he was cool. Not too good of a dancer, but that did not stop him from trying—daily.
Though his rookie year was rife with on- and off-court adjustments, Nowitzki found a glimmer of hope near the end—when all hope for the Mavs' season had long since been extinguished.
Nowitzki:
The most important thing, I think, at the end of my first year, Nellie said, "Hey, we're out of the playoffs now. We're out of the hunt. Now, we're going to throw you back in the starting lineup. Why don't you just try to have some fun out there?" I'll always remember that one game in Phoenix. I think I had, like, 28 points. That was huge for my confidence, for when I left after the first year.
Stein:
He went to summer league and that was big. The first year—and he has said this, too—he didn't have a summer league, and he didn't have a training camp, and that hurt him. That would have been some big adjusting-to-America time that he never got. So he went to summer league, was the best guy on that team, and then pretty much right away started making improvement.
Nowitzki:
We all know that this league is all about confidence, and once you have it, you're a different player.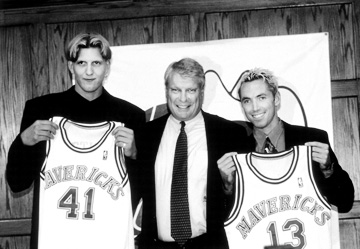 The Big Three
It would never be so bad again for Nowitzki. The next season, he started to become the player the Mavericks thought they had drafted, whose unique skill set made him a match-up nightmare. He averaged more than 17 points and six rebounds and finished second in the voting for the NBA's Most Improved Player award.
It got better. Toward the end of the 1999-2000 season, billionaire (and Mavs season-ticket holder) Mark Cuban bought the team from Ross Perot Jr. Combined with Cuban's financial support and the strides made by Nowitzki, Nash, and shooting guard Michael Finley (a trio that came to be known as the "Big Three"), the Mavs finished 53-29 and made the playoffs for the first time since 1990. There, the upstart squad stunned the Utah Jazz in five games, aided by Nowitzki's 33 points in Games 3 and 4.
MARK CUBAN, Mavericks owner, 2000-present:
It was amazing to come out of our hotel the day of the final game of the series and see hundreds of Mavs fans, in Utah, cheering our team on. Then, after we won, to have those fans storm the court—plus, the stories of people jumping up and down and driving through the streets honking their horns or running up and down the halls of their apartments shouting.
Stein:
Even though Utah was clearly on the downside, winning a road game, a Game 5 road game, at Utah, was still inconceivable. Down 17 in the fourth quarter—I mean, that was still unfathomable that they could come back and win that game.
The Mavericks, led by the Big Three, was an entertaining team that had a reputation, thanks to its over-reliance on offensive firepower, for faltering in the playoffs. It changed at least part of that reputation (while reinforcing the other part) in the 2003 playoffs, a dramatic run that ended when Nowitzki injured his knee in the third game of the Western Conference Finals against the San Antonio Spurs. Prior to that, however, the team played what is, perhaps, the signature game of the Nowitzki-Nash-Finley era: Game 2 of its semifinals series against the Sacramento Kings, a lights-out shooting display that saw the team score 83 points—in the first half.
Nowitzki:
They scored, like, 60—and they were still down 20 at the half. It was amazing. It didn't matter who really shot it; it went in. It was fun. And actually, Sacramento accused us of running up the score, which was total crap. You're out there in the playoffs. You don't try to run up the score; you're trying to win. You never know what can happen in a playoff game. That was a fun series.
And even the series before, I'll never forget: when we're up 3-0 on Portland, and they run three straight on us, and we have to go to Game 7. You don't really know what can happen in a Game 7. I'll always remember that year. That playoff run was a lot of fun. But to go seven in the first round, and seven in the second round, and it should have gone seven in the third round—we were up, I forget, 16 or 17 going into the fourth quarter, and then Steve Kerr just made all of those threes. That was a fun year.
Nowitzki's injury, a chance knee-to-knee collision with Spurs guard Manu Ginobili, began the dissolution of the marriage between Cuban and Don Nelson.
Nowitzki:
Before Game 4, I was down there working up a sweat, because Nellie wanted to see how I was moving. And I was moving pretty well. Cubes was out there, too, and Cubes wanted to let me play. He's, like, "Let him play." Nellie was, like, "He's too young. I wouldn't risk it." I think that's where it started, where they went separate ways. After that, years later, obviously it got very ugly. But that's the first time where they weren't agreeing on some stuff.
Stein:
I don't think there's any question that Cuban and the doctors thought he could play, and Nellie was just not going to play him no matter what. Now I've asked Dirk about it 15 times, and Dirk to this day, says, "I don't think I could have played; I think it would have been a mistake." So, he hasn't changed his position on it.
Nowitzki:
Even just standing up during the game, I could feel that my knee wasn't right. Now, if we had made it to the Finals, then I probably would have suited up and played, because I would have had a couple more days. We lost in Game 6, but if we won we would have had a Game 7; that would have given me probably an extra week before the Finals.
Though the team seemed on the edge of a breakthrough, a year later, that version of the Mavericks was already in the midst of being disassembled. Nash signed a free agent contract with the Phoenix Suns in 2004. Nelson resigned as coach near the end of the 2004-05 season. Finley was released (and later signed with the Spurs) in the summer of 2005. But Nash, of course, was the departure that stung Nowitzki the most.
Nowitzki:
I told Steve the day before he actually committed, I said, "Now you actually have a family to look after"—he had the two kids on the way—"if it's that much more—if it's just a couple million, then you could stay—but if it's really that much more, and a year more, then you have to do it." I think I was the first call he made after he committed, so I guess that shows how close we really were.
Cuban:
Dirk and I just had honest discussions of all the details. Dirk understood that we made a great offer, but the Suns made a better offer. That's the way the business works.
Nowitzki:
There will be some decisions you don't like, and there will be some decisions that you like, but you can only control yourself. That's how I've looked at it the last couple years.
Stein:
The general consensus in the NBA is they got better without each other and they grew without each other. They were more assertive without each other. I don't buy any of that.
Nash:
Would we have won a championship? Of course. Why not? I mean, you never know. Keeping me in Dallas wouldn't have really affected their salary cap situation. They still would have been able to bring in the other guys they brought in, for the most part. I think it would have been interesting. But that will all be barstool debate when we're long done playing.
Nowitzki:
We text a lot these days. You know, he's got a lot going on. He's got his two kids.
Nash:
My daughters call him Uncle Dirk. They know he's an important person to me. They can pick him out on a TV screen.
For the first time since he arrived in the United States, Nowitzki was forced to find a new running buddy, on the court and off. Through a series of roster moves, the team presented him with a possible alternative: Jason Terry. Their first season together was turbulent, remembered most for an on-court argument during the deciding game of a second-round series against Nash's Suns, after Terry allowed the former Maverick to hit a game-tying three-pointer.

Jason Terry, Mavericks guard, 2004-present:
I was coming into a new system, trying to replace a guy that was pretty much the franchise, you know, an MVP point guard in Steve Nash—and Dirk's best friend. It put a lot of pressure on me. The things that happened with me and Dirk brought us closer together. It was a situation where we're both competitive; we all want to win. I messed up on an assignment, and it cost us a second-round series. It was a long summer for us. But we came back that next year. We started to work out together. We'd go to dinner. That brought us closer together. We're good friends now.
Yeah, my daughters love him, too. "Mrs. Nowitzki"—that's what it reads on Jalayah's door when you go to her room. She would leave him notes after games last year. She'd leave him little notes. Like, "I love you, Dirk" and "Have a good game." Stuff like that.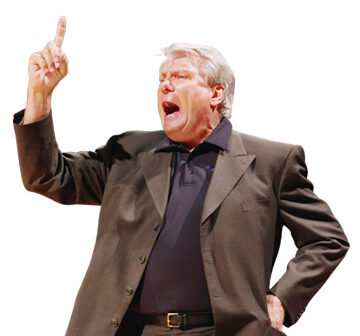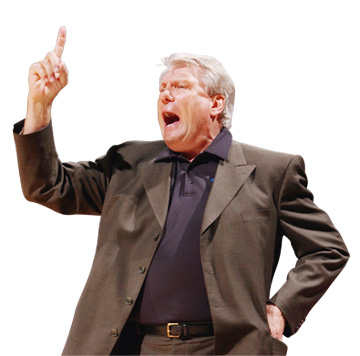 The Class Clown
Most players in the league see Nowitzki the way fans see him: quiet, focused on his game. They haven't gotten to know "the real Dirk."
Casey Smith Mavericks head athletic trainer, 2004-present:
There is some amount of transition every year with new players and new coaches and things like that, and everyone always seems to have this preconceived notion of him as this kind of stoic, competitive, almost like your typical German. And then, when people meet him, they realize he's the one that makes the most fun of everybody, the loudest on the bus a lot of the time.
Nowitzki:
It took my teammates awhile to really get to see the real Dirk. At the beginning I was shy—and I still am that way. If I'm not comfortable in my surroundings, I'll get shy. But once I'm comfortable, I clown 24/7. I love to have fun.
Kidd:
He's funny. He's got a good sense of humor. He will show his vocal cords in trying to—well, I don't want to say sing or rap.
Nelson:
I think you've got to start with his heart, and then after that, he's extremely intelligent. Funny, funny sense of humor. Engaging. There's no façade or anything like that; he's honest and candid, but also smart enough to know that he's gotta be professional, too.
Tyner:
One thing about him that is so different from so many athletes that you meet—and I've worked here a long time; I've worked here 27 years—is that he doesn't look at things through that jaded lens cover. Everything to him is face value. Until you prove to him different, that's the way he's going to take it. He doesn't come from that perspective, which is very refreshing.
CUBAN:
Dirk is just a good-hearted guy. He is fun to be around. He is a normal guy who happens to be an amazing basketball player.
A New Level/A New Low
With Nash gone and new coach Avery Johnson at the helm, Nowitzki was pushed into a role to which he was unaccustomed: team leader. Not one prone to speeches, Nowitzki could lead only by example. That led to his most iconic moment—it's Cuban's biggest memory, for one—in a Mavericks uniform: the three-point play that sent Game 7 of the San Antonio Spurs series to overtime, when the Mavs won, advancing them to the Western Conference Finals again and, later, the franchise's first NBA Finals appearance.
Terry:
If you go back to previous playoffs series, everybody was questioning his toughness. Can he get it done? Does he want the ball in the clutch? This was a situation where, we're in the huddle, and Coach says, "We're coming to you, big fella." You could see it in his eyes: just a determined look that guys hadn't seen before.
Nowitzki:
Avery was like, "If you ever get in this position, there is so much time. Drive it to the basket. Anything is possible." So coming out of that timeout, I knew that there was still a lot of time left. I wasn't going to just force a bad shot. I was going to drive in there, get a quick two, maybe kick it out if Jet or somebody is open, get a good look at a three. I was actually trying to dunk it. I was going to go in there and dunk it, and then quick foul, probably. And I saw Manu all of a sudden in the lane. I thought he was going to let me go and dunk it, maybe. But he jumped up with me. I tried to go as hard as I could. Kind of laid it up. Lucky bounce.
Darrell Armstrong, Mavericks guard, 2004-06; assistant coach, 2008-present:
We already knew he was going to make the free throw. It was just that quick. We lost the game in two to three seconds. And another four or five seconds [he snaps his fingers] he got it right back. That's the way big game players do it. He wants the ball in this situation, you know—I love that.
Nowitzki:
That was definitely one of the greatest plays that I've made for this franchise.
Despite Nowitzki's heroics against San Antonio and his 50-point game against Phoenix in the Western Conference Finals, ultimately the Mavs fell in the Finals to the Miami Heat. It was a gutting loss, since the team was up two games in the series and was well on its way to a third when the bottom fell out. It was Nowitzki's lowest moment: "Nothing else is even close," Cuban says. "We had it, and it was taken from us."
That disappointment, though, pushed Nowitzki to new heights of personal achievement, directly leading to his league Most Valuable Player award after the 2006-07 season.
Smith:
From an overall standpoint of how he approaches things, how he takes care of his body, his nutrition—the guy that most closely resembles him that I've ever worked with is Kobe Bryant. There is a lot of respect around the league from a player's standpoint for Dirk. It's funny to listen to the media. The media will be like, he's this, he's that, he's not this, but players around the league realize the amount of work that he's put in, and they know how tough it is to stop him. There is definitely a healthy respect there.
Terry:
Coming off a Finals loss, all of us were pretty much locked in, but he took his game to another level. It wasn't that he averaged more points. It was his all-around game: more rebounds, more assists. That's what took his game to another level.
Smith:
He's a guy that when we lose, whether it's a game or a series, he figures there is something he could do better. It's never just, Oh, well, it didn't happen. So he was trying to rehone his nutrition, trying to evaluate his workouts, trying to evaluate his daily things. "What could I do better, what could I do different to get us those two more wins? All we needed was two more wins." He definitely had a feeling of something uncompleted.
Stein:
I did not really expect the MVP season, and not as a slight to him. I think the thinking was that the whole team was just not going to be able to recover from that Finals loss.
They didn't; it just took awhile to figure that out. Though the team blazed through the regular season, it only set them up for a bigger fall. The No. 8-seeded Golden State Warriors, coached by Don Nelson, knocked off the Mavericks in an unprecedented six-game series. Suddenly, Nowitzki was left with an MVP trophy that didn't feel very valuable.
Stein:
They were so dominant that next season, it just made the Golden State thing 10 times worse.
Nowitzki:
I wanted to leave. I wanted to get out. But the league wouldn't say anything. I only found out maybe three days before the press conference. They wouldn't tell me earlier. Everything was so fresh. I felt embarrassed, I think, more than anything. We won [almost] 70 games, and all of a sudden, we're a first-round exit.
Smith:
At that point, it's such a hollow award for him. If you can imagine someone that competitive having to go do media and press conferences and stuff about that award when professionally and team wise we just had the biggest disappointment and letdown. That's such a backward way to have to do things. But you really have to be kind of the most professional you can imagine to go forward and do the media and put on the team face and bear the brunt of all those team's failures by yourself, because you're the only one still in the media.
Nowitzki:
Looking back at it now, it was obviously a great, great honor. I can always say I was the MVP of the greatest league in the world.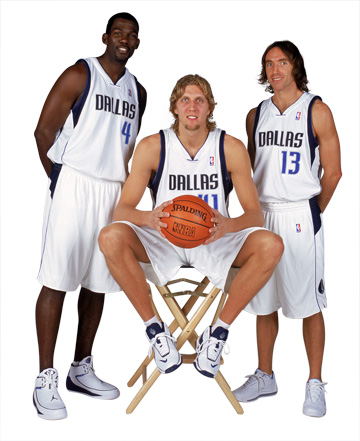 Denver Boot
At the trade deadline in 2008, the Mavericks brought in future Hall of Fame point guard (and former Maverick) Jason Kidd. It was not a panacea for the haunted team's troubles; Avery Johnson was still fired after the season. But the trade did wonders for Nowitzki.
Nowitzki:
We lost the Finals, and then a first-round exit the following year, and then that next year we were struggling into February. I kind of felt like, I think everybody felt like, we needed a change. When Kidd came, he just made the game a lot easier. I felt great with him. I had fun again. I was running. I got open looks again. What he's so great at, he sees stuff developing. With other point guards, you'd get the ball once you were open, and once you get it, they'd already closed out. Well, he already sees that, hey, this guy might be open, so the pass is already on the way—when you might not be open yet. But it comes to you right when you're open, and you're open for that split second.
Kidd:
It's easy. You've got a guy that wants to pass, and you've got a guy that wants to score; it doesn't take long to mesh. He makes the game so easy for everybody that's out on the court, because he draws so much attention. You're going to get wide-open looks.
The Kidd experiment looked like it was finally paying off the next season when the Mavs, led by a rejuvenated Nowitzki, won a surprising 50 games and knocked off the archrival Spurs in the first round of the playoffs. What happened next was the strangest stretch of Nowitzki's career, finding him in the media's crosshairs for wildly divergent reasons.
An innocuous remark about how the Denver Nuggets were defending him with Kenyon Martin and Chris Andersen somehow turned into a made-for-TV controversy. NBA on TNT studio analysts Charles Barkley, Kenny Smith, and Chris Webber publicly and loudly questioned Nowitzki's bona fides as a truly elite player and team leader.
That was nothing compared to what happened next: Nowitzki's fiancée, Cristal Taylor, was arrested at his home and, from jail, claimed to be the mother of his unborn child. (She was later extradited to Missouri, where she was sentenced to five years in prison on fraud charges. And, as it turned out, she was not pregnant.)
Barkley:
First of all, I feel like we were 100 percent right. Anybody who's ever met a great player knows we were right. You never give credit to the defense—ever. Never heard a great player say that.
Nelson:
Look, there's lots of competitors: there's Björn Borg, and the way that he kicked butt and was gracious and always said the right thing; and then there was John McEnroe, that smashed cups and hit tennis balls into the stands. Now, are you going to tell me that one way is right and the other way is wrong? When he states the obvious, gives the opponent what all of his coaches know—that they're playing me like this, that, or the other, or they're doing a nice job doing this—he's not saying that he can't kick your butt.
Stein:
What he played through in the Denver series is ridiculously off the charts. To have that all be played out in public, and the way he played, getting very little help, Josh Howard injured—he played as well as he's ever played. I don't know what more Dirk could have done. What did he do—34 points, 11 rebounds, and shot 54 percent?
Nowitzki:
Really, any time is a bad time for stuff like that. But I think it was good for me that we still were playing, and I was able to concentrate on the stuff that I love to do, which is playing basketball. In the morning for an hour in shootaround and at night for two and a half hours, I could escape a little bit, hang out with the guys in the locker room.
Kidd:
I think it just showed his character, and him being a professional. That's just the person he is. It doesn't matter what's going on outside those lines.
Terry:
His teammates really took that to heart. That's why he's the leader of this team.
Nowitzki:
You know, I still want a family. I'm still going to have a family, sooner or later. This is just going to push that back a couple of years. I still want kids. I love kids. [After I went back to Germany] I took everybody—my sister, her kids, her husband, and my parents—and we went to some island. Went to a resort. It was very quiet. Got some beach time. Talked to my family a lot, because obviously they were not here when it all went down. They had a lot of questions. We had a lot to talk about. Already after that two-and-a-half-weeks vacation, I felt a lot better.
The toughest thing then was, after the vacation, I had a press conference in Germany. Because when I was here, I always said, "Hey, I'm not going to talk about it. No comment, no comment. I'm not going to talk about it." I knew at some point there was going to come a time when I was going to have to talk about it. Now, I've talked about it so much it's actually not a big deal anymore. But that press conference in Germany, I didn't sleep well at all the night before. I was a little nervous.
The Big Dallasite
The events of the Denver series sent him running from Dallas to Germany, but through the years, Nowitzki has found it harder to leave his adopted home. In more ways than one.
Tyner:
We always tease him—well, now he does live north of there [on Strait Lane]. But we always told him before that he doesn't get south of Woodall Rodgers and he didn't get north of Mockingbird. Even though he's been around the world, he doesn't get out much. He was happy over on Byron Avenue. But he was getting a lot of school kids. He lived across the street from a school. They would just come up and knock on his door all times of the day and night. Crawl across the creek. He'd catch them looking in his window when he'd wake up.
He loves the house he's in now. He was looking at another one, and I said, "You can't buy this house." It was a lot bigger house and a lot more expensive. He said why, and I go, "Because I've just counted 63 doorways that will have to be raised. You can't live here."
[laughs]
When you're 7 feet tall, regular people don't think about that kind of stuff.
Nowitzki:
It progressed from year to year. After my first year, I stayed one day. I left. I had to go home. Back then I still had a German girlfriend, and my family. Year to year, it was more. It got to be a couple of days, then a week, and now, it takes three, four weeks for me to finally actually get out of here. I really love it. I've found great new friends over the last 11 years or whatever. I see it as kind of my home now.
Tyner:
He likes Dallas. He likes the city. His parents still live in Germany. His extended family is still in Germany. His sister is still in Germany. However, it's kind of like when you went to college. You kind of get attached to that, and you do a lot of growing in those four or five years. Even though he's technically a German citizen, he's really a citizen of both countries. He's more Americanized than he is German.
Stein:
He's definitely one of those few guys who you could see finishing his career with one team. I think he would like that. And he's said it, and knowing the way he is, I believe it. You know, going somewhere else to win a championship as a contributor wouldn't be the same; he wants to do it here because of the ups and downs here. I think he really wants to try to do it here.
Nelson:
I think really what he's done for the franchise is pretty well stated. He's been the common thread here. If you look back and point to when we got here, I mean, it was what? It was a 10-year walk in the desert with no playoffs? And as soon as he kind of got through his period of time where he's not a rookie or sophomore, and he started becoming the Dirk we know and love, you know, we've averaged 50 games and been to the playoffs every year, went to the Finals one year. So yeah, I think people appreciate what they have in Dirk. I can't speak for every fan—I mean there's no way I can do that—but I think true basketball fans have understood what he's done for this franchise.
Write to
[email protected]
.
Get the ItList Newsletter
Be the first to know about Dallas' best events, contests, giveaways, and happenings each month.