Q: You're renovating the 1911 St. Joseph's German Catholic Church and an adjacent school on Swiss Avenue near downtown. What attracted you to living in this church?
A: I've always wanted to live in an old church or an old theater, but theaters are frightening. They're dark, and there's always a cat. So I looked around and saw this church, and it was just so gorgeous with the windows. I also like the idea of living in one big room.
Q: What was your approach to making it livable?
A: I worked at one time doing melodramas in old mining towns like Virginia City, Montana. Those old opera houses weren't restored. They were maintained. So that's what I've done. I thought, "I won't alter it." I had to have water and sewer lines put in, and I sectioned off a part for the bath. The sacristy is now the kitchen. But I've tried to keep it with integrity.
Q: Besides this old church, what brought you to Dallas?
A: I have done a lot of work over the years in Dallas. I started at Margo Jones. That was my first professional job. We did classics and a new play every three weeks. It was a wonderful, wonderful experience. And I wanted out of Los Angeles. I just didn't know where. I had made a television series called 12 Miles of Bad Road, with Lily Tomlin. Linda Bloodworth-Thomason, who had done Designing Women, wrote it [for HBO], but it didn't sell and I never knew why. I thought, "I don't want to do this anymore."
Q: You sold quite a house in Los Angeles.
A: It was a beautiful house built around 1903 by the Bullocks. They were department store people. I lived there for more than 20 years. I sold the house to the first person who saw it, a guy named Flea with the Red Hot Chili Peppers.
Q: Your role as Corabeth Godsey on The Waltons was your ticket to fame.
A: I'm recognized in hog barns and at state fairs around the country. The Waltons was very well written for television. We had good scripts, and I had the best part. Earl Hamner, who created the series, fell in love with the character, so they just wrote and wrote and wrote for her. She was an automatic conflict.
Q: You've said, though, that your real love is theater.
A: Theater has the power to alter your life. The greatest literature in the world has been done for the theater, in every country. That's why you need more than a steady diet of musicals and modern comedy. Plays that say something, that have some depth, have great rewards, but you have to stay with them. The audience has to pay attention.
Q: What's your impression of the Dallas arts scene?
A: I've not lived here long enough to know that much about it. There is an emphasis right now on all the new buildings. I hope people know it's not about the buildings. You can do a play in the bed of a pickup. It's really the language.
Q: Is your restoration project here done?
A: There's much more to do next door in the school. Someone asked me, "Why are you doing this at your age?" I say until you're on your deathbed, you've got a future.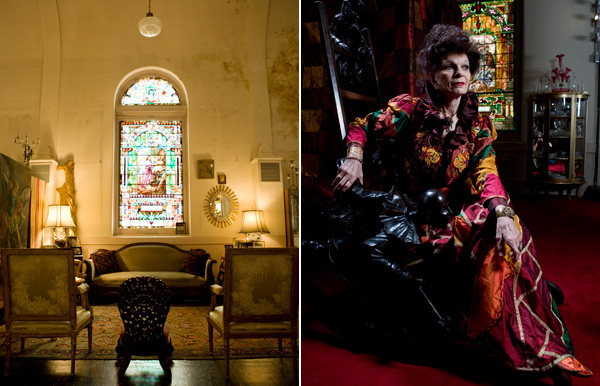 Get our weekly recap
Brings new meaning to the phrase Sunday Funday. No spam, ever.