In Dallas, we treat high-profile chefs like celebrities. They go by first names only. For instance, if I threw out the names Stephan, Dean, Avner, Kent, or Sharon, you'd rattle off the names of their restaurants as easily as their last names.
But what if I said "Amador"?
Would you give up and say something silly like "And I'm a window?" Or would you know I was talking about Amador Mora, who worked in the kitchen at the Rosewood Mansion on Turtle Creek for 24 years? Or, better yet, could you name his Mexican restaurant in Far North Dallas? (It's Maximo.)
Mora did more than work in the kitchen at the Mansion; he literally built it. "In 1979, I was a dishwasher at S&D Oyster and had to get a part-time job," Mora says. "The Mansion was under construction. I stopped by and ended up being a construction worker." When the exterior work was done, Mora stayed on and eventually became the daytime dishwasher.
Each day when the kitchen crew broke for lunch, Mora would put down the dirty dishes and help the prep guys peel onions and carrots. At one point, Mora was in the Mansion kitchen, prepping alongside Dean Fearing (the saucier), Richard Chamberlain (the grillardin), and Kevin Ascolese (the tournant).
When Fearing started messing around with Southwestern ingredients, he relied on Mora to teach him about the chiles and sauces of Mexico. "He gave me an opportunity to get my hands in and make the salsas like we did at home," says Mora, who grew up in Dolores Hidalgo, about 15 minutes from San Miguel. "Dean was always asking us what we did with cumin, how we roasted the chiles."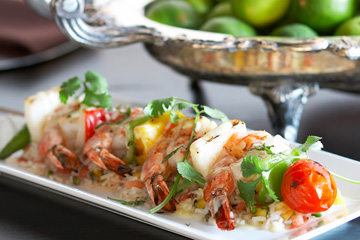 Mora had a great ride at the Mansion and shared in the accolades and awards bestowed on the restaurant. He worked every station in the kitchen and achieved success he never dreamed of. Then, when Fearing resigned to open Fearing's at the Ritz-Carlton, Mora decided to ditch the demands of a hotel and explore the intimacy of a smaller restaurant kitchen. He joined veteran restaurateur Robert Columbo to open Trece, an upscale Mexican restaurant in the swanky Sipango space on Travis Street. Initially, Trece was a hit. Limousines lined the street. Crowds swarmed the bar and waited hours for tables while Mora worked the room. But the prices at Trece were high, and after a couple of years, the business flattened. Mark Maguire came courting.
Maguire—soon, perhaps, to be known as simply Mark—is a restaurateur on a winning streak. His Maguire's in Far North Dallas is about to turn 10. Most nights there is a wait for a table at his Rise No. 1 in Inwood Village. By the time you read this review, Maguire will be the new president of the Texas Restaurant Association. Maguire was looking for another deal. The timing was right. Mora's contract with Columbo was up, and the deal was done in October 2008.
Three months later, Maximo opened to mixed reviews. People in Dallas love Tex-Mex, but they still haven't wrapped their palates or brains around regional varieties of Mexican food, the most misunderstood cuisine in town. Mexican food is more complex than Southwestern or Tex-Mex. Just mention mole to your best friend and watch his face scrunch up like he's just smelled a durian fruit rotting in the hot sun. Aware of the conservative Dallas palate, Mora crafted a menu at Maximo that offers "familiar Tex-Mex as well as traditional Mexican plates."
Not all of the dishes I tried at Maximo worked, but I can tell that Mora has been watching the plates as they come back to the kitchen. Each time I returned, the menu had been tweaked. The lunch menu is gringo-friendly, with turkey wraps slathered with chipotle mustard and combination plates featuring familiar items such as enchiladas, tacos, and empanadas.
If you relish gustatory exploration, you will like many of the dishes at Maximo. Mora pours his heart into his grandmother's mole recipe from Puebla. He uses about 40 ingredients—each toasted, soaked, puréed, strained, and fried separately. The sauce is cooked, thickened with seed, nuts, and corn, then strained and cooked again in a cast-iron skillet until the lard solidifies and the complex flavors spin into a spicy masterpiece. The soul of the dark and intense sauce is fruity (banana), nutty (almonds and pistachios), spicy (ancho, pasillas, and mulato peppers), and sweet (dark chocolate). So why does Mora disrespect his creation and serve it on a hamburger? The hamburguesa chilanga is a nightmare to eat. Watching the precious mole run down my arm was as painful as trying to save perfume spilling from a tipped bottle of Chanel No. 5.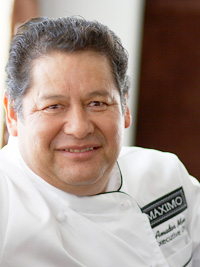 The same goes for the chipotle mac and cheese. At Maximo tiny elbow pasta is served drowning in an overbearingly bitter and smoky orange cheese sauce with the familiar look, taste, and texture of melted Velveeta. I am officially calling for a moratorium on gimmicky mac and cheese. I don't care what your name is. No mas.
But on to the good stuff, starting with the best margarita I've had outside of Rick Bayless' Topolobampo in Chicago. The Maximo Heat is a gorgeous green concoction of sweet agave syrup mixed with freshly squeezed lime juice, Sauza Silver (or your choice of tequila from their list), triple sec, and muddled raw jalapeños. After one sip, your tongue becomes a stage for a spirited symphony filled with staccato notes of sweet, sour, bitter, salt, and tart. Seconds later, a bolt of fiery jalapeño crashes like cymbals in your head.
The drink is a perfect complement to the thick, hot strips of ancho chile, black bean, and white corn chips that arrive with three salsas (jalapeño puree, roasted tomato, and sweet pineapple). After the cocktail server leaves, the guacamole trolley arrives, and the guacamolero mashes one avocado with your choice of ingredients, including roasted onions, garlic, and serrano peppers. The $9 show plays well; almost every table goes for it.
In an effort to please the north-of-635 palates, Mora offers—duh—tortilla soup with less chile and more garlic than the version served at the Mansion. And just when I was ready to call for a ban on fried calamari, we were served a lovely plate of tentacles and squid rings breaded in corn flour, jalapeño powder, and semolina; dipped in beer and milk; and fried with chunks of lime. Once they cooled, we dipped them in a mysterious cocktail sauce pungent with horseradish, roasted jalapeño, garlic, and dark beer.
Other than the mole burger, all of the other entrées we tried were above average—especially given that the prices range from $11 to $19. Yes, the kitchen turns out some tricked-up dishes such as Mexican lasagna, but you can also get a traditional carne asada pounded thin, brushed with garlic and cilantro, and topped with melted Jack cheese. And if God is, in fact, in the details, you'll see him in the accompanying black beans, redolent with celery, carrots, chiles, and bacon.
Another standout is a skewer of grilled shrimp, jicama, pineapple, bell pepper, onions, and tomatoes served on Veracruz rice. The rice is lightly coated with a creamy sauce of corn milk, olives, capers, onion, and garlic. Thankfully, Mora goes with unbattered and baked chiles rellenos. Each heart-shaped poblano is stuffed with Jack cheese, rice, and spinach and served in a light tomato-chile broth. Without heavy breading, the smoky, slightly spicy pepper yields to a gentle crunch, and the quick hit of bitter green pepper melts into a glob of hot, buttery cheese and crispy spinach. You may sniffle a little from the piquancy.
Don't bother to leave room for dessert. The tres leches flan we tried was days old and looked like cellulite waiting to happen. Twice, the warm churros dusted with orange powder we ordered were overcooked.
The dining room is sexy and open—a great improvement over the former tenant, BLT Steakhouse. Surprisingly, the once-barren strip center has come alive. Go Fish Ocean Club is across the way, and the area is lined with small foodie businesses like a yogurt spot and a bubble tea shop. Dogs bark from the now-occupied apartment patios above.
On all of my visits, the service was gracious, knowledgeable, and, other than the guacamolero who badgered us, unobtrusive. Also, don't overlook the wine selection: Mexican-food-friendly Tempranillos and Malbecs by the glass. And be sure to say hello to the short man wearing chef whites and an ear-to-ear grin. His name is Amador.
Get contact information for Maximo.
Get the SideDish Newsletter
Dallas' hottest dining news, recipes, and reviews served up fresh to your inbox each week.