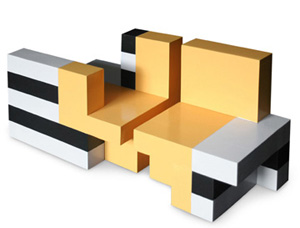 When
Rich Morgan
retired as an architect, he took on a second career: art. Raised on a farm in Kansas, he grew up doing metal- and woodwork. Learning photography, painting, drawing, and sculpture took some added time. His training as an architect has engaged him in city matters with the Trinity River Project's early urban design. Though his work often reflects "an architect's eye for order, context, place, and time," it also focuses on objects "we look at but don't necessarily see—speeding images full of distortion and difference." His often site-specific pieces "amplify the architecture and space around them." This month, the Geometric Madi Museum features Morgan's work, and large-scale sculptures of his will be unveiled at I-75 and Stacy Road as well.
Every day after school,
Shane Pennington's
grandmother made art projects with him at their place in the Hill Country. From that landscape comes some of Pennington's art. His father unwraps hay to feed the cattle he raises, and that bale wire figures in Pennington's pieces, as do tree roots, bug jars, and childhood train figurines. Pennington also uses plastic, paint, and multimedia. In his digital/painted work inside the Chase Tower, Carmen's Wish, dandelion leaves seem to wisp through the air. Meant to honor a person dear to Pennington who suffers from multiple sclerosis, the "dreamy piece suggests weightlessness and movement." Pennington's newest work, an 18-foot tree with figurines in its branches and roots that looks out from the W's 35th floor, also seems to fly into space.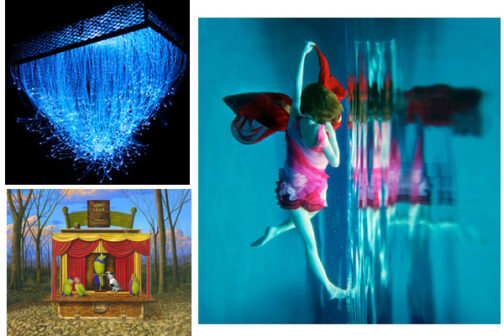 Growing up in Oklahoma,
Joshua Stone
would skateboard and make graffiti with his friends. Since the late '90s, he has incorporated those pastimes into his work. He always paints the same word across his work: "wave." He says it has come to symbolize a self-portrait. "It's a long-term study of how words interact," Stones says. His pieces often involve different materials processed repeatedly. He finds fine art posters, money, and fabric in thrift stores, flea markets, online, or at the bank. Stone has just completed work on a fiber-optic chandelier and is currently working on disassembling and graffitiing a Baptist preacher's old Bible.

A class at the Art Academy of Cincinnati introduced Kathleen Wilke to photography. Inspired by Howard Schatz's water imagery, she composes images of draped women motioning languidly in the water. "Submerged subjects fascinate me because of the interplay of the light and reflection in water, and how it illuminates the skin and fabric," she says. Dallas figures prominently in Wilke's work—if only underwater. Her "Immersed" and "Lady of the Lake" series use White Rock and its legends as inspiration. This summer, Wilke will be in Greece, using the Mediterranean as her works' watering hole.

From his father Ancel Nunn (who studied with Hogue during the '40s), William Young began learning his craft. Nunn taught Young that images can relay a philosophy. Though Young loves to capture physical images—clouds, spider webs, metal—he also works with "internal images that come from someplace mysterious and outside my life experience, someplace archetypal in a Jungian way." That archetypal landscape partially stems from his Texan background. "From big skies in West Texas to peeling paint on an old sign in Dallas to cracks in the sidewalks in Fredericksburg, I set the scenes in my paintings with these backgrounds and details," Young says. The Longview Museum of Art welcomes his work in November.
For more information on D Art Slam, visit http://www.d-artslam.com.
Get the FrontRow Newsletter
Get a front row seat to the best shows, arts, and things to do across North Texas. Never miss a beat.