Dallas has lately been abuzz with the arts. Yet this growth comes at a perilous time. Galleries are struggling to survive, and artists are fighting to be shown. To provide a public environment for area artists to exhibit their work, D Magazine, along with John Sughrue and f.i.g., produced a juried art show in May called D Art Slam. Of the 150 artists who exhibited, the jurors honored nine, designating them the New Dallas Nine.
The name recalls the 1930s and '40s regional artists who believed that local art can speak universally. The original Dallas Nine—Jerry Bywaters, Thomas M. Stell Jr., Harry P. Carnohan, Otis M. Dozier, Alexandre Hogue, William Lester, Everett Spruce, John Douglass, and Perry Nichols—shaped the Texas centennial exhibition and Dallas' new art museum. Working on murals, printmaking, sculpture, painting, and drawings, they depicted Texas' landscapes, labor, luminaries, and tribes. They followed their own style, nodding but not kowtowing to New York and Europe, exhibiting alongside each other and national and international artists. As World War II ended, the Nine disbanded and moved elsewhere. Their work can still be seen at the DMA and other museums.
The presence and work of the New Dallas Nine speak to their efforts to live as artists within Texas. As the original Dallas Nine upheld, Texas has its own muses and talents. Here, we honor D Art Slam's winners as they shape a 21st-century conversation about Texas and its artists.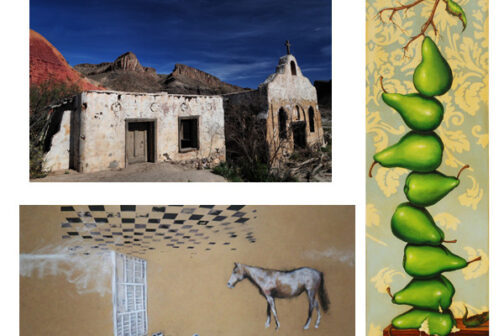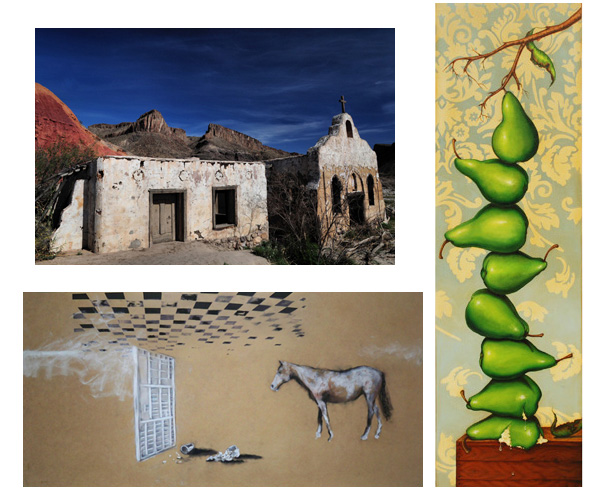 When she was 8,
Pamela Chance
saved up until she could buy a Kodak Brownie Starmeter camera. Since then, she has sought to capture human emotions. She's currently engaged with street photography, where she says she can "record life as it happens, especially when it's unscripted and shot in a natural environment." Though her pictures range from vivid, painterly shots of Lost Maples State Park to austere black-and-white ones of border towns, the narration of a story guides Chance's photos. This month, the Camp Wood Library in West Texas displays Chance's solo exhibit, "Don't Tell Me That the West Is Dead and Gone."
As a child in South Korea, Sunny Jacquet always wanted to be an artist. Family finances wouldn't allow it. When she moved to the United States in 1986, she became a hairdresser to pay the bills. A car accident finally made her quit that job and enroll in art studies at Texas Women's University. Combined elements of European classical painting and trompe l'oeil see Jacquet depict pears as a metaphor for human experience. "Each individual pear has its own distinctive shape, yet all pears possess the same qualities and characteristics of milky smooth surfaces and off-white innards," she says. "Likewise, all human beings exhibit a genuine heart and soul despite different outer appearances." Jacquet's work can next be seen at the Haley-Henman Gallery.
Jennifer Jones' upbringing in a family of artists saw her major in drawing and painting at Baylor, where her father taught. A year spent in Florence instructed her as well. Influenced by surrealism, minimalism, Jenny Saville, and more, Jones' work marries the macabre and ungainly with the delicate and dainty. Jones takes elephants with their "vulgar, phallic, grotesque trunks" and juxtaposes them over the "vulnerable beauty of old '50s and '60s movie stars." She is extending her current "Reflection" series with buddhas cast in bronze and resin alongside other knickknacks from her family home—a keepsake of family memories.
David Leonard
moved to Texas in 1993, sharing studio space with some 30 artists. A fellow artist and former student of William Lester and Everett Spruce showed Leonard a regionalist technique—how to manipulate and texture paint to create a more abstract surface. Leonard's urban paintings rely on this surface abstraction. He likes cities' compositions, grids, and colors, as well as their narratives. "Cities describe past and present communities and the way time alters landscapes," he says. He also paints "surreal, scientific, and wonderful shapes of oil refineries and power reactors," which make "the man-made become almost animated." Leonard's Austin has yet to figure in his series; it's a more neutral, relaxed landscape than his busier skyline subjects.
Get the FrontRow Newsletter
Get a front row seat to the best shows, arts, and things to do across North Texas. Never miss a beat.