Best Latte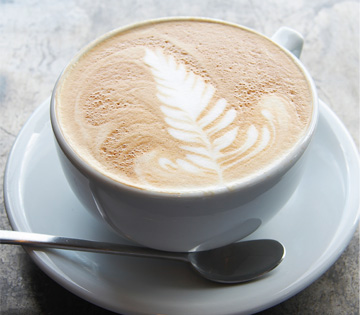 The Pearl Cup
We love this coffee craver's outpost on burgeoning Henderson Avenue for a lot of reasons: its funky East Dallas vibe, live music on the weekends, first-rate panini and hummus. (At a coffeehouse? Believe it.) But it's the namesake Pearl Latte that keeps our caffeine-soaked heart pumping. What's in it? Nobody there will tell us. The only secrets owners Carlene Saelg and Rita Davis would reveal are that it took them a year to develop the recipe and that they use beans from local roaster Clay Eiland. That's it. After several sips, we've noted hints of vanilla, maybe even a small current of dulce de leche lurking somewhere beneath the latte's satiny surface. No matter. Its soothing flavor and sweet mystery keep us coming back for more. 1900 N. Henderson Ave. 214-824-9500.
www.thepearlcup.com
.
Best Breakfast Tacos

Taco Joint

One thing we do not lack is taquerias. But breakfast tacos form their own special category, and they're not so easy to find. Taco Joint in Old East Dallas has become our favorite. It comes from a couple of Austinites—breakfast tacos are a thing down there—who've brought the A-town specialty to Big D. Here's where to get tacos filled with scrambled eggs, bacon, sausage, potatoes, chorizo, and beans. They do a top-notch fajita and egg, as well as a hearty migas taco with eggs, cheese, tomatoes, chiles, onions, and tortilla strips for only $2.69. They also do a fine brisket taco, but they're open for breakfast and lunch only, closing at 2 p.m. It's our biggest motivation to get out of bed in the morning. 911 N. Peak St. 214-826-8226.
www.thetacojoint.com
.
Best Consignment Store

Vinya

Consignment stores can be a jumbled mess, a hodgepodge of furniture with no rhyme or reason to the way it's displayed. But mother-daughter team Debra and Tristan Owens understand the finicky Dallas shopper. Appearances are everything. Well, that and great selection. At the Owens' Uptown shop, the stylish inventory—an eclectic mix of midcentury modern, Asian, Danish, and more—changes almost daily, and the store is set up in well-designed vignettes. The two have also cultivated relationships with some of the top showrooms in Dallas to sell their overstock. That means you get the likes of Holly Hunt, Baker, Donghia, Roche Bobois, and vintage Herman Miller and Eames at great prices. 4205 Buena Vista St. 214-443-0303.
www.vinyadallas.com
.
Best Observational Comic
Dallas Cowboys Tight End Martellus Bennett, aka Marty B

Nominally, Martellus Bennett is a backup tight end for the Dallas Cowboys entering his second year in the NFL. In the upcoming season, coaches envision the second-round draft pick out of Texas A&M forming a dynamic duo with starter Jason Witten. (Bennett has already taken to calling the tandem "Beans and Rice.") But none of that is why Bennett matters. His true talent reveals itself off the field, where he becomes Marty B, social commentator and new-media superstar.
On the blog he wrote for the Dallas Morning News, which we assume they thought would be about football, he has provided his occasionally childlike and always grammar-optional takes on everything from female flatulence ("I guess women have to let go at times too but it just doesn't seem right, but if they do then it shouldn't smell or make a sound") to why black people like chicken ("my answer: everybody loves chicken despite race sex gender chicken is scrumptious and everyone enjoys it. If you haven't had chicken go get some"). We're not sure how to describe his 10-minute video tour (de force) of the new Cowboys Stadium. On Twitter, Marty B drops the kind of punch lines that give PR folks acid reflux (regarding why his runaway dog came home: "She a house slave not a field slave she can't take the heat"), mixed with dadaist flights of fancy ("Super alien stealth mode rgt now gotta go to Iran to save some ppl").
His mind grapes have brought him more notoriety than his four rookie touchdowns. Every post and tweet is rabidly consumed by the sports blog community. "I think he's one of a growing number of athletes—Gilbert Arenas, Shaq, etc.—who sees the value of using social media platforms to create a kind of brand personality that has a shelf life beyond their playing years," says Drew Magary, who interviewed Bennett for his podcast on Deadspin.com. (Magary's interview, among other things, included Marty B's thought-provoking ideas about dinosaurs: "Who the hell know what dinosaurs sound like? No one was around! They mighta sounded like dogs.") "But I think Marty B, more than others, does it simply because he enjoys it. And, as someone who enjoys chicken, I think we're all richer for it."
Best Adult Education

Cheese 101 at Scardello

Most of us have flirted with the thought of going back to school. But let's be honest. It's going to be expensive, and you're going to be bored. Instead, let cheesemonger Rich Rogers and his team at Scardello teach you about something you're actually interested in: food. At the Cheese 101 class (which happens once a month), students are given their own personal cheese boards with up to 18 different cheeses, plus tasty tidbits that complement, like a piece of dried pineapple and a mouthful of bacon. Helpful servers pour the wine (and keep it coming) as Rogers leads the class through the ABCs of cheese, from fresh (feta and chevre) to semihard (cheddars) to blue (blue and stilton) and everything in between. The
class lasts about two hours and costs only $25. 3511 Oak Lawn Ave. 214-219-1300.
www.scardellocheese.com
.
Best Wrist Management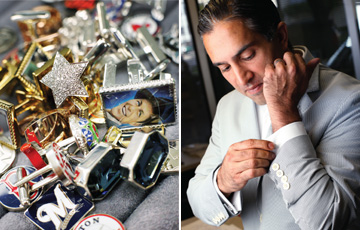 Cufflinks.com

In 1999, Ravi Ratan was smart enough to buy the URL cufflinks.com. But the guy was busy. Along with his brother Raja, he started Q Shirtmakers. It wasn't until four years ago that he finally thought, "You know, I bet I could sell some cuff links on cufflinks.com." He claims it's now the world's largest retailer of cuff links—and we're not inclined to argue. He's got Guitar Hero cuff links ($50), enamel guitar cuff links ($325), sterling silver cuff links with functional compasses ($225) or levels ($45) or roulette wheels ($195), cuff links made from vintage typewriter keys ($95), and cuff links that say "Trust Me …" on one link and "I am a CEO" on the other ($60). Or maybe you'd prefer something more traditional, perhaps cuff links with sapphires ($3,800). In all, he carries 2,500 models, a sum to which he adds more than 50 each month. And here's the secret for Dallas shoppers: though everyone else has to wait for shipping, you can swing by CuffLinks.com's Cole Avenue office and pick up your order. 4514 Cole Ave., No. 100. 877-283-3565.
www.cufflinks.com
.
Best Belt-Busting Burger

Burguesa Burger

Restaurateur Jeff Sinelli knows a good concept when he sees one. The latest from the creator of Genghis Grill and Which Wich is a Mexican-American burger shack next to the original Sonny Bryan's on Inwood Road. And the La Monumental burger might be his greatest culinary accomplishment yet: two all-beef patties, two slices of cheese, ham, avocado, lettuce, tomato, onion, refried beans, crunchy tostada, and special cream sauce on a Bimbo sesame seed bun. Oh, and it's crowned with a whole jalapeño. It's a sweat-inducing, burp-tastic burger for only the strongest of stomachs. The only thing it's missing? A quick lesson on how to say "pass the antacid" in Spanish. 2222 Inwood Rd. 214-350-7772.
www.burguesa.com
.
Best Art Schleppers

Displays Unlimited
Let's say you own a Joseph Havel sculpture, because you like the modernist's works and you're a sophisticated collector. Here's what you don't do: roll it around your backyard until you find a spot you like for it. No, you do what museums that own his work do: you hire professionals to store, hang, place, or otherwise handle your important pieces. Displays Unlimited in Arlington, founded by a veteran art handler in 1995, has grown from a one-man custom furniture shop to a full museum-service company. But it also works with individuals who need its expertise (or its 60,000 square feet of environmentally controlled storage). And if you have a Linda Ridgway that needs attention, you probably should have these guys handle her, shouldn't you?  626 106th St., Arlington. 817-385-4433.
www.displaysunlimitedinc.com
.
undefined
Get our weekly recap
Brings new meaning to the phrase Sunday Funday. No spam, ever.